Diego Sanchez: 5 Possible Foes for the Fighter Formerly Known as "Nightmare"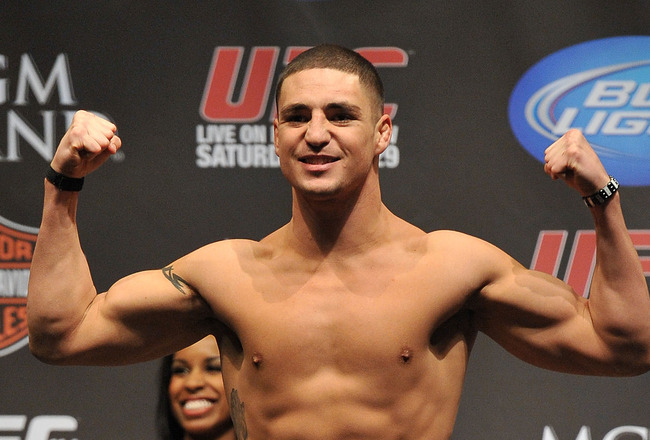 Jon Kopaloff/Getty Images
Diego Sanchez emerged from his war of attrition with Martin Kampmann battered but not beaten, thanks to all three judges giving him the second and third rounds of the main event of UFC on Versus 3.
With back-to-back wins over two quality opponents—Kampmann and Paulo Thiago—Sanchez now likely finds himself back in the top 10 of the UFC welterweight division on most people's ballots.
So what's next for the man formerly known as "The Nightmare?"
Let's take a look at five possible opponents that might make sense.
1. Matt Hughes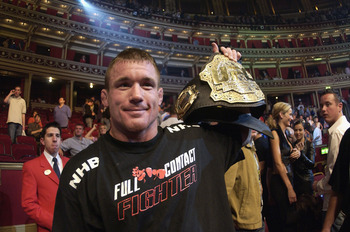 John Gichigi/Getty Images
Matt Hughes can't be done yet. Surely helping BJ Penn train for Jon Fitch rekindled some of the fire that Penn himself might have snuffed out when the Hawaiian plowed through the farm boy back at UFC 123.
A matchup between Sanchez and Hughes could end up being a battle between who has the better stand-up skills, as both fighters are no pushover when it comes to getting taken down.
If the fight hit the canvas, which it very well could, it would likely showcase a frenetic grappling match between two warriors who bring both solid wrestling and functional submission capabilities to the table.
The edge might go to the younger, more relentless Sanchez, but never count Hughes out until he has either tapped or been knocked out. The UFC Hall of Famer has never been on the losing side of a decision in his 13-year career.
2. Carlos Condit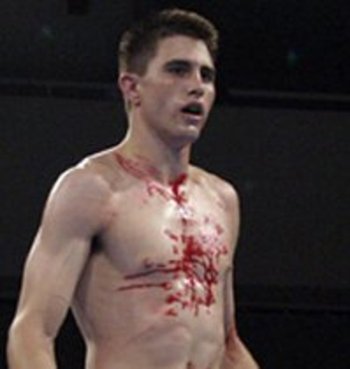 The "Natural Born Killer" and Diego Sanchez share at least one thing in common: They were both in razor-thin close fights with Martin Kampmann. Unfortunately for Condit, he came up on the losing end in his UFC debut.
Carlos Condit was supposed to step into the Octagon at UFC 127, but he was forced to pull out of his fight with Chris Lytle due to a knee injury he incurred during training.
Would these two not put on a war?
While Diego did not have to fret about being knocked out by Kampmann, he would need to be a little more cautious against the first man to put Dan Hardy to sleep inside the cage.
But Condit is not immune to the takedown, and if Sanchez took the fight there, you might see the definition of a ground war unfold before your eyes.
Pick your poison between these two crazy-eyed combatants...who would offer up nothing short of an epic staredown segueing into what would surely be another Fight of the Night performance.
3. Josh Koschek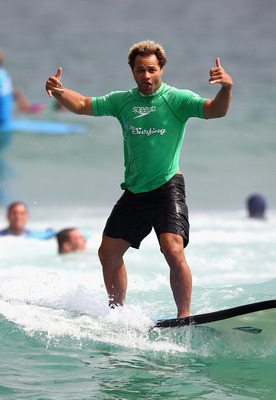 Ryan Pierse/Getty Images
Koscheck looks to be recovering nicely from the broken orbital bone he suffered at the jabs of Georges St. Pierre. Perhaps he is ready to ride the wave back into the Octagon, and what better foe to face off against then former rival Diego Sanchez?
The two first butted heads inside the TUF House, season one. In the semifinals, the one-dimensional wrestler was defeated by Sanchez via split decision.
Two years later, at UFC 69, a much more well-rounded Koscheck out-struck Sanchez through three rounds and only initiated a takedown once—he went on to earn himself a unanimous decision.
An even more well-rounded fighter today, Kos might be stylistic kryptonite for Sanchez. If Kos can keep the fight standing against St. Pierre, he can surely do the same in what would be a trilogy of sorts. It might be another three rounds on the losing side of a stand-up affair for Diego, or this time Kos just might end the night early with a cocked right hand.
4. Another Option: A Rematch with Either B.J. Penn or Jon Fitch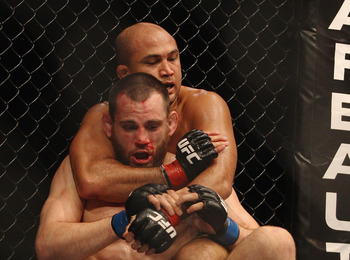 Mark Kolbe/Getty Images
We don't know if the UFC is going to put together a rematch between BJ Penn and Jon Fitch. While that might seem like the logical conclusion, matchmaker Joe Silva might have something else in store.
Both Penn and Fitch hold a win over Diego Sanchez's head.
Penn took his title fight with Sanchez to the fifth round before ending his opponent's night with a vicious high kick that opened one of the nastier head gashes in UFC history. For his part, Fitch engaged Sanchez in an entertaining three-round fight that resulted in the grinder (Fitch) winning by split decision.
While both Penn and Fitch would be favored in a rematch with Sanchez, never look past the intensity of the inventor of the YES! cartwheel.
Keep Reading