Washington Nationals: Why We Won't See Bryce Harper in Big Leagues This Season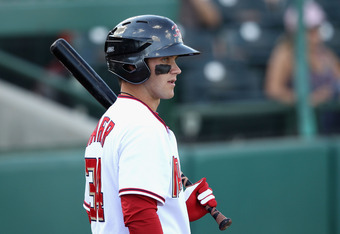 Washington Nationals Looking Sharp In Spring Training, But Don't Expect to See Teen Phenom Bryce Harper In the Big Leagues This Season
For the first time in a while, things are looking up for the baseball team from our nation's capital. The Washington Nationals have looked incredibly good in the initial days of spring training, having won their first three contests.
One of the biggest stories coming out of their camp is teen phenom Bryce Harper. Last year's number one overall pick Harper has shown many fans why he was so hyped coming into last year's draft, exhibiting good patience at the plat and getting his first hit of his career, a liner into right field.
But, no matter what Harper does in spring training, there's one thing you can be sure of: we won't be seeing him in a Nationals uniform at all once the regular season starts.
It's a fact. Even if Harper knocks every pitch he sees into the next county, even if he hits like the next Ted Williams, Washington will not be suiting up their star-to-be this season.
Why? Simple: they have a plan for Harper, and they're going to stick to it.
Harper has yet to undergo the rigors of a full big-league season. He's just 18 years old, and the last thing the Nats want to do with him is rush him into a situation without being completely sure he can handle it.
Let the kid get a season of minor league ball under his belt, maybe even two or three, then we'll talk.
Even if Harper looks like a stud in the minors this year, even if he shoots up the organizational depth chart, he won't get a look with the big club until next season.
As if the plan weren't enough, there's more: the Nationals don't need Bryce Harper this year. Sure, they're not going to win the division, but their lineup's not terrible. The outfield (Harper's likely destination, when he's ready) has a quartet of players they can plug in at any time, who complement each other nicely. Why rush Harper to the bigs and sit him on the bench (or sit one of your more expensive players on the bench, for that matter)?
All in all, no matter how bad things get in D.C (not as bad as you think they will), and no matter how good Harper looks, don't expect to see him in the majors before 2012 at the earliest.
After all, you've got to wait for the cake to bake before you can eat it.
For more baseball news, check out MLB Predictions: Picking the Division Winners and Wild Cards for the 2011 Season.
Most recent updates:
This article is
What is the duplicate article?
Why is this article offensive?
Where is this article plagiarized from?
Why is this article poorly edited?