UFC on Versus 3: Sanchez vs. Kampmann Live Play-by-Play and Results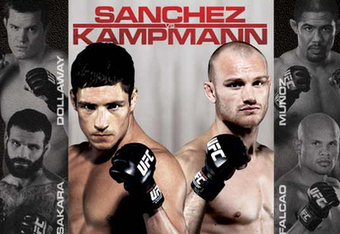 LOUISVILLE, KY—Bleacher Report is live in Louisville, Kentucky for UFC on Versus 3: Sanchez vs. Kampmann.
The event is taking place from the KFC Yum! Center with welterweight contenders Diego Sanchez and Martin Kampmann set to face one another in the main event live on Versus.
Middleweights Mark Munoz and C.B. Dollaway will face one another in the co-main event to see who will take the next step forward in his career and rise up the division.
A total of 11 fights will take place with two live on Facebook and four airing on Versus. Coverage will kick off at 5:40 pm E.T. with the main card beginning at 8:00 pm E.T.
For additional information regarding this event, follow Joshua on Twitter.
Round 3:
Kampmann opens up throwing jabs to find his distance. Diego comes forward but is met with a Kampmann punch. Diego shoots and it's stuffed by Kampmann who lands a knee to the body in the clinch along the cage. Diego comes forward and throws a combination that finds a home but he shoots and again is unsuccessful. Jab lands for Kampmann and they circle. Diego shoots and this time is successful with putting Kampmann on his back but cannot hold him there. Back on the feet, both men's faces are bloodied with Sanchez's being the worst. Diego presses forward and lands on Kampmann against the cage. Twenty-seconds left and Kampmann lands a big strike that completely busts the left side of Sanchez's face wide open. Diego tries to push forward, but is again met by a Kampmann counter.
Result: Diego Sanchez via Split Decision (29-28, 29-28, 29-28)
Round 2:
Diego pushes forward and shoots to open the round but Kampmann successfully defends. Combination by Sanchez misses and Kampmann counters and now lands a combination of his own. Kampmann stuffs another takedown, they separate and both men circle. Diego shoots again but gets the same result. Sanchez and Kampmann exchange hard strikes against the cage and both fighters eat heavy shots. Kampmann is bleeding from his right eye and Sanchez is busted up as well. Head kick from Sanchez misses. They engage and both men throw combinations that land. Right and lefts from both men with Diego's being thrown more loosely and Kampmann's being the more technical.
Main Event: Diego Sanchez vs. Martin Kampmann
Round 1:
Kampmann opens up flicking the jab, they engage but neither man does much damage. Jab by Kampmann and right hand misses for Sanchez. Single leg attempt by Sanchez, but Kampmann avoids and lands a nice knee in the clinch. Big strike by Kampmann drops Sanchez to the canvas and Kampmann ties him up along the cage and lands a few knees to the body. Diego escapes and returns to the feet. Clinch initiated by Sanchez and Kampmann lands a knee to the body. Right hand counter lands for Kampmann and Diego shoots unsuccessfully. Straight right finds a home for Kampmann and Diego's bleeding from his mouth. Combination by both men lands but neither did a ton of damage. Diego shoots, but doesn't get the takedown. Diego pushes forward but fails to land anything as the round ends.
Co-Main Event: Mark Munoz vs. CB Dollaway
Round 1:
Dollaway lands a shot and Munoz immediately reverses the position and stands. Big right hand sends Dollaway to the canvas and Munoz follows up with punches and hammerfists. Referee Mario Yamasaki steps in and calls a stop to the action and Dollaway immediately pops up early and protests the stoppage. Upon replay on the screens in the arena, it is clear Dollaway was out.
Result: Mark Munoz via TKO (Strikes) - Round 1 :54

Round 3:
Weidman jabs and it lands. Sakara misses with a lead left hook but lands a combination to the body. Weidman shoots a double leg and is successful. He moves directly into side mount and begins working short strikes. Not much happening from the position now and Sakara gets back to half guard. Two right hands land for Weidman and the referee stands them up. Big shot for Weidman lands and he is pressing Sakara against the cage and he now moves into side control. Weidman leaves a small bit of room and Sakara briefly pops back to his feet. Sakara's on his back and Weidman throws strikes as the final round comes to close. Weidman's wrestling proved to be the difference in the third and final round.
Result: Chris Weidman via Unanimous Decision - (30-27, 30-27, 30-27)
Round 2:
Jab by Sakara lands and Weidman shoots and takes the fight to the canvas. Strikes from the top are finding a home for Weidman and he passes into side control. Elbows by Weidman open up a gash on Sakara's forehead and he's bleeding badly. Weidman's punches are landing and Sakara manages to scramble and escape to his feet. Sakara throws a combination and Weidman has him pressed against the cage. The referee separates both men for the doctor to check the cut on his forehead. Upon the restart, both men trade low kicks. Weidman jabs and so does Sakara. Head and body combination lands for Sakara. Weidman eats a body shot and they separate as the round ends.
Alessio Sakara vs. Chris Weidman
Round 1:
Head kick misses for Weidman and so does a leaping right hook. Combination and leg kick lands for Sakara and another does as well. Weidman shoots and Sakara stuffs it. Weidman is pressing the action and lands a nice leg kick. Combination and leg kick lands for Sakara. Double leg attempt by Weidman is unsuccessful, but he uses it to press Sakara against the cage. Strikes by Weidman land and Sakara's right eye is bleeding. A low kick by Weidman lands. jab for Weidman lands and misses on a wild right hand. Head kick by Sakara is blocked and Weidman returns the favor with a low kick that lands.
Main Card: Live on Versus:
Brian Bowles vs. Damacio Page
Round 1:
Jab for Bowles and combination for Page. Page charges and they exchange. Both men engage and Page lands a flying body kick. Low kick finds a home for Page and another lands as well. Counter left hook lands for Bowles. Both men swing and miss. Bowles is pressing the action and lands a jab. Kick lands for Page and Bowles returns with combination that lands. Jab for Bowles lands, Page throws a kick that Bowles catches and drops him to the canvas. Bowles follows him to the mat where he lands punches from the top and transitions to a fight ending guillotine choke. Furious pace to the fight and Bowles jiu-jitsu reigns supreme.
Result: Brian Bowles via Submission (Guillotine) - Round 1 3:30
Round 3:
More of the same to begin round 3 as Diabete continues to pick apart Cantwell. Diabete lands a low kick, Cantwell responds with a kick of his own. Diabete lands a combination and now a knee to the body and another. Diabete lands a one-two and a body kick. Cantwell is getting lit up and Diabete continues to land at will. Cantwell shoots but misses and Diabete lands a big combination. Cantwell's face is a mess as he's bleeding from both eyes and his nose. Knee to the body and a Diabete combination find a home. Cantwell tries to press the action as the round ends, but fails to land anything. The story of rounds one and two were Diabete's superior striking.
Result: Cyrille Diabete via Unanimous Decision - (30-27, 20-25, 20-26)
Round 2:
Diabete body kick lands and Cantwell returns with a low kick. Another low kick and a straight left lands for Diabete. Cantwell is hesitant and his body absorbs another body kick, he shoots is unsuccessful and Diabete is on top. Referee, Herb Dean stands them back up and Diabete lands a straight left. Jabs for Diabete land and Cantwell isn't throwing anything. Low kick for Diabete lands and Cantwell fires back but misses. Cantwell shoots, is unsuccessful and Diabete takes his back (no hooks in). Cantwell returns to the feet, but is pressed against the cage. Diabete is taking a beating with Diabete right, lefts, and kicks along the cage and Cantwell is bloodied up. Cantwell is on the wrong end of a takedown and Diabete finishes the second round in dominant control.
Cyrille Diabete vs. Steve Cantwell
Round 1:
Cantwell presses but can't find his range. Diabete lands a low kick and another. Cantwell flicks the jab, but with no luck. Low kick and a body kick land for Diabete. They circle and two more kicks land for Diabete. However, Cantwell lands a takedown off the second kick and is in Diabete's half guard. Cantwell can't hold him down and they're back standing. Straight left lands for Diabete. Jab for Diabete lands and he misses with a flying knee. Low kick for Diabete finds a home. Cantwell shoots, is unsuccessful and he eats a big shot for his efforts. A Diabete low kick lands and he follows with a combination as the round ends.
Round 3:
Lead leg low kick lands for Castillo and so does a body shot. Another body shot finds a home for Castillo. Stevenson's pressing the action and lands a jab. Castillo stuffs, then reverses a Stevenson takedown. Stevenson's body absorbs a few knees while he's down and now he works to get back standing. Stevenson works for a takedown, but Castillo is having none of it and he takes Stevenson down. A guillotine attempt by Stevenson is unsuccessful and Castillo lands a strike from half guard. Stevenson scrambles, but Castillo keeps him pressed against the cage and now lands a takedown. Again, Stevenson gets back to his feet, but Castillo drags him back to the canvas and dishes out punches as the final round comes to a close.
Result: Danny Castillo via Unanimous Decision - (30-27, 29-28, 29-28)
Round 2:
Stevenson kicks off the round by pressing the action and Castillo responds with combination that misses its mark. They clinch and break with Stevenson flicking a jab. Castillo's looking for big shots as he unsuccessfully throws big punches. Right hand finds a home for Castillo and a leg kick as well. Stevenson shoots and is pressing Castillo against the cage. Stevenson lifts Castillo up and sends him to the canvas. Castillo has him in half guard and Stevenson works strikes from the top that do minimal damage. Castillo gets the closed guard and Stevenson works from the position. Accidental knee to a downed Stevenson puts a brief stop to the action. Jab by Castillo misses and Stevenson blocks a head kick.
Airing live on Facebook -- Danny Castillo vs. Joe Stevenson
Round 1:
Kick by Castillo, but Joe blocks. Double jab by Stevenson and Castillo throws a flying knee that misses. Castillo shoots and Stevenson locks up a guillotine, but can't finish the hold. Stevenson releases and is working towards a double leg and lifts Castillo above his head for a slam. Castillo returns to the feet and Stevenson again works towards a guillotine, but Castillo slams him to the canvas. Castillo presses Stevenson against the cage and they separate. Castillo shoots and lands a double leg. Stevenson is working to get the fight back to the feet and now he does. Big left and right hand lands for Castillo and a jab as well. Stevenson's getting picked apart on the feet at the moment. Flying knee and combination from Castillo partially land as the round ends.

Round 2:
Tavares is circling and Roller flicks a jab and another. They engage with neither man landing anything significant. Jab for Roller lands and Tavares successfully hits a takedown, but Roller is back to his feet. Big right hand lands for Roller and Tavares is out cold. Roller follows up with strikes and that ends the fight. The referee jumps in to put a stop in the action.
Result: Shane Roller via Knockout (Punch) - Round 2 1:28
Shane Roller vs. Thiago Tavares
Round 1:
Jab for Roller lands and snaps back Tavares' head. Lead left hook misses for Roller and Tavares takes the center. Combination by Tavares lands and Roller throws a lead left low kick. Jab misses for Roller and Tavares follow suit with a low kick. Right hand by Tavares misses and it is a jab for Roller. Combination by Roller misses and he charges Tavares into the fence. Tavares taunts Roller saying he's not bothered by it. Tavares lands a combination that rocks Roller and continues to punch as Roller has his back to the fence. Roller regains his senses and Tavares lands a heavy leg kick that hurts. Roller is throwing combinations, but misses. Roller shoots, but is unsuccessful and Tavares finishes the round with Roller's back to the cage.
Round 3:
Mizugaki lands a leg kick on Duran's lead leg and Duran taunts asking for another. Mizugaki lands another leg kick and Duran responds with a combination that partially lands. Right hands by both men also partially land. Mizugaki is the aggressor, but it is Duran landing the strikes on the feet. Mizugaki doesn't like it and takes the fight to the canvas. Duran's pressed up against the cage and has Mizugaki in his closed guard. Strikes from Mizugaki land and Duran can't escape the position. Duran is working hard to stand and now reverses the position to get back to his feet. Mizugaki clinches and has a body lock that he uses to send Duran to the canvas on his back. However, Duran quickly works to get the fight back standing and they're clinched as the round comes to a close.
Result: Takeya Mizugaki via Split Decision - (30-27 Duran, 30-27 Mizugaki, 29-28 Mizugaki)
Round 2:
Both fighters swing and miss, but Mizugaki is stalking his opponent. However, Duran responds with a leg kick and a jab that both land. Leg kick by Mizugaki finds a home and Duran quickly tries to counter. Jab by Duran lands and leg kick by Mizugaki misses. Another jab by Duran and he follows with a combination. Mizugaki lands a punch and they circle. They engage and Mizugaki lands a takedown and is in half guard. Duran is working with his back to the cage attempting to wall walk his way back to his feet. However, Mizugaki is keeping a hold of Duran's left leg preventing him from doing so. Duran now breaks loose, they stand, and Mizugaki has his back to the fence. But, only briefly as he hits another takedown along the cage and works punches to Duran. Mizugaki can't keep Duran down and the action returns to the feet as the round comes to a close.
Reuben Duran vs. Takeya Mizugaki
Round 1:
Both men engage with big combinations that land and Duran uncorks another combination that lands. Mizugaki leg kicks, but it misses its mark. Mizugaki takes the center of the Octagon and lands a leg kick. Lead left hook misses for Mizugaki and Duran counters. Mizugaki is now bleeding over his right eye and Duran jabs again. Mizugaki leaps in but is met by a Duran right hand. Leg kick lands for Mizugaki and Duran backs away. Duran takes the center of the Octagon and times a right hand as Mizugaki kicks. Duran is the quicker fighter with his strikes and again lands a right hand on his opponent. Mizugaki shoots a double leg, but it is as the round comes to a close.

Round 2:
Kimmons and Yang engage with Kimmons landing a throw that sends Yang to the canvas. Kimmons is in side control, but Yang quickly reverses the position. Yang is working on his opponents' right arm toward a submission attempt, but transitions into full mount and now back mount. Kimmons is being dominated and Yang is landing punches from mount. It is all Yang with transitions from full and back mounts, Hammerfists by Yang and Kimmons is merely covering up at this stage with Yang in back mount. More strikes finding their homes on Kimmons face and the referee stops the fight.Kimmons failed to successfully defend himself for the last two or so minutes of the fight.
Result: Dongi Yang via TKO (Strikes) - Round 2 4:47
Rob Kimmons vs. Dongi Yang
Round 1:
Kimmons takes the center of the Octagon and presses the action, Yang lands punches and Kimmons misses with a head kick. Yang nails Kimmons with a leg kick and follows with a punch that sends Kimmons to the canvas. Yang stands briefly and lands solid strikes to Kimmons' face, passes into side control and now full mount. Yang transitions into back mount and lands strikes until Kimmons rolls. Yang stays with Kimmons and is working towards a head and arm choke. Kimmons' defends and escapes, but Yang maintains back control. Kimmons' lands a few short back elbows and Yang drags him back to the canvas, where Yang moves into full mount and is landing punches. Yang ties up Kimmons' right arm is landing strikes. Yang is working towards an americana as the round ends, but Simmons' defends until the bell.
Round 2:
Branch kicks off the second round a little more tentative on the feet and both men miss with punches. Palhares shoots, but Branch defends well until Palhares presses the action against the cage and drops for a kneebar. Branch is forced to tap to the hold.
Result: Rousimar Palhares via Submission (Tapout) - Round 2
Dave Branch vs. Rousimar Palhares
Round 1:
Branch comes out light on his feet and is throwing jabs. Palhares throws a kick, but misses as Branch has an eight inch reach advantage. Palhares shoots and the action is now on the mat with Branch in his opponents' open guard. Palhares is working head control and elbows from the bottom. Branch passes into half guard, but is unable to maintain the position and is doing minimal damage from the position. Palhares is working towards a triangle choke and Branch is defending at the moment. Branch works his way out, but is caught in a Palhares knee bar. It is in deep, but Branch continues to successfully defend and escapes the position as the round ends.

Todd Brown vs. Igor Pokrajac
Round 1:
Both men begin the fight with a touch of gloves and Brown lands a leg kick to Igor's lead leg. Another kick lands for Brown and Igor finds his mark with a jab. Igor lands a combination and Brown clinches. They separate and Igor successfully lands another combination. Brown presses the action against the cage, but is not doing any damage or advancing the position. Igor pushes away and separates, Brown catches his opponent as he is coming in and again presses Igor against the cage. They separate and Igor is finding his range standing and lands punches that force Brown to try a half-hearted shot. Pokrajac lands a knee from the clinch that sends Brown crashing to the mat along the cage and Igor follows up with hammerfists from back position until the referee steps in.
Result: Igor Pokrajac via TKO - Round 1 5:00
This article is
What is the duplicate article?
Why is this article offensive?
Where is this article plagiarized from?
Why is this article poorly edited?