NFL Lockout: Will Judge Doty Ruling Help Avert a Sustained NFL Lockout?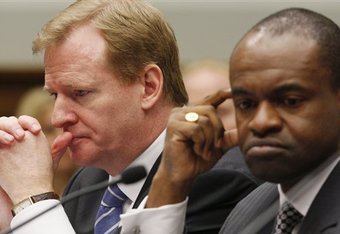 NFL Lockout News Took a Turn For the Better After Recent Court Ruling
The situation surrounding the looming NFL lockout took another turn Tuesday. This time, there is some good news for football fans. I would only tell you to savor it. Good news has a way of being few and far between in respects to CBA negotiations.
On Tuesday, District Court Judge Doty ruled that owners would not be allowed to utilize the $4 billion coffer set up with television money. It was the owners hope to use this pool of cash to sit out a potentially long lockout.
The safety line then has been cut. The owners are now hurting as much as the NFLPA. Some teams, the Jets, Giants, Lions and Dolphins, desperately need to get back to work if they are to maintain their franchises.
Essentially, the $4 billion would have been sliced and given to each team. The amount would have covered each franchise for the upcoming year. They could maintain personnel and salaries without playing a single game.
That scenario is now gone. These teams will be hurting to make payroll, some more than others. The worse of the franchises will become vocal proponents for some concessions at the negotiating table. Now owners have to work to get a new CBA done.
The good news is they cannot simply wait out the players. They must get their hands dirty and work for a solution. I doubt that one will come before Thursday nights 11:59 pm deadline, but perhaps the lockout will no longer be as lengthy as we once figured.
That is very good news indeed.
Related Story: NFL Trade Rumors: Nate Clements and the NFL's 10 Most Untradeable Contracts
Most recent updates:
This article is
What is the duplicate article?
Why is this article offensive?
Where is this article plagiarized from?
Why is this article poorly edited?