NFL Combine 2011, Michael Vick, Cam Newton and Wednesday's Top NFL News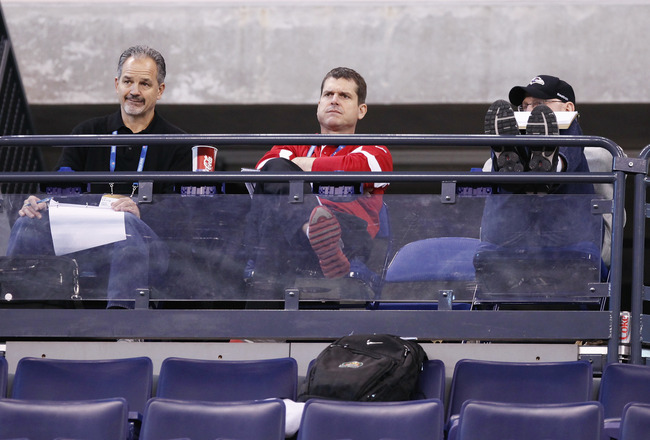 Joe Robbins/Getty Images
Michael Vick is going to sign his $16 million contract today, according to various media reports, while the Combine now fades into history.
The NFL and the player's union still continue to talk, but the likelihood of both sides reaching a deal before the deadline at the end of the week seems very slim.
The front offices still will continue to work toward the draft but the players will be stuck in limbo while the league and the union figure out what they are going to do.
We will take a look at the labor talks, Combine results, the NFL Draft, and we certainly will not forget to talk about Michael Vick's contract. Thanks for stopping by as we go through the day's news with commentary and analysis.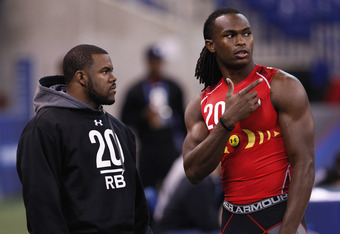 Did Julio Jones Rocket Into The Top 10 With Combine Performance?
When making a mock draft, a person has to take a lot of factors into consideration. You not only have to get in the minds of 32 different front offices, you have to employ guesswork and speculation when it comes to the wildcard factors.
Julio Jones had a great Combine performance, recording an unbelievably fast 40-yard dash time later revealed to have been done on a broken foot. That kind of toughness catches the attention of scouts and GMs.
Jones big issue is consistency with his hands, or in layman's terms, he drops the ball too much.
As an analyst, I can not stress enough how overblown the Combine is. That being said, a fast wide receiver is a good thing. Now the various front offices have to weigh Jones' toughness and speed versus his ability to consistently catch the ball.
Jones could be a superstar, or he could be the next Braylon Edwards, who had troubles catching the ball until this past season, which mysteriously happened to be a contract year.
Looking at Jones performance as well as the impressive performance turned in by Marcell Dareus, here is a look at how the Top 10 may fall in April.
The Panthers are going to stay away from Cam Newton and draft Nick Fairley with the No. 1 pick. The Broncos will take Da'Quan Bowers while the Bills will be seduced by Newton and take him. The Bengals will take Jones while the Arizona Cardinals will take Robert Quinn. The Browns will take Marcell Dareus and the 49ers will grab Patrick Peterson.
The Titans take Blaine Gabbert while the Cowboys grab Prince Amukamara. The Top 10 is rounded out by the Washington Redskins taking A.J. Green.
For another look at the draft, check out Who Will Take Greg McElroy, Smartest QB At The Combine.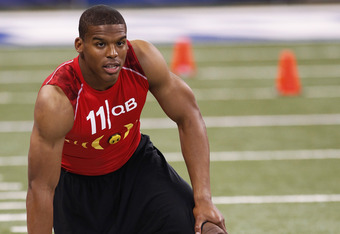 Cam Newton Could Go Anywhere From The Panthers To The Cowboys
Cam Newton was the star of the Combine, and nothing he did during his time their diminished his star power in any way.
Sure, he overthrew some receivers, but it was the Combine!
Newton is an intriguing figure because of two factors: His athleticism and his charisma. He has both attributes in plenty.
What everyone needs to focus on, though, is not his Combine or workouts, but his performance on the field in pads. Newton showed he has issues with reading defenses and he abandons the pocket fairly fast.
The upside is Newton's athleticism and apparent willingness to learn. Scouts noted his footwork already is very improved over what they saw in the National Championship game.
The Panthers could take him No. 1 overall, but if they pass the Bills definitely would be taking a look at him. The Redskins, Titans and Vikings all would have interest as well in the first round.
The questions on how fast Newton can develop ultimately will determine where he lands. The off-field character issues, even though most of them involve his father, are worrisome to a lot of teams. Newton needed one more year of college, but Newton realized the NCAA would have made that extremely difficult if not impossible.
Newton is here now, and one NFL team is hoping he is the answer to their prayers.
For a look at the NFL Draft, check out A Three-Round Mock Here.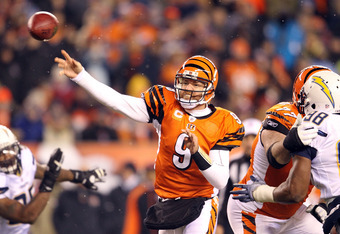 Tired Of Losing, Carson Palmer Calling It Quits In Cincinnati
Carson Palmer is his own person and he does what he wants to do. A lot of players say that right before they end up doing exactly what they are told to do.
But Palmer said he has $80 million in the bank and that he will never play for the Bengals again.
Palmer put his house up for sale in the Cincinnati area and his agent told the media Palmer believes it is time for he and the organization to go separate ways.
Palmer is tired of losing, there is no doubt about that. While Palmer can not be held blameless in this argument, the Bengals front office is not held up as a gold standard in the NFL.
Marvin Lewis was retained as head coach despite his losing record, owner Mike Brown is cheap, and the Bengals front office delights in signing felons and malcontents.
This is not how you build a winning organization, and Palmer recognizes the Bengals are not going to go anywhere with the current front office structure. Palmer's best chance of postseason success lies elsewhere, and he is running out of time to take advantage of it.
While the Bengals may not want to get rid of him, it is time the front office realizes the relationship has been severed, and it is time for both sides to move on.
For a look at the NFL Draft, check out a Three-Round Mock Here.
Minnesota Judge Rules Against League In TV Case, Still No New CBA
The NFL Player's Union, which still exists as of this writing, scored a big victory in court on Tuesday when a federal judge in Minnesota ruled $4 billion in television revenue was unfairly and illegally secured by the league.
While this could give the players more money to weather a lockout, it does not change the fact the owners still have the upper hand in this equation. No decision has been made about what to do with the money or what damages the players would receive.
With the current CBA expiring at midnight on Thursday, this decision is a moral victory at best. The players still will be locked out and the league and its lawyers can stall indefinitely on the ramifications of Tuesday's decision.
This also assumes the union does not decertify because once it does, I can guarantee the league will appeal this decision and try and have the case thrown out.
This dispute can not be solved in court, it only can be mediated at the bargaining table and the players stand to lose a lot more in the long run if they keep fighting.
I do not want to sound pro-owner, but I have enough smarts to know a losing cause when I see one. There will be no winners in a lockout, and the players will lose more if they fight. Considering the millions a lot of players make and the absolute nothing many people in this country are making right now, it is hard to sympathize with any side in this deal.
For a look at the draft, check out a Three-Round Mock Draft Here.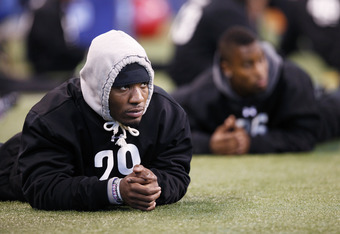 NFL Combine Has Its Uses, But Getting Excited Over 40 Times Is Disturbing
The NFL has done its job when it comes to marketing. Not only does the NFL sell people on preseason games, it sells them on the draft and now the Combine.
So the geniuses at the league have convinced people to pay full price for four exhibition games, and two events that do not actually feature any competition, just hype.
Granted, the public still is not allowed in to watch the Combine, but it does get wall-to-wall coverage on the NFL Network.
The game of football is played on a field, with pads, and the quarterback usually is under some kind of pressure while players hit each other.
The Combine features guys in shorts, running unimpeded down the field, maneuvering through cones while quarterbacks throw without any defenders trying to tackle them.
You can not get a true sense of how successful a prospect will be under those conditions. You have to watch game tape and then make your evaluation.
The Combine is useful for getting some measure-ables and giving teams an opportunity to interview lots of guys all at once. Other than that, it is hype. The teams that believe the guys who "win" the Combine are the ones to pick are the teams that usually end up picking first on a regular basis.
For a look at the draft, check out A Three-Round Mock Draft Here.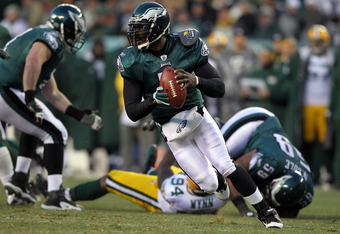 Michael Vick Continues His Rebirth With New Contract From Philadelphia
Michael Vick is a polarizing figure. On one hand he is an incredibly talented football player. On the other hand he did some very terrible things off the field.
It is hard to reconcile the two men since Vick has done everything the state and the NFL have asked of him since pleading guilty to dogfighting charges a few years ago. He served his time, he did not complain or show attitude about starting from the bottom in the NFL once he was allowed back.
Vick's play in 2010 speaks for itself, and Eagles fans who are animal lovers are stuck in a weird situation. They want their team to win but they really do not want to root for a guy who spent years torturing dogs for sport.
Vick has paid his dues to society, and by society's rules, Vick was given a second chance. He has made the most of that second chance and now is being rewarded for it.
Forgiveness also is supposed to be part of the American culture, and as long as Vick stays on the right path, who are we to tell him he does not deserve to have the rewards that come along with being a starting quarterback in the NFL?
For a look at the NFL Draft, check out A Three-Round Mock Draft Here.