Brock Lesnar: 10 Must-See YouTube Videos of the Former Champ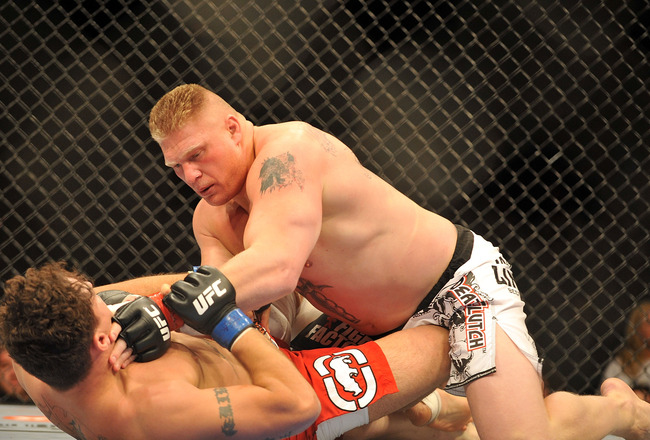 Jon Kopaloff/Getty Images
Brock Lesnar is a beast of a human being. He was genetically engineered from Viking DNA left over from their reign from the Eighth to the 11th century. His past ancestors have been woven to create a man more powerful than a grizzly bear, with the speed of an antelope.
Maybe that last paragraph had a bit of hyperbole, but that doesn't mean watching Lesnar complete random athletic endeavors is any less exciting. Seeing a man of his size and demeanor do almost anything is surprisingly riveting.
Ten YouTube videos of the former UFC champion await inside the slideshow; go check them out.
10. Lesnar/Undertaker Exchange Words After UFC 121
Admittedly, Lesnar isn't the star of this video. It's his former co-worker, the Undertaker, who takes center stage during this rather average Ariel Helwani interview.
Until a broken and defeated Lesnar walks by.
It's a subtle exchange, that sees the Undertaker ask Brock if he "wants to do it?"
Rumors immediately spread about a staged meeting that would bring Lesnar back into WWE and professional wrestling.
While it never actually happened, it did spawn some crazy rumors for a couple of weeks.
9. Brock Lesnar Pinning Wes Hand
After seeing Lesnar compete in spandex with a downright Herculean physique in WWE for all those years, you almost forget that he was a legitimate wrestler earlier in his life.
It's downright crazy to see a man his size move like this. It makes you fear for whoever is unlucky enough to get in the Octagon with him.
A man that big should NOT move like that.
8. Brock Lesnar Trains in Grappling
For all of his shortcomings in the striking game, Lesnar has an absolutely stellar ground game for someone who has trained for as little as he has.
His transitions are fluid, his submissions tight. It's just a beautiful thing to watch.
Entirely too often, you see wrestlers content with learning just enough Jiu Jitsu to not get submitted, but not Brock. He has always seemed dedicated to becoming a submission machine.
Just ask Shane Carwin.
7. Brock Lesnar's First Fight
The size. The speed. The wrestling. The ground 'n' pound.
It was all there from the start.
It's not often that a legitimate title contender's career gets documented from his very first baby steps, but that's exactly what happened with Lesnar.
His mere star power put him under intense scrutiny from the start.
He handled it well.
6. Brock Lesnar Clearing Trees
Because why not?
It's not often you get to see a 265+ pound man using a Bobcat to clear out a forest up in Minnesota. Luckily enough, that's exactly what's in this video.
It's a rare opportunity to see an elite athlete outside of competition.
5. Before He Was a Superstar
There is something oddly entrancing about watching a large man in cut-off sleeves get his hair cut by an elderly man.
It gives Lesnar the appearance that he may just be human after all, and not just some behemoth sent to annihilate every UFC heavyweight in his path.
Lesnar always comes off as rather cold and hostile in interviews, but this is different. He jokes and laughs with the barber. It's strange to see.
4. Randy Couture Training with Brock Lesnar
Brock Lesnar TKO'ed Randy Couture. He used his lunchbox-sized fists to beat Couture's face in.
Afterwards, Lesnar invited Couture to come train at DeathClutch with him. Captain America accepted.
Seeing one of the top heavyweights in mixed martial arts train with one of the top heavyweights of all time is pretty awesome.
It's not often two fighters this good hook up to offer their expertise to each other.
3. Brock Lesnar and the Big Show
They broke the ring.
Just let that sink in.
The combined weights of Lesnar and the Big Show broke the ring.
Yeah, that's worthy of watching.
2. Brock Lesnar F-5's a Shark
Yeah, it's totally fake.
But it's still totally awesome.
Lesnar is such a recluse in his mixed martial arts career, constantly hiding out in his Minnesota home away from it all. Seeing him in a role like this is just perplexing.
After he actually beat up guys in legitimate fighting, his pro wrestling past just seems weird.
1. Brock Lesnar Dancing Mariachi
Maybe Cain Velasquez saw this before UFC 121 and was extra pissed?
Probably not, but it's still fun to speculate.
Keep Reading