2011 NHL Entry Draft: Predicting the First 10 Picks (VIDEO)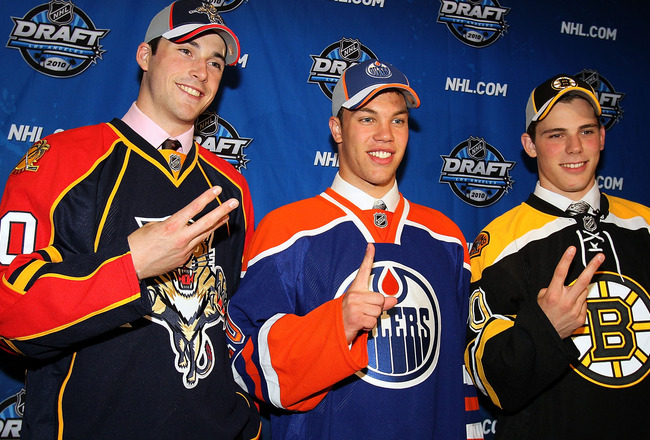 Jeff Gross/Getty Images
The NHL Draft is a terrific way for hockey fans to take a look at the next generation of NHL superstars.
Last year's highly touted youngsters such as Taylor Hall, Cam Fowler and Jeff Skinner have all made some big-time impacts for their respective NHL teams, but the focus now turns to this year's class and the search for the next big thing.
While you can argue that this year's crop may lack the "pizzazz" of that 2010 class, there is no doubt many names will figure to be contributors immediately or at the very least create an instant buzz around the teams that select them. That alone provides months of debate for NHL fans all over the country to say nothing of fueling the pundits with endless fodder.
The NHL GM annual pilgrimage will take them to the Xcel Energy Center this year. Rest assured, they will be traveling with mounds of data and countless DVDs of game film from which they will glean their selections.
Perhaps, some of the very same video clips that you are about to see.
Up now are the top 10 selections reflecting the current standings as of March 1, 2011 and certainly may change given how the standings shake out.
Edmonton Oilers: Adam Larsson

Adam Larsson taking out Nikita Filatov and relaying the breakout pass

Defenseman 6'3", 209 lbs
Plays for: Skellefteå AIK
GP: 35 G: 1 A: 8 PIM: 41
It's been a tough year for the Oil, but the fans have plenty to smile about as the nucleus of youth can dazzle on any given night. As is the case with many young hockey players, consistency has been an issue for the Oilers.
Still though, the young exciting core holds plenty of promise for the fanbase if they continue to grow together.
Adam Larsson has shot up to the top of the ISS Top 20 rating and many have projected the Oilers to take this gifted Swede blueliner with their top pick. Following the footsteps of another Swede defender Victor Hedman, some scouts have Larsson pegged as possibly having more upside. Larsson is a large defender with a very high hockey IQ and capable of moving the puck very well.
He's also a good playmaker with a solid base of offensive skills that should blossom over time. He enjoyed a breakout year tying the single-season record for scoring among defencemen under the age of 18.
Much in the mold of Drew Doughty, Larsson could provide a great option on the second pair with Jim Vandermeer.
Ottawa Senators: Ryan Nugent-Hopkins

Nugent displaying a soft scorer's touch

Center 6'0", 172 lbs
Plays for: Red Deer Rebels—WHL
GP: 62 G: 20 A: 67 PIM: 43
Not much has gone right for owner Eugene Melnyk and the Ottawa Senators after falling just short of the Stanley Cup. The somewhat shocking fall from grace has been swift and painful for the Senators who had the skill and ability, but could not win it all. Their overpaid and aging roster is in need of a quick infusion of talent, and there's not many better than Ryan Nugent-Hopkins.
Although Nugent-Hopkins is relatively small for his position, he is by all accounts an NHL-ready player who can make an immediate impact. Much like Taylor Hall last year, Nugent-Hopkins could step in and positively impact the team almost right away.
Nugent-Hopkins enjoyed a breakout year in 2009-2010, playing in 62 games and recording 20 goals with 67 assists. Named WHL Rookie of the Year, Nugent-Hopkins also participated in the 2010 World Under-17 Hockey Challenge.
Scouts compare his play to that of Paul Kariya; his lightning-quick decision-making and calm demeanor will be a great fit in Ottawa.
NY Islanders: Sean Couturier

Sean Couturier scoring the OT Winner

Center 6'4", 195 lbs
Plays for: Drummondville Voltigeurs, QMJHL
GP: 51 G :34 A :54 PIM :29
Another year, another poor season and another top draft pick for Garth Snow and the New York Islanders. While the jury is still out on Nino Niederreiter and Brock Nelson, their young core continues to impress. Michael Grabner has been a surprise as well, as has the continued development of Tavares, Bailey, Okposo and Moulson.
After a season of discord between the pipes and more shenanigans from Rick DiPietro, the Islanders might have found a diamond in the rough in Al Montoya.
Couturier enjoyed a terrific breakout year in 2009-2010, leading the QMJHL in scoring with 34 goals and 54 helpers. Although he struggled with bouts of inconsistency, he is still projected as a responsible first-line center with playmaking abilities.
New Jersey Devils: Ryan Murphy

Ryan Murphy scores late goal

Defenseman 5'10", 168 lbs
Plays for: Kitchener Rangers
GP: 59 G: 25 A: 52 PIM: 34
New Jersey has had some premier talent on the blue line that have backstopped the Devils to a decade of excellence. Following in Scott Neidermeyer's footsteps, Ryan Murphy is an offensively-gifted blueliner with great power-play potential.
Although there may be some concerns regarding Murphy's size, he's excellent with the puck and is a threat to jump into the play at any time.
Colorado Avalanche: Gabriel Landeskog

Landeskog Hat Trick

LW 6'1", 203 lbs
Plays for: Kitchener Rangers
GP: 45 G: 33 A: 29 PIM: 55
It's been a forgettable season for the Colorado Avalanche who have failed to recapture their youthful exuberance from a year ago. Ravaged by injuries and inconsistency, Head Coach Joe Sacco would wind up benching several key contributors to the team before the fire sale.
Moving several key members of their youthful core, the Avalanche have remade their roster with a significantly different makeup.
Landeskog has surged into the top five grouping behind a strong season, but may have a bit of a "glass ceiling." He's a hard-nosed player who should be a very safe pick for the Colorado Avalanche as they continue to tweak their roster.
Florida Panthers : Dougie Hamilton

Hamilton rips one by the goalie

Defenseman 6'3 191 lbs
Plays for : Niagara IceDogs
GP : 58 G : 11 A : 39 PIM : 69
The Panthers are technically still in the race, but moved Bryan McCabe at the deadline within the conference to the New York Rangers. Dale Tallon will look to bolster the blueline corps with Dougie Hamilton, a defenseman with great size and range.
Dougie will be following in the footsteps of his brother Freddie, selected 129th overall by the San Jose Sharks in the 2010 Entry Draft.
In his first season with Niagra, Hamilton put up 3 goals, 13 assists and 36 penalty minutes earning OHL second team All-Rookie honors.
He's a very solid defender in his own end and has a good offensive upswing, with great wheels. He also possesses a great shot and figures to start contributing right away on the power play. That said, the jury seems to be still out on the youngster, with varying opinions on his impact at the next level.
Atlanta Thrashers : Ryan Strome

Strome scoring a nifty goal from the slot

Center 5'11 161 lbs
Plays for : Niagara IceDogs
GP : 56 G : 28 A : 64 PIM : 74
Atlanta may have some ownership and relocation questions lingering around their team, but that won't stop them from another draft success. The Thrashers could very easily take Strome, an undersized but very creative playmaker to center Evander Kane and Anthony Stewart.
Strome is a very deceptive puck handler and projects well at the next level despite some questions about his frame.
Boston Bruins – Duncan Siemens

Siemens can score and get nasty if you want

Center 6'3 191 lbs
Plays for : Saskatoon Blades
GP : 63 G : 5 A : 32 PIM : 102
The Bruins are always rebuilding on the move, and continue to enjoy success regardless of who they trade or draft. With an excellent team defense and long history of elite blueliners, the Bruins could take Duncan Siemens.
One of the youngest players in the draft, Siemens has a nasty streak that accentuates his all around defensive game. He has refined his offensive abilities this year and showed some improvements skating with the puck. He loves to dish out the hits and has the prototypical size and skillset for the makings of a very excellent NHL defender.
St Louis Blues : Brandon Saad

Saad Scores two goals

LW 6'1 197 lbs
Plays for : Saginaw Spirit
GP : 52 G : 26 A : 23 PIM : 102
Saad started quickly this season, but has tailed off since his torrid start and is slipping on the ISS charts. He possesses a good frame and can protect the puck relatively well, but questions about his grit may lead to him being outside the top ten.
Overall he is still a very good prospect if he can just work out some of the inconsistencies in his game.


Carolina Hurricanes : Jonathan Huberdeau

Huberdeau scores highlight reel goal

Center 6'1 174 lbs
Plays for : Saint John Sea Dogs (QMJHL)
GP : 59 G : 36 A : 58 PIM : 83
Huberdeau is a talented center who will need to fill out his tall frame to withstand the beating in the NHL. His dynamic skillset and vision can make him a consistent threat at the next level if he can just find the next gear.
He has a very high ceiling for a pick this low, and many scouts feel he has the talent and upside of a top 5 pick.
Keep Reading

Edmonton Oilers: Like this team?