Michael Vick: Eagles QB Fighting for Forgiveness Not Doing Himself Any Favors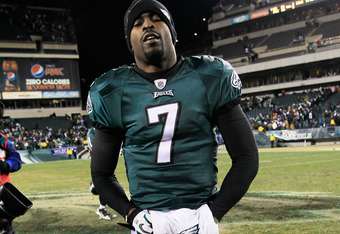 Michael Vick Reportedly Skips Out on Event Aimed at Mentoring Kids at Risk of Dropping Out of High School.
Philadelphia Eagles quarterback Michael Vick has been fighting to change the public's perception of him ever since stepping back onto the field in January 2009, after being sent to prison for running a dogfighting ring.
While Vick has gained some supporters and made some doubters re-think about him this season after dominating on the field and appearing to change off it, he certainly hasn't done himself any favors lately.
After recently bailing on a scheduled appearance on Oprah, Vick may have committed an even bigger crime on Monday (and yes, bailing out on Oprah is considered a crime in the United States of America).
Vick was set to be on the panel for an event called What it Takes at the Franklin Institute in Philadelphia on Monday, an event aimed at mentoring kids at risk for dropping out of high school.
But he didn't show, leaving 200 boys asking, "Where is Michael Vick?"
Conflicting reports have Vick either simply not showing or canceling at the last minute for a "personal conflict" which required his appearance in Virginia.
It certainly doesn't look good for Vick.
Don't know what the personal conflict was or if there even was one, but you'd think he'd be trying everything in his power to attend events like this, for simply the fact that they would greatly increase his PR.
Doubt is already surrounding Vick regarding his two recent no-shows, and if he's not careful he could find himself slipping back into the dreaded "egotistical jerk athlete" label so often placed on superstars.
It's one thing not to schedule these events and simply lay low, it's quite another to cancel when 200 kids are awaiting his arrival.
Most recent updates:
This article is
What is the duplicate article?
Why is this article offensive?
Where is this article plagiarized from?
Why is this article poorly edited?