The Wannabe Booker: Rebooking the WCW Invasion Angle.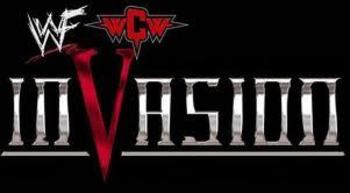 This is the first in a series of sideshows I'll write every so often based partly on a writing exercise I do in my spare time and partly on my own childish fantasies of being a real-life wrestling booker.
The rules of my writing game are usually take anything from 20 minutes to an hour depending on the story-line to plan and write how I'd book a certain angle or event in either WWE, TNA or general wrestling history. Book what I want, with who I want, with full control over the roster and such, within the limits of reality...well, within the reality of what the company of the time could actually do.
Anyway...the WCW invasion angle was one that interested me considering how WWE played it out, considering not only that they lacked the big stars of WCW but also how the storyline progressed more into a WWE wrestlers v WWE with some WCW and ECW guys who generally got buried before, during and after the angle.
I'm also a big fan of the Guest Booker series and Jim Cornette's was perhaps my favourite and his booking of the angle was superb, so my booking of the angle will be in a similar vain to Cornette's yet I don't intend to follow much of what Cornette would have done.
I will use a similar roster with some similar ideas but when I started writing my ideas it gradually became apparent the time-scale of this angle would stretch beyond a year and would in fact last from the first Raw after Wrestlemania X7 to Wrestlmania X8. The storyline would expand beyond that by a few months and lead in to the start of the WWE brand extension. It took also about one hour in thinking time to really get this down on paper.
THIS WILL BE A LONG AND HOPEFUL ENTERTAINING JOURNEY...THERE WILL BE WWE V WCW. ICONS OF BOTH PROMOTIONS GOING ONE-ON-ONE AGAINST EACH OTHER. FEUDS WILL BE RESOLVED, BLOOD WILL BE SPILLED. IT MAY EVEN GET A LITTLE EXTREME!
The Rosters: WWE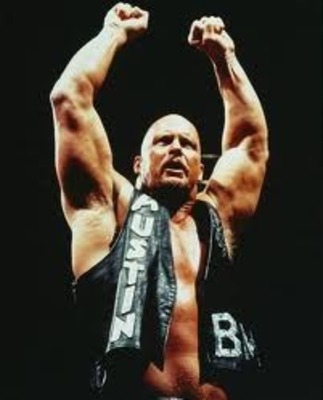 I wouldn't change any of the roster. This is as accurate a roster as I was able to get:
WWE World Champion: Steve Austin.
WWE Intercontinental Champion: Triple H.
WWE World Tag Team Champions: Edge and Christian
WWE Europe Champion: Eddie Guerrero
WWE Hardcore Champion: Kane
WWE Light-heavyweight Champion: Jerry Lynn
WWE Womens' Champion: Chyna
Also have:
The Rock
The Undertaker
Kurt Angle
Big Show
Chris Jericho
Chris Beniot
Jeff Hardy
Matt Hardy
Rikish
Dean Malenko
Billy Gunn
Val Vennis
The Goodfather
Steven Richards
Tarijiri
SHo Funaki
Taka Michinoku
William Regal
Spike Dudley
Bubba Dudley
Dvon Dudley
Test
Taz
Rhyno
D'lo Brown
Chaz
Scotty 2 Hotty
Grandmaster Sexy
Bradsaw
Farooq
Steve Blackman
Crush Holly
Hardcore Holly
X-Pac
Albert
Al Snow
Bull Buchan
K-Kwik
Women: Ivory, Terri, Debra, Lita, Trish Stratus Jacqueline
Tag Teams: Right to Censor, APA, The Dudley's, Edge and Christian, the Hardy Boyz, Too Cool
Roster: WCW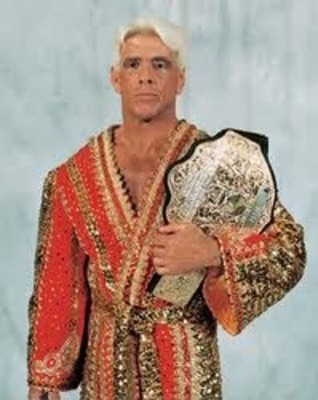 These are the titles I would keep for WCW in the WWE and there's a reason behind each of them and each will serve it's own purpose. A KEY THING ALSO is I'd buy out the contracts of all the major WCW talents and get them on the show. The fans have been waiting to see this for so long and frankly WWE has enough money to do it, just don't buy the God Damn restaurant in Time Square. Plus with a storyline like this you could hopefully get back double. Many of these guys will only be in for a temporary basis or for probably half, a one year maximum:
WCW World Heavyweight Champion: Booker T
WCW US Heavyweight Champion: Booker T
WCW Television Champion: Jim Duggan
WCW World Tag Team Championships: Sean O'Haire and Chuck Pulumbo
WCW Crusierweight Tag Team Championships: Rey Mysterio and Billy Kidman
Ric Flair
Hulk Hogan
Goldberg
DDP
Sid Vicious
Kevin Nash
Scott Hall
Scott Steiner
Curt Hening
Jeff Jarrett
Bam Bam Bigelow
Raven
Chavo Guerrero
Jamie Noble
Chris Kanyon
Hugh Morris
Hurrican Helms
Mark Jindark
Kid Kash
Terry Funk
Rick Steiner
Shawn Stasiak
Shane Douglas
Mike Awesome
Shannon Moore
Evan Karias
Konnan
and...two young guys who were with WCW when it closed...AJ STYLES and CHRISTOPHER
DANIELS.
Women: Torrie WIlson and Stacy Keilber
TAG TEAMS: The Steiner's, the Filthy Animals, 3 Count, Daniels and Styles.
Basis Things I Plan to Do with the Angle.
The key thing I would try to do with this angle is make it seem REAL. Yes, wrestling has been exposed a long time ago, but there's no need to just roll with it like WWE does by saying looking how fake we are because that damages the credibility of wrestling and carries the ignorance further. We can not change this and I wouldn't want to, but let's try and make the fans doubt for one second...it's real, it's damn real and here's how maybe...
These promotions have been going at it against each other for so long, we finally get to see what happens when heroes collides like Flair v. Austin, Goldberg v. Undertaker, Sting v. the Rock! Not only that, but there's bad blood between the two. Christ, let the blood boil and maybe see things get out of hand. Have a locker-room of wrestler's trying to kill each other, have them go shoot style in beating the crap out of each other.
Make it not only seem real to the fans but show how badly winning this fight is to their respective company and pride. If they can make the animosity real, even slightly, then the fan's will get what they paid for. An all out war between these two giants of wrestling while putting some credibility back in the sport.
I DON'T INTEND to steal these ideas but they are the ways Jim Cornette use in the Guest Booker of the WCW invasion. I don't think I could re-invent the wheel any better so why go with something else just because it's not you're idea...maybe someone should ask Vince that.
One thing I'd also do is respect the WCW legacy and history, not just for the wrestler's, but all the fan's of both WWE and WCW. In this year WCW will get closure and the fan's get one last look at how one of the greatest feuds imaginable happened. It should sell tickets, PPV's and get ratings.
Not just that, but do what the WWE has failed to do in recent years which has bitten them in the ass. CREATE NEW STARS and PUSH NEW GUYS to the top.
Final Nitro, First Raw Post-'Mania
As far as the final Nitro goes, do so and have the finale, but at the end Vince announces that he owns not just WCW but the brand also and it's wrestlers for one whole year and he will make a speech on the first post-Wrestlemania Raw about how he plans to integrate the WCW legacy into the history of the WWE.
At Wrestlemania have the same stuff go on, Austin turning on the fans, joining Vine and Triple H as the Ego Trip tag team. Right, first Raw starts with Vince coming down with Triple H and Austin and instead of Austin explaining his actions and such, Austin cuts a harsh promo on WCW and gives the floor to Vince.
Vince does a promo bragging about beating billionaire Ted, beating WCW into the ground. Have him take the piss out of their wrasslin' and their history and their champions. Very much like the promo Jim Cornette wrote, focused on the wrestlers who almost drove him out of business and, like Cornette, I'd have Bischoff come out and suck up to Vince saying he's glad he blames the greedy wrestlers and tries sucking up to Vince for a job. Vince talks to Triple H and Austin and they will perhaps give him a job. First they make him beg like a dog and Austin says later he has to do it all over again, but dressed up in a French maid outfit and make-up. The Rock interrupts and the programme goes on.
All night have speculation from the WWE guys what will happen. End of the night Vince with Triple H and Austin come out. Before they get onto the main agenda Bischoff dressed up comes down humiliated, does he stuff and then at the end Vince hires him, and quickly does a YOU'RE FIRED!!! shout. Triple H pedigree's him and then Austin stunner's him.
He gets on to the WCW wrestlers. He cuts a promo saying they can either stay at WCW, breach their contracts and not get paid their fat salaries, or work for him and let his guys beat them down and make them submit to the WWE. He will make their lives hell and wants them legitimately hurt.
Through the crowd there's screams and the big WCW names (excluding Hogan, Nash and Hall) and the other WCW guys come to the ring lead by Booker T, Flair and Sting. Flair cuts a promo saying the WCW will lay down for no one and if there going out, their going out swinging and doing what they do best. Hurting people.
The Undertaker comes out with the WWE locker-room. Undertaker talks of their hate for WCW and want to destroy them, but they will not do it and the price of their careers by pushing this war into violence where they legitimately want to kill and hurt each other.
Vince speaks and declares he needs to think about this and make a decision, so he'll do it at Smackdown this week.
Smackdown: The Return of NITRO and WCW!
Smackdown starts with Vince saying that he can't do what he wanted to the WCW wrestlers the way he wants to and he can't afford to just leave them on the payroll and not bring in any profit. He wants a war, the wrestlers want a war and the fans want a war. So he thinks the only way to finally finish this war and finally kill WCW while over time destroying it slowly is by competition.
He says this is the last Smackdown, and from next week this will be the home of WCW, he is resurrecting Nitro and giving WCW several of the WWE PPVs.
Triple H, Austin, the Rock and the Undertaker all come out saying he's mad. Vince tells them he's putting Bischoff in charge and says he'll have to fund the company out of his own pocket. He say sooner rather than later WCW will fall to him again, he controls it but he wants them to destroy themselves. He says he wants his wrestlers to help and prove themselves as the greatest ever.He wants them to take apart WCW, once again.
He announces for BACKLASH a CLASH OF CHAMPIONS, STEVE AUSTIN as WWE Champ v. BOOKER T as the WCW's Champ.
They all agree the WCW guys will have to submit to Vince and that the WWE wrestler's will likewise beat the crap out of the WCW guys. He books a big final Smackdown card concluding with AUSTIN, TRIPLE H, and ANGLE v. THE ROCK, THE UNDERTAKER and KANE.
The WWE guys are on edge all night, guarding the arena and ring, expecting some sort of invasion.
In the big Main Event, right in the middle of the match the TV screen goes fuzzy...A black banner comes up and says THE FOLLOWING MESSAGE HAS BEEN PAID FOR BY THE NEW WORLD ORDER! We have Hogan, Nash and Hall talking about taking over WWE. They mix this with the promo's and words of over WCW guys wanting the challenge.
Smackdown cuts back and the guys in ring are pissed at what's happened. Smackdown's now gone over by ten minutes but they keep rolling. Backstage Vince is pissed screaming at a shirt as his limo pulls up. He opens the door and Flair ambushes him and beat him senseless! WWE guys run from rignside to get him but he escapes in the limbo. WCW guys pour through the crowd.
In ring we have a stand off with Austin facing Booker T! the Rock facing Sting! Undertaker facing Goldberg! Angle facing DDP! and Kane facing Sid Viscous.
BACKLASH: WCW Champion v. WWE Champion
In the weeks leading up to it, both Raw and Nitro have become separate brands with separate rosters and different companies. At this time there's no invasions on each other's company, there's a lot of on-air promo's against the other and such and feuds are being set up within each brand.
For example, in WCW I'd be building for a long-term feud, Flair and Hogan, but this time have it based on Flair blaming Hogan and the NWO for destroying WCW in the first place and Hogan shouldn't be there, he was a WWE star and he will turn on us and such.
Build towards Backlash would just be in promo's and such and building up both champions.
MAIN EVENT: WWE CHAMPION STEVE AUSTIN v. WCW CHAMPION BOOKER T. during the match I'd have a lot of interference and two ref's in the ring, one for each brand showing some sort of favouritism and I'd play on this throughout. I'd have all the big WWE guys try to interfere but big WCW guys, who are sat throughout the PPV at ringside jump the railings, punch a few security guards until they know to stop trying hold them back coming in to stop the cheating and such.
I'd have all the big names blocking each other from cheating, Flair cutting off the Rock, Triple H stopping Goldberg from getting involved, DDP hitting the diamond cutter on Angle and then a double one on Christian and Edge, just for good measure.
End: I'd have the match go to a 45 minute time limit draw with both ref's being knocked out and having a good contest. It looks like Austin wants to shake Booker's hand and show some respect but he Stunners him.
WCW's First PPV STARRCADE and SURPISE
The build here is the resurrection of WCW. Starrcade would be in the PPV slot where Judgement Day would normally be. The big focus is focus on the WCW stars and making big matches to support their resurrection with a mix of old and new talent.
My Main Event would be Ric Flair, Booker T and DDP v. Hulk Hogan, Kevin Nash and Scot Hall. The set-up for the match is just Flair along with Booker and DDP see these guys as the cancer that killed WCW the first time around and they won't let them do it again. I'd have team Flair go over, with Booker pinning Hogan.
Other big matches...I'd have Booker T compete before defending his US title against Jeff Jarrett, and Booker would retain.
One thing I'd also have is Vince and Austin and Triple H in their own private box watching the entire PPV.
Early in the card I'd bring in a BIG SURPRISE: Jim Duggan defending his Television championship in an open challenge. Who comes out....WWE EUROPEAN CHAMPION EDDIE GUERRERO! HE's DEFECTED! Vince and HHH and Austin go crazy. Eddie wins the title. Post match he grabs the mic and tells Vince that he left WCW for the same reasons he's abandoning WWE now and that's the politics with Vince's bug guys like Austin and Triple H keeping guys like him down. He unifies the European title, a title he disrespects for it's meaning with the WCW TV title and generally degrades WWE.
WWE and WCW ROSTER CHANGES!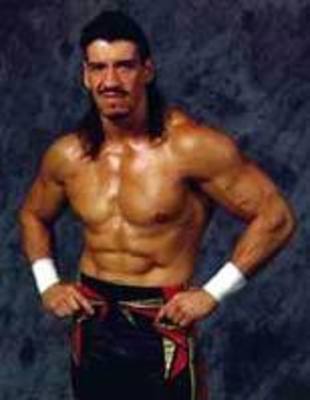 On the first Raw after Starrcade, in the first segment, Vince addresses Eddie leaving WWE. He is in ring with the big WWE poster boys, Triple H, Austin, Undertaker, Rock and Angle. He does a promo on how he suspects Eddie won't be the only person to jump ship so he brings out three guys who he thinks will jump ship as they have strong connections with WCW. CHRIS BENIOT, CHRIS JERICHO and BIG SHOW.
Vince gives them the chance to go but they don't. Each gets on the mic saying why they love WWE and won't leave with Beniot going last. He gives an emotional speech about how he can't believe his best friend walked out on him. He's really shaken up and it shows
Vince calls out anyone who wants to jump to WCW they have a free pass to do so, so come out now, be a man and tell the WWE locker-room head on and get on your way.
Out comes DEAN MALENKO and BENIOT can't believe it. Vince says he admires his guts and puts him right now into one final match against Beniot, Jericho and Big Show in a handicap match.
In this match they just beat him senseless. At the end Beniot literally just spends most of his time stomping and what looks like legitimately hurting Dean. In the end he makes him tap in the crossface but he refuses to let go. When he does he grabs Dean's arm and uses the pole and it seems he breaks Dean's arm and puts him back in the crossface. Vince tells the ref to let him do it and JR just walks off without saying anything. JR goes to WCW too
Both Beniot and Jericho are big players I'd push on the WWE side of things...as you'll see. Other people will join and defect later on!
King of the Ring and the Rise of Rey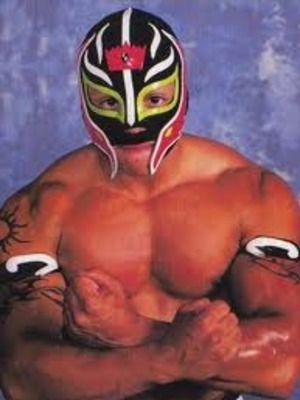 This is the next WWE PPV but Vince wants another match on the card and it's the opener. We have Chris Beniot v. Eddie Guerrero in a non-title match. And it get's ugly fast! Again another thing inspired by Cornette's ideas...I'd have this turn nasty and literally pay the guys to try and beat the life out of each other and in the end have wrestler's from each brand separating them. I want this not only to seem real but to grab people's attention and see visually how much this fight means to wrestlers on each side.
As for the tournament instead, Vince tells Bischoff to send one man over to compete in the tournament, a young guy, not one of these established guys like Flair or DDP or even a top mid-card guy like Bam Bam Bigelow or Hening or even Raven. So on one of the Nitro's there's a tournament. And who wins....REY MYSTERIO.

Rey, right now, is getting pushed with the Filthy Animals and still have the Cruiserweight tag belts active. But Rey wins and on Nitro he defends himself against being just a little guy racking some victories against big guys like Nash and Hall but losing to Bigelow and Goldberg.
Anyway, first round and Rey faces Big Show. It looks like Show will win, he's wiping the floor with Rey. He decides to punish Rey, so he removes the turn-buckle cover he sets up Rey to do a splash up Rey moves and he goes back first into the turnbuckle. Rey hits a West Coast Pop and goes for the pin. The ref doesn't know what to do. He makes a really slow count a Rey wins!
Post-match: WCW guys come to protect Rey from the WWE guys. Show is taken off in a stretcher, he might have broken his back. Rey now becomes known as not only a giant killer but a symbol for what WCW will do, against the odds now as the small underdog, facing the big bully WWE.
Rey loses the next round to Chris Jericho with the WCW guys at ringside but Rey's star is shining and on WCW he gets a bit of a single's push as well as a tag push.
Overall the tournament is won by Chris Jericho who will get a world title shot sometime in the future.
The Great American Bash!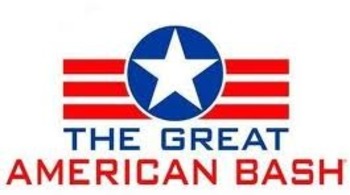 This is the Next WCW PPV where the Invasion PPV would have taken place. I'm not going to write an entire card out by key matches here are:
I'd have a unification match for the WCW world tag team titles and the WCW Cruiserweight titles: I'd have O'Haire and Palumbo still as the world champs and Rey Mysterio and Billy Kidman as the cruiserweights. I'd have O'Haire and Palumbo go over by cheating, only really though to push this feud forward.
Also I'd have Goldberg v. Sid Vicious. I'd have Goldberg win and have him trying to do another undefeated streak and working his way back to the top of WCW.
I'd continue pushing Hogan/Flair, but this time in a triple threat match with Sting for the number 1 contender spot for the WCW title. I'd have Sting win it after Hogan cost Flair the win.
the Main Event: Booker T defending the World Heavyweight Title and United States championship against Television champion Eddie Guerrero in a two falls match. It would be a close match but Booker would win both.
Post match Jericho would come on screen and says he gets a shot at a world champion at SummerSlam, but he wants his shot against the company that crippled and clipped his creativity. He challenges Booker T to a match for the title at SummerSlam. Booker accepts.
SummerSlam: A Joint PPV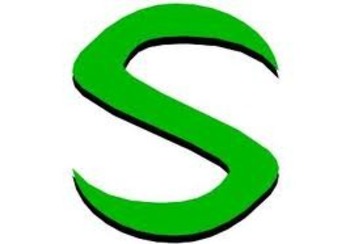 This would be a big card with matches from both promotions as well as inter-promotion matches. Here we get the first inter-promotion rivalries playing out.
I'd have a two month build-up for a dream match: People's Champion v. People's Champion: The Rock v. Diamond Dallas Page. I won't plan out a build-up but you could see how it would happen. I'd have the Rock go over on this one.
I'd also have another big match that's been in the works for a while...Icon v. Phenom: Sting v. The Undertaker. For this one I think I'd have Sting win with the Deathlock.
NOTE: With these dream matches I'm not hot-shoting these feuds before WrestleMania season, but let's be real, I wouldn't expect someone to wait an entire year for certain match ups and I believe by having these dream matches at the big PPVs you'd get big buy rates, but at the same time you still have options for more dream matches as you'll see.
For example, Sting and Undertaker is a big match that could go down at WrestleMania, but I have other opponents planed for these two with bigger significant attached to them which would possibly be a bigger draw. I believe in giving the fan's what they want, and if you do it right it's easy to do so without harming the product and the angle, but I'll let you judge that.
I'd also have Flair v. Hogan in a 60 minute Iron Man Match. This to end their feud, or at least the way it's gone so far. I'd have a build-up with Flair saying Hogan is an entertainer, he can't wrestle a real match, I was the Sixty Minute man once upon a time and I can still got for it now. I'd have Hogan win this by 1 fall. Post-match they shake hands.
First Main Event: WCW World Heavyweight championship: Booker T v. Chris Jericho. I'd have Booker win this one. Note: by this time I'd have Booker lose the US title to Jeff Jarrett.
Second Main Event: the WWE World Championship: Steve Austin v. Triple H v. Chris Beniot. I'd have Austin turn face again and distancing himself from Vince. Beniot has become Vince's new right-hand man and he wants the title off Austin. Austin retains but I'd have it in the end where Nash and Hall come out and Nash grabs Beniot's boot as he was going up top for the diving headbutt and allows Austin to hit a Stunner from off the turn-buckle.
Just have it hinting afterwards and in the following week's Steve's got those two on his side and whether he's planning on jumping to WCW. The next night on Raw, Vince strips Austin of the title.
Unforgiven, the World Title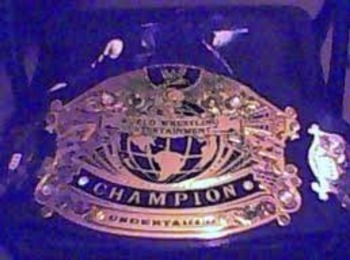 After the Raw where Austin is stripped as Champion because he thinks Austin will go to WCW and take the belt with him. He then suspends Austin, but throughout that Raw it's a struggle to get Austin to actually hand over the belt. Vince announces for Unforgiven, to crown the new WWE champion a six pack challenge with Chris Jericho, Chris Beniot, Big Show, The Undertaker, Kurt Angle and Triple H.
I think it was around this time Triple H became injured so I'm getting him injured for about 8 months so I won't change history, I'll have Triple H go out and be replaced in the match by someone else.
In the build-up I'd have Austin actually go onto Nitro where the NWO and Flair and the other guys are still having issues and have him appear at the end of an episode a week after being suspended. In ring I'd have Nash and Hall and I'd do this mid-way through the card. Austin's music goes he comes out and looks like he's going to shake their hands but he stunners then, grabs a mic and as he's running through the crowd he tells WCW where to stick it.
I'd have Nash and Hall win the WCW tag team titles also around SummerSlam.
I'd have Linda and the WWE board step in and put Austin into the six pack challenge to give him a fair shot but if he doesn't win the title the suspension won't be lifted. On the night itself I'd have the main event come down to Jericho and Austin. From the back I'd have Nash and Hall walk out with a chair each and their titles. There's some words between them and Austin but the ref tries to send them out up Nash throws him into the steps. Jericho is down on the outside. Jericho hits Austin with a low blow and goes for the walls but he stops to chase Nash and Hall off.
Later at the end of the match Austin is ready to win when Nash and Hall come out again and Nash hits Austin in the head with the chair when the ref is busy with Jericho. Jericho hits the lionsault and wins.
Post-match Vince comes down and he shakes hands and hugs Nash and Hall. Triple H on crotches comes down too. Jericho doesn't know what to think and watches a replay of what happened. In ring the group comes in and hugs and then wants to get Jericho involved but he turns face and refuses to.
The Kliq!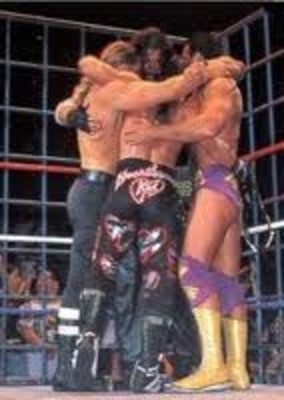 The next night on Raw, Vince, Triple H, Nash and Hall come to the ring. Nash and Hall says they've returned to where they belong. They say Vince made them stars, they only went to WCW for the paychecks. Triple H says this is the re-birth of the Kliq. Vince says they've been plotting with Nash and Hall to kill two birds with one stone. First to get Austin out of the picture and out of the WWE indefinitely and most important to hit WCW where it hurts by taking two of it's big stars.
Triple H says as for Jericho, he looks at Jericho and sees a young Shawn Michaels and says if Jericho knows what's good for him he'd join them and they'll run the WWE together and destroy WCW. Nash and Hall have the WCW belts and Vince tells them to throw them in the trashcan he has in ring and them they'll set them on fire.
WCW music goes and Ric Flair, Hulk Hogan and Bischoff come out. Bischoff is screaming and yelling at Vince and tells Nash and Hall what they've done to WCW and what this will do to them. Flair tells them they can stay here on WCW and he's not surprised and says it's all about the money with you two and being on top without having to work. They say they want those belts and they want them tonight.
Vince says he's not going to book Nash/ Hall V Hogan/Flair. But he's got another match in mind for them and if they win they win the tag titles back.
Backstage we see Hogan, Flair and Bischoff in a locker-room guarded by police. Flair still doesn't trust Hogan and thinks he'll betray him tonight.
They go out for their match with Nash and Hall on commentary. Vince introduces the next big thing and a wrestler that has the skills of Flair and twice the power of Hogan. BROCK LESNAR. Of course Brock at this time is still green but this will be a short match and basically an MMA style brawl.
Brock KO's Hogan and goes for Flair and puts a submission on his arm and we add a sound effect so it sounds like he's dislocated Flair's shoulder. Brock then turns for Hogan but Bischoff with a chair gets between them. But he turns around a nails Hogan with the chair.
They handcuff a bloody Hogan in ring and make him watch as Nash, Hall, Bischoff and Lesnar stamp the hell out of Flair and leave him in a puddle of blood.
Bischoff hugs Vince and has turned on WCW! WCW is without two of it's big stars now in Nash and Hall and no it's chairman and the man funding it has gone, what will WCW do?
WCW Nitro: Where Do They Go from Here?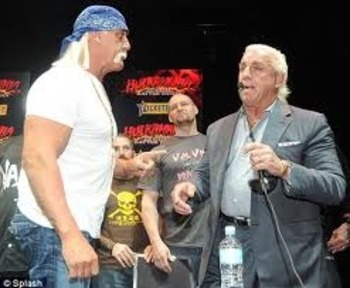 Nitro starts off with Flair, beaten black and blue in ring with his arm in a sling. He does an emotional promo about knowing that those three would sell WCW down the toilet and targets each man and runs him down. He says there's one man though he wants to see face to face in the ring. Hogan comes down and lets Flair speak.
Flair says to him he's watched the replay a hundred times and Hogan legitimately tried to help Flair (shows some footage of Hogan chained up actually reaching and trying to get towards Flair to help him). He shakes Hogan's man saying he still has his doubts but he thanks him for being a man.
After they discuss what happens to WCW now. They have a choice; 1) either go to Vince and accept defeat again and be forced to work the rest of the year under his tyranny...or 2) they pull together as a team and fight this war until the end. Hogan brings up the issue of money and Flair is about to answer when Hurricane Helms, Evan Kanins and Shannon Moore come to the ring.
The whole locker-room, one by one comes out. EVERYONE WANTS TO CHIP IN TO KEEP WCW GOING.They say that after everything WCW has done for them they want to keep fighting and give something back. They say Vince may have their contracts but the money they are paying them they want to donate to running WCW.
Flair tells them he really appreciates this but he says after all these years and what WCW has meant and done for him, and with all the money he has saved over the years, he's decided he wants to pay to keep WCW going and tells the fans because he's injured, he wants to take over running WCW as its figurehead and President!
Hogan tells Ric he really respects that and says how much he respects Ric and what he's done for WCW and wrestling, but tells Flair he wants to help him and says they should be partners in paying for and controlling WCW.
Flair won't have it saying he respects Hogan but he doesn't trust him. They agree to spilt the cost each and the other wrestler's can chip in. Flair matches a match for Halloween Havoc for the WCW presidency between Hogan and Flair, but because neither are in any state to wrestle, both men say they are bringing a BIG NAME each into WCW who was here before. Flair says this guys been out of wrestling for a while and Hogan says his guy is a WWE guy. So their picks will fight it out for control of WCW and until then they agree to let Arn Anderson being the president until then.
Halloween Havoc: WCW Presidency and Nash/Hall Invade!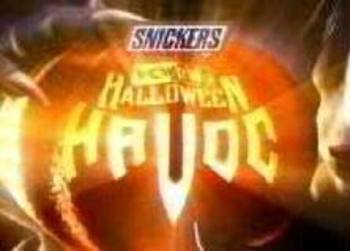 This would be in the No Mercy PPV slot.
Although this is exclusively a WCW PPV on the WWE side of things, Vince and the Kliq are worried about who's jumping ship.
At first it seems like Austin but he gives a satellite interview that says he will never work for them again and rather be dead. The Kliq all think it could be Jericho and he'll take the title with him. They also think it could be Beniot and he turns face now and has the Intercontinental title. The focus on WWE has very much been trying to get the titles off Beniot and Jericho but all month they fail and they can't fire or suspend them as Linda steps in to stop Vince doing so.
As for the WCW card:
All month Nash and Hall have had the WCW tag titles and have kept them and say they are coming to Halloween Havoc to defend them against any team who think they can take them off them and then after they retain they will throw the belts in the trash.
Mid-card guys have Nash and Hall for the titles in a gauntlet tag match against all the WCW teams, from O'Haire and Palumbo, to 3 Count and even big heavyweight teams like the Steiner's and Bam Bam Bigelow and Curt Hening. In the end they beat all the teams and brag but then Rey Mysterio and Kidman come out!
They take the piss out of their size and accept the match and in the end Kidman and Mysterio win with Konan's help and hit a double team off the ropes move on Nash to bring the titles home!
The match before the main event I'd have the WCW Presidency match: Hogan's pick V Flair's pick.
Hogan is out first and introduces his good friend the BIG SHOW! Show does a quick promo. Then Ric introduces the hardcore legend, we knew him in WCW as CATCUS JACK...but he is now MICK FOLEY!
MICK FOLEY v. BIG SHOW. I'd have Foley go over and post-match he says he's been watching this war and TV and came out of retirement to be part of this. He agrees with JR what the WWE is doing is sick and he's always stood up for the underdog and throughout his career he has been the underdog.
Main Event would be Booker T defend the WCW Heavyweight championship against Sting. Sting wins as Nash and Hall hit the ringside area and try to steal the WCW belt. JR grabs the title but Nash punches him to get it! Wrestler's are chasing them since they came through the curtain and even Booker and Sting go for them but they get out to fast.
The match continues after Ross is checked out and taken off and Sting wins. However, he hasn't got the belt show he's the champ.
Build to Survivor Series: Part 1 Raw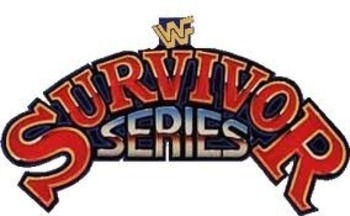 The next night on RAW I'd start off in chaos! WWE and WCW guys brawling, making it look like real fighting. Some WCW guys destroying the set, literally smashing apart the Raw logo and destroying the ring. Ric is leading the charge as he and Hogan come down in a war car driven by Booker T. Sting is swinging his bat at anyone who moves.
They get to the ring and the WCW unify and they say they didn't want to stoop this low but the Kliq has forced them too. They say they won't move and Vince will have to get the army in to move them. They want their world title belt back and promise that if Nash and Hall dumped it in a trash can like they said they would with the tag titles they will destroy every major WWE wrestler tonight. There's a wall of the entire WWE roster on the ramp and Vince comes out with the Kliq. He tries to tell Flair to calm down but Flair responses saying after the last time he was here, the WWE wrestler's screwed up his shoulder.
Nash on the mic tells them they gave the belt away. They don't believe it and Vince and Flair in their arguing agree to bring the person with the belt to the ring at the end of the show. Even with commercials I'd have them focus on the WCW roster moving out of the ring area and the tension and stand off with the WWE guys.
At the end of the show the WCW interrupt the main event between Jericho V Nash and Hall and surrounds Jericho. They want their belt now. There's a few minutes where nothing happens and then the music goes.
ECW HAS ARRIVED!!!!!!!!!!!!!!!!!!!!!!!!!
Paul Heyman walks out with the belt on his shoulder. Out behind him walk out are a mix of WWE and non-WWE contracted guys, but all ECW guys. We got ROB VAN DAM, SABU, SANDMAN, TOMMY DREAMER, TAZ, RHYNO, JUSTIN CREDIBLE and JERRY LYNN.
Heyman grabs a mic and tells Flair they've been talking about a reunion of the biggest battle in wrestling history, a revival of the monday night wars, WWE v. WCW. But they forgot, in that war the first victim was ECW! Heyman says about the WCW locker-room raiding his talent and destroying their chances and he brings up his personal history with Flair.
Heyman says he's got the gang back together for one last stand because he will not have ECW being overlooked by either WWE or WCW. He says they're on an even playing-field and Vince called him in to help destroy WCW the way WCW destroyed ECW. And he'll do it live on PPV. He tells Flair at SURVIVOR SERIES...if they want their WORLD TITLE TO COME GET IT.
Build to Survivor Series: Part 2 Nitro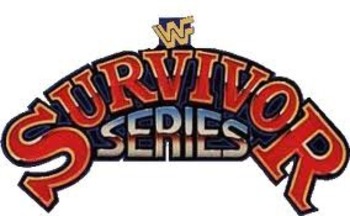 On Nitro we start with Sting telling Heyman over the airwaves that he doesn't know him personally but he knows he's aiming his anger at Bischoff as he was the one who really stole from ECW. He says about Paul's issues with Flair and Sting shoots on him. He says WCW accepts ECW's challenge for a team match but it won't be done in the usual WWE style of things. Sting says in WCW when we used to have issues we couldn't settle between individuals, we'd have a contest know as WAR GAMES! But he knows how those garbage wrestler's like it so he adds a little twist to things.
He says at SURVIVOR SERIES it's WCW v ECW in an EXTREME WAR GAMES MATCH. Winning team get the WCW World Heavyweight Championship.
End of the night have Flair out on commentary watching the main event when from behind some WCW wrestlers start attacking him? It's Shane Douglas, Mike Awesome, Kid Kash, Lance Storm and Raven! They clear the ring and reveal themselves as switching back to their roots in ECW. Douglas does a fierce critique of Flair and how much he hates him, even going as far as to spit in his face. He says he's leading team ECW and wants Flair if he's got the balls and is healed up to lead Team WCW in WARGAMES!
The following week and such Sting and Hogan fear for Flair's safety but he will lead the team.
Build to Survivor Series: Part 3 WWE Again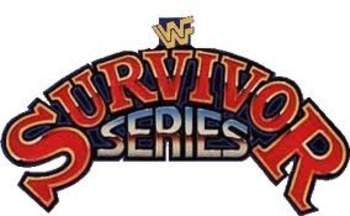 On the next Raw Vince challenges WCW to a Survivor Series match to against them with a separate team from their Wargames crew because he wonders how they would fair without their big names in it.
On the end next Raw the Kliq invite Heyman to the ring to talk about his hate for WCW. He does so, but after he turns around and runs down Bischoff, Nash, Hall, Triple H (still on crotches) and Vince. He tells Vince I didn't just come back to take on WCW I came back to take on the big bully company, WWE! He tells Vince that he stole his talent too and tried to crush ECW and was just as responsible for it's death.
Nash and Hall go for him but he tells them they shouldn't do that. He formally invites ECW into the survivor series match vince made earlier to night and like ECW who first created it, make it a three-way dance! WWE v. WCW v. ECW. He also challenges WWE to another survivor series match. Vince tells him that fielding two teams already will ruin his chances and ask's who has he got left that could take on the might of his WWE superstars.
He says well he now has Vince but the balls as well as Flair as he invites out four WWE turncoats, who all at one point in their careers came through ECW. First the Light-heavyweight Champion, Jerry Lynn, which Vince laughs at. But Heyman tells him how he's been misusing the little guys and promotes the big guys on steroids. He then introduces the IC champion, Chris Beniot! Vince goes crazy. And then the WWE CHAMPION CHRIS JERICHO! Vince and the Kliq are going mental.
Heyman gets out the ring and says last but not least, the former WWE champion...'STONE COLD' STEVE AUSTIN who comes down in his beer truck and sprays the Kliq.
These guys have allied with ECW only to hurt the WWE and aren't full or proper members.
Survivor Series!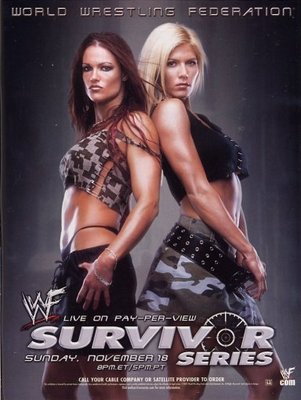 Wow, this would be a great Survivor Series but you may be worried about the teams and who's on each. It means there will be 15 guys from each brand in all of the team matches. I don't know what the undercard would be like, but let's stick with the three big matches.
1. EXTREME WARGAMES: WINNERS GET THE WCW WORLD HEAVYWEIGHT TITLE BELT.
TEAM ECW (CAPTAIN: SHANE DOUGLAS, RAVEN, SABU, MIKE AWESOME, JUSTIN CREDIBLE) v. TEAM WCW (CAPTAIN RIC FLAIR, MICK FOLEY, DDP, REY MYSTERIO AND BILLY KIDMAN AS THE FILTHY ANIMALS).
How this match would be extreme is having weapons within the structure. It would also be two rings like the traditional Wargames too. Have Flair pin Douglas for the win. Have a spot-fest here. Post-match Flair gets Heyman cornered and gets the belt from him.
2. WWE v. ECW: THE KLIQ (CAPTAIN: KEVIN NASH, SCOTT HALL, 'ONE NIGHT MEMBER' KANE AND X-PAC(who joins the Kliq earlier in the weeks)) v. THE RUN AWAYS (CAPTAIN STEVE AUSTIN, CHRIS JERICHO, CHRIS BENIOT AND JERRY LYNN).
I'd have ECW go over with the win with Beniot, Jericho and Austin being the last three standing. They share some beers after but Austin stunners them both and poses with the WWE World Championship.
3 the Main Event: WWE v. WCW v. ECW:
TEAM WWE (CAPTAIN: THE UNDERTAKER, THE ROCK, KURT ANGLE AND THE DUDLEY'S) V TEAM WCW (STING, BOOKER T, HULK HOGAN AND GOLDBERG) v. TEAM ECW (CAPTAIN: TAZ, RHYNO, ROB VAN DAM, TOMMY DREAMER AND THE SANMAN).
WWE wins this one. It comes down to The Undertaker and the Rock against Taz and RVD and Sting and Goldberg. Goldberg gets DQ'd after not breaking the hold in the corner on the Undertaker after they have some issues. Sting eliminates Taz and then the Rock takes out RVD. Sting is beaten by the Undertaker.
.
WCW v. ECW v. WWE and Vengeance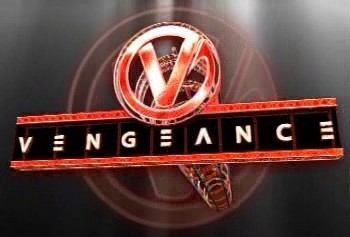 This would be a WWE PPV. For this PPV ECW has finished feuding with WCW after on Nitro they did a night of dream challenge matches with the winning brand earning the rights to the Thursday night time slot. This was hyped over two weeks and had the following matches for those interested:
1) WCW tag team champions, The Filithy Animals v. Raven and Sabu. winners, Raven and Sabu
2) Ric Flair v. Shane Douglas. Flair wins.
3) Taz V Goldberg. Goldberg winning.
4) Booker T v. RVD. RVD wins to level the score
5) WCW champion Sting v. the last ECW champion Rhyno. Sting the winner.
They therefore are left to has the WWE. Austin, Jericho and Beniot are still WWE guys but still only help ECW to annoy Vince. They make a big match for Vengeance with the WWE V ECW, if ECW wins, Vince will give them their own show and pay for it himself, if they lose...ECW will finally disband and the wrestlers either released or signed to either WWE or WCW. Jericho, Beniot, Austin or Lynn are not involved in the match, each is defending their titles against a different set of opponents.
the PPV card itself would have these matches and so others:
Jerry Lynn v. X-Pac for the Light-Weight championship. trying to build since recognising Lynn as a competitor, so respect into the belt and create a cruiserweight division which will emerge strong later. X-Pac wins.
Chris Beniot v. Kurt Angle for the Intercontinental championship. I'd have Beniot win after a sneak pin on Angle and grabbing the ropes.
the ECW v. WWE match as your first Main Event: this match is a one-fall only contest, but it's no DQ, no count out, the fight can go ANYWHERE:
Team WWE (The Rock, Kane, Christian, Edge and the Dudley's) v. Team ECW (Taz, RVD, Sabu, Raven and Rhyno).
Have the fight go all over the place and camera's struggling to keep up. End get Kane pinning Sabu after Sabu tries to take Kane do with loads of chair shots but he wont go down, he jumps off the ropes and kane chokeslams him onto a set up chair. ECW is over!
Main Event: WWE championship match: Chris Jericho v. Steve Austin V the Undertaker v. Kevin Nash
Have Austin in this match after the board order he gets a rematch. Vince wants Nash as part of the Kliq to hold the belt and Undertaker is out for himself.
End have Jericho with the walls locked on Nash and Austin pinning Undertaker after a stunner which Jericho can't see due to his body position. The ref makes the count as Jericho still has the hold and doesn't see the pin. As the ref gets to three at the same time Nash starts tapping out. The ref sees this and calls for the bell and declares the match a draw. Jericho retains the title.
Build to the Royal Rumble and Wrestlemania Part 1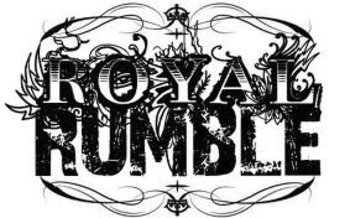 In regard to the ECW guys, they are now free-agents. Many like RVD get signed on either roster, i.e. RVD, Sabu, Raven, Storm, Lynn who recaptures the lightweight title a week later and others go to WCW, others like Tazz and Tariji go to WWE. Others are just released.
the night after Vengeance Vince comes and brags about killing ECW and tells everyone he's going to Nitro this week to make an announcement regarding WrestleMania X8 and the future of WWE and WCW
He then talks of Jericho rightfully retaining the belt and how much he hates Jericho for basically slapping him in the face but not joining the Kliq and and how much he hates Austin. He wants neither of them as the world champion so he's booking a match for the Royal Rumble for the world heavyweight championship that will put the odds in his favour and he'll make sure Jericho doesn't walk out as champion and Austin won't walk out at all.
It's Chris Jericho and Steve Austin v. The Undertaker and Kevin Nash with the WWE World Heavyweight Championship on the line. Whoever scores the pin-fall gets the belt. The angle here is Austin and Jericho can't seem to co-exist, likewise, Nash and Undertaker can't either.
On Nitro Vince comes out with policemen to make sure no one attacks him. He calls out Flair and then talks about how competition has increased ratings, PPV buys, attendance at events and merchandise but says all go things have to end. He tells Flair that this feud has brought out the best in both rosters but says from now on he's letting his wrestlers loose on WCW to get the attention of their counter-parts anyway possible and to tells him at WrestleMania, this feud will end.
The day after 'Mania the WCW stars contracts expire so here's the deal...at WrestleMania it will be WCW v. WWE in all it's matches. There will be dream matches and it will be the final showdown. If WCW can beat WWE, they will be allowed to keep going...if they lose...Vince wins the war and can release the entire WCW roster if he chooses...the ROCK comes out!
The Rock comes out to the ring and says he's not waiting for Mania. He tells Flair and Vince there are two people he wants to face in WCW...Flair and Sting. And he wants Flair first at the RUMBLE!
Build to the Royal Rumble and Wrestlemania Part 2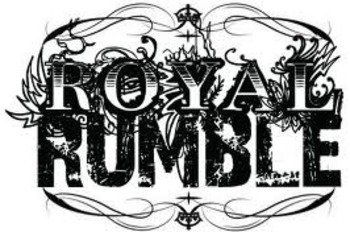 Vince the next week on Raw Vince tells everyone that the Royal Rumble will be exclusively for the WWE guys and that the winner will get their shot at NO WAY OUT and not Mania because the Main Event for Mania will be a Unification match between the WWE and WCW World Heavyweight Champions.
Flair on Nitro counters this by announcing for Nitro next week he's bringing back another WCW classic match up a WORLD WAR 3 match to determine who faces Sting for the title at the Royal Rumble.
Also build the Rock/Flair feud around their mouths...in other words Rock wants to face Flair because they are the best talkers but they can back up their words with their wrestling...the question is...who's better.
I'd have it the next week on Raw that Vince has to let the WCW guys into the royal rumble so he limits their numbers to 10 of them.
On Nitro the entire roster competes in the World War 3 match with three rings and it's won by Hogan. Flair doesn't like this, he still doesn't trust Hogan but Sting sticks up for Hogan and they will wrestle at the Rumble.
The Royal Rumble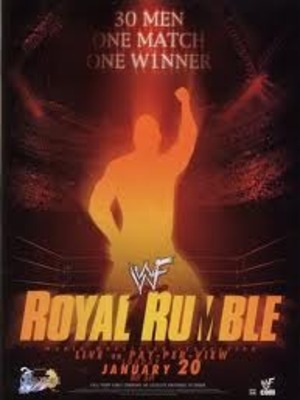 This is where the end begins and we start to see the major feuds for 'Mania forming.
1) I'd have from WCW: Eddie Guerrero as the TV champion v. Jeff Jarrett the US champion in a unification match. This would have been a heated feud for a few months with this being the pay-off. Eddie would win and be the US champion.
2) I'd have Chris Beniot defend the IC title against WCW's Dean Malenko who's returned from his arm injury. I'd have Beniot win and they shake hands and make you afterwards.
3) Dream match: Ric Flair V the Rock. I'd have this as a close match with the Rock coming out on top but at the end both men show each other respect with Ric even giving the Rock his sequined jacket.
4) WCW WORLD HEAVYWEIGHT CHAMPIONSHIP: Sting v. Hulk Hogan. I'd have Hogan win this clean.
5) WWE World Championship: Chris Jericho (c) and Stever Austin v. The Undertaker and Kevin Nash. Whoever scores the pin or submission gets the gold. It would be a close match with each team working together and breaking down but I'd have Austin score the pin on Nash and Jericho giving him the title and raising his hand.
6) The Royal Rumble match: I'd have it in the end when all the wrestlers have been out, the last 10 would be on the WWE side Hall, Kane, The Undertaker, Kurt Angle, Chris Beniot and Bradshaw, while WCW has Booker T, DDP, Goldberg and Mick Foley.
First Foley is eliminated as the returning, healed up Triple H runs into the ring and sledgehammers Foley to the face and over the ropes. The refs and doctors come out and Triple H goes.
I'd have Hall get eliminated by DDP and Booker T.
Bradshaw gets knocked over by Kane.
The Undertaker is on the apron after fighting for the first time with Goldberg. They do a spot where Goldberg spears the Undertaker off the apron onto the announce table and out of the match. When undertaker gets up he talks trash to Goldberg and he's then eliminated by Kane.
Beniot is taken out by DDP and then Kane by Booker T. It's Angle with DDP and Booker left!
I'd have in the end Nash and Hall costing DDP the match by pulling him over the top rope and onto the floor and then distract Booker.

KURT ANGLE WINS the 2002 ROYAL RUMBLE!
No Way out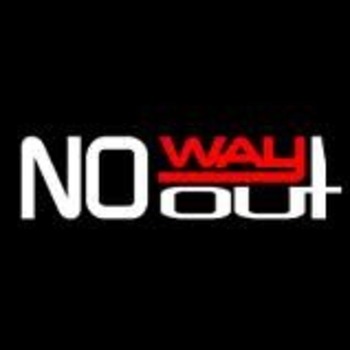 All the threads are coming together now for Mania. This would be most of the card for No Way out which would be a joint-PPV.
1) WCW Tag Team Titles: The Filthy Animals v. The returning, Road Warriors! I'd have Rey and Kidman retain after the Dudley's cost the Warriors the titles leading to those two teams having a match at Mania.
2) Sting and Ric Flair v. The Rock and Vince MacMahon. Set up for 'Mania being the Rock V Sting and the two figureheads of each company also going one of one. I'd have Rock and MacMahon get the pin after Vince punches Flair with a stack of rolled up dimes and gets the pin.
3) No rules match: Triple H v. Terry Funk. I'd be building a feud between Triple H and Foley. The story being Triple H last year retired Foley and now he's back and he won't have Foley coming back, not in WCW or anywhere. Foley's got a broken nose from the sledgehammer but Terry Funk as Foley's friend and mentor stands up to Triple H and will take him on. This would be a brutal match with Triple H winning.
4) Goldberg v. Kane. Building a feud for 'Mania with Goldberg V Undertaker. The angle is Undertaker has never been beaten at Mania and Goldberg has yet to be pinned in the resurrected WCW so it's streak V streak. Kane is the ideal opponent as he eliminated Goldberg from the Rumble and of course being Undertaker's brother. Goldberg wins.
5) WCW Championship: Hulk Hogan v. Booker T v. DDP. Flair sets this up due to the Royal Rumble screw-job and also as he still doesn't trust Hulk. Hogan retains. Nash and Hall get X-Pac down to the ring to cost Booker the pin on DDP.
6) WWE Championship: Steve Austin v. Kurt Angle. This would be a good match, but Austin retains. post match I'd have him with a stare down with Hogan, it's the first time these guys have stepped foot in the same ring and hype that for 'Mania!
Wrestlemania X8, WCW v. WWE: The Undercard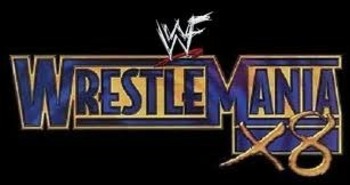 1) Immunity Battle Royal: winner Rob Van Dam WCW +1. This would be with all the guys who don't have matches on the card from both rosters. 0-1 to WCW
2) Women's Match: Torrie Wilson and Stacy Keilber v. Trish Stratus and Lita. I'd have the WWE girls win this. WWE +1, 1-1.
3) WWE Hardcore Championship: Kane v. Big Show. I'd have this as a battle of the monsters. Big Show would win and brings the title to WCW. WCW +1, 1-2 to WCW.
4) Brock Lesnar v. Bam Bam Bigelow. Brock wins F5'ing Bam Bam, if possible. Since his debut I'd have Brock coming and going from development but now he's up with Paul Heyman as his manager and he targets Bam Bam since No Way Out. WWE +1, 2-2.
5) The Dudley's v. The Road Warriors. These guys are fighting out for the rights to be called the greatest tag team ever. I'd have the Dudley's win. WWE +1 3-2 to WWE.
6) WCW US Championship: Eddie Guerrero v. Chris Beniot. Beniot losses the IC title just after the Royal Rumble to Jericho. At No Way Out he challenges his friend to a match for the title and to sort out their issues. Chris Beniot wins, and post-match both guys hug, Malenko joins them. Beniot makes it known he's defecting to WCW no matter what the outcome to be with his best friends. +1 to WWE, 4-2.
7) Kurt Angle v. 'Mr Perfect' Curt Hening. I'd have this as a dream match between the two great technical wrestlers over which is the better wrestler. Angle wins. WWE +1, 5-2 to WWE.
8) WWE Intercontinental Championship: Chris Jericho v. Jeff Jarrett. This is a battle of the super ego's and a dream match of two great IC champs, Jarrett holding it 6 times and Jericho in the future holding it for 9! Jericho would retain. WWE +1, 6-2 to WWE.
9) A Revenge Match: Kevin Nash and Scott Hall v. Booker T and DDP. This has been building up for a while and Booker and DDP want to take Nash and Hall down. They get the win. WCW +1, 6-3 to WWE still.
10) TLC III for both the WCW and WWE World Tag Team Championships: The Filthy Animals v. the Hardy Boyz v. AJ Styles and Christopher Daniels v. Edge and Christian. I'd have this match built over a month. It would be a spot-fest and I'd have the Filthy Animals win both sets out titles. WCW +1, 6-4 to WWE
Wrestlemania X8: WCW v. WWE: The Uppercard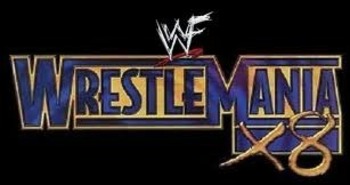 11) 'Streak v. Streak' The Undertaker v. Goldberg. I'd have these two intimidating each other but no violence after the Rumble. Tease it at everything from contract signings to trash talking. The Undertaker would win this one to preserve the streak and pin Goldberg. WWE+1, 7-4 to WWE.
12) Figurehead v. Figurehead: WCW President Ric Flair v. WWE owner Vince MacMahon: added clause, if Flair wins he and the WCW locker-room get a match against Eric Bischoff. This would be an intense battle, but Flair would win with the figure-four. WCW +1, 7-5 to WWE still.
13) 60 minute Iron Man Match, No DQ: Triple H v. Mick Foley (with Foley's career on the line). This match is just Triple H just wants Foley out of his ring and out of wrestling and to honour his promise. Triple H has already beat down Foley's hero Funk and a guy who likewise has retired and un-retired so many times with it seeming Triple H has finally retired Funk and now he wants to end Foley.
The feud turns into Triple H calling Foley just a punch bag and a stuntman which Foley tells him he'll show Triple H he is still one of the greatest wrestlers, he's absorb a lot of punishment and wrestling for a full hour. The match itself would be intense with hardcore stuff going on. Foley wins with a two fall lead. WCW+1, 7-6 to WWE still.
Foley afterwards says he's walking out on his own and retiring on his own terms.
14) Icon v. People's Champion: Sting v. The Rock. This would be a great match and could main event a PPV on it's own. I'd have Sting win this one. WCW +1, 7-7, it's all to play for!
15) Unification match: WWE Champion 'Stone Cold' Steve Austin v. 'Holllywood' Hulk Hogan. this is the match of a lifetime, a dream match every wants to see. The face of two companies and two faces that at different times represented wrestling. End Hogan busted open, goes to Hulk up and goes for the leg drop but Austin moves. Austin himself hulks up later in the match! In the end Hogan goes for the leg drop but Austin surprises him, gets up and hits a stunner for the pin! Winner: Steve Austin
WWE +1, WWE wins 8-7. Post-match all the top WWE and WCW guys come out. Hogan and Austin share a beer and all the guys mix together in celebration! The War IS OVER!
The Outcome?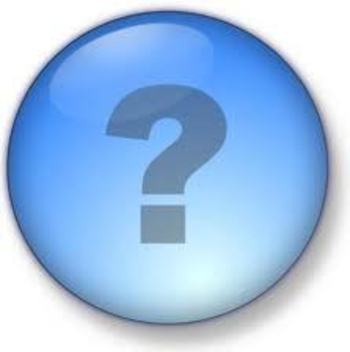 The next night at the end of Raw Vince comes down to the ring with a smile on his face. Around the ramp and ring the WWE superstars form a tunnel for Vince to walk down. He brags that at Mania he finally beat WCW. And tells everyone that after tonight he is releasing all of them, whether they were always with WCW or defectors, they will NEVER work in WWE again!
Flair comes out with the WCW locker-room behind him. The WWE guys at first stand in a line to block them lead at the front by The Rock. The Rock moves, and then behind him so does Kane, and then the Undertaker and then all the locker-room create a tunnel for the WCW guys to get down to the ring.
Flair gets in the ring and tells Vince they said they'd go down swinging. But he tells Vince it's not over and he's spoken with the board. THERE IS ONE MORE WCW v. WWE MATCH that should have taken place last night. He reminds Vince of the clause in their match, if he won, the WCW locker-room would get a match against Bischoff. He tells Vince if they win, the score would be they have the right to continue and be 8-8, no one wins, they keep fighting.
Vince tries to worm his way out of it but the WWE react. The Rock, Triple H, Austin, Undertaker block Vince and tell him he made a promise. Then from the ramp the WWE mid-card guys carry out Bischoff and a referee! The WWE guys stay at ring side as the WCW locker-room gets into the ring surrounding Bischoff. One after another they all hit their finishers on Bischoff and at the end Flair locks on the figure-four and Bischoff taps.
After the match Vince is livid and threatens to fire Flair and the WCW guys anyway but the WWE guys one by one join with the WCW in ring. Everyone shows everyone respect and it symbolises the fight has ended!
The entire locker-room shares show beers as the show goes off the air.
The Final Farewell....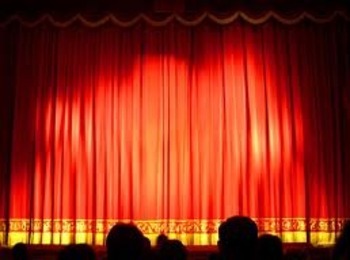 On Nitro Flair and the WCW locker-room come out and Flair tells them they've done over this year what they and the fans on both sides wanted. They fought a war and in the end no one won. His tells them on Raw they found out that the fight has ended as each locker-room has found a new sense of respect for one another and that they can no longer kid anyone, WCW...is at it's end.
Flair says the money isn't an issue, but it's that what WCW stood for was corrupted a long time ago when they went bankrupt and this year they've managed to re-live all the memories of the glory, working together and showing everyone what make WCW great, from wargames to World War III. Flair tells everyone that the locker-room agrees, it's time for Nitro and WCW to finally rest in peace before things sour again and move on with their lives. Either going to the WWE or leaving all together. But it ends at the final WCW PPV in the next month, STARRCADE which will be a farewell to WCW.
Until then they will put on the best shows they can do...
In between this at Backlash I'd have the The Dudley's challenge the Filthy Animals for the WCW tag team championship not the WWE belts. The Dudley's would win.
STARRCADE: The Goodbye to WCW.
1) WCW US Championship: Chris Beniot v. Eddie Guerrero v. Dean Malenko. Chris retains.
2) WWE Light-heavyweight championship (renamed the Cruiseweight title by Lynn when he regains and jumps to WCW) a Cruiserweight gauntlet match won by Chavo Guerrero.
3) A Clash of the Titans: Ric Flair v. Sting v. Hulk Hogan. Elimination match, the winner goes on to the Main Event to face the winner of the young champions match where the winner gets the WCW big gold belt to keep. I'd have Hogan eliminated first and then after a parcelling match between Sting and Flair, Flair would win after reversing a small package.
4) WCW Tag Team Championship match, the Dudley's v. The Road Warriors. The Dudley's want to ruin this night by retaining the gold. The Road Warriors win the belt and are the final WCW World Tag Team Champions.
5) A Clash of the young WCW Champions: DDP v. Booker T v. Jeff Jarrett. Elimination match. The winner going on to face Flair for Big Gold Belt. I'd have Jarrett gone first and then Booker beating DDP.
6) WWE Tag Team Championship match, The Filthy Animals v. The Steiner's. WCW's young tag team against a veteran and legendary one. The Animals retain.
7) A Revenge Match: Goldberg v. Kevin Nash. This match is set up by Goldberg saying he wants to correct the mistakes of history and destroy Nash for ending the original streak with his self-promoting booking. Goldberg would win this to set the record right.
8) Battle for the Big Gold Belt: Ric Flair v. Booker T. I'd have Booker win but afterwards giving the belt to Flair saying that he symbols everything WCW was and it's greatness. Hogan and Sting and the rest of the locker-room come out. Hogan and Flair hug showing they've settled their differences. Even Vince comes to the ring quickly to shake Flair's hand in respect and leaves and the WCW locker-room celebrate its last night together.
Where Do Things Go from Here?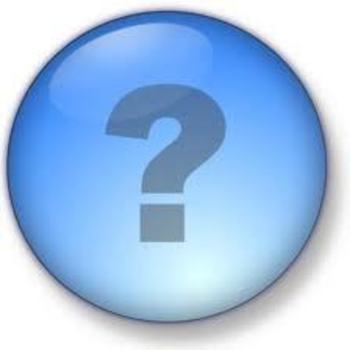 Well, Smackdown returns to fill the place of Nitro. The next night on Raw Vince tells everyone at the end of the show he's now going to fire the WCW guys and get things back to normal, but then...
Flair comes out. Vince wants to know what he's doing here. He tells Vince that over the last year, he was right and the WCW V WWE war was profitable for both sides. He says the money he used to keep WCW afloat doubled, almost tripled everything he put into it. He also reminds Vince that last year he and his son Shane had some issues and fought at the previous WrestleMania...he tells Vince Shane sold his shares to him at that time and since then, throughout the WCW v. WWE war, he's been buying shares in WWE and tells Vince he won't fire the many of the WCW guys without his say so.
Vince asks why not?
Flair says, because we're business partners. I now own half of WWE! And you have a feud set up for the next year, the brand extension happens as now Vince and Flair go to war, but this time it's more personal than WCW v. WWE.
What else do we have for the future?:
1) A Lot of Big stars: during the feud the WCW guys would hopefully get over with the WWE audience. You have top old guys to join the roster like Hogan and Flair, but you also have newer, younger talents either to headline one of the two brands like DDP or Booker T, and others like Mysterio, Kidman, Beniot, Jericho, Guerrero, Malenko and others who will be the future of the company.
2) Captured the WCW audience into the WWE product: Dutch Mantell in the recent Guest Booker DVD said TNA was created because there was nowhere for the WCW fans to go. WWE assumed they would gain those fans but they didn't due to the poor booking of the Invasion angle. This way over a year and with the clashes between the two brands and with the respectful end of WCW the fans get closure and many hopefully drawn to the WWE product.
4) Stars they never had before: Sting in one interview said that he wouldn't sign with WWE as Vince would bury his legacy and the same with other WCW guys at the time of their game or at the end of their careers. Hopefully with this storyline they'd feel they would get the respect they deserve and would stick around. The older guys like say the Steiner's, Sting and other veterans would be great in the WWE for a short-term big draws and help push the talent of the future. It's win-win.
5) New and exciting divisions: with the brand extension you have possibilities for new and exciting divisions. We have things set in place for a WWE Cruiserweight division with plenty of good cruiserweights from Mysterio, Kidman, Helms on the WCW and other guys who would get used on the WWE side. You can keep the hardcore title for the other brand just to add a different flavour. You also have the IC title for one brand and the US for another and could have the tag titles and world title defended on both brands. Also you have plenty of new teams in the tag division and new possibilities.
Thanks for Reading
Thanks for reading and getting this far, I hope you enjoyed this fantasy booker thing that I wrote when really I should be doing my university work. It just shows where my priorities lie. Please comment, let me know what you thought, if you liked what I did, if you hated it, or even if you would have done it differently.
Thanks,
James.
Keep Reading