UEFA Champions League: Why Real Madrid Will Advance Further Than Barcelona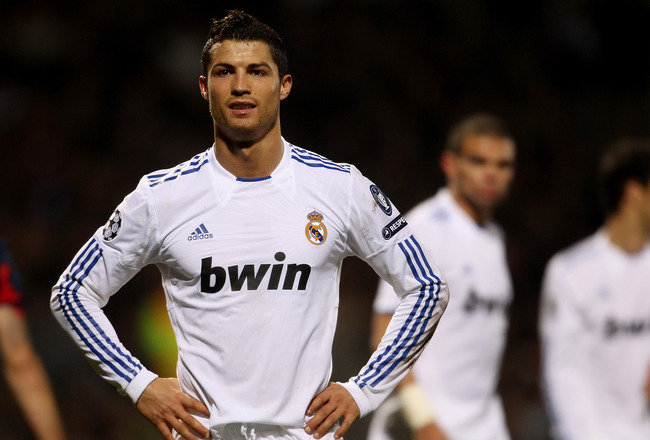 Scott Heavey/Getty Images
This past weekend, Barcelona essentially won La Liga. Real Madrid tied Deportivo and fell seven points behind league leaders Barcelona.
While there still are a few games remaining, seven points will be nearly impossible to make up against Barcelona because Barcelona has only lost one game the entire season.
Even if Madrid beats Barcelona next month, they would still need Barcelona to lose to at least one other team, which is extremely unlikely.
But while Barcelona is sitting pretty and coasting through La Liga, one can actually make an argument that Real Madrid will perform better and advance further in the Champions League.
Granted, it isn't an easy argument to make considering how strong Barcelona is, but with the title in La Liga no longer a reality, we Madrid fans need to turn our attention to other competitions where we could still win the title.
So while it may sound crazy because of Barcelona's dominance in La Liga, here are a few of the reasons why Madrid could do better than Barcelona in the Champions League.
Goalkeeper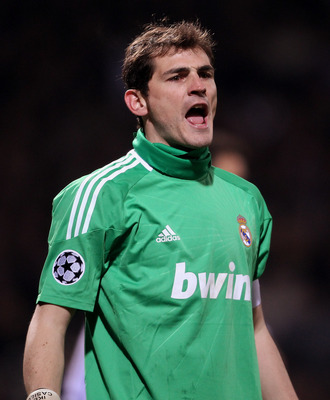 Scott Heavey/Getty Images
When discussing Real Madrid and Barcelona, a common debate is Ronaldo v. Messi. The two players are often regarded as the two best in the world.
While it is entertaining to discuss the two world class forwards, another debate for the two clubs is who has the better keeper.
Iker Casillas had a sub-par game against Lyon in the first leg. He almost gave up an early goal when he mishandled a ball in the box. However, poor judgment and potentially giving up a goal are the exception with Casillas and not the norm.
Granted, Victor Valdes rarely has a lapse in judgment and has been just as solid as Casillas. A debate as to who is the better keeper could last for hours.
Ultimately however, the edge has to be with Casillas. When the two were placed on the National Team together, it was Casillas who received the starting nod. Valdes was actually third on the keeper list behind Pepe Reina.
Additionally, the 10 men in front of Casillas generally are not regarded as nearly as strong or as dominant as the 10 men in front of Valdes, thus easing Valdes' burden.
But none of that should downplay his ability. Valdes is strong and any team would be fortunate to have him. But the edge lies with Casillas.
Lyon V. Arsenal
Both Real Madrid and Barcelona are heading back home for the second leg of the Champions League. Not only is Barcelona in the hole 2-1, but they also have to face Arsenal.
That last statement isn't any sort of slight against Lyon. Lyon is a solid team and very much has the capability to beat Real Madrid. They have a solid defense and should not be underestimated. Real has learned the hard way in the past about overlooking Lyon.
But while Lyon is a formidable opponent, they aren't Arsenal. Arsenal has proven to be one of the best clubs in the Premier League this season, especially in big games. Their roster is full of elite veterans and young players.
Granted, Arsenal did suffer a blow recently when it was revealed that Van Persie will be sidelined for three weeks. Fortunately, Cesc Fabregas should be back and in full form to impress his future employers at the Camp Nou.
Additionally, Arsenal has one of the great football minds on their sideline. Last year Jose Mourinho was able to use his Inter Milan squad to beat Barcelona. If there is any other coach able to maximize his team's talent and exploit Barcelona's weaknesses, it's Arsenal's Arsene Wenger.
The man is a tactician and will surely be able to develop a game plan that will make it extremely difficult for Barcelona to overcome their 2-1 deficit.
It is early in the Champions League, but Barcelona already has a bigger hurdle to overcome in order to advance.
Defensive Issues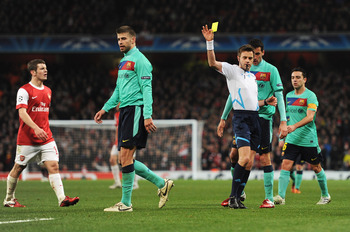 Jasper Juinen/Getty Images
Real Madrid's defense has struggled this season. They had a difficult time holding on to their lead against Lyon, and if there is a glaring weakness with Madrid, it would be with their defense.
But while Real Madrid isn't exactly known for its strong defense, Barcelona's back four cannot exactly claim to be the best in Europe either.
Much of the attention on Barcelona usually lies with their strong midfield and the incredible strike duo of Messi and David Villa. Barcelona plays for possession, and they are happy to possess the ball until there is an opening in the opposing defense.
However Barcelona's strong midfield and powerful offense has possibly hurt their own defense. Their defense is often part of the attack and possession and doesn't spend as much time defending. Like Arsenal demonstrated, they are vulnerable to the counterattack as they are constantly moving the ball forward.
Additionally, Barcelona is without Gerard Pique for their next game against Arsenal. Pique has proven to be one of the best defenders in all of Spain and a foundation for Barcelona's defense. He provides size and strength to their back line.
Real Madrid's defense is often criticized and by no means the best in the world, but lost in all the hype about Barcelona's great midfield and wizardry at forward is the fact that their defense is just as, and possibly even more, suspect than Madrid's defense.
Combine Barcelona's own defensive shortcomings with the loss of Pique and the fact that they have to face Arsenal, and Barcelona's defense becomes a glaring concern.
Their defensive issues could be the reason Barcelona falls short and Madrid is able to advance further in the Champions League.
Lower Expectations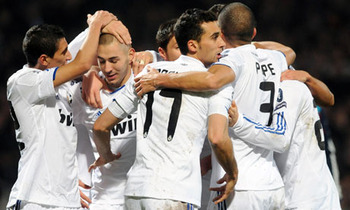 Even though Real Madrid has not won the Champions League since 2002, the expectations are still high. However, with Real bowing out in the round of 16 for eight straight seasons, those lofty expectations have been somewhat brought down to reality.
The club ownership still expects and hopes for the best, especially with the acquisition of Jose Mourinho and the fact that he won the Champions League last year with Inter.
But the reality of the situation is that deep down, Madrid fans and the ownership just want improvement. Advancing out of the round of 16 will be a joyous experience after eight long seasons of disappointment. Any progress beyond that point will just be icing on an otherwise already enjoyable cake.
Which is exactly why Real could advance deep into the Champions League. They have loads of pressure to finally make it past this first round. But once they do, the team will know they finally got the monkey off their back and they will be playing with less pressure.
The lower expectations and less pressure in the latter rounds could relax the players and improve their style of play and cohesiveness as a unit. Nothing is worse than an opponent with nothing to lose. That is how Real will be if they can make it out of this round as they will have already exceeded expectations.
Barcelona on the other hand has all the expectations in the world.
Even though Inter won last year, Barcelona are still the odds on favorite to win and the team to beat. It was a huge upset when they lost last year to Inter and they enter this season expecting to win. Anything less will be a massive disappointment for the squad regarded as the best in the world.
Less Pressure for Madrid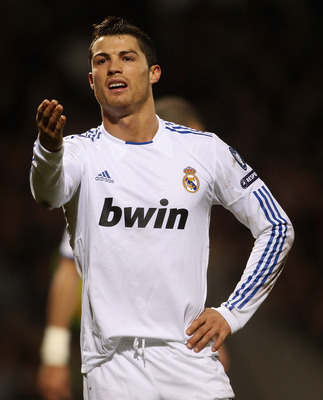 Scott Heavey/Getty Images
Lower expectations for Madrid brings less pressure.
Expectations are good, but when the expectations are perfection, like it is for Barcelona, it can sometimes cause too much pressure and backfire.
Some teams have the ability to perform at the highest level despite the high expectations and pressure. The pressure and expectations were too high last season for Barcelona and they fell to Inter.
Barcelona already had pressure to redeem themselves from last season. Now there is increased pressure to overcome their 2-1 deficit to Arsenal.
Barcelona is a team that likes to play relaxed, under control and with patience. They prefer to wait for the right opportunity as opposed to just rush towards goal. Dealing with pressure and having to play with expediency and behind on the score sheet is contrary to their preferred method and style of play.
Even if Barcelona does advance past Arsenal, the pressure will still remain for them to win the tournament.
Additionally, Barcelona has the added pressure of maintaining their lead in La Liga. They cannot shift all their attention to the Champions League and lose their control in La Liga.
They have the pressure of performing at the highest level in all competitions.
Pressure to Represent La Liga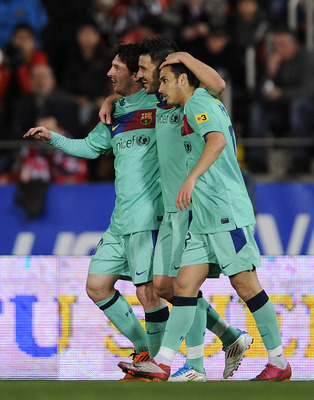 David Ramos/Getty Images
Both clubs have the added pressure to represent La Liga.
There is often debate regarding the strongest and best league in the world. At the present moment, most will argue that top to bottom, the Premier League is the best in the world.
Often the argument against La Liga is that they are a two horse league and Barcelona and Real Madrid are heads and shoulders above all the other teams. Critics will argue the Premier League is stronger because no two teams are able to dominate in the same manner Real and Barcelona do in the La Liga.
That argument is somewhat suspect because just because two teams dominate, it does not mean the other teams aren't as good as the teams in England. It could just be that Real and Barcelona are that much better than all the other teams, and would be that much better than the teams in England if they were in Premier League.
And while there is pressure on both squads and even Valencia to represent La Liga, most of the pressure lies with Barcelona as they are dominating La Liga.
They are not only playing to prove they are the best in Europe but also to add strength to the argument that they play in a league just as difficult as any other in Europe and that week in and week out, they face opponents that are as strong as any other league.
If the mighty Barcelona, which is completely dominating every team in La Liga, can't even advance out of the first round against Arsenal —the second place team in the Premier League —what does that say about La Liga versus the Premier League?
Maintaining the credibility of La Liga resides with Barcelona and is yet another reason why they have the added pressure and could struggle in the Champions League.
Conclusion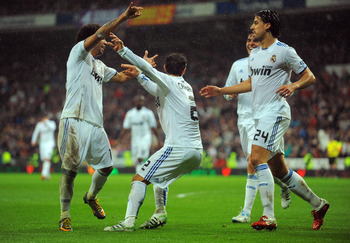 Denis Doyle/Getty Images
On paper, Barcelona has a better squad than Real Madrid and has arguably the best starting 11 in the world.
However, Madrid has many advantages, many of which do not manifest themselves on paper but become evident on the field.
Being regarded as the best in the world, like Barcelona, has its benefits, but also its drawbacks. Not only are there elevated expectations and increased pressure to meet those expectations, but opposing teams will often perform at a higher level when they know they are playing the best in the world.
Barcelona got a glimpse of that in their first leg when they failed to capitalize on their opportunities and left England in a 2-1 hole.
They are a great team and can surely rebound, but they are not off to a great start.
All eyes are on Barcelona and the pressure is mounting.
Meanwhile, Madrid is quietly returning home where they merely need to earn a 0-0 draw. The pressure is off Madrid and the expectations are lowered.
Once they make it past Lyon, there will be even less pressure and expectations, whereas it will only increase for Barcelona.
It will all be too much for Barcelona which is why Real will advance further in the Champions League.
Keep Reading

Real Madrid: Like this team?