Darren Fletcher, Stewart Downing and the 10 Most Underrated Players in the EPL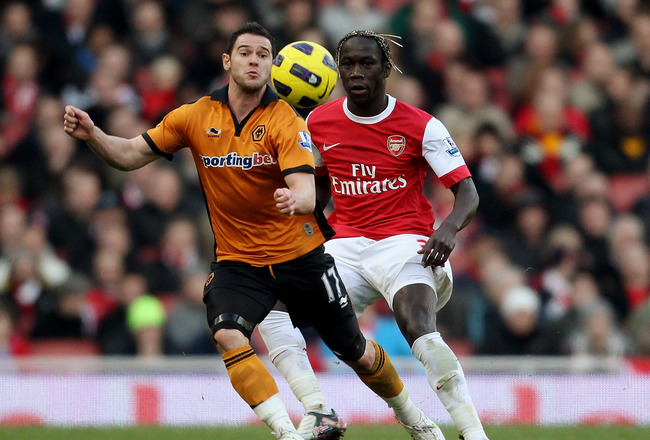 Scott Heavey/Getty Images
Every team has a star—the fans adore him, the media constantly highlights his value to the team and everyone believes that he is essential if the club is required to achieve success.
But most teams have that one player who is extremely vital and essential for his team's success, but many times he goes unnoticed. Such players are usually not the flashiest, but they go on doing their jobs efficiently and they do it effectively.
They are often overshadowed by their teammates. But that doesn't reduce their contributions to the side. The EPL has players like Rooney, Fabregas, Tevez, Lampard, Drogba—players who are appreciated and applauded.
Please do note that I have include just one player from each team.
But it also has some unheralded players, and in this article I will be looking at the 10 most underrated players in the EPL right now.
Bacary Sagna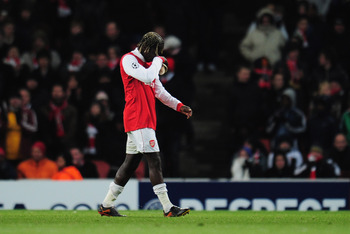 Shaun Botterill/Getty Images
Bacary Sagna is one of the best right backs in world football right now and is one of the best right backs to play under Arsene Wenger at Arsenal. Ever since signing for Arsenal in the summer of 2007, he has made the right back position his.
Sagna might not be the flashiest player on the pitch, but one thing he does superbly is that he sticks to his task and hardly makes mistakes. It is rare to see the Frenchman make any mistakes.
He is an extremely solid defender. He has improved a lot over the past two seasons and has evolved as a player and has become much more of a threat going forward. He has scored twice this season.
Sagna's contribution tends to be overlooked amidst the efforts of the likes of Fabregas, Nasri and van Persie, but he still remains a vital cog in the Arsenal team.
Luka Modric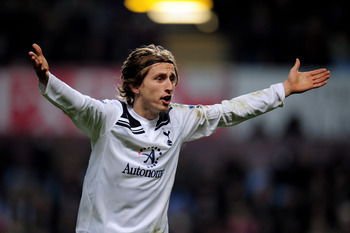 Shaun Botterill/Getty Images
Luka Modric is often unfortunately overshadowed by the likes of Rafael van Der Vaart and Gareth Bale. There is no denying that those two players are extremely talented, but Modric is the heartbeat of the current Tottenham side, and he is the main orchestrator of most of the attacks Tottenham launch.
It's easy to understand why people don't realize the value of Modric—he has scored just 10 goals in three seasons at the North London club.
Most of Tottenham's attacks go through the Croatian. Luka Modric is the man who pulls all the strings in the Tottenham midfield. He is an extremely able passer of the ball and has great vision as well.
He has a fantastic passing range and he often tends to drop deep and dictates the play from there. Modric has the ability to dictate play and is comfortable in playing up the field as well.
Modric is essential to Tottenham's success as he is the driving force behind the current Spurs side that is playing so well. In the absence of Modric, Tottenham are missing a vital cog in their midfield and they will struggle in his absence.
Mikel Arteta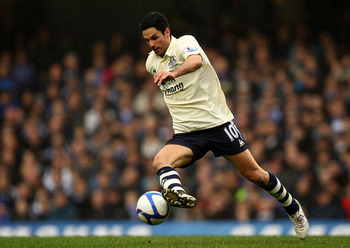 Richard Heathcote/Getty Images
Mikel Arteta has been an instrumental part of Everton for the past few years. He is another player similar to Modric, whose contributions to the midfield are often overlooked.
Arteta is the link that connects the Everton defense and strikers as his link-up play is essential for Everton. He tends to flourish in a more attacking role and he has achieved plenty of success playing higher up the field.
He is blessed with excellent close control and can hold up the ball extremely well, but Arteta is also blessed with great vision that is often missed-out because of David Moyes' tendency to play him in a slightly defensive role, especially this season.
He has made it a knack to score important goals at important times, scoring 33 goals and compiling 33 assists in his Everton career..
He is a vital component of the Everton midfield and completes the team making it much more effective.
Lee Chung-Yong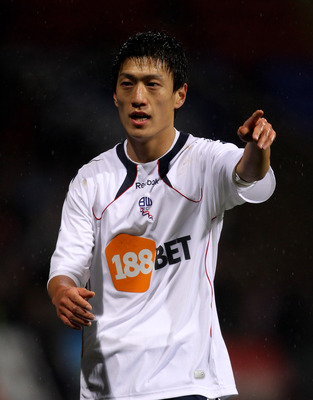 Alex Livesey/Getty Images
One of the brightest Asian players right now, it is a real shame that Lee Chung-Yong is often overlooked.
Ever since his move to Bolton Wanderers in 2009, the Korean has proved to be a revelation and has been one of their most consistent performers.
He has made the right-wing role his own and was awarded with the Bolton Player of the Year award for the 2009-2010 season. Despite this, he often fails to get the recognition he deserves.
Lee is often a constant thorn in the opposition defense and uses his skill and trickery down the right to great effect. He is blessed with great vision, ball-control and can link up exquisitely.
During his two-year stay at the Reebok, he has scored seven times and has supplied 15 assists.
A reason he may be overlooked is because some people are still living under the notion that Bolton play boring long-ball football.
But under Owen Coyle, they have been magnificent, and Lee is a vital part of that change.
Branislav Ivanovic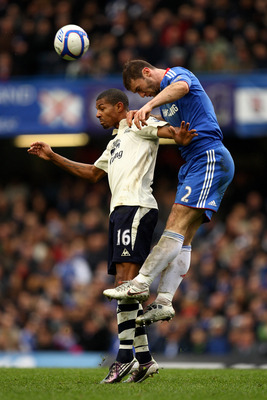 Richard Heathcote/Getty Images
Branislav Ivanovic's contribution to the Chelsea defense is often overlooked amidst the contributions from the likes of John Terryand Ashley Cole. But his role in Chelsea's defense is just as key and important.
His biggest asset is his versatility. He is equally adept at playing at both center back and right back for the Blues.
With injuries to key players in the Chelsea defense, Ivanovic remained solid and was an integral part of the defense. He is a no-nonsense defender who can win headers on corners, from set pieces and while defending.
He has made it a habit to score key goals and has already notched five goals this season.
During the absence of John Terry and Alex, it was Ivanovic who stepped up and filled in admirably. Even during the lengthy absence of Jose Boswinga, it was Ivanovic who filled in at right back for lengthy spells.
Ivanovic's versatility to play across a variety of positions makes him invaluable to the club.
Lucas Leiva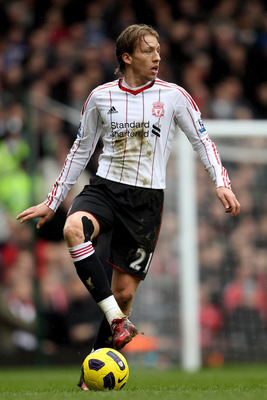 Scott Heavey/Getty Images
The much maligned Brazilian, Lucas Leiva, has had an unspectacular, yet solid and reassuring season this year.
Lucas has gone from strength to strength this season and has shown that he can be a jewel in the Liverpool midfield capable of holding the midfield together.
Every good team needs to have a strong holding midfield, a person who can do the job efficiently. Lucas is that player for Liverpool.
Sadly however, he is often overlooked by pundits in favor of some of his flashier and attacking teammates in Steven Gerrard and Raul Meireles.
In several matches he has proved himself to be a match winner and has put in hardworking performances.
Since Mascherano departed in the summer of 2010, Liverpool was looking for a player who could step up and fill the void left by the Argentinean. Lucas Leiva has proved to be that man.
He has redeemed himself this season and deserves more recognition than what he is getting right now.
Cheik Tiote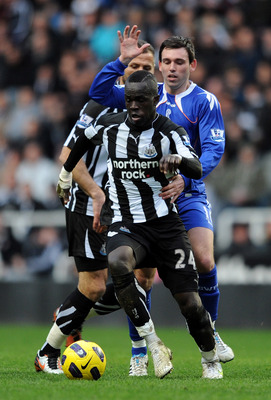 Chris Brunskill/Getty Images
Dubbed the "new Makelele" by many, Cheik Tiote has proven to be one of the best summer bargains of 2010.
He has been absolutely instrumental for Newcastle in the Magpie's midfield and has proved to be a revelation this summer.
He has proved to be a rock in front of the defense and has been superb for large parts of the season. His stunning form garnered interests from some of the top clubs around the world like Real Madrid and Chelsea. But Tiote pledged his allegiance to Newcastle United with a new six-and-a-half year deal.
He has been solid while making tackles, has kept the ball moving nicely, is good at holding up the ball and is a decent passer. Tiote will be remembered for that 25-yard rocket that helped the Magpies to a famous comeback draw against Arsenal.
The likes of Alex Song, Michael Essien and Yaya Toure are mentioned when it comes to the best defensive midfielders, but with his recent performances, Cheik Tiote, may just soon become one of the league's best defensive midfielders.
Stewart Downing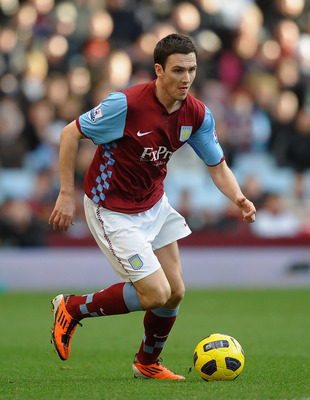 Laurence Griffiths/Getty Images
While all the talk has been about Ashley Young when it comes to talented Aston Villa players, Steward Downing has been putting in fantastic performances for the entire season and has really silenced his critics.
Downing has been in scintillating form all season. And despite Aston Villa's indifferent form all season, Downing has been solid down the left flank.
Many people initially questioned whether he was another expensive mistake made by Martin O'Neill, but he has proved himself to be a match winner for the Villans and has compiled eight goals with six assists this season.
Downing got off to a great start this season against West Ham and has played with great gusto the entire season.
He is often overlooked when it comes to talented wingers, but Downing has come around and is finally proving his worth.
Birmingham's Defense
Alex Livesey/Getty Images
Now I do know that this is not exactly a particular player, but I have chosen the entire Birmingham team because all of them are integral parts of the Birmingham defense.
Alex McLeish has built his team on a stringent defense. Usually has the likes of Scott Dann, Liam Ridgewell, Roger Johnson and Stephen Carr, each and every one of them is a hardworking defender with a never-say-die spirit.
This was exemplified in the match against Arsenal in the Carling Cup final when they to lift the cup and end their 48-year wait.
Birmingham has conceded just 35 goals this season, and even last season, it was their solid defense that earned them a top-half finish.
Darren Fletcher
Alex Livesey/Getty Images
Darren Fletcher has grown in stature with every season, and yet sadly, several people call him poor and overrated.
He is one of those players who is highly undervalued in England because of his style, and yet he remains indispensable to Manchester United.
Darren Fletcher gets stuck in the midfield and does not give the opposition players any time and space on the ball. He makes himself a pest in the midfield and helps in closing down attacks, and yet at the same time, he is no slouch while passing the ball himself.
He helps to launch attacks from the back and can orchestrate moves while sitting back. Even when he is played out of position at times, he adapts superbly and is vital to the functioning of Manchester United.
Fletcher has also proved himself to be a big match performer.
Keep Reading

Arsenal: Like this team?