NFL Combine 2011 Results: Is Cam Newton's Post-Workout Draft Stock Falling?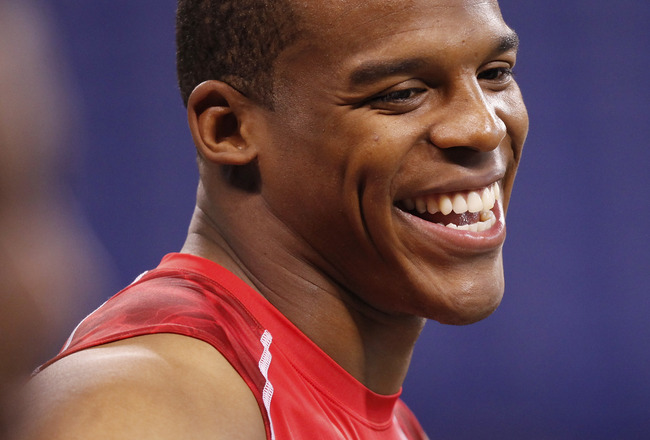 Joe Robbins/Getty Images
Cam Newton gave it his all this weekend at the 2011 NFL Combine, but was it enough?
There's no denying Cam Newton is special player, but is he the complete package? When drafting a player within the top five or even top 10 you view them as the real deal. Can said player step in and help the team right away?
With Cam Newton, it is very debatable about whether or not this guy and contribute to a team immediately. Is he ready for the NFL, or is the NFL ready for him?
His Combine workout gives us a good indication for both sides. Here are five reasons Newton's stock is falling after the combine, and five reasons it's not.
Yes: He Didn't Throw Well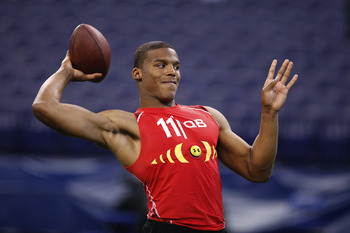 Joe Robbins/Getty Images
Newton did not want to hold back at the Combine. He wanted to show scouts everything he had, which may have been a mistake.
Newton went 11 for 21 in his throwing session. He was one for three on short out passes and missed all deep throws to his left.
His poor showing when it came to his skill drill is not a good sign. Teams were concerned about his ability to throw the ball and Newton did not help his case at the Combine.
No: He's Extremely Athletic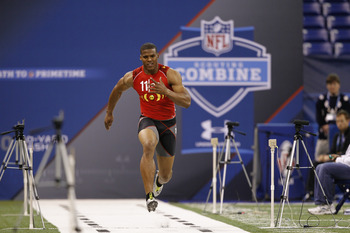 Joe Robbins/Getty Images
Newton is a ridiculous athlete. He ran a 4.59 40-yard-dash which was tied for third best among quarterbacks. Newton posted the best results on the broad jump with 10 feet six inches, tying the Combine record for quarterbacks.
Newton's athletic ability is spectacular. Scouts already knew this but were still blown away by his Combine work out.
He's going to be special in the NFL because of his athletic talent.
Yes: He Had Poor Interviews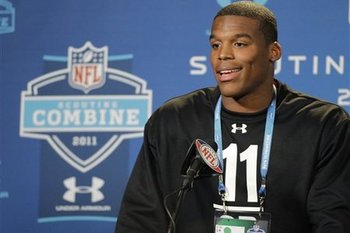 Newton was asked a question about why he disobeyed his coaches in the BCS National Championship. Reports said Newton was very flustered about and even got defensive.
It was also said that Newton's individual team interviews did not go so well. Some say that it did and others say they were really bad. So to me it sounds like some teams loved him and others did not like what they saw from the Heisman trophy winner.
It's never a good sign to have teams not on your side, especially when you're trying to be a top five pick.
No: His Footwork Is Getting Better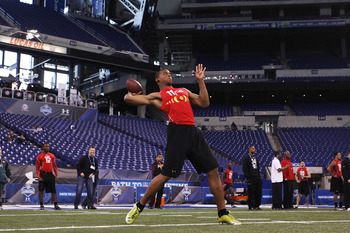 Joe Robbins/Getty Images
Newton was a system quarterback at Auburn, which has been a huge worry for a lot of NFL teams considering drafting him.
However Newton made it clear that his footwork has improved as well as his balance transferring his weight from back to front.
It's a strong sign that he is improving and will continue to do so as time moves on.
Yes: He Is Not Ready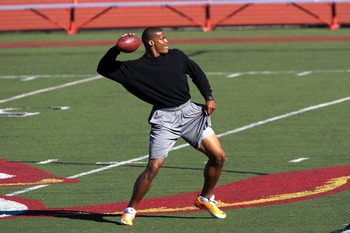 Kent Horner/Getty Images
He may be improving some but the guy clearly needs more time.
Newton will be best suited if drafted to a team he can sit out his first year. He is not ready to be thrown into the mix right away, because he would play poorly. Yes he would have some big highlights like deep throws and long touchdown runs, but the mistakes he would make would greatly outweigh his highlights.
Newton needs time to develop and grow, and then he will be a star. Starting right away could hurt him.
No: He Still Has His Pro Day
Kent Horner/Getty Images
Newton will continue to work with George Whitfield Jr and by his Pro Day on March 8th he will have worked out the kinks he displayed at the Combine.
The two of them now how poorly he was throwing the ball at the Combine. Knowing Newton's work ethic he is already back at work improving his game, to show everyone on his Pro Day that he can in fact throw the football.
Yes: Maturity Is Still a Big Question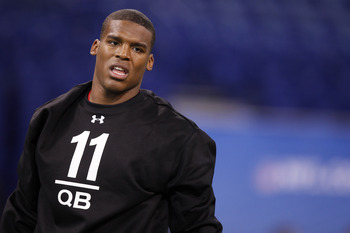 Joe Robbins/Getty Images
To be a quarterback in the NFL you have to be physically and mentally capable of handing whatever comes your way.
Newton has the physical aspect of the game, but is he mentally prepared for the NFL? A lot of teams do not know this.
He's a young kid and it worries scouts. Newton wants to be an entertainer and an icon. While that's great I guess, his primary focus right now should be on getting better on the field not how he can make tons of money off the field.
No: He Has a Super Strong Arm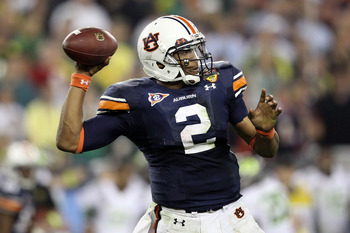 Christian Petersen/Getty Images
Newton can throw the deep ball with ease. He has improved on dropping back from under center and firing it down field.
He may not be able to throw as far as Ryan Mallet can, but then again nobody in this draft class can. Newton has shown he knows how to throw it deep.
Accuracy can be worked on, but throwing it deep is something that comes with strength. Not all quarterbacks can hurl it deep but Newton can.
Yes: He Is No Longer the Best at His Position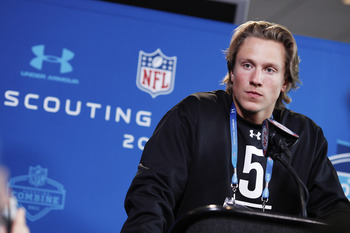 Joe Robbins/Getty Images
Newtons poor showing at the Combine has proven so far that he is not the best at his position. Blaine Gabbert opted not to throw at the Combine and it worked in his favor.
Gabbert did chose to run and jump at the Combine, which went well as he was in the top five of the 40-yard-dash and three cone drill. He ran a 4.62 in the 40, showing scouts he too has similar speed to newton.
Had Newton gone out there and blown scouts away Gabbert would be kicking himself for not throwing this weekend. However, Newton didn't do so well and Gabbert walks away the winner.
We will see after each player has his Pro Day who looks better, but for now Gabbert is the top
No: He Is the Perfect Size for the NFL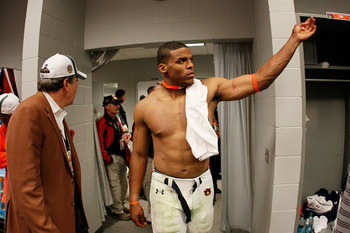 Kevin C. Cox/Getty Images
Newton is listed at 6'5" 248 pounds which is absolutely mind blowing for a dual threat quarterback. There have been tall and heavy quarterbacks before, but none of them have the athletic ability Newton has.
Newton showed at the Combine that he is ripped and physically ready for whatever the NFL brings. NFL teams ogled and gawked at Newton's size. They now he is athletic enough can handle the tough transition from college to the pros.
Keep Reading