USC Football: Pete Carroll and the 10 Best Trojans Coaches of All-Time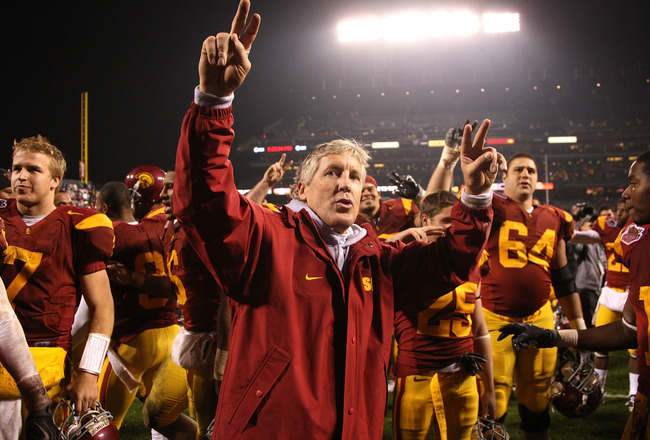 Jed Jacobsohn/Getty Images
The USC Trojans have been a standard bearer of excellence in college football since 1888. Along the way, they have been led by many fine head coaches, including some who have gained lasting fame for guiding the Trojans to national championships.
Some of these coaches, including John McKay, John Robinson and Pete Carroll, have gone on to careers in the NFL after making a name for themselves coaching the men of Troy.
But who was the best to lead USC?
Using a non-specific set of criteria, the following list is one man's opinion of the 10 greatest coaches in Trojan history.
The order of this list may be questioned, but what can't be argued is that these men left their mark on this historic program. Whatever USC football is today can be connected to their efforts.
So let's get started on this, the 10 best Trojans coaches of all-time...
No. 10: Lane Kiffin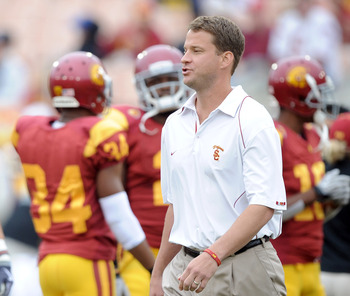 Harry How/Getty Images
OK, I know what you are thinking. Lane Kiffin? What has he done, besides win a paltry eight games in his first season?
Well, as any good Trojans fan can tell you, this is just the beginning baby.
Given the burden Kiffin had to operate under when he took the USC job, eight wins isn't too shabby.
Besides, the man can recruit. And anyone who knows college football will tell you that recruiting is the foundation upon which a successful football program rests.
So call Kiffin's inclusion in this list a sign of things to come.
As long as his transgressions at Tennessee don't come back to haunt him...
No. 9: Ted Tollner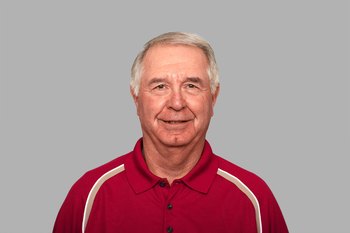 Getty Images/Getty Images
Jeesh, you know the pickings are thin when Ted Tollner makes the list.
After all, from 1983-86 Tollner went a paltry 26-20-1, which doesn't send any Trojans fans hearts aflutter.
But he did win a Rose Bowl in 1984, and that should count for something.
Besides, who else should be included? Paul Hackett?
No. 8: Larry Smith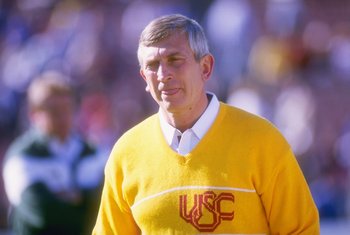 Bud Symes/Getty Images
Larry Smith, who coached the Trojans from 1987-92, started out like a gang buster for USC, going 27-8-1 in his first four seasons.
However, he lost his first two Rose Bowls and despite winning the Granddaddy of them all in his third try, it went rapidly down hill from there.
Smith managed to go 9-13-1 in his last two seasons and he was shown the door in favor of a John Robinson return (which we will profile a bit later).
Smith was a good coach who just couldn't get the Trojans over the top nationally. Despite three top 10 finishes, his was a fairly short tenure with the men of Troy.
No. 7: Jeff Cravath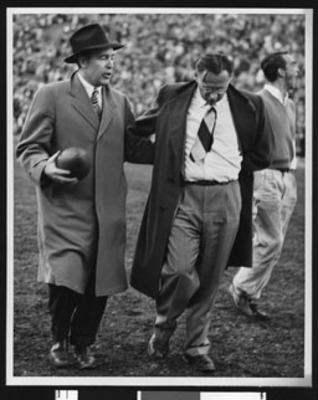 Jeff who?
From 1942-50, Jeff Cravath led the Trojans to a 54-28-8 record and along the way won himself a couple of Rose Bowls.
But what he might be remembered best for is that he brought the T-formation to USC.
Before this, he starred as a center for the Trojans, playing along side John Wayne.
Later, after serving as an assistant coach to the legendary Howard Jones, Cravath left to hone his craft at Denver University.
When he returned, Cravath was an innovator whose inclusion of the T-formation helped the Trojans make it to four Rose Bowls.
Not bad for a guy most of you have never heard of.
No. 6: Jess Hill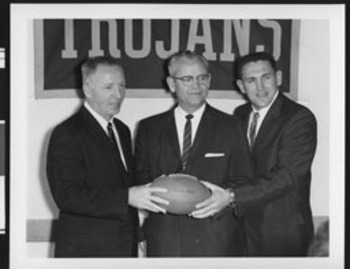 Jess Hii (middle)
Many Trojans fans will remember Jess Hill as USC's longtime athletic director (1957-72), but he was a good coach as well.
Compiling a 45-17-1 record from 1951-56, Hill also managed to win a Rose Bowl in 1952.
That 1952 season was a banner year for the Trojans as they went 10-1 and finished the season ranked fifth in the country. Oh, and for good measure USC led the nation in defense that year after giving up an average of 4.6 points per game.
Jess Hill also coached track for the Trojans and after 35-plus years with USC, he will always be remembered as the consummate Trojan.
No. 5: "Gloomy" Gus Henderson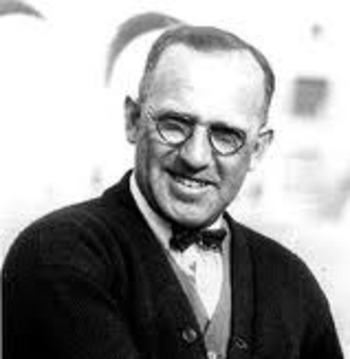 Not only did Gus Henderson have a great nickname, but he was also a helluva coach.
Boasting a sweet 45-7 record from 1919-24, Henderson also managed to win a Rose Bowl in 1922 when the Trojans finished 10-1 after posting the same record the year before.
The biggest gripe Trojans fans had at the time of his tenure at USC was that he couldn't beat Cal, which dumped the Trojans five-straight times during Henderson's reign.
I guess that will make a head coach "gloomy" to say the least. Because of this, Henderson left for Tulsa university.
Still Henderson was a great Trojan who also coached USC basketball for two years while still coaching the football team.
No. 4: John Robinson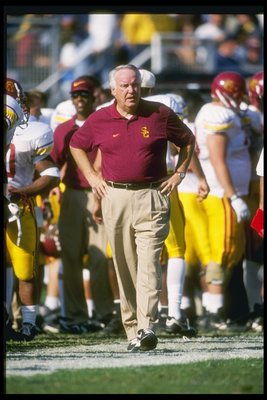 Stephen Dunn/Getty Images
John Robinson will always be remembered as having the unenviable task of taking over for the legendary John McKay after McKay left in 1975 to go coach the Tampa Bay Buccaneers of the NFL. But, damn, he made the most of the opportunity.
In two coaching stints with USC, Robinson managed to post a 104-35-4 record with the Trojans and won four Rose Bowls along the way and a share of the national championship in 1978.
After leading USC to a 67-14-1 record from 1976-82, Robinson moved a couple of blocks away to coach the NFL's Los Angeles Rams.
Returning in 1993, Robinson managed to only post a 37-21-2 record until being fired in 1997. But he managed to win all three bowls he guided the Trojans to, including the 1995 Rose Bowl.
No. 3: Pete Carroll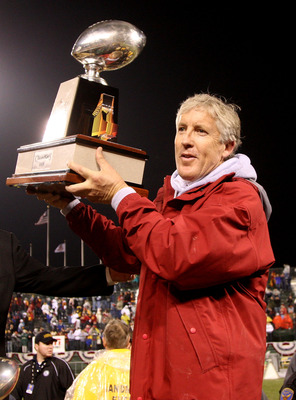 Jed Jacobsohn/Getty Images
What????!!!! Only No. 3???
Sorry Carroll fans, but if you go strictly by results, this is where Uncle Pete winds up.
Granted, Carroll came in and resuscitated a moribund Trojan program. For this, USC fans will always be grateful to Pete.
They will also be grateful for the 95-19-1 record Carroll left the Trojans with which also included one national championship and one taken away by the NCAA.
However, it should be noted that despite the ncaa's sanctions, USC is still in possession of both AP national championships won under Carroll's watch.
What they won't be grateful for is the sanctions Carroll left behind for USC to deal with when he skedaddled to Seattle to coach the NFL Seahawks.
That, along with the records of the two gentlemen ahead of him, relegates Pete Carroll to No. 3 on this list.
No. 2: Howard Jones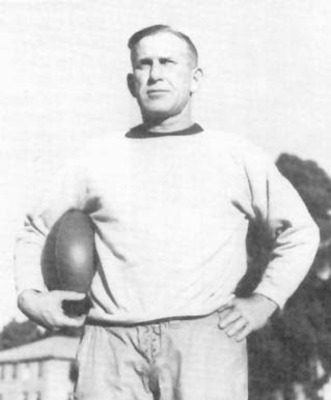 To be honest, Howard Jones could easily be the greatest of all USC coaches.
In a difficult decision, Jones was placed second simply because the competition during his brilliant stint as Trojans head coach was so top heavy.
Along with Notre Dame and a handful of others, USC was a powerhouse and, for the most part, dominated its competition on the West Coast.
Of course, Howard Jones had much to do with that.
All Jones did in his 16 years at USC (1925-40) was go 121-36-13 and win four national championships.
Just for good measure, Jones also went 5-0 in Rose Bowls.
Beat that Pete...
No. 1: John McKay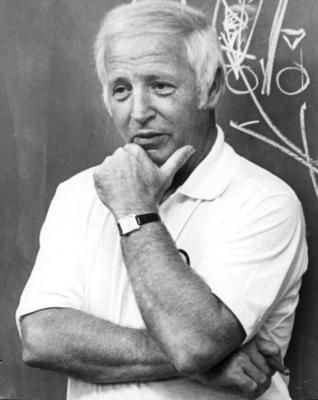 In addition to raw numbers, John McKay had all of the intangibles to be No. 1 on this list of the all-time greatest USC coaches.
Always ready with a clever quip, McKay captured the imagination of college football fans from the moment he took the reins of the Trojan football program in 1960.
But besides McKay's incredible wit, he also produced some eye-popping numbers for USC.
Like Jones, McKay won four national championships while at USC.
Also like Jones, McKay won five Rose Bowls among his 127-40-8 record during his 16 years at USC.
Many will say that Pete Carroll directed a "golden era" while at USC.
But those who were there will tell you it was a poor imitation of what John McKay managed to produce at USC during his stint at the helm of Trojan football.
For this, John McKay was the greatest of all Trojans head coaches.
Conclusion
John McKay
So there you have it.
It could be argued that the top five USC coaches could match up against any five coaches of any program in history.
And to be sure, choosing the greatest all-time USC head coach is a subjective process, one I am sure I will hear a lot about from disgruntled Pete Carroll fans.
But if you take emotions out of it, the numbers speak for themselves.
Actually, more difficult than where Carroll wound up was who to place No. 1, Jones or McKay.
Either way, the Trojans benefited from some great leadership through the decades.
And for that, all Trojans fans should be eternally grateful to these leaders of the men of Troy.
Keep Reading

USC Football: Like this team?