The 5 Most Improved Players in the NBA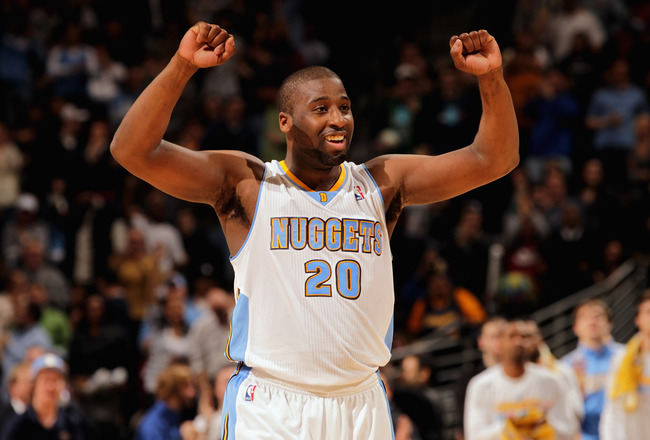 Did the Knicks just trade the most improved player in the NBA?
Doug Pensinger/Getty Images
The dust has begun to settle after one of the most active trade deadlines in recent history. Obviously, Carmelo Anthony was the story of the deadline, but what most people fail to notice is, how much the Knicks really gave up. Looking into what the Nuggets received, it may include the NBA's Most Improved Player this year, although Mr. Felton is up against some stiff competition.
5. Roy Hibbert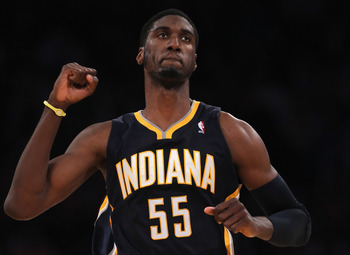 Jeff Gross/Getty Images
Roy Hibbert jumped out ahead of the pack early on in the season, as the Pacers began the year with a decent start in the East. Hibbert started the year averaging 18.2 PPG in October and 15.6 PPG in November, but steadily declined to 10.9 in December and 9.5 in January. His minutes also declined steadily, which may be attributed to his old coach.
After the firing of coach Jim O'Brien, the Pacers have seemed to have found their stride again, and so has Hibbert. He has boosted his average in February to 15.9 PPG and a 13.2 PPG average for the season. If he continues to finish strong, pushing the Pacers into a playoff spot in the East, look for Hibbert to get some votes for Most Improved Player.
4. Michael Beasley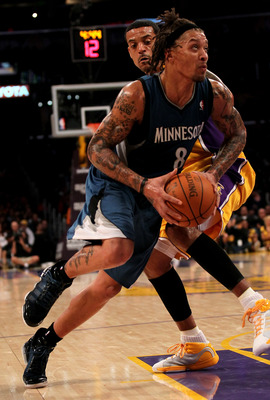 Stephen Dunn/Getty Images
Michael Beasley is another guy that jumped out to a hot start, but has since become less noticeable. He established himself as the best scorer on the Timberwolves roster early on in the year, taking all the big shots and showing his versatility in adjusting to the small forward position.
Now, he has started to drown in the nasty culture that surround the Timberwolves organization. His team just won their first game in the month of February, and he has started to lean toward his lazy ways that irked so many in Miami. Still, his scoring numbers are up from Miami (19.5 from 14.8) and he is actually shooting the ball pretty well this year (37% from 3). If only he could play some defense and lead the 'Wolves to some wins...
3. Kevin Love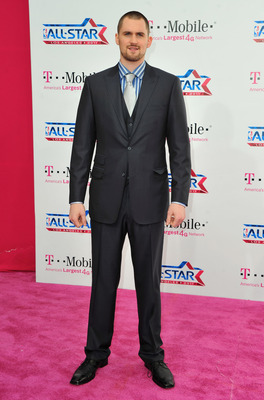 Alberto E. Rodriguez/Getty Images
OK, the only reason Kevin Love isn't the shoe-in Most Improved Player is because he was not afforded the opportunity to play big minutes last year. Still, this guy has grown into a quality leader of this Timberwolves team. He still needs quite a bit of help, but everyone does. Some people claim Kevin Love can be a third best player on a contending team, but the numbers he's putting up are better than most contenders' second guys.
Love is shooting 42.1% from three and still finds the time to bang around inside and lead the league in rebounding. He is on pace to have the most double-doubles in a season in NBA history. His only downfall is his team, and the fact that he is now an All-Star caliber player. This award seems to go to guys who take the step from role player to key contributor, so although you are deserving Kevin Love, maybe you should set your sights on the All-NBA teams instead.
2. Dorell Wright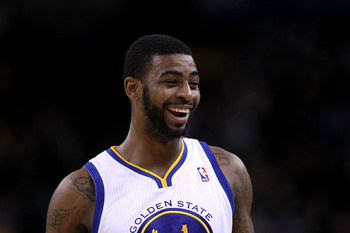 Ezra Shaw/Getty Images
"Wow, those two guards for Golden State might be the best backcourt in the league."
Everyone is drooling over the backcourt duo in Golden State of Stephen Curry and Monta Ellis, and deservedly so. Still, the reason that the Warriors are actually have a sneaky good year (for them, at least) is Dorell Wright. Yes, David Lee has brought some presence down low to Golden State, but look at Dorell Wright's numbers:
16. 3 PPG (previous career-high was 7.9)
5.6 RPG (previous career-high was 5.0)
40.0 3P%
This guy jacks up 6.1 threes per game and still makes 40 percent of them. After sticking with the Heat unsuccessfully for 6 years, he finally has his chance to showcase his talents. He deserves more respect,and with the Warriors steadily improving, Wright's reward might come in the form of a Most Improved Player Award.
1. Raymond Felton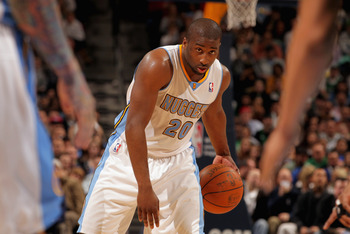 Doug Pensinger/Getty Images
I was fine with the Knicks getting rid of Wilson Chandler or Danilo Galinari along with other assets to acquire Carmelo Anthony. But, when they decided to throw in both of their young studs along with Raymond Felton, I just about lost it. Chauncey Billups is one of the better veteran point guards in the NBA, even though his nickname does not fit his statistical performance whatsoever. Still, I believe Raymond Felton is being extremely undervalued here. He was a key player on some decent Charlotte Bobcat teams, but was never able to thrive in Larry Brown's system. This year, with the Knicks, I believe he had just as big an impact on the team as Amare' Stoudemire did.
Felton is in his prime, and although he is not an offensive stud, he brings a lot more to the table than most point guards in the NBA. He may be behind the top-tier guys that we all talk about like Williams, Paul, Rose, and Rondo, but he is not as far behind as you think. Take a look at his numbers, and watch him on the court. This guy is a leader, and I think he is the Most Improved Player in the NBA. Do not sleep on the Nuggets with Felton in town.
Keep Reading