Lakers Shine in NBA All-Star Game: Who's Jersey Is Next to Be Retired?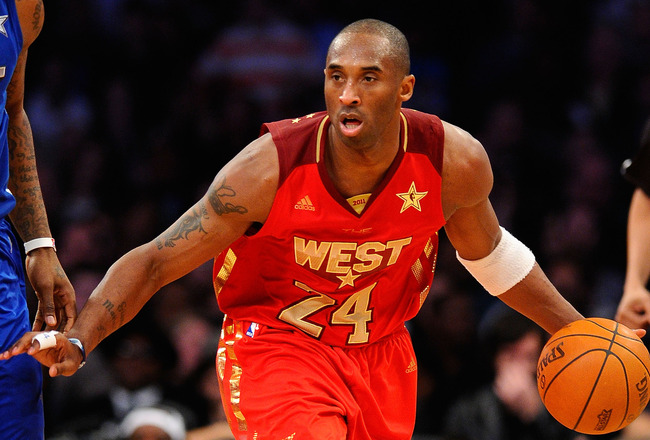 Kobe Bryant took home his fourth All-Star MVP this past week.
Kevork Djansezian/Getty Images
The latest edition of the NBA's All-Star game has come and gone, and the league is once again in full swing. With so many of the league's stars playing in the Staples Center lights last week—and under sixteen NBA championship banners and seven retired jerseys—we begin to wonder who will be the next Lakers' great to have his jersey retired at Staples Center.
The Lakers, unlike other NBA teams, do not hang division or conference championship banners. Only NBA Championship banners go up above the Lakers' home floor. The Staples Center rafters would look like a backyard full of recently washed clothes if they did.
The Lakers are even more strict about the numbers they choose to retire. To this date, only seven jerseys have ever been retired by the Lakers, including Jerry West's No. 44, Wilt Chamberlain's No. 13, Elgin Baylor's No. 22, Gail Goodrich's No. 25, Magic Johnson's No. 32, Kareem Abdul-Jabbar's No. 33 and James Worthy's No. 42.
With both Kobe Bryant and Pau Gasol on the floor during the All-Star game, and Shaquille O'Neal somewhere in the stands watching, we beg the question: Who will be the next—and most deserving—member of the Lakers' family to have his jersey retired?
Here are our top seven picks for who is next in line for the honor.
No. 1: Kobe Bryant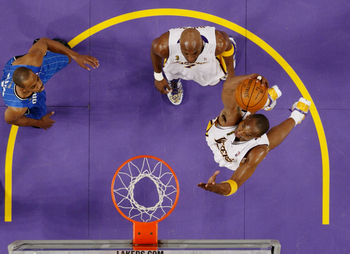 Jeff Gross/Getty Images
The most obvious choice for having a jersey retired by the Lakers in the near future, Kobe Bryant will certainly retire—when his time comes—as one of the NBA's all-time greats.
Currently the NBA's seventh all-time leading scorer, Bryant has a career season and playoff scoring average of 25.4 points per game. He has been named an All-Star 13 times, and has twice led the league in scoring. He was the NBA's MVP in 2008, and the NBA Finals MVP in both 2009 and 2010.
Kobe has been named to the NBA's All-Defensive team a total of eight times. To top it all off, Bryant also has an NBA Slam Dunk Contest trophy and an Olympic Gold Medal in his trophy case.
Arguably the best player in the world, Bryant has few flaws on his resume. He is a lock for the NBA Hall of Fame, and has a chance to retire as the NBA's all-time scorer.
With five NBA titles, four NBA All-Star MVP awards and two Finals MVP's, there is little left for Kobe to do.
No. 2: Shaquille O'Neal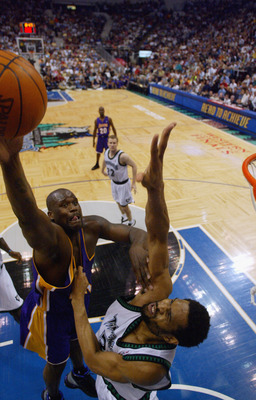 Jed Jacobsohn/Getty Images
Despite having had a falling out with the team seven years ago, Shaq remains a beloved figure in Los Angeles. His personality, much like that of former Lakers great Magic Johnson, captivated Lakers fans for eight seasons.
In his prime as a member of the "Lake Show", O'Neal dominated the league, winning the league's MVP award during the 1999-2000 season. O'Neal was named MVP of the NBA Finals three times as a Laker, and remains one of the team's all-time leading scorers.
No. 3: Michael Cooper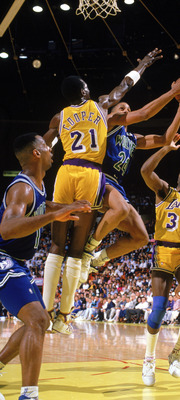 Mike Powell/Getty Images
Affectionately known as "Coop", Michale Cooper was known as one of the NBA's best defensive players during his career.
Coop's entire NBA career, which spanned 12 seasons, was spent entirely with the Los Angeles Lakers. He was named to the NBA's All-Defensive first team a total of five times, and was voted the NBA Defensive Player of the Year during the 1987 season.
Coop ranks in the top 10 in nine categories for the Lakers, and was a member of five NBA championship teams.
No. 4: A.C. Green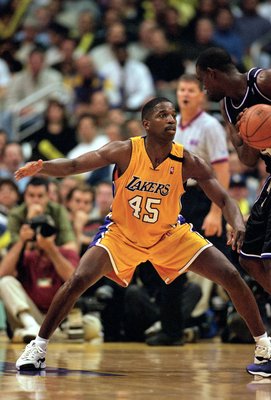 Tom Hauck/Getty Images
The NBA's version of the Iron Man, A.C. Green was a solid player on some of the greatest teams in Lakers history.
During his eight year stint with the Lakers, he led the team in rebounding six times. His greatest contribution came in the form of his dependability and durability.
A.C. Green still holds the NBA record for most consecutive games games played, with a total of 1,192.
No. 5: Derek Fisher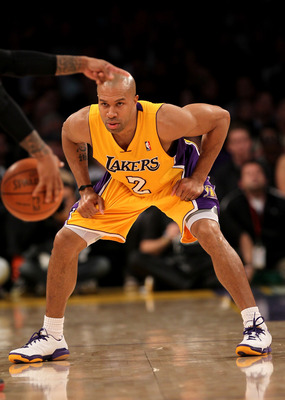 Stephen Dunn/Getty Images
The numbers may never show it, but true Lakers fans know exactly how valuable Derek Fisher has been to the team since he arrived as a rookie in 1996.
Known for his tough defense and clutch shooting—especially in the playoffs. Fisher has been an integral part of five NBA title teams. He ranks second all-time in number of three-point shots made in the NBA Finals, and still holds the highest three-point shooting percentage in the Finals.
No. 6: Pau Gasol
Jeff Gross/Getty Images
One of the more recent additions to the list of Lakers greats, Gasol certainly has a long time to go before he is considered one of the best Lakers of all time.
However, his resume as a Los Angeles Laker has certainly gotten off to a good start. In his three seasons with the club, he has twice been named an NBA All-Star.
More importantly, he has helped the Lakers reach the finals in all three of his seasons. A two-time NBA champion already, Gasol is certainly well on his way toward reserving his place as an all-time Lakers great.
No. 7: Robert Horry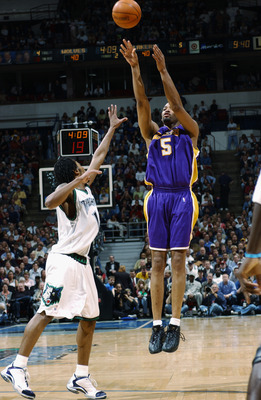 Otto Greule Jr/Getty Images
Big Shot Rob is one of the most clutch shooters in NBA history. He was instrumental in helping lead the Lakers to four NBA Finals appearances during his six seasons.
A veteran of sixteen NBA seasons, Horry was a member of seven NBA championship teams—including three with the Lakers.
As a Laker, he is best-remembered for his game-winning shot in game four of the 2002 Western Conference Finals against the Sacramento Kings.
Horry does not possess the same type of numbers as many other Lakers greats, so his chances of having his No. 5 retired by the Lakers are relatively slim, but I wouldn't count out Big Shot Rob just yet.
Keep Reading

Los Angeles Lakers: Like this team?