Matt Barkley: USC QB Faces Claims of Being Homophobic After Tweet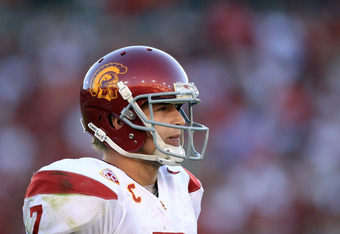 Matt Barkley Tweets His Opinion on Gay Marriage, Gets Blasted For It.
It only took three letters for USC quarterback Matt Barkley to bring an onslaught upon himself on Twitter after posting a comment about gay marriage on Feb. 23.
It wasn't the body of the message that was blasted, it was the three letters before the message that drew ire.
On Feb. 23, Barkley tweeted, "Smh.. "@YahooNews: Gov't says it won't defend constitutionality of law that bans recognition of same-sex marriage: http://yhoo.it/hUSDca"
Those three letters before, "S-M-H," stand for "shaking my head."
In other words, Barkley is evidently against gay marriage in the United States of America.
After posting the tweet, he received one notable tweet right away:
@MattBarkley "SMH"?? really? ur a homophobe? did not know this about you.. how disappointing to learn it.
One person actually tried to notify coach Lane Kiffin of Barkley's tweet:
@Lane_Kiffin r u aware that ur QB is tweeting homophobia today? better get a handle on it before the media picks it up
"Better get a handle on it before the media picks it up?"
Too late.
Barkley's tweet has made the rounds around the Web already, picked up by numerous sites.
Responding to the lashing out, Barkley tweeted, "look bro, I'm not discriminating and I'm not a homophobe. I'm standing up for what I believe. Cool down.."
On such a divisive topic, Barkley sure knows how to draw attention.
But was he wrong to voice his opinion?
I don't think so.
It wasn't like he was bashing the gay community or anything of the sort, he simply stated his opinion.
He may need to think about hiring a PR guy, but nothing he did was inherently wrong.
Whether you disagree with it or not, it was his opinion and he was only exhibiting freedom of speech, which, as far as I'm aware, is still protected by the Constitution.
Most recent updates:
This article is
What is the duplicate article?
Why is this article offensive?
Where is this article plagiarized from?
Why is this article poorly edited?