NFL Combine 2011, Milwaukee Brewers, UFC 127 and Saturday's Sports News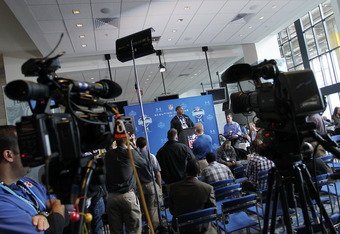 Joe Robbins/Getty Images
The NFL Combine 2011, Milwaukee Brewers and UFC 127 are absolutely dominating the sports headlines on this Saturday afternoon. And considering we also have a full slate of college basketball games, plenty of action in the NBA, the WGC Accenture Match Play tournament, and assorted spring training exhibition games, I daresay it's going to be a busy day.
It all starts with the Combine. Friday was the first full day of workouts, and all eyes were on quarterbacks Cam Newton and Blaine Gabbert. Of course, eyes have been on Newton for quite a while now, and the plan for him today is to both throw and run. Kind of a big deal.
The Milwaukee Brewers are something of a dark horse favorite heading into the 2011 MLB season. With the Cardinals losing one of their aces for the year, you might actually make the argument that they should now be the favorite in the NL Central. We shall discuss.
Last but not least, UFC 127 is tonight. There are 12 fights on tap for the good folks packed into Sydney's Acer Arena, the highlight of which will be the Welterweight bout between B.J. Penn and Jon Fitch.
All this and more is ahead! Happy Saturday, sports junkies.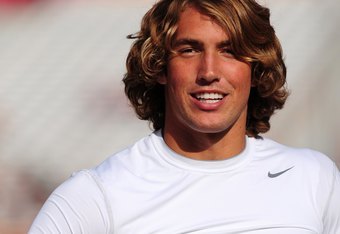 NFL Combine Results Are in From Tight Ends and Offensive Linemen
By now I suspect that most people are well aware that big-name quarterbacks like Cam Newton and Ryan Mallett were very much in the spotlight in the NFL Combine, but the players doing the bulk of the actual work were tight ends and offensive linemen (also kickers, but nobody cares).
As such, if you'd rather be hit with all the latest info as far as these players are concerned, you came to the right place.
It was a banner day for USC tight end Jordan Cameron (that picture is from 2008, FYI). He impressed with a 4.55 40-yard dash, which was second only to Robert Housler's (FAU) 4.54. Cameron also impressed with a vertical of 37.4 inches, a 4.03-second showing in the 20-yard shuttle, and an 11.56-second showing in the 60-yard shuttle.
Also impressing was Nevada's Virgil Green. He ran the 40 in 4.64 seconds, topped all tight ends with a 42.5-inch vertical, and finished the 60-yard shuttle in 11.63 seconds.
Among the linemen who impressed was Cincinnati's Justin Kelce, who outpaced all of his comrades with a 40 time of 4.93. He also had the top showing in both the three-cone drill and the 20-yard shuttle.
Also turning heads was Colorado's Nate Solder, who could very well end up being the first tackle off the board on Draft Day. He was faster than expected with a 40 time of 5.03, and he also did the 20-yard shuttle in 4.34.
On Sunday, quarterbacks, wide receivers, and running backs will all be on display. They call it "money day." Can you guess why?
For complete results, you can head on over to NFL.com. For more on the NFL Draft, check out our list of Players Who Should Think Twice About Running the 40.
This article is
What is the duplicate article?
Why is this article offensive?
Where is this article plagiarized from?
Why is this article poorly edited?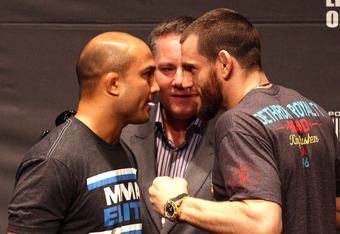 UFC 127 Main Event Features B.J. Penn and Jon Fitch Matched Up in a Welterweight Bout
There will be no title on the line in tonight's UFC 127 main event, a Welterweight bout between B.J. Penn and Job Fitch. What is on the line, however, is a shot at the title, as the winner will get a chance to nab the Welterweight championship in the near future, most likely against Georges St. Pierre.
Coming into the match between Penn and Fitch, the general consensus is that Penn has his work cut out for him. On the one hand, Fitch is about four inches taller than Penn. On the other is the fact that Fitch's proficiency as a wrestler, as boring to behold as it is, creates problems for Penn, who could be in serious trouble once on the ground.
The last time we saw Penn, he definitely showed that he has the goods to keep a fight from getting to the ground, as he knocked out Matt Hughes in just 21 seconds back in November. Because he can't afford to try and match wits with Fitch in a wrestling match, it makes sense that Penn will come out looking to be aggressive, and a quick knockout is probably his best bet.
But therein lies the problem. Fitch hasn't been knocked out since way back in 2002, and he hasn't knocked anybody out on his own since 2006. He knows how to control tempo, and it's a good bet that he knows what to anticipate from Penn tonight just as well as we do.
In other words, this is just not a good matchup for Penn. He could be headed for the third loss in his last four fights.
For more on UFC 127, check out all our coverage on our UFC 127 Home Page.
This article is
What is the duplicate article?
Why is this article offensive?
Where is this article plagiarized from?
Why is this article poorly edited?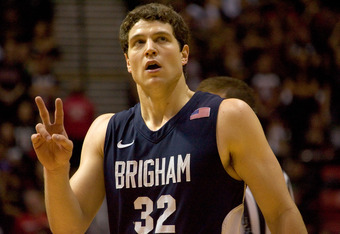 Jimmer Fredette Leads Cougars Over Aztecs Once Again
The first time Jimmer Fredette and the BYU Cougars squared off against their Mountain West rivals, the San Diego State Aztecs, Fredette scored 43 points, prompting NBA superstar Kevin Durant to tout him as "the best scorer in the world."
On Saturday, it was more of the same. Fredette score 25 points and paced the No. 7 Cougars to an 80-67 road upset over the No. 6 Aztecs, thus completing a sweep in the season series. The win also gave the Cougars a one-game lead in the conference.
In addition to his 25 points, Fredette also led all players with nine assists, a big reason why four Cougars scored in double figures.
Helping matters was the fact that the Cougars were deadly from beyond the arc, making 14 of their 24 three-point attempts. The only lead the Aztecs held all game was a 2-0 advantage in the opening moments, they were able to keep things close for the bulk of the game, but were never able to get back on top.
Kawhi Leonard did the bulk of the work for the Aztecs, pitching in a double-double with 17 points and 13 rebounds.
For more on BYU, check out our discussion of whether or not the Cougars Deserve a No. 1 Seed in the NCAA Tournament.
This article is
What is the duplicate article?
Why is this article offensive?
Where is this article plagiarized from?
Why is this article poorly edited?
Boston Celtics May Have Killed Their Title Hopes By Trading Away Kendrick Perkins and Nate Robinson
Despite the fact there's been quite a lot of ink spilled in an attempt to explain the trade the the Boston Celtics made on Thursday, nobody seems to be getting any closer to actually uncovering the true reason why Danny Ainge saw fit to send Kendrick Perkins and Nate Robinson to the Oklahoma City Thunder in exchange for Nenad Krstic and Jeff Green.
In the only game the Celtics have played since the trade, a loss one the road against the Denver Nuggets, they looked flat, maybe even disinterested. But the reality is that they were probably suffering from some form of shell shock.
After the game, Celtics star forward Kevin Garnett admitted that watching Perkins and Robinson go made for a pretty "tough day."
Garnett talked about how he and his fellow Celtics have a bond that carries over to what they do off the court as well, and he spoke fondly about how frequently the whole team will hang out together.
Naturally, KG waved off any hints that the Celtics are no longer title contenders. But on balance, it is obviously pretty hard to believe him given his tone.
Are the Celtics a lesser team without Perk and Robinson? Well, as Garnett put it, only time will tell. That being said, it's certainly hard to see how the trade made them any better. While Green definitely fills the team's need for a backup three, Perkins is one of the more authoritative paint presences in the league, and it's hard to conjure any scenario that involves the Celtics not missing him.
Obviously, we'll have to wait and see.
For more on the NBA Trade Deadline, check out our Power Rankings of the Impact of Each Player Dealt at the Trade Deadline.
This article is
What is the duplicate article?
Why is this article offensive?
Where is this article plagiarized from?
Why is this article poorly edited?
MLB Season Looms With Many People Viewing the Yankees as Underdogs in the AL East
For those who make it their business to obsess over baseball's Hot Stove League, the struggles of the New York Yankees to add to their roster is probably a subject that has been played out well beyond the point of exhaustion.
This if, of course, absolutely true. So let's just keep this simple by saying that the Yankees are basically the same team they were last season, sans veteran lefty Andy Pettitte.
Meanwhile, their arch rivals in Boston went out and added some thunder to their lineup in the form of left fielder Carl Crawford and first baseman Adrian Gonzalez. They also padded their bullpen with Bobby Jenks and a couple other arms.
Long story short, the Red Sox went out and got much better. Because of this, most baseball pundits and fans have them tabbed as the favorite in the AL East. And as a self-proclaimed Sox junkie, I have no problem admitting that I'm loving it.
However, like most Sox junkies, I also know that it is never, and I mean never, a good idea to underrate the Yankees. Shoot, they could run Justin Bieber out there one night, and I'd still be on high alert.
The fact of the matter is that there is a reason that the Yankees have made the playoffs in 15 of the last 16 seasons. It's not just that they have great, high-profile players. Those blasted pinstripes also come with a notorious killer instinct. And mansions or not, it doesn't seem to be losing its power any time soon.
On Saturday, Yankee manager Joe Girardi filled out a lineup card for the first time in 2011 for the team's Grapefruit League opener. Just looking at it puts knots in my stomach.
1. Derek Jeter, SS
2. Nick Swisher, RF
3. Mark Teixeira, 1B
4. Alex Rodriguz, 3B
5. Robinson Cano, 2B
6. Jorge Posada, DH
7. Curtis Granderson, CF
8. Francisco Cervelli, C
9. Brett Gardner, LF
Right now, I suspect that any Yankee hater who just took a gander at that lineup is realizing that this is the kind of batting order that almost makes a starting rotation a petty luxury. Indeed, who needs a fourth and fifth starter when you have that kind of offense?
Nevertheless, I suppose the question is still whether or not the Yankees are better than the Red Sox, who, for all intents and purposes, are the most loaded team in the American League. On paper, the answer is no.
But are the Yankees that much worse than the Sox? No freakin' way.
So take it from me, a Red Sox fan, don't sleep on the Yanks.
Related article: Hank Steinbrenner's Idiocy Reminds Us of Who Real Boss Is
This article is
What is the duplicate article?
Why is this article offensive?
Where is this article plagiarized from?
Why is this article poorly edited?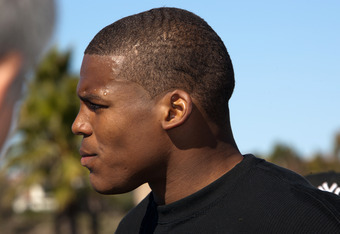 Cam Newton Steps in the Spotlight at NFL Combine Media Session
It's been an interesting day for big-name quarterbacks at the NFL Combine on Saturday. Not long after Arkansas QB Ryan Mallett made waves with a rather odd media session, it was Auburn quarterback Cam Newton's turn to step to the podium.
As with seemingly every other Cam Newton media session, the results were decidedly mixed.
Before taking any questions, Newton opened with a prepared statement that addressed his recent comments about being an "entertainer" and an "icon." Long story short, he pretty much insinuated that he was misquoted.
At one point, Newton seemed to make an effort to completely erase those comments by saying, "With Cam Newton, or without [him], the NFL will be."
After that, Newton handled a rather wide assortment of questions. One of the major highlights involved Newton confirming that he did indeed meet with the Dallas Cowboys on Friday night, which you have to think won't sit well with Tony Romo.
As far as how he sees himself alongside the other quarterback prospects, Newton continually stressed that he is a competitor, and it seemed like this was the best he could do to keep from bragging about his sheer physical skills.
Towards the end of the press conference, questions about Newton's past came up (naturally), and he basically played the Mark McGwire card.
"What I did in the past is in the past," he said.
On balance, what Newton gave us was your typical Cam Newton press conference. As it was so aptly pointed out by the talking heads on the NFL Network, there are times when he grows on you, and there are times where he doesn't seem to realize what he's saying. Hence, the mixed results.
Did Newton do anything to hurt his stock? Absolutely not.
Are there still questions? Most definitely, and there will be right up until Draft Day, and probably beyond.
For more on the NFL Combine, check out our list of 10 Prospects With the Most to Gain at the Scouting Combine.
This article is
What is the duplicate article?
Why is this article offensive?
Where is this article plagiarized from?
Why is this article poorly edited?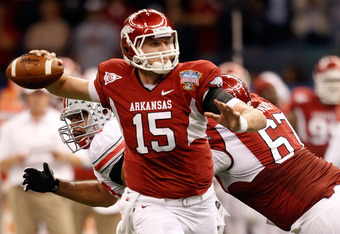 NFL Combine 2011 Not Shaping Up to Be Ryan Mallett's Best Friend
What would the NFL Combine be without a little quarterback drama, am I right?
Indeed. To this point, most of said drama has been focused around Auburn quarterback and 2010 Heisman Trophy winner Cam Newton. Every single one of his actions is being scrutinized, and his words have the potential to lead to million-dollar headlines.
But then there's Arkansas quarterback Ryan Mallett, who has a chance to reestablish his reputation with a good showing at the Combine.
On Saturday, things didn't go so hot at Mallett's media session. I'll clarify right here and now that I personally did not see it , but the word from various media pundits (i.e. USA Today), is that Mallett didn't take too kindly to questions about drug use allegations.
"I'm not gonna talk about that right now," he said.
When asked about his character, Mallett offered up yet another standoffish response: "I would say I'm a great person, but ask the coaches."
At this point, then general opinion among the media appears to be that there's just something a little off about Mallett, and that he clearly doesn't have a grasp on how to present himself. In a sport where body language and personal conduct are just as important for a quarterback as his arm is, this is obviously not a good thing.
For a guy who is at best a borderline first round talent, it goes without saying that Mallett's media session is not going to do him any favors.
For more on Mallett (and this list might be a little dated now), check out our list of Eight Ways Ryan Mallett Can Improve His Slipping Draft Stock.
This article is
What is the duplicate article?
Why is this article offensive?
Where is this article plagiarized from?
Why is this article poorly edited?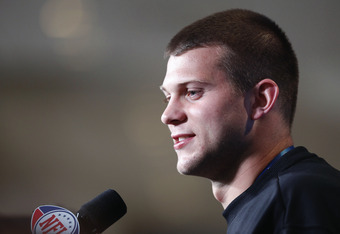 NFL Combine 2011 Is Jake Locker's Chance to Prove His Worth, and Aspiring to Mimic Aaron Rodgers Is a Good Start
By now, I suspect that we all know the story of Washington Huskies quarterback Jake Locker. He was projected as a possible No. 1 overall pick in the 2010 NFL Draft before he ultimately decided to return to school. And even before the regular season started, that No. 1 status was still hanging over his head.
Obviously, things didn't go well. Locker battled both injuries and ineffectiveness in 2010, and it's questionable whether he's a first round pick at all at this juncture.
Nevertheless, Locker has an opportunity to turn some heads at the NFL Combine, which got under way with a full day of workouts on Friday. Locker is scheduled to do some throwing for scouts today, but that's just the first step.
One of the things that Locker has to prove is whether or not he's as good as the sum of his parts would seem to indicate. In other words, for as much as Locker's arm, size, and mobility are worth, it's his head that would-be suitors are banking on.
Earlier on Saturday, ESPN's Kevin Seifert put a few questions to Locker, and one of his answers fairly stood out.
When asked if there's an NFL quarterback that Locker models himself after, Locker cited perhaps the best quarterback the league has to offer: Green Bay Packers QB Aaron Rodgers.
"I enjoy watching Aaron Rodgers play," he said. "I think he's a very talented quarterback, who also has the ability to kind of extend plays with his feet. He's very good moving and making throws on the run, and is a good guy. A guy that plays hard, has a passion for the game that is undeniable in my opinion, and I respect that."
To be sure, don't make the mistake of thinking that Locker is comparing himself to Rodgers. He obviously knows better than to do something like that. After all, nobody ever accused Locker of having Rodgers' accuracy.
Still, in terms of setting a kind of personal bar, Locker could certainly do worse than the Super Bowl MVP. There's no denying that Locker has a tremendous set of skills, and the good news is that working his way up to Rodgers' level is more a matter of work ethic than anything else.
For a guy who has been through a lot in the last year, you obviously hope things work out for him.
For more NFL Draft coverage, check out our list of The Top Draft Steal at Each Position.
This article is
What is the duplicate article?
Why is this article offensive?
Where is this article plagiarized from?
Why is this article poorly edited?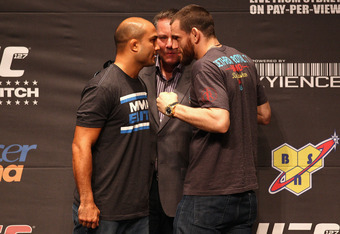 UFC 127 Headlined By Welterweight Bout Between B.J. Penn and Jon Fitch
We are now about seven hours away from the start of UFC 127, which will be just the second UFC event held in Sydney, Australia. The good folks packed into Acer Arena have a full slate of 12 bouts on their hands, the main event of which will pit former Lightweight champ B.J. Penn against one of the most dangerous Welterweight contenders around in Jon Fitch.
While Penn has had his struggles in the last year, losing two of his three fights in 2010, Fitch has lost just one fight since the summer of 2003. That just so happened to be his Welterweight championship bout against Georges St. Pierre in August of 2008, and he will be in line for another shot at St. Pierre if he beats Penn tonight.
Fitch does have one clear advantage over Penn, as Fitch stands nearly four inches taller than him. Fitch is also one of the best around in terms of stretching out a match, which is another thing that many have tabbed as an obvious advantage.
If Penn is to have a shot at defeating Fitch, he obviously can't afford to play his game. That means he's going to have to do his level best to turn their bout into something of a boxing match, and he has to avoid going to the ground at all costs. Fitch's last knockout win came all the way back in 2006, and Penn is coming off a 21-second knockout via punches against Matt Hughes this past November.
One way or another, if this fight does end in a decision, you can rest assured that Fitch is probably going to be the winner.
For more UFC goodness, check out our list of The Top 10 Pre-Fight Hype Quotes.
This article is
What is the duplicate article?
Why is this article offensive?
Where is this article plagiarized from?
Why is this article poorly edited?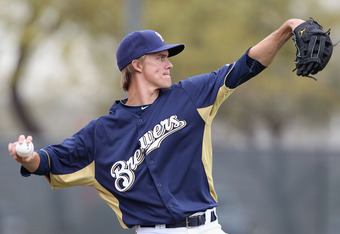 Milwaukee Brewers Could Be Loaded for a Deep Playoff Run
If you were to take a look around Major League Baseball's six divisions, it might become apparent that the deepest of the bunch is the National League Central.
For starters, you have last year's champs, the Cincinnati Reds. They're chock full of young talent up and down their lineup, which is of course spearheaded by Joey Votto, the 2010 NL MVP.
Next to them are the Chicago Cubs, whose acquisitions of Kerry Wood and Matt Garza must not be underrated. Their bullpen is much deeper with Wood back in the fold, and adding Garza to a mix that already includes Ryan Dempster and Carlos Zambrano gives the Cubs three pitchers that could conceivably start the first game of a playoff series.
Next you have the St. Louis Cardinals. They may have lost Adam Wainwright for the season, and Albert Pujols may be in a walk year, but history tells us that they're going to be right in the thick of things.
Then there's the Milwaukee Brewers. Thanks to a pair of bonafide sluggers in the middle of their lineup in left fielder Ryan Braun and first baseman Prince Fielder, you can't say that they haven't been worth watching in the last couple years. But this year, it's hard to look at them without seeing a playoff team.
This has everything to do, of course, with the fact that they were able to go out and get Zack Greinke and Shaun Marcum this offseason. Greinke, the 2009 AL Cy Young winner, has some of the best stuff of any pitcher in the Major Leagues, and the transition over to the Senior Circuit should only help his numbers (a la Roy Halladay). Marcum was one of the more underrated pitchers in the AL East last season for the Blue Jays, posting a 3.64 ERA and a 1.14 WHIP, and he too should reap the benefits of playing in the National League.
And yes, they still have Yovani Gallardo in their rotation as well. He's one of the best young arms in the game, and 2011 could be the year where he takes his rightful place as a perennial 15-game winner.
Taking a look at the Brew Crew's bullpen, it's apparent that they could have themselves one of the league's next great closers in John Axford, who was able to take advantage of Trevor Hoffman's absence to save 24 games last season. The Brewers brought in Takashi Saito to work the eighth, and they could be playing a lot of six-inning games if LaTroy Hawkins can revert back to his 2009 self.
True, comparing the Brewers to the 2010 San Francisco Giants might not be fair for either club. The Giants more or less came out of nowhere last season, and there are plenty of people out there who like the Brewers as a trendy pick to win the Central.
Still, the Brewers are similar to the Giants in that they are built around a deep starting five. The main difference is that the Brew Crew's lineup packs more punch.
Translation: good things.
Long story short, what's not to like?
For more baseball goodness, check out my list of The Top 25 Prospects in Baseball.
This article is
What is the duplicate article?
Why is this article offensive?
Where is this article plagiarized from?
Why is this article poorly edited?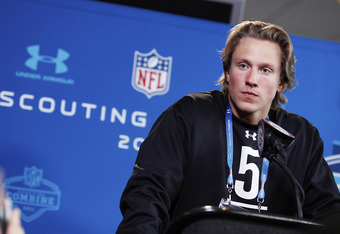 NFL Combine 2011 Places All Eyes on the Quarterbacks
Friday represented the first full day of workouts at the 2011 NFL Combine, as offensive lineman, wide receivers, tight ends, assorted specialists, and quarterbacks all got a chance to strut their stuff.
Not surprisingly, all eyes are on that last group, particularly the top two quarterback prospects in this year's draft class: Auburn's Cam Newton and Missouri's Blaine Gabbert.
The plan on Saturday is for both players to do some running, but only Newton plans on throwing, as Gabbert has decided to wait until Missouri's pro day on March 17th to throw for scouts.
If you were to believe ESPN's Todd McShay, Gabbert's decision not to throw today should have no affect on his draft status, as eight of the last 12 first round quarterbacks chose to sit out the combine throwing session.
Still, there's always a "but" as far as these things go, which is to say that the question of whether or not Gabbert should be throwing at the Combine today is definitely worth asking.
One reason you could argue that he should is because of how easily his stock has slipped behind Newton's in recent weeks. Not too long ago, many people were talking about Gabbert as a No. 1 overall pick. Now, he might not even go in the Top 10.
Furthermore, McShay pointed out that Newton looks like the superior physical specimen between the two quarterbacks. Both of them stand tall, with Gabbert measuring out at over 6'4" and Newton barely topping him at 6'5." But Newton has about 14 pounds on Gabbert, and is decidedly more muscular.
A skeptic could easily look at Gabbert and deduce that he has pretty much resigned himself to the fact that he is going to be picked after Newton. Not helping matters is the fact that Newton is coming into the draft off a season of personal excellence, whereas Gabbert really only has his tools to sell to would-be buyers.
A realist, on the other hand, could look at all this and see much ado about nothing.
You make the call.
For more on the NFL Combine, check out our list of 7 Questions Cam Newton Won't Be Asked During His Interview.
This article is
What is the duplicate article?
Why is this article offensive?
Where is this article plagiarized from?
Why is this article poorly edited?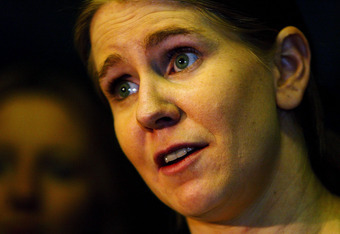 Tonya Harding, 40, Welcomes Her First Child
For a while there, it looked like we were never going to get any Tonya Harding news that wasn't either scandalous or just downright pulpy. One supposes that this is what happens when one's legacy is built on a conspiracy to club a rival in the knee.
To be sure, we've all made our fair share of quips about Harding over the years, primarily because she's given us every reason to. But these days, things are decidedly more optimistic. Not too long ago, reports came out that she was pregnant with her very first child. And last Saturday, the 40-year-old retired figure skater gave birth to a baby boy.
Neither Harding nor her husband, Joseph Price, have yet to make any public comments. But a close friend of Harding's told The Oregonian that, "Everybody's healthy and happy."
"She's always wanted a baby. She was told she could never have a child...and guess what? It really is a miracle and she really is very happy."
That about says it. This is also where a cliche about Tonya Harding starting a new chapter would go. And in all honesty, that about says it too.
Indeed, it's been almost 20 years since Harding's ex-husband hired somebody to give Nancy Kerrigan a metal pipe to the knee. It caused a media frenzy, and Harding has been a villain ever since.
With Harding now starting life as a mother, maybe, just maybe, people can get over it.
Related article: 50 Sports Names That Make Us Giggle
This article is
What is the duplicate article?
Why is this article offensive?
Where is this article plagiarized from?
Why is this article poorly edited?