2011 NFL Draft: Surprise Trade Shakes Up Cleveland Browns Mock Draft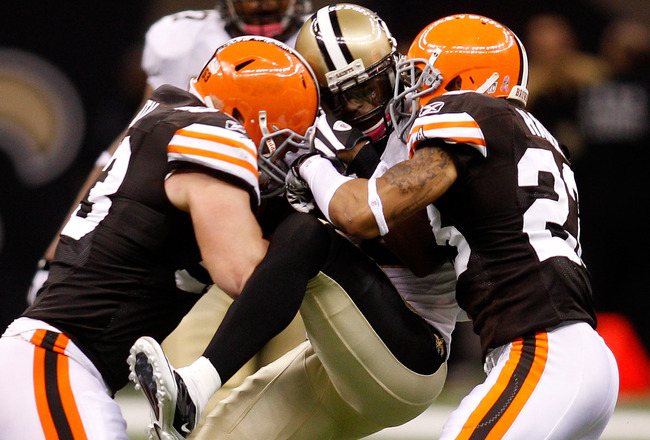 Chris Graythen/Getty Images
The 2011 NFL Draft is approaching quickly and teams from all around the league are finalizing their draft plans and filling their big boards. The Cleveland Browns are preparing to select in one of the most controversial positions in the first round as their selection could dramatically change how the rest of the draft will play out.
The Browns have multiple positions to fill and only eight picks to fill them. This latest version of Cleveland's mock draft highlights a huge first round trade that will change the whole complexion of the drafting process
Without further adieu, here is the latest Cleveland Browns mock draft...
Round 1, Sixth Overall Pick: Trade with the St.Louis Rams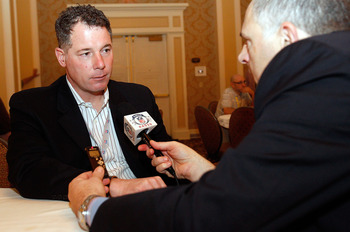 Sean Gardner/Getty Images
Pat Shurmur will likely be a huge player in this trade scenario as his professional coaching history holds significant ties to the St. Louis Rams organization. In this trade, the Cleveland Browns will trade the sixth overall selection and the 170th overall selection to the Rams for:
Rams first round pick, 14th Overall
Rams third round pick, 78th Overall
Rams 2012 5th Round Selection
This trade not only gives Cleveland some wiggle room as far as their picks go but an extra option if they wish to make another deal in the second or third rounds.
The Rams would likely use this pick on a player like A.J. Green or Robert Quinn. Green would be the more likely of the two if he is available due to the Rams' pursuit of a weapon for Sam Bradford.
Round 1, 14th Overall Selection (From St.Louis): J.J. Watt, DE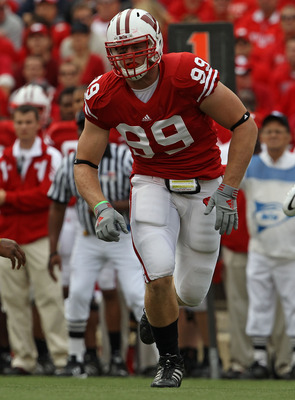 Jonathan Daniel/Getty Images
The Browns need to address some significant holes along the defensive line, and there is no better time than the first round to get a player in place. J.J. Watt is dominant at the defensive end position and is also a pure pass-rusher from either side.
Watt had a very good career with the Wisconsin Badgers as he started for two seasons and collected over 100 tackles. His most impressive feature is his ability to rush the passer as he tallied 11 sacks, including the team-high (7) in 2010.
Cleveland ranked 11th in the league in sacks last season but struggled with their overall defense as they ranked near the bottom of the league against the pass.
Watt would start immediately on the defensive line but may struggle early as he currently does not have much help on the current roster.
Round 2, 37th Overall Selection: Marvin Austin, DT, North Carolina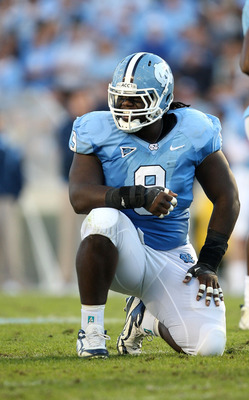 Streeter Lecka/Getty Images
Marvin Austin will immediately become a starter and a contributor for the Browns defense as he will immediately fit into the defensive tackle position along side Athyba Rubin.
Austin played three solid seasons for North Carolina before being suspended by the NCAA for the entire 2010 season. Austin has good speed for a large defensive tackle and is one of the best in the entire draft class at pursuing running backs.
Austin had a total of 103 tackles in his three seasons with the Tarheels and rounded up a combined total of nine sacks to go along with one forced fumble.
Round 3, 70th Overall Selection: Greg Little, WR, North Carolina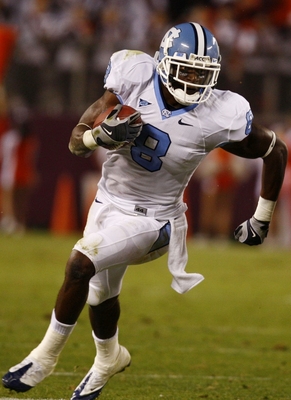 Scott Halleran/Getty Images
Marvin Austin will be reunited with his former teammate, Greg Little, as the Browns finally get a solid weapon to help Colt McCoy with his progression. Little may have the best ability out of any receiver in the entire 2011 NFL Draft but never put up stunning numbers in college and was suspended for the entire 2010 season due to NCAA rules violations.
Little recorded 62 receptions during his junior season in 2009 and collected five touchdown catches. Even though Little was away from the game for this past season, he could quickly fit into a Cleveland Browns system that is expected to focus on the short passing game and yards after the catch.
Little is the best value at this point in this mock draft due to the selection the Browns acquired from St.Louis in their first round trade.
Round 3, 78th Overall Selection (From St.Louis): Marcus Gilbert, OT, Florida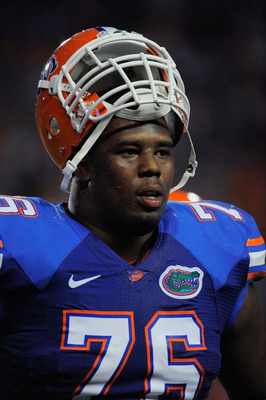 Doug Benc/Getty Images
Marcus Gilbert is the eighth ranked offensive tackle prospect in this draft according to Sideline Scouting, but should become an immediate force in the Cleveland Browns offense in his first season.
Cleveland needs a presence to help solidify the right side of their offensive line as the revolving door of Floyd Womack and John St.Clair failed to produce any type of significant production in 2010. The Browns will likely place Gilbert into a starting role early in the season depending on what type of free agents the team can acquire once the labor negotiations are completed
Gilbert is a large athlete as his measurements at the NFL Combine have him listed at 6'6'' and 330 pounds. One of Gilbert's biggest weaknesses, which caused him to fall to the third round, is his ability to block against some of the quicker tight ends in the college game. However, film from the second half of the 2010 season and his combine workout show that he has made significant improvement.
Round 4, 102nd Overall Pick: Ross Homan, OLB, Ohio State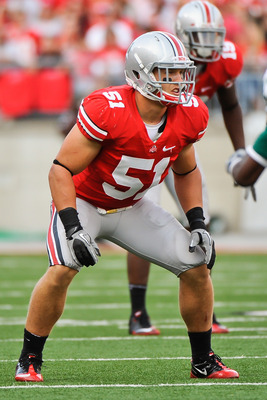 Jamie Sabau/Getty Images
Ross Homan is well known by many Cleveland Browns fans as the former Ohio State standout will be looking to find a professional home in the fourth round. Cleveland will gladly oblige and bring Homan back to the Buckeye state as he will serve as a key piece in Dick Jauron's new 4-3 defense.
Homan has very good speed for an outside linebacker and has great ability in pursuing the rush. Homan was a three-year starter for the Buckeyes and was named a team captain for the 2010 season. Homan was also named to the All-Big Ten team last year.
Round 5, 137th Overall Pick: Pierre Allen, DE, Nebraska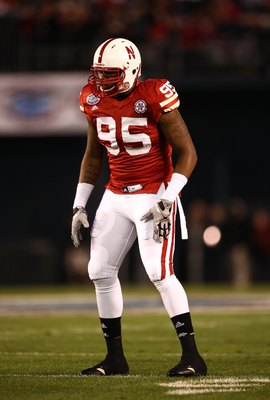 Donald Miralle/Getty Images
Pierre Allen makes his second appearance in the Cleveland Browns mock drafts as the former Nebraska standout remains a constant lock in the fifth round.
Allen is a very good defensive end that will likely not start early in his career but can specialize in pass rushing situations. Throughout his college career, Allen recorded over 180 tackles and 13 sacks while forcing one fumble.
The Browns continuing to pick defensive players at this point in the draft will only spell good things for the franchise down the line. The skill players on the current roster will likely benefit from the switch to a new offense and should have one more season to be completely evaluated.
Round 6, 168th Overall Pick: Deunta Williams, FS, North Carolina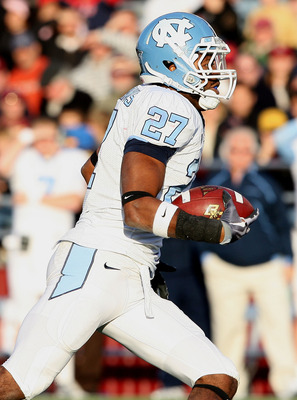 Elsa/Getty Images
T. J Ward set the standard for the Cleveland Browns safeties last season, and now there is a great amount of speculation as to who may be returning to fill the spot next to him in 2011.
Deunta Williams will be a bit of an insurance policy if the team fails to re-sign Abe Elam in the offseason or wishes to part ways with Mike Adams via trade.
Williams is a good coverage safety but struggles at times when he moves up to stop the run. Cleveland will not likely use Williams as a starter early in his career but will let him grow into the role over time. Dick Jauron will also be looking for help in free agency if Elam or Adams don't return.
Round 7, Compensatory Selection: Derrick Locke, RB, Kentucky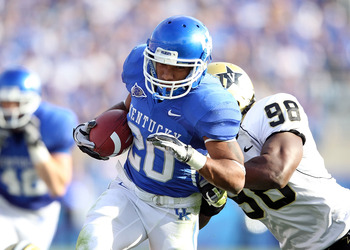 Andy Lyons/Getty Images
Cleveland needs a backup plan if Monterio Hardesty cannot return to full strength in 2011 because Mike Bell simply did not perform well in 2010 behind Peyton Hillis.
Derrick Locke is the best value at this point in the seventh round and will give Cleveland many options at the position heading into training camp. The Browns need a runner that can be effective on longer situations and also be a consistent threat if Peyton Hillis should go down to injury.
Cleveland will be looking for the best player available at this point in the draft and there is simply no better player on the board that fills a team need and could become a member of the active roster.
Brian Murtaugh is a Cleveland Browns featured columnist for bleacher report as well as the columnist for Browns Central. Brian is also the fan voice of the Browns at NFL Touchdown.
Keep Reading

Cleveland Browns: Like this team?