NFL Draft 2011: 5 Potential No. 1 Picks No One Is Talking About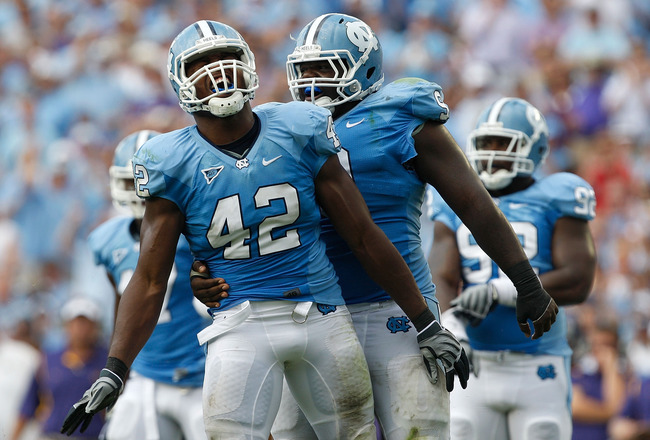 Streeter Lecka/Getty Images
Everyone has heard the names Cam Newton and Da'Quan Bowers thrown around as potential No. 1 overall picks.
However there are also quite a few other players who no one is talking about, but could hear their name called first come draft day.
All of these guys are likely to be top-10 picks, but no mock drafts are projecting them as No. 1.
Feel free to comment below with what other players could be selected No. 1 overall.
Robert Quinn—North Carolina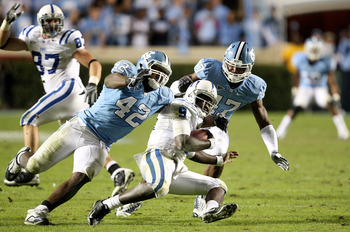 Streeter Lecka/Getty Images
Even though Robert Quinn missed the 2010 season after accepting gifts from an agent, many people are still projecting him to be a top five pick, and the second best defensive end after Da'Quan Bowers.
Quinn is an unbelievable athlete, and will use this week's combine as a chance to show what he has to offer. NFL teams should be very impressed by his speed and strength, and it could propel him up the big board.
If Carolina is willing to take a risk on a player who missed all of last season for breaking the rules, then the Panthers could possibly select him No. 1.
In a draft class full of top-notch defensive ends, Quinn could rise to the top.
Blaine Gabbert—Missouri Tigers
Christian Petersen/Getty Images
With everyone jumping onto the Cam Newton train of late, a lot of people have forgotten about Blaine Gabbert.
Andrew Perloff of Sports Illustrated actually had Gabbert as his No. 1 pick in a Jan. 12 mock draft. (Read here)
As Perloff points out, eight of the last 10 first overall picks have been quarterbacks. While this could also make a strong argument for Cam Newton to go first, if the Panthers don't want to take the risk, then Blaine Gabbert seems like the next best option.
If the Panthers are not content with Jimmy Clausen and want to take a quarterback, then Gabbert may be the best pick for them.
Patrick Peterson—LSU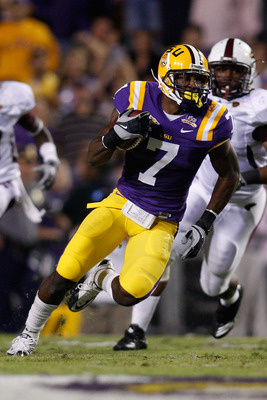 Chris Graythen/Getty Images
The Carolina Panthers need a game-changer, and Patrick Peterson may be the best one on the defensive side of the ball.
Peterson is a cornerback who not only won the award for best defensive back in college football, but also for best overall defensive player in college football.
Peterson had four interceptions on the season to go along with 42 tackles.
If the Panthers are looking for a player who can offer versatility on the field, then Peterson may be their choice. Last year, Peterson averaged over 29 yards per kickoff return and returned two punts for touchdowns.
Although it seems unorthodox for a team to pick a cornerback with the No. 1 pick, Patrick Peterson could potentially break that trend.
A.J. Green—Georgia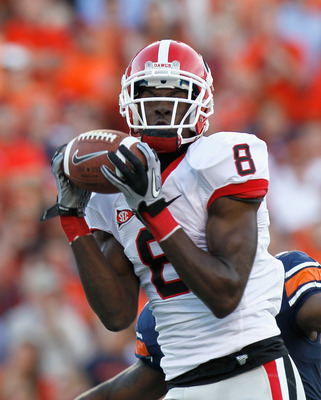 Kevin C. Cox/Getty Images
If the Carolina Panthers want to select the best talent in the draft, then they could use the first pick on A.J. Green.
Green finished off a season shortened by a four-game suspension at the beginning of the year with 57 catches and nine touchdowns.
Many consider Green to be the best receiving prospect in years to come out of the draft, and this fact alone could push him to the top.
Although no one thinks the Panthers will use the first pick on the position their best player plays, Green could be a great complement to Steve Smith and give the Panthers a top notch receiving core.
Von Miller- Texas A&M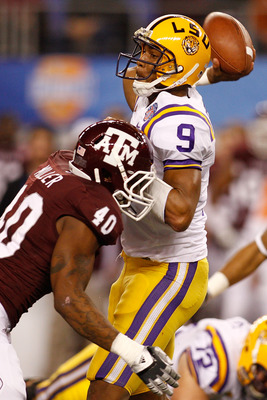 Chris Graythen/Getty Images
Von Miller could be the potential dark horse for first overall pick, with the hype train at full speed behind him.
Many did not consider Miller to even be a top-10 pick a few weeks ago, but after a great Senior Bowl week, some had him even going in the top five.
Adam Schefter tweeted in the end of January that Miller could go in the top five. With a strong combine, he could potentially go in the top three, and maybe even No. 1.
Miller led the nation in sacks with 17, and could be a great pass rushing replacement for Julius Peppers.
Linebacker is probably not a position the Panthers have an immediate need to fill, but crazier things have happened on draft day before.
Keep Reading

Carolina Panthers: Like this team?