MLB: 10 Greatest Keystone Combos: How Do Phillies' Rollins and Utley Stack Up?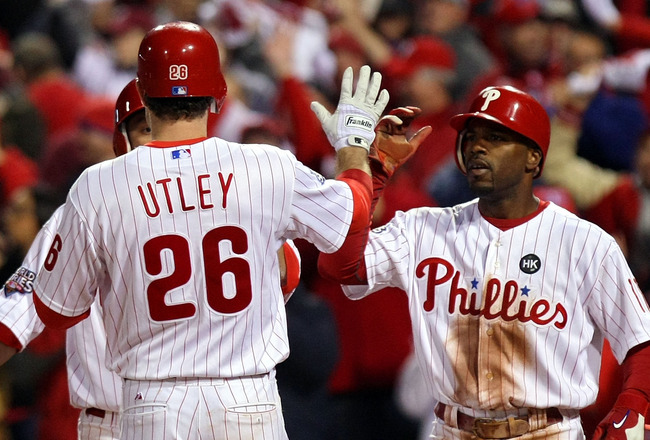 Jimmy Rollins and Chase Utley are a marquee middle infield, but how do they stack up against the best in baseball history?
Nick Laham/Getty Images
Phillies fans love, love, love their middle infield—and why shouldn't they?
Jimmy Rollins and Chase Utley will play their seventh this season together this year. They are a wonderful "keystone combo," whose combined prowess extends to the plate, the field, and their team's collective success.
So how do they stack up against the best middle infields of all time? This is something I've been thinking about for quite a while, and I decided to do a little research. What I found may surprise you—it definitely surprised me.
Now, I'm not going to do a point system, but I will be using statistics to support these rankings. The lone requirement is the duo must have played together for at least four years. If the combination lasted longer, I have tried to take an accurate cross-section of their time as teammates.
I graded the pairs in these three categories: 1. Offense. 2. Defense. 3. Impact on the success of the ball club.
Obviously, all three of these categories can be somewhat subjective, but an offensive stat line will be given for each player during the selected years.
With that in mind, let's get started!
10. (tie) Lou Boudreau & Joe Gordon, Cleveland Indians, 1947-1950.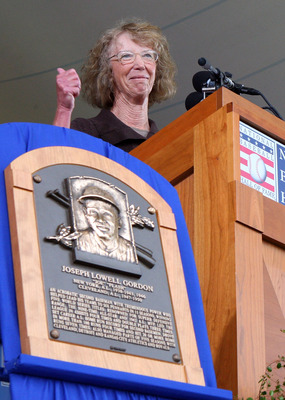 Gordon's HOF plaque at his 2008 Hall Of Fame Induction.
Jim McIsaac/Getty Images
Going into this piece, I thought these two Hall Of Famers would certainly be near the top of the list.
Though they're both enshrined in Cooperstown and combined in 1948 (Boudreau's MVP season) to spearhead Cleveland's trip to its last World Series Championship, the fact remains that their careers were winding down during the years they played together, and the statistics reflect this:
Four-Year Averages, 1947-50:
Boudreau: .310 BA, 68 R, 7 HR, 66 RBI, 1 SB
Gordon: .262 BA, 80 R, 25 HR, 90 RBI, 5 SB

Admittedly, these statistics are not remotely overwhelming. What is impressive, besides the HOF credentials, is that Boudreau is the last player/manager to win a World Series.
As far as Gordon is concerned, here is a short story that should sum up Joe Gordon to those who do not know about him as a player.
Back when Gordon was with the Yankees in the early '40's, a reported approached Yanks' manager, Joe McCarthy, and asked, "Hey Joe, why do you like Joe Gordon so much?"
McCarthy called Gordon over, and asked him, "Hey, Joe. What's your batting average?" Gordon: "I don't know." McCarthy: "What's your fielding average?" Gordon: "I don't know?" McCarthy thanked Gordon, turned to the reporter, and said, "That's what I like. All he does is come to beat you!"
10. (tie) Bobby Doerr & Joe Cronin, Boston Red Sox, 1938-1941.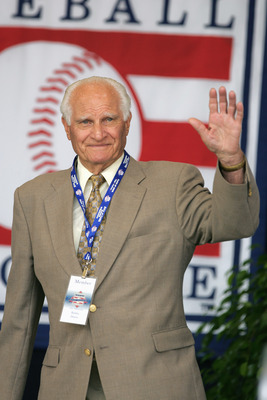 Bobby Doerr: Boston Red Sox Hall Of Fame 2nd baseman!
Ezra Shaw/Getty Images
They never won a World Series during their four years together.
They never even won a pennant.
What this Hall Of Fame duo did do was put up some of the best numbers during a four year period that have ever been produced by a SS/2B combo.
Four-Year Averages, 1938-41:
Doerr: .295 BA, 77 R, 14 HR, 90 RBI, 4 SB
Cronin: .307 BA, 99 R, 19 HR, 102 RBI, 5 SB
These are impressive numbers, and these guys were very underrated defenders. Neither was spectacular, both were very good fielders during their careers.
Unfortunately, as is the case with many of the middle infielders listed herein, one was beginning his career (Doerr), while the other was winding down (Cronin), otherwise, we may have seen a title or two in Beantown during the '40's.
9. Eddie Collins & Jack Barry, Philadelphia Athletics, 1910-1914.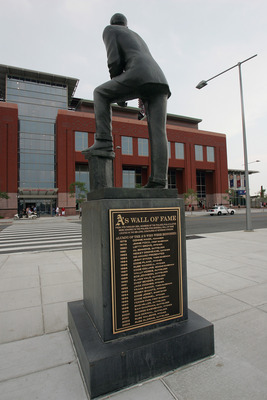 The great Connie Mack won 3 World Series with the Collins/Barry combo!
Jamie Squire/Getty Images
They were known as the "$100,000 infield," which was the reported price that manager/owner Connie Mack had paid for them.
The infield consisted of first baseman Stuffy McInnis, Hall of Fame third baseman Frank "Home Run" Baker, and the vaunted keystone combo of shortstop Jack Barry and Hall of Fame second baseman Eddie Collins up the middle.
When it comes to team impact, you cannot find a much more impressive duo than Collins and Barry, who helped lead the Philadelphia A's to three World Series titles in a span of five years.
Collins was a nine time fielding-percentage leader, and while history doesn't paint Barry as much more than a solid defender, his contemporaries have argued he was the best fielding shortstop of his time. The two of them teamed-up to turn the most double-plays of any infield pair during 1912.
Five-Year Averages:
Barry: .260 BA, 66 R, 1 HR, 61 RBI, 21 SB
Collins: .344 BA, 111 R, 2 HR, 75 RBI, 58 SB
Yes, Collins statistics seem pretty much other-worldly. As is the case with a couple of other combos on this list, he is obviously the far better player.
There's no denying the success enjoyed by the team during the tenure of Barry and Collins.
8. Claude Ritchey & Honus Wagner, Pittsburgh Pirates, 1903-1906.
The T 206 Honus Wagner card, still, by far, the most valuable in history!
Chris Hondros/Getty Images
This was the keystone combination for the very first World Series ever played in 1903, which was won by the Pirates.
Claude Ritchey was a very strong defensive second baseman. By all accounts, he was the slickest fielder of his day—he led all NL second baseman in fielding-percentage five times and twice led in assists—but Ritchey is not the main reason for this duo being on this list.
J. Honus Wagner was, undoubtedly, the greatest player of his time. He is, without any possibility of debate, the greatest shortstop who ever lived. He is one of five original 1936 Hall Of Fame inductees, and was called the greatest player who ever lived by pretty much anyone who ever saw him play.
Four-Year Averages:
Ritchey: .268 BA, 61 R, 0 HR, 55 RBI, 11 SB
Wagner: .352 BA, 103 R, 4 HR, 87 RBI, 52 SB
As impressive as the numbers are (even a shade better than Collins'), the greatness of Wagner cannot be measured with statistics alone. Remember, Wagner played during the "dead-ball era," a time when power hitters were measured more by triples than home runs—which were seemingly fluke-like. Wagner was the first complete player in baseball history. He was what people now refer to as a five-tool player.
Not only could Wagner hit for average, hit for power, field, throw and run—he did every one of those things better than everyone else.
7. (tie) Tom Herr & Ozzie Smith, St. Louis Cardinals, 1982-1987.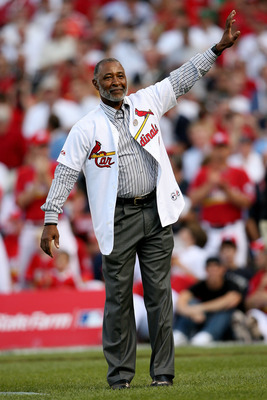 The "Wizard Of Oz": Arguably the best defensive shortstop in history!
Elsa/Getty Images
I may be a little partial, having grown up in the '80's and rooting for a National League East team, but these two guys may have turned the prettiest double plays in baseball history. Ozzie won a Gold Glove in each of the six years of this partnership, and Herr became only the seventh second baseman to knock in 100 runs in a season.
Tom Herr was a solid player, an All Star in '85, and a truly underrated defender, but he was not a Hall of Fame player. However, when teamed with The Wizard, he was a great man for the team.
This combo led baseball in double plays three times, and, if you want "pudding proof," they won three National League pennants during this span, including a World Series title in 1982.
Six-Year Averages:
Herr: .278 BA, 69 R, 3 HR, 62 RBI, 19 SB
Smith: .269 BA 70 R, 2 HR, 53 RBI, 33 SB .... 1 Gold Glove.
These stats are nowhere near overwhelming ... and that is why these guys needed to be actually seen to be appreciated!

7. (tie) Johnny Evers & Joe Tinker, Chicago Cubs, 1906-1910.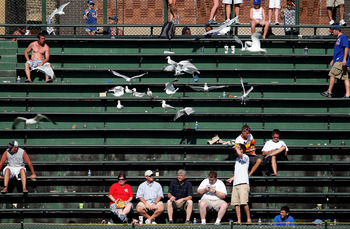 Wrigley Field, home of the Chicago Cubs
Jonathan Daniel/Getty Images
Remembered more these days for the legendary poem, "Tinker, to Evers, to Chance", this famed double-play combination was a bit more than an iambic muse.
They were defensive innovators, using new methods to defeat bunts, steals and hit-and-run plays, making them absolutely invaluable during baseball's "Dead Ball Era," and the team was the better for it, winning four National League flags during that span, as well as World Series titles in 1907 and 1908.
Here's the capper: They hated each other. Who says you have to like someone to play well with them.
Five-Year Averages:
Evers: .265 BA, 78 R, 1 HR, 38 RBI, 37 SB
Tinker: .254 BA, 56 R, 3 HR, 59 RBi, 25 SB
They developed the first known version of baseball's rotation play to defend bunts, and Tinker, the slickest fielding shortstop of his time, led the NL in fielding percentage four times and twice led the league in putouts and assists.
Evers led the league in intelligence and savvy every year. He was probably the smartest player of his era, driven like a mad man to win at all costs, and later won a Chalmers Award (the MVP of the era) in 1914, when he led the "Miracle Braves" to a World Series title.
6. Lou Whitaker & Alan Trammell, Detroit Tigers, 1983-1987.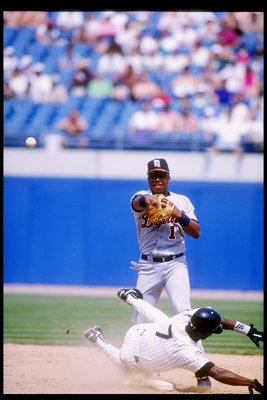 Lou Whitaker, one half of the longest-tenured keystone combo!
Jonathan Daniel/Getty Images
The most underrated keystone combo in history may also be the longest-tenured one in history, the Detroit Tigers duo of Lou Whitaker and Alan Trammell. They patrolled the middle of Detroit's infield for a record 18 seasons, and combined for 10 All Star Appearances.
In all likelihood, neither will make it to Cooperstown. But that should not take away from their accomplishments as teammates.
Trammell won four Gold Glove Awards, Whitaker another three, and both were centerpieces for the 1984 World Champion Tigers squad.
Here is a small slice of their offensive statistics, a five-year span:
Five-Year Averages:
Whitaker: .285 BA, 98 R, 16 HR, 67 RBI, 11 SB
Trammell: .302 BA, 93 R, 18 HR, 74 RBI, 22 SB
Both players were models of consistency during their careers, which, fortunately for them, happened over the same years.

5. Derek Jeter & Robinson Cano, New York Yankees, 2005-2010.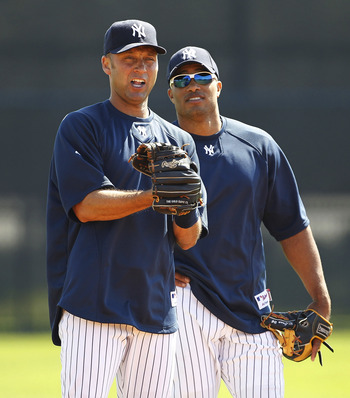 Derek Jeter & Robbie Cano, Yankees Gold!!!
Leon Halip/Getty Images
The only thing that seemingly works against this pair is that Jeter is winding down while Cano seems to just be getting started. However, that hasn't really gotten in their way during the past six seasons.
Though their age difference is evident and their careers are not exactly at parallel points, this keystone combo must go down as one of the best.
Derek Jeter is a first-ballot Hall of Famer, one who is the consummate professional and team contributor, and one that really does not have a weakness on the field. He is not quite the fielder he was 10 years ago, but he is still well beyond solid, and can start the double play as well as anyone not named Rollins.
Cano is bordering on superstar status. His defense has improved to the point of being considered very good, and his offensive numbers are only getting better with every year of big league experience.
Together, they won the Yanks an AL flag and World Series title in 2009.
Six-Year Averages:
Cano: .309 BA, 85 R, 19 HR, 84 RBI, 3 SB
Jeter; .313 BA, 108 R, 14 HR, 74 RBI, 20 SB
Considering Jeter is now signed through 2013, they might just add to that trophy case.

4. Nelson Fox & Luis Aparicio, Chicago White Sox, 1956-1959.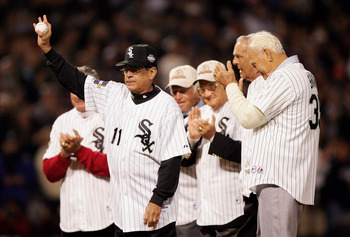 Hall Of Fame White Sox shortstop, Luis Aparicio!
Jed Jacobsohn/Getty Images
Fox and Aparicio comprise perhaps the greatest fielding keystone combination in history.
The numbers suggest this, with Fox's three Gold Gloves, and Aparicio's six Gold Gloves in addition to eight straight fielding titles, but these two Hall Of Famers could do more than just flash the leather.
Fox had the fewest strikeouts in baseball 11 times, was a three-time All Star, and was the AL MVP in 1959 while leading the Sox to the pennant.
Aparacio won nine consecutive stolen base crowns and provided the spark for Chicago from the leadoff spot, with Fox batting right behind him.
Four-Year Averages:
Fox: .305 BA, 96 R, 3 HR, 58 RBI, 6 SB
Aparicio: .261 BA, 81 R, 4 HR, 47 RBI, 33 SB .... stolen base title
The biggest shame about this keystone combo is they only played four seasons together.

3. Chase Utley & Jimmy Rollins, Philadelphia Phillies, 2005-2010.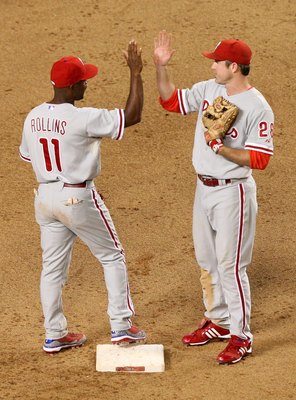 Like Jeter and Cano, Rollins and Utley could move even higher up the list!
Christian Petersen/Getty Images
Year in and year out, nobody turns two like this Phillies All-Star combination.
In six short years together, the accolades are scary, with Philadelphia winning two National League Pennants and one World Series Championship in 2008. As both are in their early 30's, there could be more coming.
Jimmy Rollins is the best defensive shortstop in the game today. His three Gold Gloves are not quite the indication of just how good he is. The guy doesn't dive for balls because he doesn't need to. His range is extremely underrated, his arm is as strong as anyone's and his release is quicker, making him an ideal double-play partner.
A four-time All-Star, Rollins won the National League MVP Award in 2007 when he became just the fourth player in MLB history to accumulate 20 doubles, triples, home runs and steals in the same season. His six-year averages are outstanding, especially considering the last two years have been down years for him.
When discussing Chase Utley, all you need to know is that the guy will do anything to win a ballgame. He is a bona-fide superstar that will gladly sacrifice his statistics—or his body—to help his team win. I'd say more about these two, but the numbers can sum much of it up:
Six-Year Averages:
Rollins: .275 BA, 101 R, 18 HR, 68 RBi, 36 SB
Utley: .298 BA, 105 R, 27 HR, 95 RBI, 15 SB
With these two All-Star performers, both of whom have a chance at Cooperstown, the Phillies should be contenders for years to come.

2. Joe Morgan & Dave Concepcion, Cincinnati Reds, 1973-1976.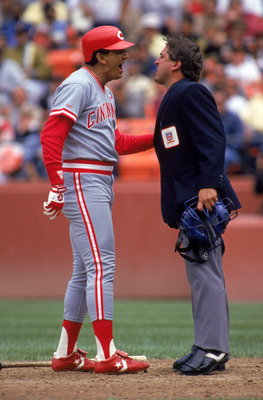 What do you mean, we're not #1?
Otto Greule Jr/Getty Images
What do Morgan and Concepcion have that Rollins and Utley don't? One more ring!
It was hard to decide which should be No. 2 and which should be No. 3, but in the end, the consecutive World Series titles decided it.
Concepcion was a brilliant fielder, winning five Gold Glove Awards during the 1970s. He was a clutch hitter and exceptional base runner to boot.
Morgan is one of the greatest second baseman to ever play the game. A five-time Gold Glove winner, Morgan won the NL MVP Award during both of Cincinnati's World Series winning seasons (1975 and '76) .
Four-Year Averages:
Concepcion: .280 BA, 61 R, 9 HR, 62 RBI, 29 SB
Morgan: .307 BA, 111 R, 23 HR, 89 RBI, 63 SB
Wow, and that's just a four year average for Morgan. They were the best keystone combo of their time, easily outdistancing the Russell/Lopes and Dent/Randolph combos in LA and New York, respectively. The Big Red Machine could not have run as effectively without these two spark plugs!

1. Jackie Robinson & Pee Wee Reese, Brooklyn Dodgers, 1949-1952.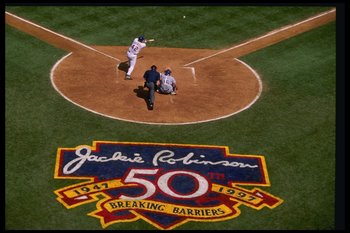 The only man to have his number retired by all of baseball!
Al Bello/Getty Images
It's hard to imagine, but this keystone combination only played together for four years—that is, with Robinson at second base. During those four seasons, Robinson won an MVP Award and the Dodgers won two NL flags. The other two years were both lost on the season's last day.
Reese, by all accounts, was the best defensive shortstop of his time, along with Phil Rizzuto, but was also a strong contributor with the bat. During his time in Brooklyn, the Dodgers won seven pennants and a World Series title in 1955. He could start the double play as well as anyone in history, especially when throwing to ...
Jackie Robinson was not just the first black player in Major League Baseball. He may have been the greatest second sacker to ever play the game. That says quite a bit when you consider that he only played the position for four years. There was absolutely nothing that the man could, or would, not do to win a ballgame. His competitive fire was every bit that of Pete Rose's or Ty Cobb's. One can only wonder what he might have accomplished had he broken in to the league five years earlier.
Four-Year Averages:
Reese: .275 BA, 104 R, 11 HR, 64 RBI, 23 SB
Robinson: .330 BA, 108 R, 17 HR, 92 RBI, 25 SB

This combo simply had to be first on this list. The list was a difficult one to make, and there are combos that unfortunately couldn't quite make the cut because they just weren't quite there or didn't play together long enough.
Honorable Mention: Yount/Molitor, Lajoie/Turner, Alomar/Vizquel, Gordon/Rizzuto.
As always, I welcome all debate and conversation. Nobody is absolutely correct on these lists, so let me know your thoughts!
Keep Reading

Philadelphia Phillies: Like this team?