10 Tag Teams That Will (Likely) Never Be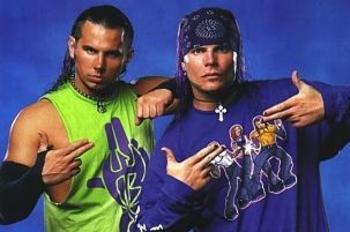 Unlike the men you see in the photo, the following list will look at some dream tag teams from WWE. I am going to take a current WWE star and pair them with a legend (or semi-legend) to form a superb set of tag teams.
This list is for fun and I never expect to see any of these tag teams in the WWE. But, a guy can dream can't he?
Booker T and R-Truth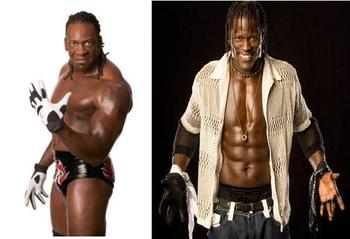 These guys have a very similar style in the ring and could form a dynamite heel tag team. I realize that Booker T is currently a WWE superstar, but he is in the announcing role right now, so I consider him a legend anyway.
R-Truth has never really accomplished anything, but the combination of "CAN YOU DIG IT SUCKAAA" and "WHAT'S UP?" seems like a great match.
Great Khali and Giant Gonzalez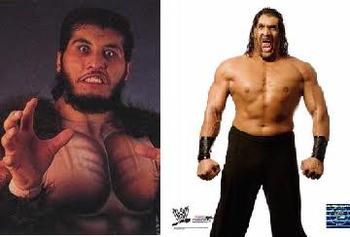 Wow, now here is a tag team that would not be able to wrestle....at all. However, the sheer size and strength of the two of them would make them instant contenders in my book. Don't ask them to enter any beauty pageants, though. Yikes.
JBL and Alberto Del Rio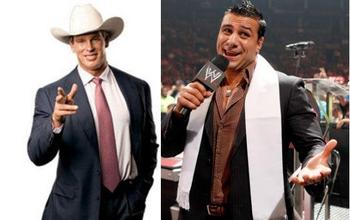 I briefly considered pairing Del Rio with the late, great Eddie Guerrero, but I think JBL is a better match.
Both of these men claim to be rich and powerful. Both men are high class and amazing heel characters.
This would possibly be the most hated tag team in history...outside of La Resistance of course.
"Dashing" Cody Rhodes and "Ravishing" Rick Rude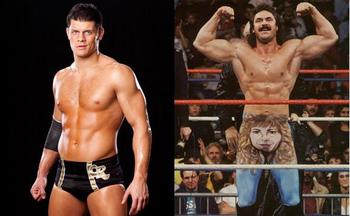 How good looking is this duo? Well, not very, but you get the point. They are two of the most arrogant heels in memory and both thought they are (were) God's gift to mankind.
All kidding aside, they both were very solid wrestlers and could certainly hang with any team.
Chris Benoit and Daniel Bryan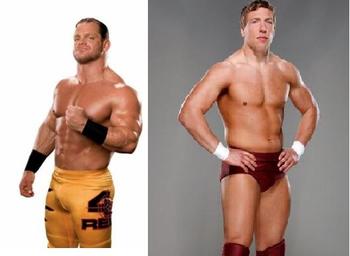 Would there be a better technical wrestling team than this? Combine the intensity of Benoit and the bland, humorous personality of Bryan, and you would have a winning team both in and outside of the ring.
Most people say this would be a dream match one-on-one, but I feel they would have functioned better as a unit.
Dave Batista and Mason Ryan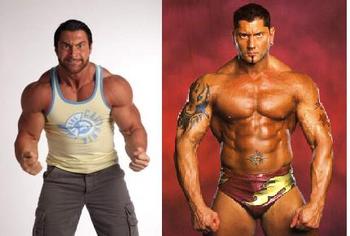 If Batista ever returns to WWE, this pairing needs to happen. They look almost identical already. Honestly, it writes itself.
Batista returns to the WWE and claims Ryan is his long, lost step-brother, and they go on to form the new Brothers of Destruction.
Ted DiBiase and ..... Ted DiBiase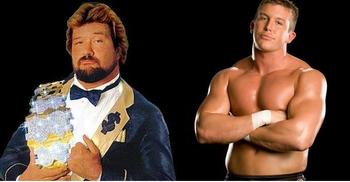 Another one that was just too easy. The father-son pairing would certainly dominate the wrestling landscape and buy their way into the tag-team title picture.
At the very least, it would give Junior something to do with himself, as his career is starting to take the form of Doink the Clown (not going anywhere).
Sheamus and Finlay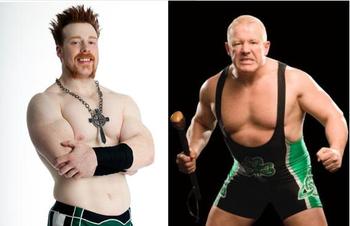 These two Irish monsters would certainly make an impact. Their styles complement each other very well. With Sheamus being the powerhouse of the two and Finlay being a scrappy fighter, they would make a very good heel team as well.
Andre The Giant and The Big Show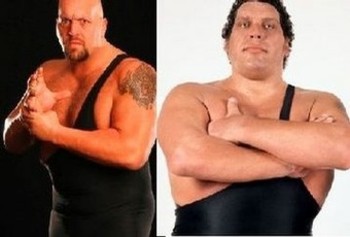 Much like the aforementioned team of Khali and Gonzalez, this grouping wouldn't be so much about the wrestling abilities, as much as their ability to dominate any and all comers. These two monsters would surely destroy everything in their paths and it is a shame we never got to see them in the ring together.
One More Team to Go....
Brace yourselves for the greatest Dream Tag Team in the history of professional wrestling.
Santino Marella and Scotty Too Hotty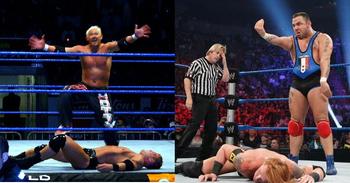 THE WORM AND THE COBRA!!!!!!!!!!!!
Certainly they would not be the most talented grouping, but the entertainment value would be through the roof.
Not to mention (I guess I am) the fact that both of them are exceptional dancers, and you have the greatest team that will unfortunately (likely) never be.
Hope you enjoyed the list, feel free to rip me apart below.
Keep Reading