Derek Jeter: Why Hank Steinbrenner Was Way Off Base About The Mansions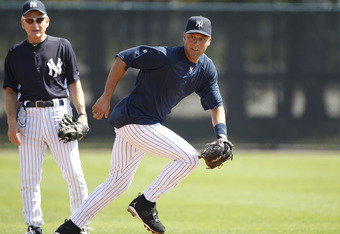 Derek Jeter is One Player You Should Never Single Out
Hank Steinbrenner did the best impression of his father a couple of days ago when he called out his players for lack of effort. He cited their willingness to build "mansions" over compete. It was the opening salvo to another season's Spring Training.
We have been here before. The legendary Yankees owner George Steinbrenner had no qualms with calling out his players, coaches or general manager. He would call out the guy that sells hot dogs if he thought he was slacking at all.
But I do have issue with one thing Hank said, mansions. It was a direct, or subconscious, implication of his star short stop Derek Jeter. Everybody's favorite Yankee just put the finishing touches on a palatial estate in Tampa Bay.
Believe me when I say this place is big. You could just about fit Alex Rodriguez's ego in the three-car garage. Others seem to have a hold on the intricacies of the estate.
The mansion looks more like and English Lord's manor. The house befit for royalty is there to take jabs at, they just shouldn't come from the Yankees front office. Jeter is one player you do not single out.
When others go dormant in the post season, he takes it up a notch. When the team looks decayed after a long season, He is the first to light a fire.
He is team leader, captain and psychologist. He is an integral part to the franchise and the reason the team just locked him up for the rest of his career.
Hank knew he called out the wrong guy. That is why he has back-tracked in the days since. Being the owner of the Yankees is a tough gig. You have to impose your will and call out everyone from the manager to the concession workers. So I understand there is a learning curve to it all.
This first mistake will be forgiven Hank.
Related Story: WAGs Who Love The Limelight
Most recent updates:
This article is
What is the duplicate article?
Why is this article offensive?
Where is this article plagiarized from?
Why is this article poorly edited?