NBA Trade Rumors, Carmelo Anthony, Chauncey Billups and Wednesday's NBA News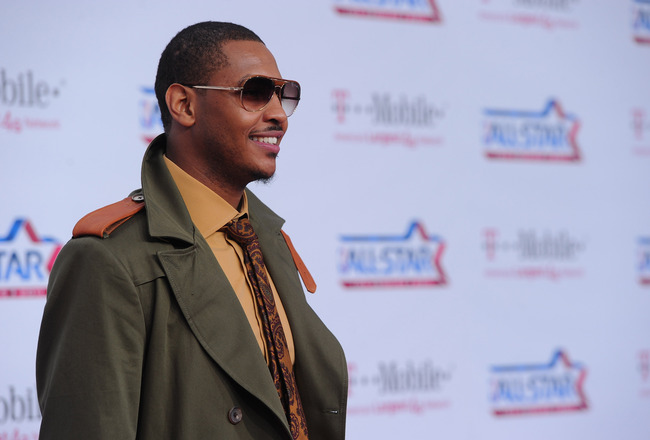 Alberto E. Rodriguez/Getty Images
The NBA is aflutter this morning in the wake of the Carmelo Anthony deal, and I (hello!) will be acting as your hyperbolic news correspondent in reporting the aftershocks.
Does Danilo stay in Denver? What is the Nets Plan B? And will Otis Smith come to his senses in time to agree to my Dwight Howard for Antawn Jamison swap?
Let's start in New York, where the Knicks now field a starting lineup of Billups, Fields, Anthony, Stoudemire and Turiaf. And a bench of Spike Lee.
Heading west are Danilo Gallinari, Raymond Felton, Wilson Chandler and Timofey Mozgov; an impressive haul for a Denver team supposedly negotiating from a corner. In gutting nearly half the roster, Donnie Walsh (Donnie Walsh?) has landed his second star, but landed him to a Knicks team too top-heavy to get out of the first round of the playoffs. At least not this year.
Carmelo and Amar'e will combine to form one of the most potent scoring duos in the league—
In fact, check out this shamelessly self-promoting link:
Re-ranking the Top 10 Scoring Duos
—but neither figures to improve the Knicks defensively, where they current rank second worst in the league.
Plenty more to come, including a potential Deron Williams to New Jersey deal. (How in the F are they going to pull that off?)
Stay tuned.
Well, my shift is over, I'm about to clock out for the day…and I come across this little ditty from Ken Berger:
Melo: "We sat down as a collective unit and came out with this decision, that New York was the place to take my talent."
My ears are bleeding. They're literally bleeding.
Decision and take my talent in one sentence? First off, I'm glad you used the singular Carmelo. "Talent." Because you have one. And it's a talent we'll both have equal use for come the second round of the playoffs.
And second, how did Carmelo decide this? On what planet do players think they have free reign over the entirety of the league, able to manipulate it's landscape, it's rivalries on a whim?
Let's let LeBron James chime in:
"Everybody's bringing their talents to the East."
[Bleed.]
"We took two of the best players in the West and brought them to the East," James said. "D-Will has been a multiple All-Star in the West and Melo, of course, has been a multiple All-Star and now they're in the East."
This remarkably insightful look at player transaction aside, since when did LeBron James become the de-facto general manager of the Eastern Conference? Seriously LeBron, I'm glad you were able to pull such a coupe, but as a self-proclaimed NBA historian, do you not see that this period is in fact unique in its history?
Look, part of me is still unreasonably bitter at all things LeBron. (I'm a Cavs fan, and yes, that one hurt.) But the bigger issue to me is that of competitiveness in the league. Or at least the fans' perspective of it. What began as fraternizing, innocent and annoying, has begun to develop the look of collusion. I am all for NBA players being free to, as Dwayne Wade puts it, "[make] decisions that they feel [are] best for them and their family." But portraying NBA athletes as powerless and taken advantage of is self-serving and inaccurate. Not to mention insulting. Crazy as this sounds, it is the owners who need protection now. Not in the form of a pay cut for the players, or a hard cap, but something along the lines of a franchise tag. That's not spite on my part, that's competitive justice.
Goodnight. I'm appropriating my abilities elsewhere.
-Ryan M. Braun
Ps- You want spite? LeBron, I swear to god I'm going to ask Savannah to marry me. If only to put the idea in her head. After which I assume she will put on the pressure, and you will make one of two free throws.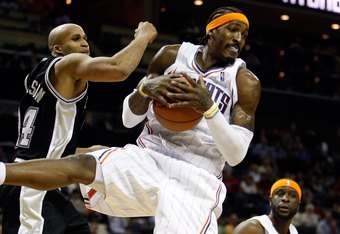 Continuing a frenzied day of activity, former All-Star Gerald Wallace is now potentially on the move. By way of CBS scribe Ken Berger, the 28-year-old forward would be heading to Portland in a deal that may or may not include Andre Miller.
Pro Basketball Talk's Kurt Helin (fast becoming a RBGTS), reports that Chalotte's haul may be even more skimpy then that:
"The deal will send Joel Pryzbilla, some draft picks and cash and back to Charlotte. That's it."
So there you have it. If given the choice between Andre Miller and pure cap savings, I have to believe the Bobcats are inclined to choose the latter. That doesn't say much for the Bobcats, but acquiring Andre Miller would make even less sense.
For the Blazers, the deal represents a desire to make some noise sooner rather then later. With LaMarcus Aldridge developing into a legitimate All-Star big, the Blazers now seek to acquire a dominant slasher to play off of him.
(Check out this article by Michael Cahill asking who might be the next big star to go.)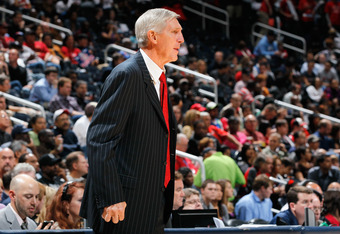 Has Deron Williams departure from the Utah Jazz given Jerry Sloan pause on his retirement plans? In a word (literally) that comes to us courtesy of Pro Basketball Talk's Kurt Helin:
"No."
That's a classic Jerry Sloan box quote if I've ever seen one.
Utah General Manager Kevin O'Conner continued to reiterate that Sloan's departure had nothing to do with Williams, and that the timing of the trade had less to do with his recently disgruntled point guard's attitude and more to do with the increasing inevitability of losing him to free-agency.
Helin continues:
"In his interview, Sloan otherwise sounded pretty much exactly what you expected him to sound like — a guy who had spent time with family and friends who got pulled back into the NBA rumor circuit for no real good reason on Wednesday."
And there it is. Jerry Sloan was pulled back into the news by those whose job it is to manufacture news. Damn those people. Damn them.
(Check out this article by Dan Tylicki on the Deron Williams Trade.)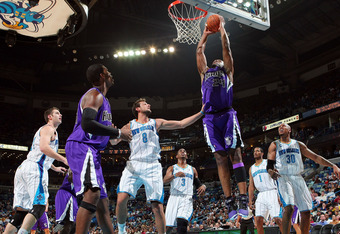 With word coming from Marc Stein that Carl Landry is officially a member of the New Orleans Hornets, let's take a moment to analyze what that means.
Most notably, the Hornets just got better. Outgoing is Marcus Thornton, the talented but stagnating young guard from nearby LSU, and incoming is Landry, the tough, talented, 6'9" power forward who was mis-acquired by Sacramento (and whose numbers since arriving there indicate that). A talented scorer, but a mediocre rebounder and defender, Landry will be aided by the complementary skills of Emeka Okafor.
Now, on to the bigger picture--why is Landry in New Orleans? It's not just to improve the team. Landry is, in terms of position, a carbon copy of David West. David West: a superior post-player, superior mid-range shooter, superior rebounder...superior player to Carl Landry.
And Carl Landry was brought in to replace him.
West is an unrestricted free-agent this summer, and to me, this looks like as definitive a sign as we've seen yet that he won't be back. As good as Landry may be, his arrival portends far gloomier days on the horizon.
(Check out this column from B/R's Charlie Weinman comparing the Hornets starting lineup to those of NBA contenders.)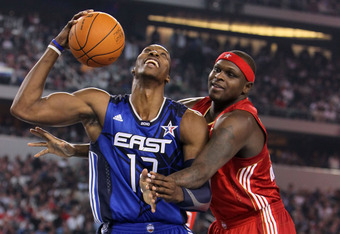 Do the Orlando Magic have one more trade left in them? Rumors abound that the Magic are one of a number of teams the Grizzlies have targeted for a potential deal involving Zach Randolph.
In what would likely be looked upon as a Heisley strikes again-type move, the Randolph acquisition would represent for the Magic one last ditch effort to get over the top in the East. According to Chad Ford (according to Sam Smith), the framework was at least tentatively in place for Randolph to make his way to Florida in exchange for Brandon Bass and Jason Richardson.
Not quite the money dump the Gasol deal was, but rather a frank admission that Michael Heisley is unwilling to dole out the cash for Randolph (unsigned past this season) only a year after locking up Rudy Gay long term.
The move at present would represent a substantial risk for the Magic (Jason Richardson won't be easily replaced), but could perhaps become more attractive should the Grizzles choose to sweeten the pot with another of their soon to be unrestricteds: O.J. Mayo.
Yep, I did it again.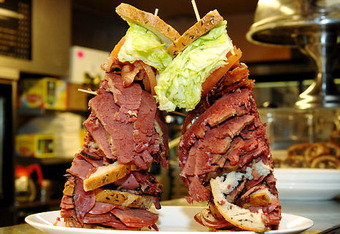 TMZ reports a Melo Sandwich in the Big Apple…and La La's not in it!
But fear not, fidelity fans, the bright lights have not been used to lead Carmelo astray. They've simply been used to heat his freaking enormous sandwich.
Carnegie Deli, New York's famous sandwich shop, has immortalized the returning baller in cow, pig, and Russian dressing.
From the New York Daily News:
"We threw in bacon because he's gonna bring the bacon back to New York," said owner Sandy Levine. "And the salami – it's a spicy meat – he's going to spice up the team and spice up the fans."
Even the Russian dressing has meaning. Levine finished off the $22 sandwich with a slather of the dressing as a playful jab at Nets owner Mikhail Prokhorov, who failed to snag the four-time All-Star.
As for Lala Vazquez, she will be accompanying Carmelo to New York, where VH1 will began production on a reality show (tentatively titled 'La La's Full Court) focusing on her transition to the Knicks. I mean, Carmelo's transition to the Knicks.
(Requisite semi-applicable, embarrassingly self-promotional link: Carmelo and Amar'e: Re-ranking the top ten scoring duos in the NBA.)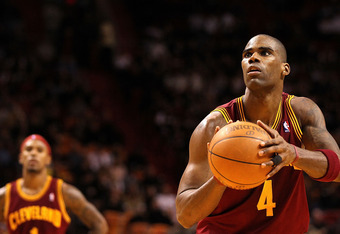 There's a little rumor floating around that the Cleveland Cavaliers and the New Orleans Hornets are outlining the framework of a deal that would send beloved C-town icon Antawn Jamison to the Bayou.
Reported first by the Cleveland Plain Dealer, Hornets GM Dell Demps is apparently interested in acquiring the services of the veteran sharpshooter, both to spread the floor for Chris Paul and to provide insurance in the event that star PF David West leaves in free agency.
Two thoughts:
1. To get out from under Jamison's contract a year early would be the coup-de-jour of the year for Cleveland.
2. Chris Paul is leaving New Orleans.
It would be one thing to equate such a pickup with the shortsighted, win-now maneuvers that drove LeBron James out of Cleveland (though I would argue Danny Ferry's hand was forced). It is a whole other level of egregious to literally replicate the exact same move.
Do most GMs even watch Antawn Jamison play? I feel bad for saying this, because he seems like a legitimately good guy, but he is a volume scorer who plays perhaps the most ineffective brand of defense to hit the NBA since…Jesus, I literally can't think of anything. He's really bad at defense is my point.
I hope this happens, but I'll feel bad for the Hornets if it does.
(Check out this list of the NBA's top ten most overpaid players.)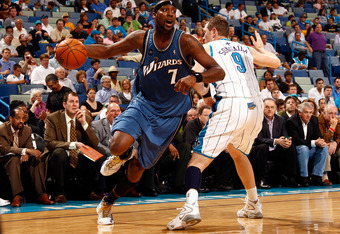 Andray Blatche No Longer Being Shopped By Wizards.
Andray Blatche May Be On The Trade Block After All.
This is funny. The Wizards are being sneaky.
Because the Wizards don't want to lower Blatche's trade value, they are cleverly masking their desire to trade him.
There's one hitch in the plan.
He's Andray Blatche! That's what's gonna lower his trade value!
Blatche has been in the league six years, contributing little other then volume scoring to awful teams. For this, last September he was signed to a contract extension that will keep him in Washington (or wherever else) through the 2014-15 season.
I would not touch this guy in a hazmat suit.
Blatche is averaging 15.9 points and 8.1 rebounds a game this season, but he achieves those numbers with literally no positive impact on the game. (He is 6'11" and shooting 43.2% from the field!)
The Wizards market him as part of their young core, but as it stands their young core exists of, at most, three players: John Wall, JaVale McGee, and Nick Young. And of their "young core", only John Wall is untouchable.
Don't trip Wizards. Wizards be trippin.
(Special thanks to Jordan Ruby at SB Nation for the tip off.)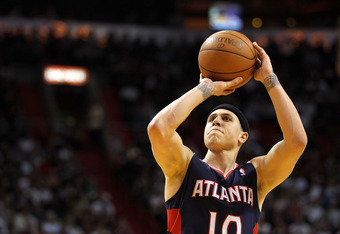 It's been a morning of pancakes and trade rumors, and now the Atlanta Hawks have entered the game. With the trade rumors. The pancakes are mine.
According to Yahoo! Sports, the Hawks are working hard to move Mike Bibby before Thursday's deadline, and they're eyeing both Kirk Hinrich and Andre Miller as his potential replacement. Newly acquired Nugget Raymond Felton remains another possibility.
The theme of the deadline for Atlanta seems to be shaking up a starting five that has suffered three consecutive second-round defeats. Mike Bibby, for everything he brings them offensively, is starting to show his age. Also troublesome? He can't play defense. The Hawks have been unable to hide him defensively for the past three years and Hinrich would represent a significant upgrade in that regard.
Atlanta would be hoping that the cap savings provided in a Bibby for Hinrich swap would be appealing enough to get the Wizards to bite…and I have no idea what the Wizards would be hoping. It's an awful trade for them. But hey, they're the Wizards for a reason.
More as that develops.
Until then, the rumors persist, and so do my fingers.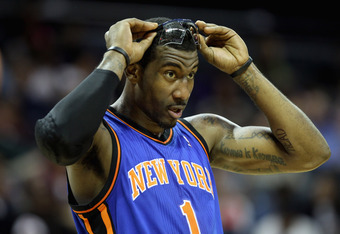 So the Knicks pulled it off and Carmelo Anthony and Amar'e Stoudemire now reside in the Big Apple.
Sure, that makes for an exciting Wednesday. But what about June? Furthermore, what about April? Will the Knicks even make it past the playoffs' first round?
Carmelo joins a team sitting sixth in the East, which would put Melo and Amar'e up against Chicago. To the eyes of this observer, the Bulls figure to be the best first round matchup for these reshuffled stars. Chicago succeeds off of defense and Derrick Rose, and Mike D'Antoni's offense has proven successful putting points on the board against such squads in the past (see PHX-SA 2005). If the game is played at New York's pace, would Chicago be able to keep up?
A matchup with Orlando pits Ronny Turiaf against Dwight Howard, Miami trots out Dwayne Wade against Landry Fields, and in Boston the Knicks will see a team that is capable of slowing them down. Until Donnie Walsh has time to fill out the roster, I don't think any of the latter three series goes six.
Is there another piece to add before Thursday? Here's yet another self-aggrandizing link to a potential Knick pickup: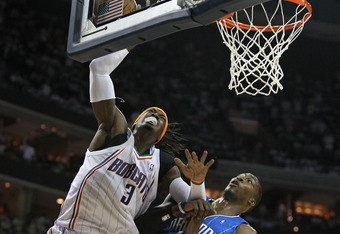 Should the Cavs eat the trade exemption? Well, not all of it. But amidst rumors that Cleveland is mulling over a Gerald Wallace deal, I feel obligated to speak up on behalf of the fan base.
Wait. Please, please, please…wait.
The 6'7", 220-pound Wallace is averaging 15.6 points a game, 8.2 boards, and 2.4 assists this season. He is a stellar defender, and as aggressive a slasher as exists in the league right now.
But Wallace is nearly 29, and his physical play has at times left him susceptible to injury.
I like Gerald Wallace; as a player and, I think, as a person. My reservations are not about him. They are about rushing the rebuilding process.
By taking on Wallace now, the Cavs will, in essence, lose what is actually the most valuable long-term asset they have—how bad they are.
I know that sounds insane, but it is at the epicenter of everything I believe about NBA basketball. Every year you suck, you are rewarded with a potential foundation piece. It is essential that A) you remain bad long enough to land as many such pieces as you can, and B) you remain bad long enough to land 'The Guy.' Because if you go back to every successful rebuilding project of the last ten years (save for, maybe, the Boston Celtics), that's how it turned around. The sucky team landed the guy.
Gerald Wallace makes the Cavs better instantly, and instantly is not what the Cavs should be looking for.
Check out this column from DearDanGilbert.com. For once, I found someone who agrees with me.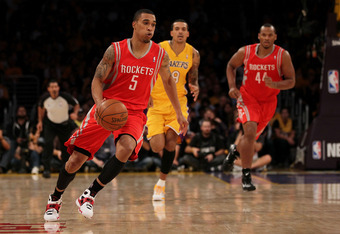 According to RBGTS (Ryan Braun's Go To Source) Adrian Wojnarowski, the Bulls are in pursuit of Houston guard Courtney Lee to fill the void at their shooting guard position.
All season Chicago has been looking for an upgrade at the two, and at the potential expense of a late-first rounder, Lee has emerged as perhaps the most reasonable option.
CL is a good shooter, a tough defender, and has playoff experience. For all intents and purposes, he seems to be a really good locker room guy as well.
Lee is hitting a career high 42.5% from three this year, and pairing him with Derrick Rose would provide the Bulls the ability spread the floor without compromising their defense. If the Bulls are to make it out of the East, they will do so by getting enough stops to give Rose a chance to win it in the end.
Check out this Kelly Scaletta column for more on why the Bulls could use a shooting guard.
Yesterday the Bulls shipped James Johnson to the Toronto Raptors what could have been a precursor to this forthcoming move.
If the Lee deal falls through, it's expected that the Bulls will to turn their attention toward Anthony Parker of the Cavs, or O.J. Mayo of the Grizzlies. Both represent a significant upgrade, but come with either more age or more baggage then Lee.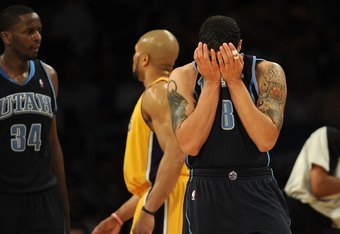 Deron Williams now? Pretty stunning. Even for a Russian Billionaire.
Swiftly recovering from the loss of Carmelo Anthony, New Jersey's plan B apparently included the pilfering of disgruntled Utah point Deron Williams.
Adrian Wojnarowski reports that under the proposed deal, the Nets would send Derrick Favors, Devin Harris, and two first-round picks to Utah in exchange for their All-Star point guard. (This along with a second Nets' deal aimed to bring in Dan Gadzuric and former eighth pick in the draft/current eighth pick in a ten man pick up game, Brandan Wright.)
It's big news. Undeniably. But what exactly is New Jersey thinking?
Although Deron Williams is an impressive get (really impressive), throwing assets around has not historically been the way 17-40 teams better themselves. Even if you're getting back an All-Star in exchange.
The reason for this is fairly straightforward: no 17-40 is ever one player away.
And in acquiring a player of Deron Williams' caliber, you're essentially taking a shortcut through the rebuilding process. A shortcut that will improve New Jersey in the short term, but in doing so will deprive them of the picks they need to responsibly fill out their roster.
Next year, even with Deron Williams…is this Nets team any better then seventh in the East? And if not, is that worth mortgaging your future for?
It sucks to be patient, but it sucks worse to jump the gun. It's exciting news, but sadly, New Jersey has jumped.
Ps- Check out this slideshow from NBA guy Tom Kinslow, who rather fervently disagrees with me:
Deron Williams New Jersey Nets: Latest Trade Info and What This Means for Utah