Jeremy Shockey, Vicente Padilla, Greg Louganis and Wednesday's Top Sports News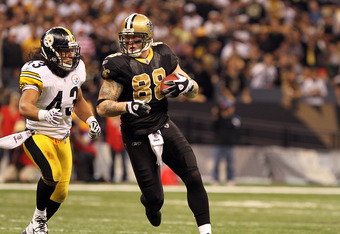 Matthew Sharpe/Getty Images
It's Wednesday and that means there's plenty of news going down in the wide world of sports.
In a somewhat surprising move, the New Orleans Saints released TE Jeremy Shockey yesterday. He was due to make almost $5 million in 2011, and the Saints are in the process of trimming some of the fat they have on the payroll. Reggie Bush and his $11 million salary should be put on alert after seeing this move made.
The Los Angeles Dodgers already thin pitching staff could get a little bit thinner because Vicente Padilla is going to undergo an MRI on his right elbow. Usually when a pitcher has a problem this early in spring training it's never a good thing. This is certainly not how Don Mattingly hoped his managerial career in Los Angeles would begin.
Former Olympic gold medalist Greg Louganis is back to doing what he does best: diving. He has accepted a position as the diving coach with Fullerton College. Can he be a good coach or will this be just like when Michael Jordan went into the front office in the NBA?
We will have updates on all these stories and many more throughout the day. Stay with us for the latest breaking news from the sporting world.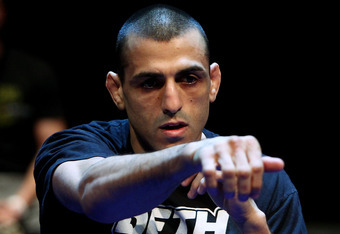 UFC 127 Will Be George Sotiropoulos' Opportunity To Make Himself A Superstar
Three weeks ago at UFC 126, the world saw Jon Jones become a superstar with his dominant performance against Ryan Bader.
At UFC 127 this Saturday night, George Sotiropoulos has his chance to become the next superstar in the company when he takes on Dennis Siver in a lightweight fight.
Sotiropoulos has a career record of 14-2, including a 7-0 mark in UFC. He is one of the best Brazilian Jiu Jitsu fighters in the lightweight division and probably the entire UFC. He has a great submission game, as evidenced by the eight submission victories he has in his career.
This fight with Siver will be the biggest fight in his seven year career. He has a chance to move into the very crowded lightweight championship title picture with a win in this fight.
Siver does pose some problems for Sotiropoulos. He is an excellent kick boxer, whose "special" move is the spinning back kick. He is skilled in the art of Brazilian Jiu Jitsu, but not at the level of Sotiropoulos. If he is able to keep this fight standing, he will have a great chance to pull off the victory.
But Sotiropoulos has all the momentum going in his favor, he will be fighting in front of a hometown crowd (he is from Victoria, Australia). Like the Jon Jones fight with Ryan Bader, this will be the biggest moment of Sotiropoulos' career. Let's see if he can take this moment by the throat.
Related Story: Odds And Predictions For Every Fight At UFC 127
This article is
What is the duplicate article?
Why is this article offensive?
Where is this article plagiarized from?
Why is this article poorly edited?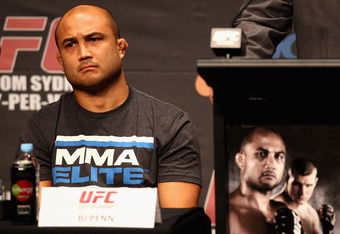 UFC Is Rooting For BJ Penn To Defeat Jon Fitch In The Main Event Of UFC 127
The people within UFC, like Dana White, would never come out and say this, but they are rooting for BJ Penn when he takes on Jon Fitch this Saturday night at UFC 127.
Fitch has been on a roll lately. He has won five fights in-a-row since losing to Georges St-Pierre at UFC 87. However, his fighting style is as boring as anyone in UFC today. He has 23 career victories, 13 of them have come via decision. There's nothing wrong with a decision victory, some of the best fights in MMA history have come down to the judges. However, it's the way that he gets to the table that drives everyone nuts.
Fitch is a great wrestler, but he doesn't really do anything else. He uses his wrestling skill to outlast his opponents, and that gets him a lot of wins, but doesn't earn him a lot of fans.
Penn is one of the best fighters in UFC history. He is one of the most charismatic and well-rounded fighters in the world. He was put in this fight against Fitch as a way to see just how good Fitch really is.
We already know how great Penn is as a fighter, but we have no idea how great Fitch is. He wins a lot, and in the end that's the most important thing, but you can't sell a fighter based on wins alone. If you could, Anderson Silva would be the biggest draw in the company.
UFC, while they don't necessarily want Penn to win, they are silently rooting for Penn to win because he would be in line for a welterweight title shot, and he can draw fans in.
Related Story: Top 10 BJ Penn Videos On Youtube
This article is
What is the duplicate article?
Why is this article offensive?
Where is this article plagiarized from?
Why is this article poorly edited?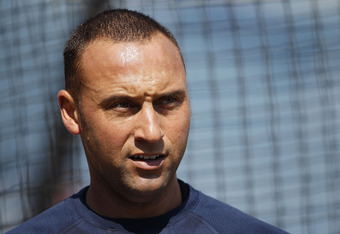 Derek Jeter Has To Prove Himself To The Yankees And Baseball Fans Around The World In 2011
Derek Jeter is in the twilight of his career. We know it, the Yankees know it and Jeter knows it. He is 36 years old, and is facing the most important year of his career in 2011. He had the worst year of his career in 2010, and there was the whole nasty contract negotiation that took place this winter.
For the first time in Jeter's career, he looked old. He couldn't catch up to fastballs, he was fooled on breaking balls and there were some boo's raining down on him.
In case you forgot, Jeter hit .270 last year with a .340 on-base percentage and .370 slugging percentage. His average was his worst full season average in his career. His on-base percentage was by far the worst in his career, his previous low was .363 in 2008. His .370 slugging percentage was his first season under .405.
That's just what he did on offense. Defensively he has been one of the worst shortstops in baseball for a long time. And the first person to throw out gold gloves as a serious measure of defense gets banned from the website. According to fangraphs, which uses the advanced metrics to measure player stats, Jeter has been 113.4 runs worse than an average fielder throughout his career. His Ultimate Zone Rating (UZR) for his career is -42.4.
There have been rumblings for a long time that eventually Jeter will be moved off shortstop sometime before the end of this new contract. He should have moved off their years ago, but because he is the captain he was untouchable. It took an offensive collapse for the rumblings about him to get louder.
Jeter has to reinvent himself this year, otherwise things are only going to get worse for him. He will start the year as the Yankees leadoff hitter, but if he plays like he did last year he could find himself near the bottom of the order before the season is over.
Jeter is a prideful man and really loves playing baseball so he should be given the benefit of the doubt, but players who are in their late 30's don't usually get better.
It will be a noteworthy year for Jeter and the Yankees, whether they win or lose.
Related Story: 20 Greatest Hitters In Yankees' History
This article is
What is the duplicate article?
Why is this article offensive?
Where is this article plagiarized from?
Why is this article poorly edited?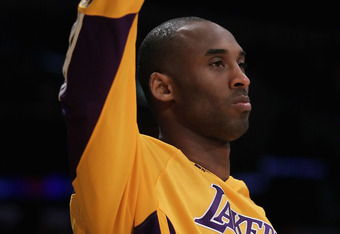 Do The Los Angeles Lakers Feel Even More Pressure To Make A Move In Light Of The Recent Trades?
Things would seem to be going well in Laker land now. Kobe Bryant was named MVP of the all-star game, and the Lakers rang in the second half of the season with a big victory over Atlanta last night.
However, when they look at everything that is going on around them, they could feel some pressure to make a move to answer what the Knicks and Nets have done. This is Los Angeles after all, they are supposed to make all the big moves.
They were reportedly in on Carmelo Anthony, but nothing ever became of that. Since then, there hasn't really been anything of note that the Lakers have tried to do.
That's probably a good thing. If you look at the teams that are making these moves, they aren't going to win a championship this year, and the big name players in these two big deals have gone to the eastern conference.
The Lakers don't have to worry about the Nets or the Knicks. They have to be concerned with the Spurs and Mavericks, those two are more of a threat to the Lakers this year than New York or New Jersey.
It would be easy for a team to panic based on moves that other people are making, but the Lakers have enough experience to know that's not the best way to conduct business. They are still the two-time defending champions. They still have Kobe Bryant and Pau Gasol. This team will be fine moving forward this year. Next year might be a different story, but with Phil Jackson leaving at the end of this year they don't really care about next year right now.
The Lakers will go into the playoffs, probably as the two-seed, and they will meet the Spurs in the western conference finals. If they win depends on how healthy the Spurs are, and which Andrew Bynum shows up for that series.
They don't have to make a move right now in order to make a championship run this year. Though if they could find someone to take Ron Artest's contract off their hands, I doubt they would complain.
Related Story: The Lakers Still Have Yet To Be Dethroned
This article is
What is the duplicate article?
Why is this article offensive?
Where is this article plagiarized from?
Why is this article poorly edited?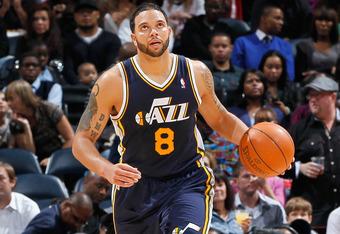 Deron Williams Did Everything He Could To Get Out Of Utah, Today He Got His Wish
As Yahoo Sports first reported, Deron Williams has been traded to the New Jersey Nets in exchange for Devin Harris and Derrick Favors. It's a surprising move on Utah's part, but if you look at the writing that has been on the wall it's a move we could have seen coming.
Williams had clashes with former Utah coach Jerry Sloan, and that forced him to resign earlier this month, and he wasn't thrilled with the direction of the franchise.
With regards to Sloan, "I can't just go and have the same conversation with my grandma that I would have with my friend," Williams said in an interview last week. "It's nothing bad; it's just how it is, and I think Coach Corbin is younger and has kids our age, so I think that helps a little bit."
You have to understand that Sloan is a legend in Utah, and for Williams to come out and say something like that didn't sit well with the front office or the fans. We don't know how long the Jazz have been talking internally about trading him, but odds are good that they at least entertained the idea as soon as Sloan resigned.
Williams set this whole thing in motion with his attitude towards Sloan, and by proxy the Utah Jazz. They did what they had to do in order to make themselves better in the future, while at the same time making sure that he won't get a chance to be in the playoffs this year.
When you dig deep into it, you can see that this was a very calculated move by the Jazz. It worked out perfectly for them when the Nets failed to land Carmelo Anthony. The Nets were desperate to make a move for an already established franchise player, and they got their man.
But for the Jazz, trading Williams was really the only move that they could make.
Related Story: The Sloan-Williams Drama Doesn't Matter Anymore
This article is
What is the duplicate article?
Why is this article offensive?
Where is this article plagiarized from?
Why is this article poorly edited?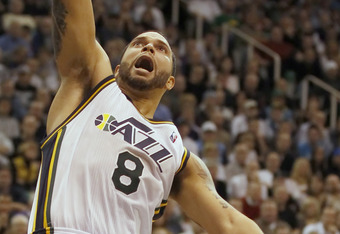 Deron Williams Is On The Verge Of Becoming A Member Of The New Jersey Nets
Two days after their attempts to land Carmelo Anthony from the Denver Nuggets failed, the New Jersey Nets are reportedly close to making a bigger splash by acquiring Deron Williams from the Utah Jazz.
It's been rumored for a long time that Williams could be leaving Utah when his contract expires after the 2011-12 season, but no one really expected a trade to happen, at least not this year.
The deal, if it happens, would send Williams to New Jersey for Devin Harris and Derrick Favors. It would also include Golden State sending draft picks to Utah.
This looks like a big win on paper for both teams involved, if in fact the deal goes down before Thursday's 3 PM EST trade deadline. The Nets, who came so close two different times to getting Carmelo Anthony, will get a better player and only have to give up two players to get him. The Jazz came to the realization that Williams was not likely to stay in Utah after next year, and they will get a good point guard in Devin Harris and a rookie power forward with a ton of upside in Derrick Favors.
Williams is arguably the best point guard in the NBA, and he represents the franchise player that the Nets have been looking for in order to get fans excited about their impending move to Brooklyn. Plus, this takes some of the shine away from the Knicks acquisition of Carmelo, which is an added bonus for the Nets front office.
Again, this deal is not official, it is just on the table and it's very close to happening. We will find out very soon if it becomes a reality.
Update: The trade has been made official. New Jersey acquires Deron Williams from Utah in exchange for Devin Harris and Derrick Favors.
Related Story: Who Can Save The Utah Jazz?
This article is
What is the duplicate article?
Why is this article offensive?
Where is this article plagiarized from?
Why is this article poorly edited?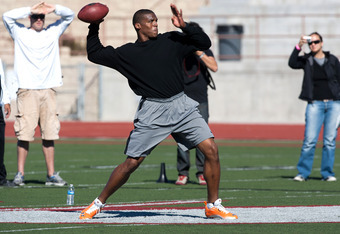 Cam Newton Could Become The No. 1 Overall Pick In The NFL Draft With A Great Performance At The Scouting Combine
Cam Newton has a big week ahead of him. He is going to be the biggest college football player to take part in all of the NFL combine workouts, which will be televised on the NFL Network this weekend. He has a lot to gain or lose based on what he does at the combine.
Newton's stock soared two weeks ago when he had a workout in front of talent evaluators. He has moved up to No. 3 on Mel Kiper's latest mock draft. It's always funny how much stock is actually put into a workout that a player has in shorts, when they know exactly what they are supposed to be looking for, but that's the way this evaluation game works.
Some evaluators will have questions about Newton's character because of the pay-for-play allegations this year at Auburn, and his problems when he was at Florida in 2007 and 2008. He also raised some eyebrows this week by saying that he wants to be an entertainer and icon. Some may feel that he has a sense of entitlement because of all the success that he had in his one year at Auburn.
However, Newton can make all of that ill-will go away with a great performance this week. He will be grilled more than any other player at the combine because of his past, and his workouts will be more scrutinized than any other player because of all the hype that surrounds him.
Some evaluators have compared him to Ben Roethlisberger coming out of college because they are both big quarterbacks who can scramble. While that may be the case, right now he still has a lot of questions to answer about his accuracy, and his ability to run an NFL-style offense.
It's great to see someone put on a show in shorts and a t-shirt, but it's another thing for someone to do it in game action. Newton has more to gain than anyone with his performance this weekend, but he also has more to lose than anyone else.
Related Story: Comparing The Top 25 Combine Players This Year With Their NFL Counterpart
This article is
What is the duplicate article?
Why is this article offensive?
Where is this article plagiarized from?
Why is this article poorly edited?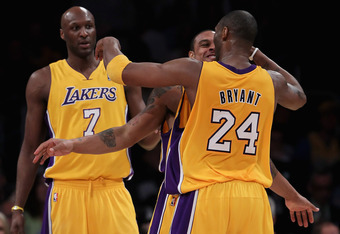 The Lakers Rang In The Second Half Of The NBA Season With A 24 Point Victory Over Atlanta
The Los Angeles Lakers were able to breathe a small sigh of relief after dominating the Atlanta Hawks last night to the tune of a 104-80 victory. They shot almost 49 percent from the field, and their defense held the Hawks to just 37 percent shooting.
It was only one game, but for the Lakers to get a big victory over a playoff team has to do wonders for their confidence. It's no secret that they have been struggling for a while now, and they were looking for something, anything to get them out of their funk.
Everyone got involved on the offensive side of the ball. Kobe Bryant only took 11 shots, but he had five assists. Andrew Bynum only had five points, but he had 15 rebounds. The three other starters combined for 35 points and 15 rebounds. Shannon Brown had a big game coming off the bench, scoring 15 points on 6-for-9 shooting.
The Lakers outrebounded the Hawks 54-32 and blocked 10 shots. They looked very good, but it's just one game so we shouldn't overreact. Plus, it's not like the Hawks are one of the elite teams in the east. But the Lakers needed something to hold onto.
This win only becomes a positive if the Lakers can turn this into another win when they play at Portland tonight. They have been able to win games, but they haven't been able to maintain their performance from game to game. We will see if they are able to start doing that tonight.
Related Story: We Should Have Faith In The Lakers Before We Throw Them Down The River
This article is
What is the duplicate article?
Why is this article offensive?
Where is this article plagiarized from?
Why is this article poorly edited?
With Triple H And The Undertaker Facing Off At Wrestlemania, Will They Be In The Main Event?
This past Monday on Raw, the 2/21/11 countdown came and it went exactly as almost everyone expected with The Undertaker making his return. However, before he could do anything there was another man who made his presence felt - Triple H.
The two men had a stare down in the ring, and then Triple H looked at the Wrestlemania sign. Undertaker looked at it and gave a smirk, but began to walk away. When the crowd booed this, he stopped turned around and made his throat slashing gesture.
For those that follow the inner workings of the WWE, we have known for a while that a Triple H-Undertaker match was going to take place at Wrestlemania XXVII, and that it will likely be a streak vs career match, a la Undertaker-Shawn Michaels last year.
Whether you agree with the (potential) stipulation of the match or not, I myself am opposed to it, you have to agree that this is the main event of the show, right?
Let's look at the other choice for the main event: The WWE Championship match between The Miz and John Cena. This might get the main event spot because John Cena is in the match, and it's almost a given that The Rock is going to be involved in this match somehow. The problem is, at least right now, this is not a hot feud. They completely screwed things up at the end of Raw with that tag title match. To be fair, they still have five weeks to build that match, but right now Cena vs Rock is a much, much, much bigger deal and that's not going to happen.
The Undertaker-Triple H match will feature two of the most popular wrestlers in WWE history making their return to the ring after a lot of time off. It will be the "end" of the career for Triple H, because we all know that Taker is never losing at Wrestlemania, nor should he.
Plus, the biggest cherry on top of this match will be Shawn Michaels will return as the guest referee. That adds another level of drama to the match that nothing else on the card can compete with. You have the story of HBK being a referee in a match with Triple H, his best friend, against Undertaker, the man who ended his career at Wrestlemania XXVI.
When you look at the stories involved with these two matches, it's only appropriate that Taker-Triple H goes on last because it's got the most juice to the story.
Unless Rock becomes a big part of the Cena-Miz match and screws Cena out of the title, which is unlikely to happen but after Cena's promo Monday never say never, this match just doesn't have that special Wrestlemania feel to it.
Related Story: 10 Matches For Wrestlemania XXVII
This article is
What is the duplicate article?
Why is this article offensive?
Where is this article plagiarized from?
Why is this article poorly edited?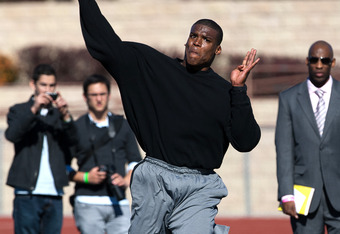 NFL Scouting Combine Begins Today With College Talent Looking To Make An Impression On NFL Scouts
The NFL's annual meat market, better known as the scouting combine, begins today with players arriving and registering to showcase their talents for NFL scouts and executives.
There aren't any actual physical drills on the docket for today, those don't start until Saturday. Today is the day when all the behind the scenes stuff that we only get to hear about begins. Players will register, then they will undergo a pre-exam and x-ray, orientation and the interview process.
Various groups of players will arrive each day. Today, three groups arriving include kickers and other special teams players, offensive linemen and tight ends. As the week moves on more and more notable players will arrive in Indianapolis for the combine.
The biggest name to take part in the combine festivities is the 2010 Heisman Trophy winner, Cam Newton. He announced late last week, to the surprise of many, that he was going to take part in all of the combine workouts. His workout will come this Sunday, February 27th.
The combine will end next Tuesday, with the last group of players doing their workouts. This year that would be the defensive backs, of which there are many notable players that will be drafted early on.
If you are obsessed with the NFL Draft, and you know you are, then this is the week that you have been waiting for. The combine is where one great workout can launch a player up a draft board, but one bad workout can cause a potential first round pick's stock to plummet.
Coverage of the combine workouts will begin on the NFL Network this Saturday at 9 AM EST.
Related Story: Top 100 Players At This Year's NFL Scouting Combine
This article is
What is the duplicate article?
Why is this article offensive?
Where is this article plagiarized from?
Why is this article poorly edited?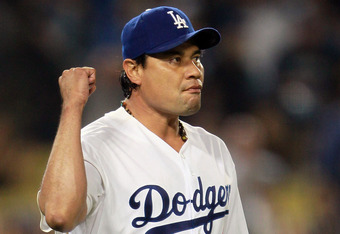 Vicente Padilla Is Getting An MRI On His Right Elbow Today, Is This Trouble For The Dodgers?
Vicente Padilla is going to undergo an MRI today for a sore right elbow. He missed time last year with some nerve damage in the same elbow, so the Dodgers are being extra cautious with him this time around.
This isn't the worst news in the world for the Dodgers, who have added a lot of depth to their pitching staff this offseason. They signed Jon Garland, who isn't actually very good but he pitched in San Diego last year which made him look better than he really is. They re-signed Ted Lilly and Hiroki Kuroda, and they still have Clayton Kershaw and Chad Billingsley at the top of the rotation.
The Dodgers are a little thin in the bullpen, which is where Padilla was going to start the year, but it's not that difficult to find pieces to plug into a bullpen.
This could turn into a bad injury only because the Dodgers are so strapped for cash right now with McCourt's divorce and they can't spend any money to sign players or take on anything via trade.
However, the key to the Dodgers season is not Vicente Padilla. The key is Matt Kemp playing like he did in 2009 (.297/.352/.490), not 2010 (.249/.310/.450). They need Andre Ethier to be healthy all year. They need Clayton Kershaw to do what he has been doing the last two years, ERA under 3 and 397 strikeouts in 375.1 innings pitched. Plus, guys like Billingsley, Lilly, James Loney and Rafael Furcal to play up to their potential.
There is not a lot of depth to this Dodgers team, so those guys have to perform at their absolute best all year long if they want to contend in the National League West with the defending champion San Francisco Giants and the Colorado Rockies.
Padilla will be missed, if in fact there is something really wrong with the elbow, but it's not something that is going to change the direction of the Dodgers 2011 season.
Related Story: Could The Dodgers Have The Most Underrated Rotation In Baseball?
This article is
What is the duplicate article?
Why is this article offensive?
Where is this article plagiarized from?
Why is this article poorly edited?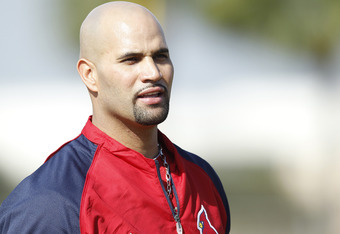 Albert Pujols Reportedly Wants A $30 Million Per Year Contract, White Sox GM Kenny Williams Says That Salary For One Player Is "Asinine"
Albert Pujols has been seeking a record setting contract, at least according to all the reports that are out there. He could become the highest paid baseball player in history when he signs his next contract. He wants a deal similar to the 10 year, $275 million deal that Alex Rodriguez signed with the Yankees before the 2008 season.
Yesterday, in an interview with Comcast Sportsnet, Chicago White Sox GM Kenny Williams, who is never one to hold his tongue, said that a $30 million per year contract for any player is "asinine."
"For the game's health as a whole, when we're talking about $30 million players, I think it's asinine," Williams said. "We have gotten to the point of no return. Something has to happen. And if it means the game being shut down for the sake of bringing sanity to it, to franchises that aren't going to stop the insanity, I'm all for it."
That's a great quote, and if all players salaries start reaching $30 million per year then yes, something definitely should be done to stop it.
However, in this case, we are talking about a once in a generation type player. Don't get me wrong, I wouldn't sign anyone to a $30 million per year contract, especially one who is going to be 32 next year, but if anyone should get a salary close to that much it would be Albert Pujols.
In the first 10 years of Pujols' career, he has done things that no one has done in the history of baseball. He has finished in the top 10 of the MVP voting every year of his career. He is the best pure hitter in baseball today. He is a great defensive first baseman. This kind of player is special, and he should be able to at least ask for $30 million per year.
Where was the backlash against Alex Rodriguez when he signed his last contract? He was 32 when he signed that deal, and the hate from that signing really came from the fact that people just don't like A-Rod, not his play on the field. That was a great signing because he was going to break the home run record in a Yankee uniform, but that was before he was busted for steroids and became even more of a leper in the eyes of society.
So while you can appreciate what Williams was saying about Pujols and a $30 million salary, this is not going to become the norm in baseball. In fact, if Pujols actually gets $30 million per year I would be shocked. But to think that the game would have to be shutdown because one player is making that much per year is, quite frankly, asinine.
Related Story: Where Does Pujols Rank Among Baseball's Best Hitters Ever
This article is
What is the duplicate article?
Why is this article offensive?
Where is this article plagiarized from?
Why is this article poorly edited?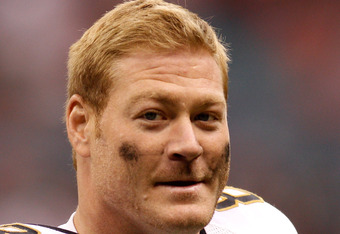 Jeremy Shockey Needs To Find A Place That He Can Call His Own In The NFL
Jeremy Shockey entered the NFL in 2002, and there was a lot of hype surrounding him. He played college football at Miami when that program was loaded with talent. He was a big, strong and fast tight end in a league that had shifted away from pass catching tight ends, unless you are talking about Tony Gonzalez.
The Giants selected Shockey 14th overall in that draft, and he paid dividends right away. He caught 74 passes in his rookie year for 894 yards. Between 2003-2007, he caught 297 passes for 3,334 yards and 25 touchdowns.
When the Giants made their Super Bowl run in 2007, they did it without Shockey who missed out on the playoffs that year with an injury. His replacement, Kevin Boss, filled in nicely and the Giants traded him to New Orleans.
In three years with New Orleans, Shockey missed at least three games every year, his receptions, yards and touchdown totals went down. Finally, after three years, a Super Bowl title in 2009 and a salary that was nearing $5 million, the Saints decided to cut ties with the pro bowl tight end.
Shockey finds himself looking for work. He probably won't have to look very long, well depending on how the labor negotiations go, but it's still surprising that someone with the skills that he has will find himself on his third team in the last four years.
There could be some concerns about Shockey's attitude - he's never been one to shy away from giving his opinion - but he is still one of the more productive tight ends in the NFL. His biggest problem has been that he hasn't been healthy for a whole season in his career, he has never played in all 16 games in the regular season, but someone will take a chance on him.
Look for a borderline playoff team that needs more pass catchers to give Shockey's agent a call (I'm looking at you St. Louis). Even if it's just a one year experiment, he can be a good fit in a lot of offenses in the NFL.
Related Story: Five Reasons The Saints No Longer Needed Shockey
This article is
What is the duplicate article?
Why is this article offensive?
Where is this article plagiarized from?
Why is this article poorly edited?