2011 NFL Combine: Should All QBs Be Required To Throw At The Combine?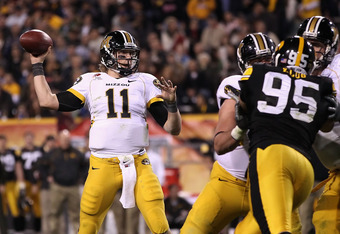 Blaine Gabbert Declining To Throw At NFL Combine, Is It A Big Deal?
The NFL Combine begins this weekend and it now is bigger than ever. Between the NFL Network and the general NFL Hype Machine, a bunch of guys running between orange cones and lifting weights has become a Primetime event.
Seeing the NFL Draft, an event where a bunch of guys sit in a room and pass cards around while other guys dress up in suits and shake hands, morph into a Primetime event was an amazing marketing feat. But it makes sense when you think about it because it has built in drama.
The Combine has no drama. It's just guys running through drills individually. There is some curiosity over the results, but there is no actual competition.
Which brings me to Blaine Gabbert.
One of the things quarterbacks have to go through at the Combine is some throwing drills. No event at the Combine is mandatory, though, and Gabbert has elected not to participate in the throwing drills. His reasons are sound enough (He doesn't want to risk a bad performance throwing to guys he's never thrown to before), but why go to the Combine if you are not going to fully participate?
It seems to me if you are going to put on this event, and if you are going to hype it to this degree, start putting more competition into thing and start making everyone fully participate. Even if it ends up being a glorified track meet, it would be more entertaining than what you see now.
The networks are the ones who decided to start televising it. Since it is on my TV now, I demand to be entertained. It's not asking much.
For a complete look at the draft, check out our NFL Draft Hub.
Most recent updates:
This article is
What is the duplicate article?
Why is this article offensive?
Where is this article plagiarized from?
Why is this article poorly edited?