MLB Predictions: Projecting Every Team's Fifth Starter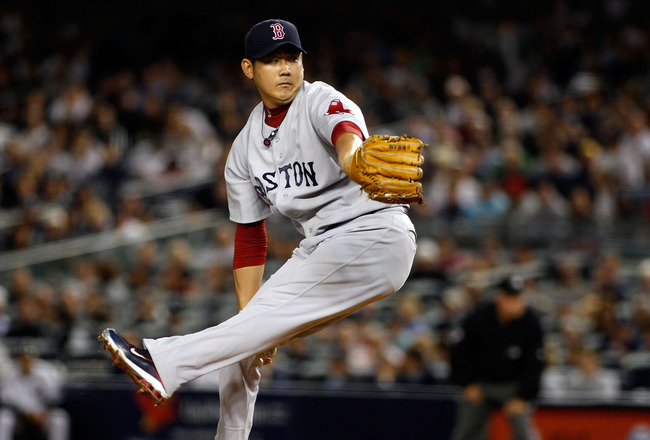 Mike Stobe/Getty Images
Spring training is upon us and the first games of the exhibition season are almost here. While the best position players and pitchers in baseball will use this next month to get back into the swing of things and work on their golf game, others will be competing for a job.
Without a doubt, the most interesting battles of the spring come out of the rotation. Because they play every day, the jobs of position players are less secure and the backup shortstop is much more likely to make the team - and play - then the odd man out of the starting rotation.
For these pitchers, this could be their baseball playing lives on the line. Sure, the young guys will get another chance, but the veterans might not.
If you're a hardcore fan, or you simply play in an AL- or NL-only fantasy league, you need to know these names. They may not mean much now, but just like the No. 1, 2, 3 and 4 starters, they'll pitch every fifth day.
Baltimore Orioles: Jake Arrieta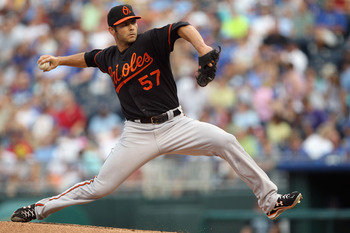 Jamie Squire/Getty Images
The Orioles rotation is among the worst in the American League, but there is some hope in the form of a few young arms. At the moment, Jeremy Guthrie, Brian Matusz, and (if healthy) Justin Duchscherer appear to be locked into rotation spots, but after that things are a bit murky.
Brad Bergesen, 25, is going into his third season and has mixed results so far as a Major Leaguer. He was a Rookie of the Year contender in 2009, going 7-5 with a 3.43 ERA, but saw his ERA spike by more than a run and a half last year. Still, given his past success, Bergesen seems likely to make the team as Baltimore's No. 4 starter.
That leaves the fifth spot for two former top prospects: Chris Tillman, 23, and Jake Arrieta, 25.
Coming up through the minor leagues, Tillman was almost inarguably the better prospect. While Arrieta has the size and velocity of a top of the rotation starter, Tillman has better stuff and dominated at just about every minor league stop.
Both pitchers have struggled in the Major Leagues, though Arrieta was more successful last season. In the long run, I still believe Tillman is a better pitcher with a much higher ceiling, but Arrieta is older and seems more ready for the big leagues right now. He should be the Orioles' No. 5 starter on Opening Day.
Boston Red Sox: Daisuke Matsuzaka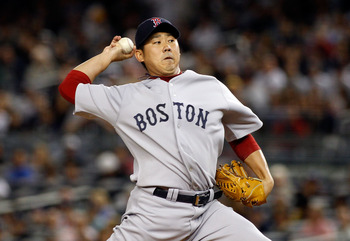 Mike Stobe/Getty Images
This one is pretty much set in stone. Though Matsuzaka has had an up and down four seasons in Boston, the $100 million Japanese import is too talented (and too expensive) not to be handed a rotation spot.
With Jon Lester, Clay Buchholz, Josh Beckett, and John Lackey locked into the top four, Matsuzaka will start 2011 as the Red Sox No. 5 starter.
Will Matsuzaka succeed? While he may be a trendy bounce back candidate this season, there's a reason he has struggled in the past. His strikeout rate has been in decline since he arrived in the Majors, as has his swinging strike rate.
Batters are also making contact off of more than 80 percent of the pitches Matsuzaka throws and his control is still spotty. To top it off, when he gets hit, he gets hit badly. He's a flyball pitcher and assuming his HR/FB rate corrects (as it did in 2009) the balls are going to fly out of Fenway Park.
He's the Red Sox fifth starter...for now.
New York Yankees: Freddy Garcia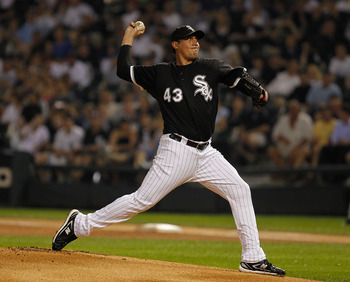 Jonathan Daniel/Getty Images
The Yankees seem unlikely to make a major move before Opening Day, and so they will open next season with a very shaky starting rotation. CC Sabathia, Phil Hughes, and AJ Burnett are locked into the team's top-3 rotation spots, but the fourth and fifth spots are up for grabs.
Right now, Ivan Nova seems a very good bet to make the Yankees starting rotation. Nova was somewhat highly regarded within the organization as he moved up the minor league ranks and did as solid, though not spectacular job in his Major League debut.
Barring a trade, he should be penciled in as New York's No. 4 starter.
As for the fifth spot? Expect a battle among veterans: incumbent Sergio Mitre and free-agent acquisitions Bartolo Colon and Freddy Garcia.
Of the three, Garcia is probably the best bet. Mitre had some success last season, albeit in a limited role, but his track-record is quite poor.
Colon hasn't pitched in the Majors since 2009. Garcia, while nothing more than an innings eater, can at least do that.
Tampa Bay Rays: Jeremy Hellickson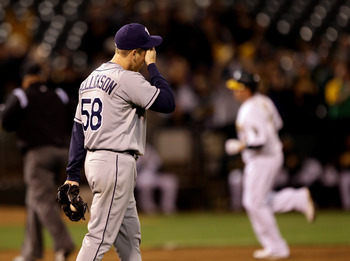 Ezra Shaw/Getty Images
The Rays' rotation, like Boston's, is pretty much set in stone at this point, with David Price, James Shields, Wade Davis, Jeff Neiman, and Jeremy Hellickson. You might call Neiman the team's fifth starter, but Hellickson, being less experienced, will likely take that position for now.
Hellickson is the team's fifth starter in name only, though. He is a consensus top-10 prospect with front of the rotation stuff and elite minor league production.
He's probably a better pitcher than Davis and Nieman at this point, and could easily surpass Shields in the near future to form a powerful 1-2 punch.
Unlike in past seasons, the Rays rotation is set as we head into the spring. However, like in past seasons, this team is in great shape pitching-wise.
Toronto Blue Jays: Jesse Litsch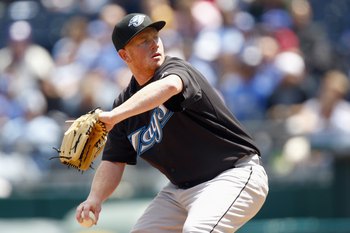 G. Newman Lowrance/Getty Images
The Blue Jays are a team on the rise. In any other division, they'd be seen as playoff contenders, but the Yankees and Red Sox make that goal unattainable for now. Still, with one of the best lineups in baseball, a little pitching could make the Blue Jays a very good team.
Barring something unforeseen, Ricky Romero and Brandon Morrow will be in the Blue Jays rotation. Brett Cecil is a near lock, and I'd be surprised if top prospect Kyle Drabek wasn't starting every five days this April. It really does all come down to this fifth spot, which I expect will go to Jesse Litsch.
At 23 years old, heading into 2009, Litsch had made 48 career starts with a 3.68 ERA. Tommy John surgery cost him a year, and a hip injury shortened his 2010, but Litsch is still relatively young and has the talent to be a good Major League starting pitcher.
His struggles last season should not have been unexpected. It generally takes two years for a pitcher to fully recover from Tommy John surgery, and I'd expect some improvement from Litsch next season.
Chicago White Sox: Edwin Jackson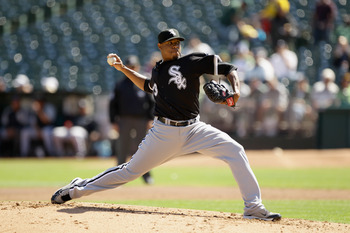 Ezra Shaw/Getty Images
The White Sox have one of the strongest rotations in the Major Leagues and should be pretty set at the fifth spot this season with Edwin Jackson.
Jackson is still relatively young and was once one of the better pitching prospects in baseball. After a trade from Tampa Bay, he had a great start to the 2009 season before struggling in the second half. This trend was reversed last season, as he struggled in the first half and dominated down the stretch.
Jackson's full season results over the past two years, coupled with a good second half, provide some hope going forward. If he does struggle, top prospect and current relief pitcher Chris Sale could see a starting role.
Cleveland Indians: David Huff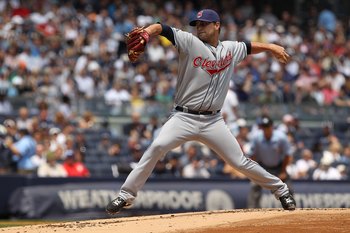 Al Bello/Getty Images
The Indians have a lot of potential No. 5 starters. Unfortunately, they are lacking potential front of the rotation starters.
While Fausto Carmona had a bounce-back 2010 campaign, and the duo of Carlos Carrasco and Justin Masterson provide some hope for the future, this entire rotation is a mess. Mitch Talbot will likely round out the top four.
As of now, David Huff, Anthony Reyes, and a few other names are in contention for the fifth spot in the rotation. Huff looks like the most likely choice.
He struggled quite a bit last season, but he's still young and he has good stuff. If he can figure out how to miss bats at the big-league level, he could be a solid back-of-the-rotation starter.
Of course the wild-card in this equation is Alex White. The Indians' 2009 first round pick, the former Tar Heels' ace pitched very well in his pro debut with a 2.45 ERA.
At this point, it seems unlikely he'll start the season in Cleveland's rotation, though he should be there at some point next year.
Detroit Tigers: Brad Penny
Christian Petersen/Getty Images
The Tigers rotation is their big question mark heading into the 2011 season, with the potential to make or break their playoff chances.
Justin Verlander is probably good at the top of the rotation, though workload concerns remain. Max Scherzer is a very talented No. 2. But Rick Porcello spent part of last season in the Minor Leagues and Phil Coke may or may not make a successful transition from long reliever to starter.
As of now, though, the fifth spot does not seem to be up in the air. Brad Penny will almost certainly open the season as the Tigers last starter.
Penny was fairly successful as a Cardinal last season before injuries cut his 2010 short. It remains to be seen if the Dave Duncan magic will last in Detroit.
Kansas City Royals: Sean O'Sullivan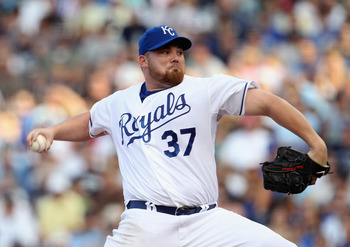 Jamie Squire/Getty Images
With Zack Greinke and Gil Meche departing, this is far and away the worst rotation in the league. How bad is it? Luke Hochevar, owner of a career 5.60 ERA, is easily the team's best starting pitcher. After Hochevar, nothing is guaranteed.
Jeff Francis is a good bounce-back (or breakout) candidate given his age and encouraging performance last season, but he's far from a sure thing. He should be the team's No. 2 starter for now, though if he succeeds, he could be on the move.
Kyle Davies was once a top pitching prospect but has had almost no success in the Major Leagues. He'll likely find a spot in this rotation. Vin Mazzaro has enough working for him to secure a rotation spot. He's young and talented and he was one of the Athletics' better prospects. But don't expect much just yet.
That leaves Sean O'Sullivan. O'Sullivan is just 23, but his career 5.65 ERA and 1.53 strikeout to walk rate are terrible. His minor league numbers are not particularly impressive, either, and until he can turn his stuff into strikeouts he's not going to go very far.
His age gives him an edge over Bruce Chen for the fifth spot in this rotation, but that says a lot more about this rotation than it does Sean O'Sullivan.
Expect top prospects John Lamb and Mike Montgomery at some point next season, though neither seems likely to break camp with the big league club.
Minnesota Twins: Nick Blackburn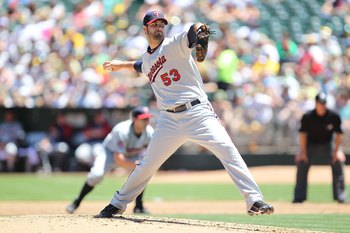 Jed Jacobsohn/Getty Images
All things considered, the Twins are looking pretty good heading into 2011. They have a very good lineup and their bullpen should get a major boost with Joe Nathan back. Their rotation is filled with good starting pitchers and the battle for the fifth spot is not a search for the lesser of two evils, as it is with many teams.
Francisco Liriano, Carl Pavano, Scott Baker, and Kevin Slowey will fill out the Twins top four rotation spots. The last spot will likely go to either Nick Blackburn or Brian Duensing.
Duensing has a much shorter track record. Still, his career 3.02 Major League ERA is impressive. While much of his big league career has been spent in the bullpen, he's made 22 starts and is 12-3 with a 2.93 ERA as a starter.
Blackburn is a big, hard throwing right hander with exceptional control. He struggled last season and was hurt for portions of the year, but proved a very good mid-rotation starter in both 2008 and 2009.
Right now, I give Blackburn the edge despite Duensing's great performance last season. This should be an interesting one.
Los Angeles Angels: Scott Kazmir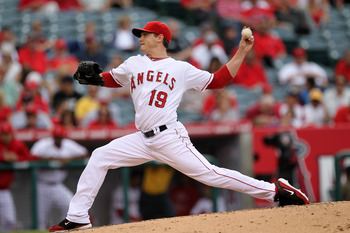 Stephen Dunn/Getty Images
After last season, things will never be the same in the American League West. The Angels magic wore out, and it wasn't Billy Beane or the mid-market Mariners this time.
The Rangers are favorites. That being said, the Angels are still really good. A rotation of Jered Weaver, Dan Haren, Ervin Santana, and Joel Pineiro is one of the best in the league.
But what about that fifth spot?
Scott Kazmir has fallen on some hard times, much like the Angels franchise as a whole. He was among the best pitchers in baseball a few years ago, piling up the strikeouts and winning games for the Rays.
The Mets trade of Kazmir to Tampa Bay was seen as historically bad. But not any more.
He will be the Angels' No. 5 starter. Maybe there's something left.
Oakland Athletics: Brandon McCarthy
Christian Petersen/Getty Images
It was just two years ago that top prospects Brett Anderson and Trevor Cahill jumped to the big leagues to fill a void in the Athletics' rotation.
Now, as we head into 2011, Anderson, Cahill, and fellow youngster Gio Gonzalez form one of the best starting trios in baseball. Dallas "get off my mound" Braden is a good No. 4.
The fifth spot is... murky. Rich Harden, initially seen as a bullpen arm after his acquisition this off-season, was in competition for the fifth spot before he injured his throwing arm on the first day of spring training. Completely unexpected.
As of now, Brandon McCarthy seems like the favorite to land this job. Josh Outman, a hard-throwing ex-reliever, should get a shot at the rotation, but following Tommy John surgery, he may not be 100 percent this spring.
McCarthy is a former top prospect with some potential, and he's still pretty young.
Seattle Mariners: Luke French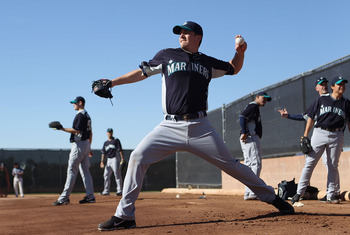 Christian Petersen/Getty Images
The Mariners rotation isn't looking half bad towards the top, but the bottom of the rotation is another story. Seattle has its top three locked up with Cy Young award winner Felix Hernandez and 2010 surprises Jason Vargas and Doug Fister.
After that, Erik Bedard seems likely to land the fourth spot in the rotation...if he can stay healthy. He's feeling good right now and when he's healthy, he pitches well. But we'll have to see.
The last spot looks to be a competition between Luke French, David Pauley, and possibly top prospect Michael Pineda.
While Pineda is probably the only one of the three with a future in the big leagues, he could use a bit more time in the minors and the Mariners probably don't want to start his clock.
French should take the job for now. He's shown a good command of the strike zone throughout his minor league career and at 25, he's still pretty young.
Texas Rangers: Derek Holland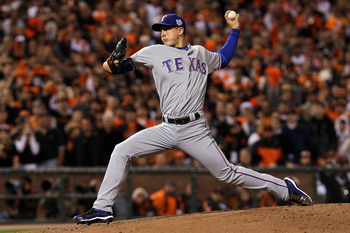 Justin Sullivan/Getty Images
The Rangers will give Neftali Feliz a shot to start next season, a development that may hurt the team in the short term but should certainly help them out in the long run.
Assuming Brandon Webb is healthy on opening day, the rotation will probably look something like: CJ Wilson, Colby Lewis, Neftali Feliz, Brandon Webb and a fifth starter.
That fifth starter could be one of a few potential candidates.
Scott Feldman was the Rangers best starter in 2009, but his success was mostly due to some good fortune and he struggled last season as his luck wore out. Tommy Hunter had a good run last season and may be in the Rangers' future plans.
But as of now, the Rangers' fifth starter will probably be Derek Holland.
Holland was a top prospect a couple of years ago and despite a poor transition to the big leagues, has shown flashes of brilliance with Texas. He's talented enough to handle the job, though maybe not a great option just yet.
Atlanta Braves: Mike Minor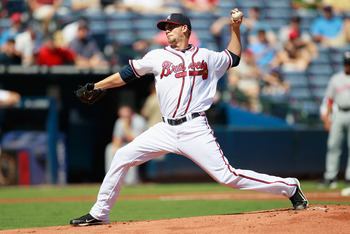 Kevin C. Cox/Getty Images
As usual, the Braves rotation will be a strength next season. Not much is in doubt at the moment.
Tim Hudson and Tommy Hanson form a formidable 1-2 punch. Derek Lowe and Jair Jurjens are good mid-rotation starters with upside.
The fifth spot, as of now, looks to belong to Mike Minor.
Minor was a first-round draft pick in 2009 and rocketed up the Braves minor league ladder last season.
While he'll have a couple of challengers, most notably fellow top prospect Julio Teheran, he would probably have to pitch his way out of the rotation.
Teheran is great, but he hasn't pitched in AAA. Minor has and was seen as one of the most polished pitchers in the 2009 class. He's more ready for the big leagues right now and will win the spot.
Florida Marlins: Chris Volstad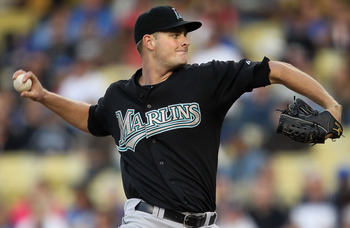 Jeff Gross/Getty Images
Josh Johnson is one of the best pitchers in baseball and Ricky Nolasco could be a good No. 2. Javier Vazquez is back in the NL.
Anibal Sanchez is finally putting things together. The only question comes at the end of the rotation, and it's not a terribly open-ended question anyway.
Volstad should be the team's No. 5 starter. He's still just 24 years old, and his impressive 2008 is still there. He wasn't terrible last season, though a 4.58 ERA is not ideal.
There shouldn't be much competition here. Volstad's lack of strikeouts may always keep him from becoming a consistent front-of-the-rotation starter, but he's not a bad back-end option.
New York Mets: Oliver Perez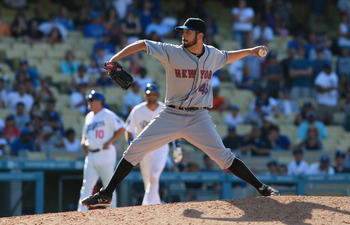 Jeff Gross/Getty Images
The Mets rotation is a mess.
Ace Johan Santana underwent arm surgery last year and will likely miss the first few months of the season. With Santana out, Pelfrey is the de facto ace, and Jon Niese and RA Dickey will fall in place behind the big right-hander.
The last two spots are up for grabs. Dillon Gee, 24, made a few good starts with the Mets last season. He can miss bats and command the strike zone, a great combination, and will probably start the season as the team's No. 4.
Oliver Perez will likely be the Mets' fifth starter to start the season. At just 22 years old, Perez struck out 239 to go along with a 2.98 ERA.
The Pirates and Mets have been chasing that ever since. He was pretty good for the Mets in 2007 and 2008, going 25-17 with a 3.91 ERA, but has been terrible the past two seasons.
He should win the job. There really isn't much competition unless Jenrry Mejia is deemed rotation-ready.
Philadelphia Phillies: Joe Blanton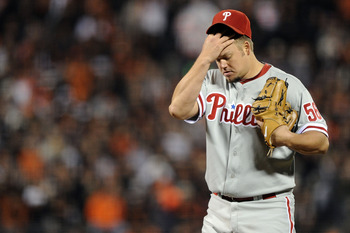 Harry How/Getty Images
It almost feels wrong talking about the Phillies fifth starter. Their first four starters (Roy Halladay, Cliff Lee, Cole Hamels, and Roy Oswalt) could all be aces, and their No. 5 starter is pretty good himself.
Blanton struggled a bit last season, going 9-6 with a 4.82 ERA, but his 3.12 strikeout-to-walk rate was still impressive and his 2009 season (12-8, 4.05 ERA, 2.76 K/BB) is still fresh in mind.
Even if the Phillies don't love Blanton, they don't have many more options. Kyle Kendrick isn't exactly the guy you want starting for you every fifth day.
Blanton is a lock right now. He'd probably be the Mets' ace. He'd definitely be the Royals' ace. "Unfair" is the word you were looking for.
Washington Nationals: Tom Gorzelanny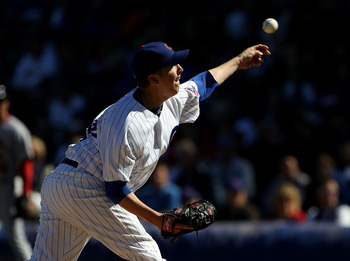 Jonathan Daniel/Getty Images
Things would look a lot differently if Stephen Strasburg had not injured his elbow last fall, but there are still worse rotations out there.
Livan Hernandez is far from a top-of-the-rotation starter, but he was good last season. Jordan Zimmermann is the team's best pitcher with Strasburg out. John Lannon isn't half bad.
The last two rotation spots are up for grabs as of now. Jason Marquis is an innings eater, and he was good enough in 2009 that he'll keep getting Major League jobs for a while. He should take the fourth spot in the rotation.
The fifth spot likely goes to Tom Gorzelanny. He had an impressive 2010 season with the Cubs, making 23 starts with a 4.09 ERA and putting together his highest career strikeout rate as a starter.
There's something here if he can get his walks down.
Chicago Cubs: Randy Wells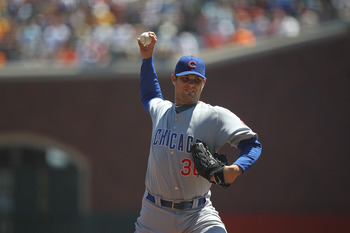 Jed Jacobsohn/Getty Images
The Cubs' first three starters are pretty much locked into place, with Carlos Zambrano, Ryan Dempster, and Matt Garza almost certainly pitching the first three games of the 2011 season (barring injury). After that, there are a bunch of options.
Carlos Silva should hold down the fourth spot in the rotation. Injuries shortened Silva's season, and he didn't finish as well as he started (he was the first Cubs starter to go 8-0 to begin a year) but his end of season number (a 10-6 record, a 4.22 ERA, and a 3.33 K/BB rate) probably secure him the fourth spot heading into next season.
The fifth spot is even murkier. Top prospect Andrew Cashner could easily make the transition from the bullpen to the starting rotation next season and Jeff Samardzija also figures to make a run at this spot. As of now, though, Randy Wells looks like the best option.
Wells was a ROTY candidate two years ago, and though his results were poor last season, his underlying numbers (3.93 FIP) paint a different picture. The 27-year-old soft tosser should start the season in the rotation.
Cincinnati Reds: Travis Wood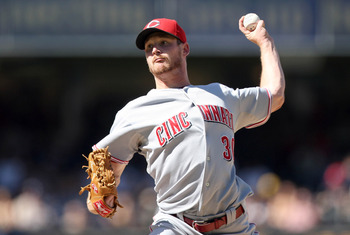 Donald Miralle/Getty Images
The Reds rotation may not have the biggest names in baseball, but it's among the deepest. Johnny Cueto, Edison Volquez and Bronson Arroyo are locks to start next season, and Homer Bailey probably is, too.
That leaves one spot for two young starters: Travis Wood and Mike Leake.
Leake, a former first round pick from the 2009 draft (we've talked about a lot of those, haven't we?), skipped the minor leagues and debuted for the Reds last April.
He had a relatively successful debut, going 8-6 with a 4.23 ERA, though his strikeout-to-walk rate of 1.86 was decidedly sub-par. Leake was shut down late in the season with arm fatigue but will be ready by Opening Day.
Wood, on the other hand, spent six seasons in the minor leagues before making his big league debut in mid-2010. He made 17 starts for the Reds last season with a 3.51 ERA and an impressive 3.31 strikeout-to-walk ratio.
It's tough to tell who has the edge here. Wood is the better pitcher right now, but Leake's prospect status (and the fact that he skipped the minor leagues entirely) make him a legitimate contender for this position. Wood has the edge, but this is a close call.
Houston Astros: JA Happ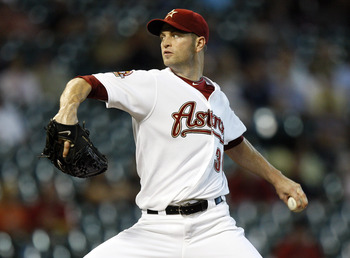 Bob Levey/Getty Images
The Astros rotation is solid. Brett Myers and Wandy Rodriguez make up a good 1-2 punch, Nelson Figueroa has revitalized his career with the Mets, Phillies, and now Astros, and Bud Norris is a good mid-rotation starter.
The last spot in the rotation is pretty much locked down at this point and belongs to JA Happ.
Happ was a well-regarded prospect in the Phillies system who struggled to break into the big leagues before the 2009 season. That year, he went 12-4 with a 2.93 ERA. Happ was solid again last season out of the bullpen and as a starter.
Happ's lack of control is concerning, but he's the team's fifth starter as of now, and his Major League success should keep him in the job for a while.
Milwaukee Brewers: Chris Narveson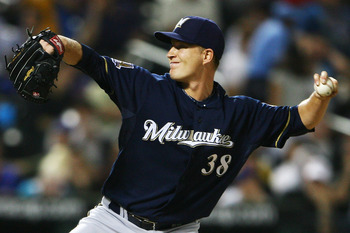 Andrew Burton/Getty Images
The Brewers upgraded their rotation in a big way this off-season, and will go into 2011 with one of the best starting rotations in baseball, led by a pair of aces in Zack Greinke and Yovani Gallardo, and solidified by Shaun Marcum and Randy Wolf.
Chris Narveson, 29, is the wild card here. A reliever for the Brewers in 2009, he pitched in relief and as a starter last year, compiling a 4.99 ERA on the season.
His skill set, however, indicates more success to come. He has a career 7.8 strikeout rate and 3.2 walk rate, and as a 6'3" lefty, he's always going to draw some interest.
Narveson has been named the fifth starter and will need to pitch extremely poorly this spring to lose the job. There isn't much competition here.
Pittsburgh Pirates: Scott Olsen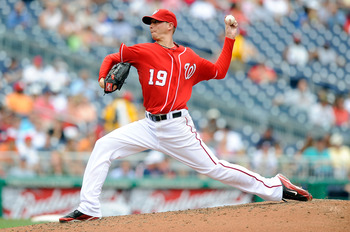 Greg Fiume/Getty Images
Oh boy. This is not good.
The Pirates rotation was terrible last season. James McDonald, 26, a mid-season acquisition, was the Pirates only dependable starter in 2010, as both Ross Ohlendorf and Paul Maholm struggled. The Pirates acquired Kevin Correia, who also had a tough 2010 season after a breakout 2009 in San Diego.
The fifth spot will likely come down to Scott Olsen, who was terrible last season and has been terrible for a long time, and Charlie Morton, perhaps the worst pitcher in baseball last season with a 2-12 record and 7.57 ERA.
Edge: Olsen.
St. Louis Cardinals: Kyle Lohse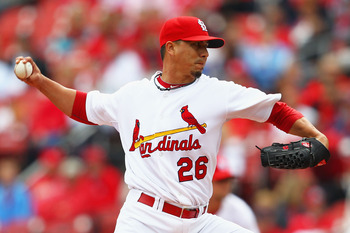 Dilip Vishwanat/Getty Images
All the talk might be about Albert Pujols, but the Cardinals rotation remains very solid as the 2011 season approaches.
Adam Wainwright, Chris Carpenter, Jake Westbrook, and Jaime Garcia anchor the second-best rotation in the NL Central.
The fifth spot is up for grabs, but the Cards don't have many options.
Kyle Lohse, one of the team's better starters in 2008, has struggled the past two seasons to stay healthy and perform. He enters spring as the favorite to land the fifth job, by virtue of a solid track record and a lack of other options.
Miguel Bautista was terrible last season as a member of the Diamondbacks, but he might be the only other option in camp right now.
Arizona Diamondbacks: Zach Duke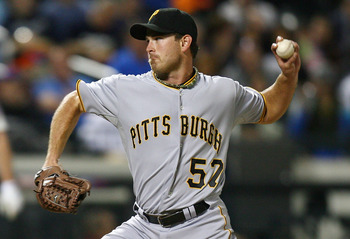 Andrew Burton/Getty Images
The Diamondbacks' rotation has lost Brandon Webb and Dan Haren, their two aces, in the span of six months. Still, there is some talent here.
Joe Saunders and Armando Galarraga, while not great pitchers, have had success in the past and will eat innings. Ian Kennedy and Daniel Hudson are the the D-Backs future in the rotation and should secure starting spots.
Right now, Zach Duke, the former Pirate, is the favorite to land the fifth spot in the Arizona rotation. Duke is, much like Saunders and Galarraga, a solid but not spectacular back-of-the-rotation starter.
He wont strike guys out, but he has solid control and has been relatively successful with the Pirates. His 2010 was bad, but his track record is good enough to give him the edge.
Mike Hampton, the oft-injured veteran, is another contender for the fifth spot, as is youngster Barry Enright. As of now, expect a rotation of Saunders, Galarraga, Kennedy, Hudson and Duke.
Colorado Rockies: Jason Hammel
Doug Pensinger/Getty Images
In a division of great rotations, the Rockies rotation may be understandably overlooked. But that could change.
Everyone knows what Ubaldo Jimenez did last season, and while his first-half numbers were due for a bit of regression, he still has some room to grow. Jorge De La Rosa and Aaron Cook are solid No. 2 and 3 starters, and Jhoulys Chacin was one of the Rockies top prospects heading into last season.
With the fifth spot, the Rockies will likely turn to one of the unluckiest pitchers in baseball the past two seasons: Jason Hammel.
Hammel is very talented. He was the odd man out of a stacked Tampa Bay rotation in 2009, and while his 4.57 ERA as a Rockie is not impressive, his 274 strikeouts to just 89 walks is. The ERA has been stubbornly high, but like with De La Rosa, that won't continue forever.
Hammel will get the job, and should pitch very well this season.
Los Angeles Dodgers: Jon Garland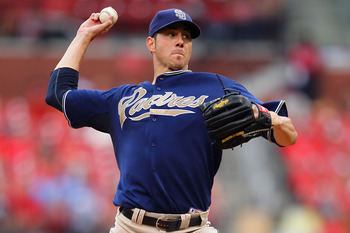 Dilip Vishwanat/Getty Images
This might just be the second-best rotation in baseball. Clayton Kershaw is on his way to Cy Young contender status, Chad Billingsley and Hiroki Kuroda are both very good No. 2 pitchers, Ted Lilly is a very good No. 4, and the Dodgers have two great options at the fifth spot.
Jon Garland and Vicente Padilla should battle it out for the last spot in this stacked rotation, and while this may seem like a one-horse race at first, don't discount Padilla. Since coming over in mid-2009, he's 10-5 with an ERA in the mid-3s.
Still, the Dodgers got Garland for a reason. He's a workhorse, and he's consistently a good No. 3 starting pitcher.
The Dodgers can place Garland (85-63 with a 4.10 ERA since 2005) in the fifth spot and have a chance to win the game every time he pitches.
San Diego Padres: Wade LeBlanc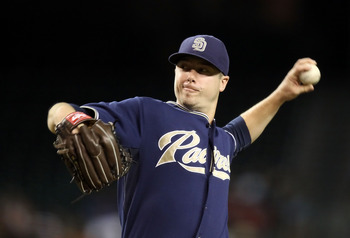 Christian Petersen/Getty Images
Adrian Gonzalez is gone, and Heath Bell might be on his way out, too, but the Padres rotation should be even better in 2011.
Led by Mat Latos, who will almost certainly garner Cy Young consideration this year, the Padres will also throw Clayton Richard, Aaron Harang, and Tim Stauffer out every fifth day.
The fifth spot in the rotation is a three-horse race.
Wade LeBlanc, who entered last season as one of the Padres' best young starters alongside Latos, was solid last season but faded down the stretch.
His 4.25 ERA is certainly good enough to justify another look, and his underlying numbers indicate he actually improved. His strikeout rate jumped by a full strikeout per nine innings, and his walk rate fell from 3.7 to 3.1.
Cory Luebke made three good starts for the Padres late last season and his minor league track-record has put him in contention for a rotation spot. The 6'4" lefty has very good control, though his minor league strikeout numbers leave a bit to be desired.
Dustin Moseley, the veteran of the group, showed some solid skills in Triple-A with the Yankees last season, though he struggled in the big leagues. He's 29 and has yet to crack a big league rotation for any length of time, but this could be his chance.
At the end of the day, LeBlanc should reclaim this job, though Luebke is interesting. I don't know why Moseley keeps getting Major League jobs.
San Francisco Giants: Barry Zito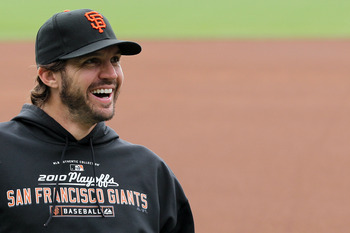 Justin Sullivan/Getty Images
The defending world champions are in good shape when it comes to their starting rotation. Tim Lincecum is a two-time Cy Young award winner and dominated in the playoffs. Matt Cain would be the ace of many Major League rotations.
Madison Bumgarner is a former top-10 prospect and showed why last season, and Jonathan Sanchez finally broke out last year, striking out 205 batters with a 3.07 ERA.
Like most teams, the Giants don't have a particularly strong fifth starter, but Barry Zito isn't bad, and because of his solid numbers the past two years and his massive contract, Zito is going to be the team's fifth starter.
He is what he is. No longer an All-Star starter, but certainly a guy who can give you 200 innings with an ERA around 4.00.
He didn't make the post-season roster, but he's still the fifth starter, and pretty good one at that. There's no competition here.
Keep Reading