If the 49ers Were Our Madden Franchise: The 2011 Combine and Draft
You worked out alright
Dilip Vishwanat/Getty Images
As much as Mel Kiper manages to adorn himself the expert, the NFL Draft is a crap shoot. I was once psyched about Patrick Willis and I was once psyched about Rashaun Woods. I was pissed about Alex Smith and I was pissed about Vernon Davis. So to sit and say, "The 49ers NEED to draft So'n'So to succeed!" would be like saying, "The US Government NEEDS to [something] to turn the economy around!" Not only are there too many answers, but there are too many wrong answers that can be supported with cogent arguments.
However, what I do know is how to build a Madden dynasty. You may not know this but the 49ers have ten Super Bowl titles on the shoulders of 7-time All-Pro quarterback James Worth. The(se) Niners have achieved success by always building through the draft and anointing game plans the foundation of the franchise over personnel. You have to know your offense and defense. You have to sense their weaknesses; they resonate in your bones in the way a parent knows how their child come up short in life. You also have to be comfortable with the fact you're talking about a video game.
Coincidentally, I took in enough of the "other" 49ers' games—the ones on TV that went 6-10 and officially made it a Decade And a Half of Broken Hearts—to get the same sense. So let's pretend that we're building through the draft on our Madden franchise and and now we need to identify the attributes, the qualities of a player that will puzzle-piece fit into next year's squad and propagate the progress from firing Motivation-only Mike Singletary. (You don't need to "motivate" Justin Smith. You need to give him intelligent assignments.)
For a moment, we will forget college performance and only look at the Combine. (Yes, I remember Ryan Leaf too) The point of the exercise is to construct ideal rookies that fit into the bigger picture of what the 49ers are trying to do as a team. But since this is "in-theory", we need a limited pool of attributes—otherwise, we could just throw helmets on a few Siberian tigers and call it a day.
So for the six events of the Combine we have a scale of 1-10. Out of 60 possible points, we get to work with 40. All ratings will be relative to the position, so an offensive lineman and a defensive back could both receive a 10 for the 40-yard dash; the score would be graded against their position peers. (We're going to leave out Wonderlic results; I'm not totally sold on their value in assessing NFL talent yet.)
Pass On Quarterback, Even Cam Newton
Not this year...sorry.
First the position I'd stay away from in the early rounds:
Quarterback: If you're going to add a quarterback, you can't have a former first overall pick hanging around like an ex-boyfriend sitting in his car across the street while you're trying to put the moves on your new girlfriend. I'm not opposed to hurting anyone's feelings, but if the Niners are going to move on from Alex Smith, let's act like it (And Jim Harbaugh is not). Otherwise we get the media frenzy around the "QUARTERBACK CONTROVERSY" that is stupid and distracting, but more importantly, plays head games with the one position—no matter who gets the job—that needs to be in the zone at all times.
Also, there is that little issue of the quarterback talent in this year's draft not being that impressive (That's right, Cam Newton. I said it.) so we talk ourselves into the top tier guys like their last name was Manning. (See aforementioned: Smith, Alex) Let Cleveland, Buffalo and Arizona pull those triggers.
Outside In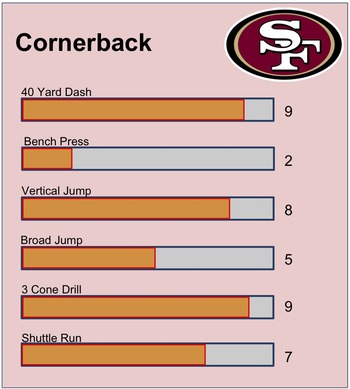 I put my hand up on your hip
Now, what our Madden roster actually needs:
Cornerback: Last year, opponents' quarterbacks completed 65.1 percent of their passes against the Niners' soft coverage. Only Tennessee and Indianapolis were worse in the NFL, yet the Niners gave up 7.2 yards/attempt to the other two's 6.9 and 6.8, respectively. Opponents are not only completing too many passes but the passes are deeper. Teams can lengthen the field.
The Niners need a straight jacket—a guy who'll slip into a receiver's hip pocket for 60 minutes. They don't need a bruiser, a DB who can blitz off the corner and tear through a blocking back, but rather a cover corner who'll shift the offensive focus elsewhere.
Inside Out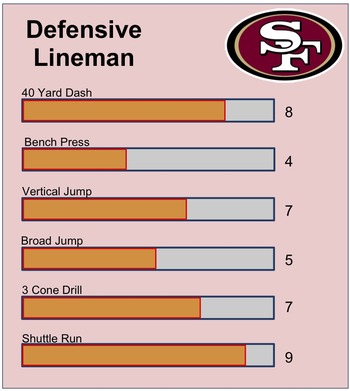 Mr and Mr Smith
Defensive Tackle/End: Guess how many rushing fumbles the Niners forced last year? Four, tied for second worst in the league. Besides Justin Smith, how many sacks did the D-line rack up? Two and a half. Granted, the 3-4 is designed to fire linebackers into gaps created by the front three, but it would be nice to see someone from the D-line besides Smith disrupting play in the backfield.
The Niners need a change-of-pace rusher; a slasher who can engage a blocker or spin around if need be. Many have called for an outside linebacker to help with the pressure problems but I don't necessarily agree; though I like the idea of converting one. The Niners need a razor—a guy who can explode off the line and take a little double team and chipping pressure off of Smith. Also, the talent is so deep in this draft for defensive linemen, it's worth stocking up to not fall behind the rest of the league.
Hoggin'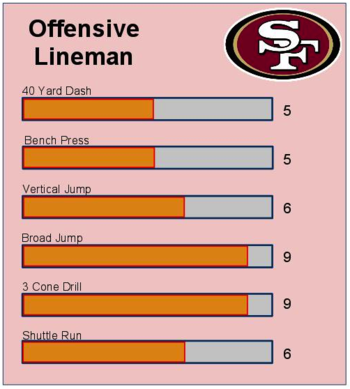 Seal those corners
Offensive Lineman: It's tough to justify reinforcing the defense when the offensive line still needs serious help. A football team can never be better than their O-line. This past season, the Niners rarely ran off the left (nine percent of run plays) and right (seven percent) end of the line preferring to fire Frank Gore up the middle (63 percent). The lack of an east-west threat kept the game predictable. I would watch and dryly mumble "Frank Middle", "Frank Off-Guard", "Frank Slam", "Frank Wham", "Frank...crap...Injury" as the repetitive playcalling numbed the senses.
The 44 sacks the O-line gave up this year was tied for sixth most in the league, yet the Niners attempted 500 passes (22nd) which actually makes them look better than they are. Alex Smith was taking a sack 8.8 percent of the time he attempted a pass, tied with Arizona for fifth worst in the NFL .
Many of you are getting ready to remind me of the rash of injuries and demand a few more seasons before giving up on Mike Iupati and Anthony Davis. Agreed. This was a trick play. What the Niners really need is...
Battering Ram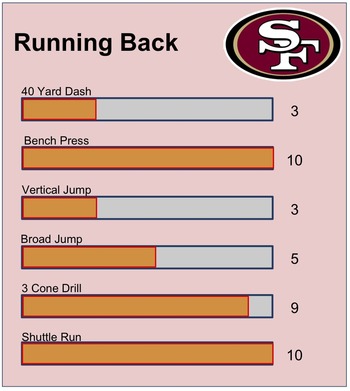 Fire in the hole
Fullback: The Niners need a fullback. I know that Moran Norris is a nice guy but if Vernon Davis is going to be a wide receiver that we call a tight end because he lines up off-tackle a lot, then we need a better augmentation to the O-line. It's tricky to make an overly-sexy case here; Norris played in all 16 games this past season so we can't see how the offensive did without him.
Yet, if you watched Niner games, you just kinda know; he's an okay—not great fullback. Outside of blocking, the Niners need someone who is good for more than three carries and four catches in a season; there needs to be just a little mystery as to who's getting the ball in the backfield.
But more importantly, I can't recall instances where, on the replay, I realized Norris had chipped an end, trucked a DB and engaged a linebacker. The stuff you need from your lead blocker. Nor can I ever remember watching opponents stack at the line on a passing down and feeling comfortable that he'd pick up the loose ends. If you're a team committing to the run and the short pass, you have to have a bulldozer that picks up quick blitzes. Norris is not him.
Building at fullback is quietly one of the best places to help a team determined to grind out games. Football isn't always glamorous.
But sometimes your biggest addition is off the field....
Bill Walsh, Errr, Jim Harbaugh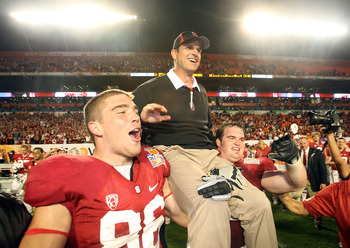 Someone photoshop a Niners logo onto those pads
Streeter Lecka/Getty Images
All that said, if I were sitting on the couch wondering how my Madden franchise had really gone 6-10 with all the tools I drafted, I would say, right now, this team is worlds better than the crap fest they put up last year. We have to remember that the Niners have already made their most important acquisition of the off-season: Jim Harbaugh.
It's easy to think back to the last coach the Niners hired out of Stanford and get excited. (I am trying not to.) And it's rarely worth "translating" a college coach's techniques to the pros. But at least at a very high level, Harbaugh put together the kinds of teams you like to see: smart ones. They didn't just rely on crushing everyone with athleticism. They broke down the PAC-10 with nuanced and well developed game plans.
To be very honest, there is a huge part of me that wants the 49ers to trade down their first round pick. That would be my move if this were my Madden team. My man crush on Patrick Peterson aside, I don't think it's a bad idea to give Harbaugh a year to sift through the assets at hand and develop overall team concepts; then he can start fitting in the puzzle pieces. With the right coaching, this team can contend, especially in the NFL's worst division. To introduce a big name rookie, with a big contract, only seems worth it if they have an opportunity to snag a true blue chipper. I'd much rather have Harbaugh with an extra pick next season.
(And if not, we can just hit the reset button. Right?)
[Follow Caleb at www.twitter.com/calebgarling]
Keep Reading

San Francisco 49ers: Like this team?