The NBA: Where (Allegedly) Rigged Dunk Contests Happen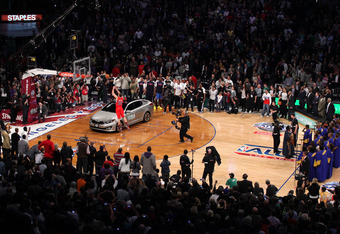 Was NBA Slam Dunk Contest Winner Known Before the Event Even Got Underway?
This year's NBA All-Star Weekend was one of the smoothest in recent memory. Every event seemed to go off without a major hitch, and, as always, one of the biggest events of the weekend was the Slam Dunk Contest.
Which makes this report from Lakers blogger/podcaster David Brickley all the more unnerving. According to Brickley, the NBA gave out a press release touting Sunday's All-Star Jam Session on Saturday night, three hours before the Slam Dunk Contest was set to take flight.
But, according to the release, 2011 Sprite Slam Dunk Contest winner Blake Griffin was going to be taking part in the festivities. There was just one problem: Griffin hadn't won yet.
Now, it's possible this was a mistake; after all, Griffin was the favorite to win the event, and his over-the-car dunk was one of the night's best. And most people are fairly sure that Griffin was told by the NBA to dunk over a Kia Optima, rather than a non-sponsor vehicle.
But the idea that the NBA wanted Griffin to win is also one that holds water pretty well. He was the biggest star in this year's contest by a fairly sizable margin, and something tells me the NBA would rather have him win than JaVale McGee.
I'm not going to come out and say the NBA did rig the dunk contest, but I'm certainly not going to say that they didn't. Either way, this doesn't look good for the NBA, and you can bet someone's head is going to roll over this one.
For more NBA news, check out Carmelo Anthony NY Knicks: 5 Reasons Carmelo Isn't Worth Price Knicks Paid.
Most recent updates:
This article is
What is the duplicate article?
Why is this article offensive?
Where is this article plagiarized from?
Why is this article poorly edited?