NFL Draft 2011: Players Who Can Improve Their Draft Status at the NFL Combine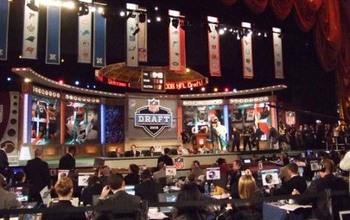 Normally, then NFL Combine does not effect the top 10 or so players in the draft. Those players have done enough to prove they can play exceptionally well at the next level.
It's players like Dorin Dickerson of last year's draft that the combine is used for. Dickerson had a killer combine and went in the seventh round to the Texans.
Some players are right on the edge of being a first day choice. The difference could be huge in terms of contract money.
These are the players that can improve by how well they do at the NFL Combine.
Mike Pouncey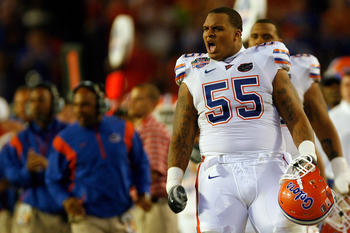 The Pouncey twins split up last year when Maurkice left early for the draft. Since then, Mike Pouncey has had a few rough patches.
Florida had problems snapping the ball almost all season with Pouncey at center. Still, he is looked at as one of the best guards in the draft rather than center.
Pouncey has quick feet and matched up well with anyone he faced during college. With a huge day at the combine, Pouncey could hop over all the interior offensive lineman in the first round.
Luke Stocker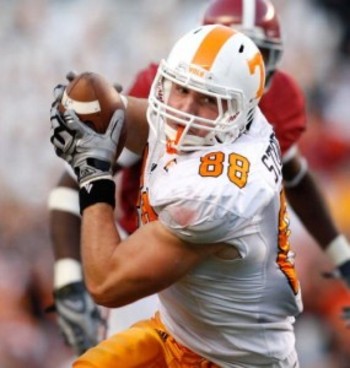 At 6'5'' and 255 pounds, Stocker has the right size to be starting as a rookie. Teams like the Giants, who still have questions about tight end, may be looking at a second round pick for a tight end.
Stocker has already shown scouts his ability to be a blocking tight end in college. What Stocker needs the combine for is to show that he can be a catching tight end for his team too.
If Stocker comes out big at the combine, he may be looking at a second round pick which is huge money for a rookie tight end.
Darvin Adams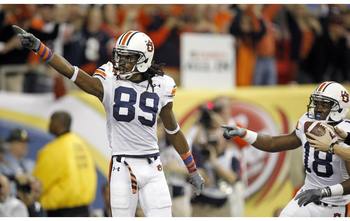 Darvin Adams surprised a lot of fans when he decided to leave early for the draft. Adams was Cam Newton's favorite target last season, but isn't very well known outside of SEC fans.
In order to climb out of the fifth and sixth rounds and get into the third and fourth, Adams has to show scouts his tough nosed mentality and ability to catch the passes in traffic.
His size and speed aren't spectacular. Especially not when other receivers like Julio Jones and A.J. Green are in the same draft.
If Adams can have a flawless day at the combine, he might be the fourth or fifth receiver picked in the draft.
Jake Locker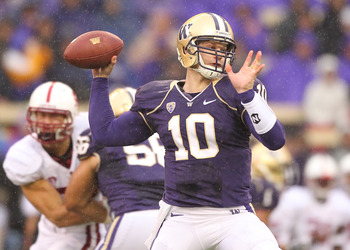 Otto Greule Jr/Getty Images
Last year, Jake Locker could have left early for the NFL Draft and been picked possibly first overall. After a mediocre season, Locker put a big dent in his draft status.
Locker is in a similar situation that Tim Tebow was in last year. Scouts know how well he can run the ball, but can he be an NFL pocket passer?
Tebow had one of the best combines a quarterback could have, and he was drafted in the first round. If Locker can show off his freak athleticism and still show that he can accurately make the right passes, there's a chance for a late first round pick.
Marvin Austin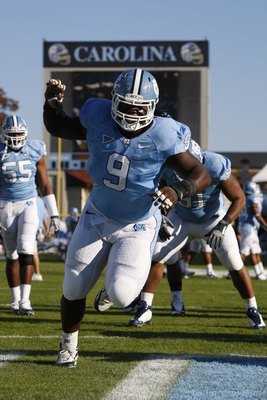 Streeter Lecka/Getty Images
The NFL has shown success places off-field issues in the backseat.
Just look at Albert Haynesworth.
Right now, Marvin Austin is under a lot of scrutiny for being suspended for an entire season at North Carolina. Austin is still one of the elite Defensive Linemen in the draft though.
Austin has done nothing but work hard and do what he has been asked to do since his suspension. If he shows up at the combine and dominates, his name could skyrocket up the board.
Next to Nick Fairley, Austin has the potential to be the best defensive linemen out of this class.
Ryan Mallet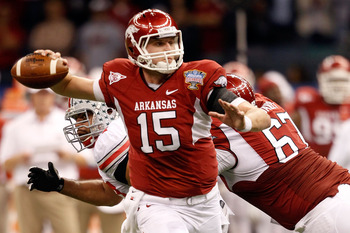 Matthew Stockman/Getty Images
There were two times this season where Ryan Mallet hurt his draft status exponentially.
When he blew the lead late against Alabama, and when he blew the chance to beat Ohio State in the Sugar Bowl.
Still, Mallet has the perfect body type to be a stud in the NFL. He needs the combine so he can remind the scouts of that.
It's even more important for Mallet to do well now that Cam Newton may be moving up further in the top ten. This leaves Minnesota and Washington with spots open for a quarterback.
If Cam Newton ends up going earlier than expected, there's no reason to believe Ryan Mallet could be a Redskin next season
Keep Reading