Premier League Potential: Ranking the Top 25 Young Players in the EPL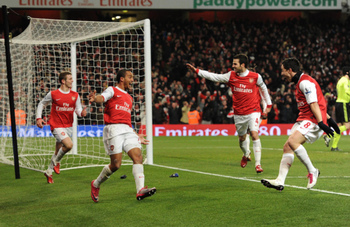 Spring is on the horizon, the plants begin to bloom and an array of colour and energy is injected into the dull, miserable landscape that's befallen us over the winter months. Fortunately for us football fans we don't have to worry about lacklustre scenery.
The races for silverware across Europe are in full swing and while the veterans we've grown accustomed to watching continue to amaze and frustrate us in equal measures, the youth of the Premier League constantly regenerates the league annually, with youngsters blossoming to stardom before our eyes.
There's an array of youngsters, many of whom are already the focal points of their clubs and some among the best players in the league. All of the players on this list are 23 or under and have the potential to sprout more ability and brilliance.
There are products of academies, players who've been groomed for the highest level from a young age by their current employers and others who've been given their chance by way of a spending spree from owners hungry for success.
Varying price tags, nationalities and degrees of success already; but all of these players have the potential to be stars, if not already, who can either shine at their current clubs for the next decade and beyond or who could be on the verge of a big money transfer to elevate themselves to a similar level.
25. Phil Jones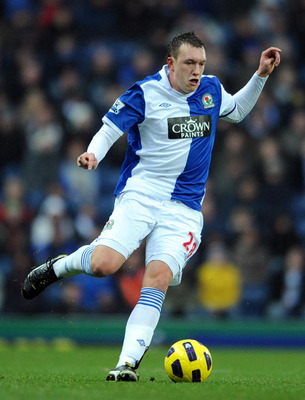 Chris Brunskill/Getty Images
If it wasn't for an extremely untimely knee injury, Jones would have been one of the brightest prospects in the EPL this season.
The Blackburn defender broke into the first team this season and quickly established himself as a regular starter for the Rovers, helping Blackburn to a 1-1 draw against champions Chelsea on his full debut.
Then manager Sam Allardyce regularly praised Jones on his performances and the youngster quickly had a contract extension on the table which now has him contracted to Ewood Park until 2016.
If Jones can return from injury in similar form to which he was displaying his absence, Steve Kean may well be getting some inquiring phone calls from some of the big name clubs in the division.
24. Tom Cleverley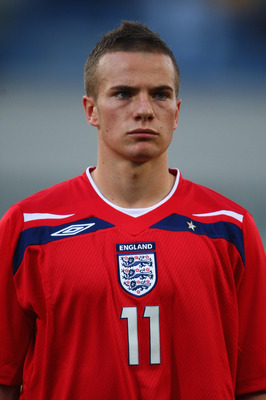 Jamie McDonald/Getty Images
The 21-year-old hasn't managed to break into the Manchester United first team but may well be on the verge of doing so judging by his performances for Wigan this season.
Whilst out on loan for this campaign, Cleverley has been one of the key components in a Wigan team fighting for survival.
Cleverley's importance to Wigan was signified in January by Roberto Martinez. When asked about how key it was to bring in new talent, Martinez replied that getting his star midfielder back fit was his most pressing matter.
If Cleverley can continue his good form it's unlikely he will return to Wigan next season with competition for a place at Old Trafford likely to be a possibility.
23. Daniel Sturridge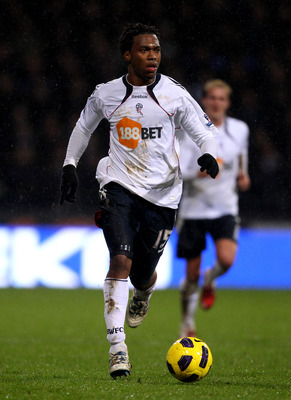 Alex Livesey/Getty Images
The young striker didn't strike me as the smartest player when he swapped Man City for Chelsea because he thought he'd get a better chance at first-team football.
Now out on loan at Bolton, with a more realistic chance of playing, Sturridge has shown his true potential as a goalscorer with three in as many appearances.
Sturridge has represented England at every junior level from the age of 16 onwards and if he can get regular opportunities to start, as he is at Bolton, a call up to the full England squad may be somewhere down the line for the talented striker.
22. Lee Cattermole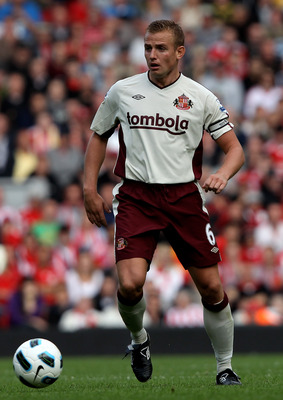 Clive Brunskill/Getty Images
Sunderland's bullish midfielder has received high praise and high responsibilities in his young career.
Cattermole first burst onto the scene as an 18-year-old for Middlesborough earning man of the match honours on his full debut against Newcastle in a heated derby.
The midfielder would go on to become the club's youngest captain before moving to Wigan. Cattermole was signed for £3.5m by the Latics but, following an impressive season, was sold for nearly double that to Sunderland in 2009, showing his growth in such a short period of time.
Cattermole was awarded the captaincy once more for this season but didn't get off to the best of starts with a red card in his first game, adding a second quickly after returning from suspension.
If the midfielder can control his temper and get a grip on his disciplinary record, his leadership and ability will shine through and another move may well be on the horizon.
21. Alex Song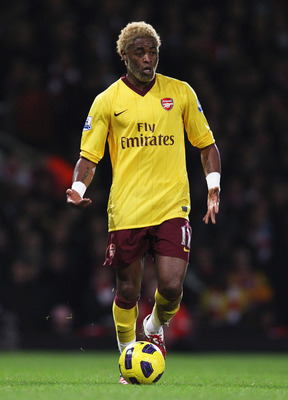 Clive Rose/Getty Images
Arsenal's holding midfielder has one of the dodgiest dyed blonde hair/beard combinations in the Premier League, but it hasn't stopped him being one of the best players in his position in the EPL this season.
Song's ability to control possession and protect his back four has been one of the main reasons Arsenal are back competing for the Premier League this season and alongside other young talent we'll come on to later, they look set to be at the top of English football for years to come.
20. Chris Smalling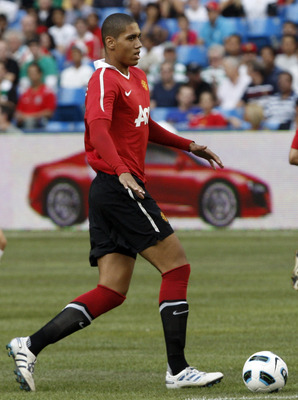 Abelimages/Getty Images
Smalling has coped reasonably well with the limited opportunities he's been given since joining Manchester United in the summer.
Little was really known about the centre back when he was signed because of his rise from the non-leagues to the Premier League when he signed for Fulham from Maidstone in 2008. Despite only playing a handful of games in London, United payed a substantial fee for the defender.
Smalling is now competing with Johnny Evans for the third centre back spot at Old Trafford
19. Martin Kelly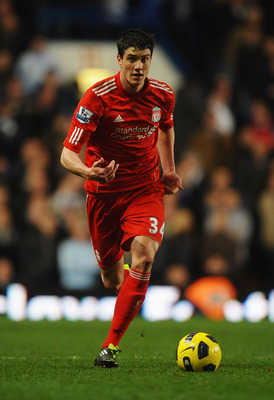 Laurence Griffiths/Getty Images
In a season of instability and turmoil at Anfield, Kelly has been one of the few bright spots consistently performing at right-back.
Despite a change of manager, Kelly has maintained his position as first choice with England international Glen Johnson being forced to change position in the back four.
It's hard to proclaim that Kelly will be the next stalwart, local Merseyside hero following in the footsteps of players like Jamie Carragher and Steven Gerrard, but Kelly has got a lot of promise and the potential to be Liverpool legend and a regular international in the future.
18. Rafael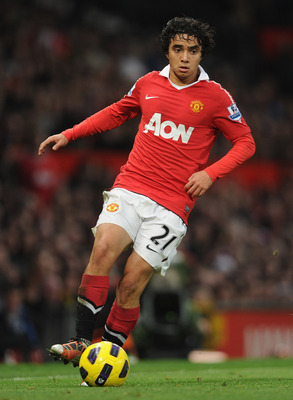 Michael Regan/Getty Images
Rafael has shown a lot of flair and talent, separating himself from his brother on the pitch despite the fact they're identical off it.
Rafael is the epitome of rawness and if Sir Alex Ferguson can successfully harness his potential and passion he'll be a great player for many years to come.
The Brazilian has already established himself as a regular for United and looks set to be a fixture in their side for the foreseeable future.
17. Kieran Gibbs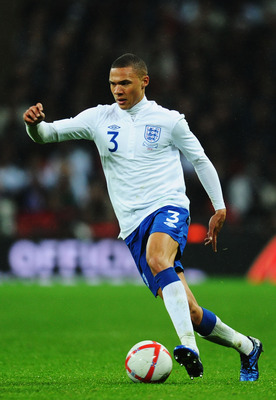 Mike Hewitt/Getty Images
The most frustrating thing about Kieran Gibbs is the fact that we don't get to see him very often due to the form of Gael Clichy.
When we have had the opportunity to see Gibbs play he's been lively getting up the left from full-back reminding Arsenal fans of Ashley Cole from when he used to be a Gunner.
Gibbs may well end his career at Arsenal in a similar way to Cole, by leaving, if he's unable to get regular football when there is a long list of clubs who'll be lining up to take him off Arsenal's hands.
He's only 21, has two England caps to his name already and if he can get first team football on a regular basis you'd expect him to add to that number considerably in years to come.
16. Seamus Coleman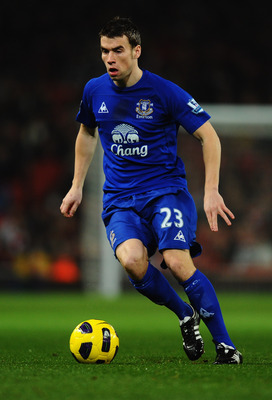 Mike Hewitt/Getty Images
David Moyes brought Coleman to Everton from Sligo Rovers in 2009 for a mere £150,000. Following his season thus far for Everton, the Irishman's price tag looks like the bargain of the century.
Coleman has provided great spark for Toffees on the right flank and has been one of the few positives for Everton in an unusually poor season for them.
After helping Blackpool to the promised land of the Premier League while on loan at Bloomfield Road last season, Coleman was rewarded with a contract extension and first team football at Everton, both he's shown were deserved.
He's already a full Irish international and has a wealth of caps ahead of him.
15. Marc Albrighton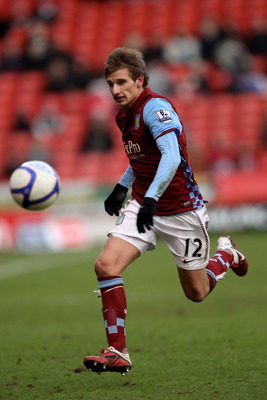 Ian Walton/Getty Images
Albrighton has outshone international teammate Ashley Young this season giving Aston Villa a much needed attacking spark.
Albrighton is only 21 but burst onto the scene this season after spending years in the Villa system, from the age of eight.
Their patience, time and effort has clearly payed off and with England under-21 experience already under his belt, Albrighton looks set to become a full international at dome point in the not too distant future.
14. Wojchiech Szczensy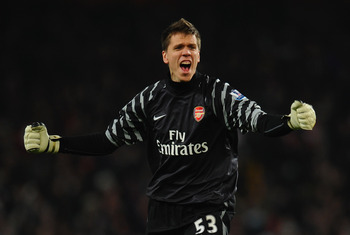 Clive Mason/Getty Images
Arsenal's most glaring weakness over the past few seasons has been at the very back with Jens Lehman and Manuel Alumina consistently giving football blooper DVD maker new material season after season.
The red-face era appears to be over now however with the emergence of a Polish goalkeeper that I don't have time to spell out letter by letter again.
After Arsenal squandered the opportunity to sign a proven veteran keeper in the summer, many questioned Arsene Wenger's judgement in sticking with his calamitous combination of "shot stoppers."
However the breakthrough of the 20-year-old has eased many fans' concerns and Arsenal look to have a reliable pair of hands on place for the future.
13. Danny Welbeck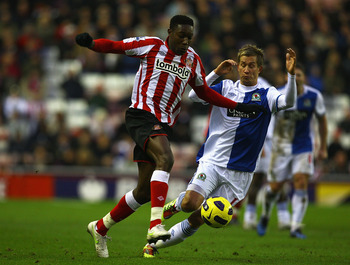 Matthew Lewis/Getty Images
The loss of Darren Bent would have sent shock-waves across most Premier League clubs, but Sunderland don't have to worry too much about the rest of this season with Danny Welbeck ready to fill in once he returns from injury.
Sir Alex Ferguson must be licking his lips at the prospect of Welbeck back at Old Trafford following the season he's had at the Stadium of Light.
The English forward has been one of the best players in the EPL this year, forcing his way into the first XI at Sunderland, scoring goals and providing a constant threat with his pace and trickery.
If Welbeck can reproduce this form at Old Trafford in the future, he can be a star alongside the likes of Nani, Rooney and Berbatov.
12. Jack Rodwell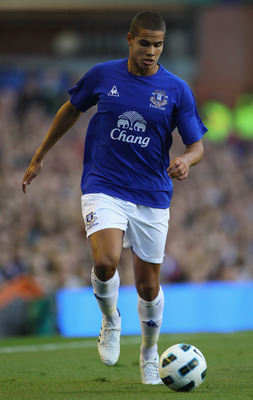 Alex Livesey/Getty Images
There has already been great speculation as to the future of the 19-year-old with most assuming he'll end up somewhere besides Everton; Manchester United are currently favourites.
The midfielder has impressed over the past two seasons for Everton providing a great engine in the centre of midfield.
If Rodwell can continue to progress as a footballer, stardom beckons both for club and country.
11. Aaron Lennon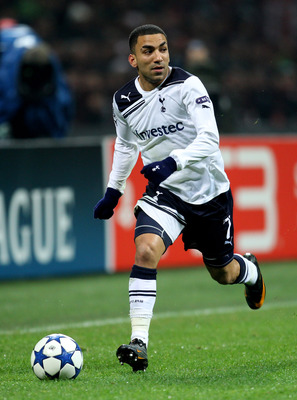 Alex Livesey/Getty Images
Lennon showed his game at its best in midweek when he showed great speed, skill and composure to pick out Peter Crouch for a crucial away goal at the San Siro.
Lennon has been largely outshone by teammate Gareth Bale on the opposite wing, but Lennon is still one of the most dangerous wingers in England.
Lennon's still only 23 and has the potential to get even better.
10. Joe Hart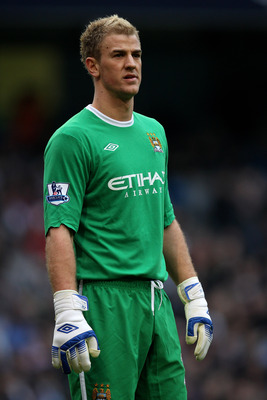 Alex Livesey/Getty Images
Hart is regarded as one of the best young goalkeepers in the world and has established himself as the England number one despite only being 23, virtually a child for a goalkeeper.
Hart has also been a consistent figure for Manchester City over the past couple of years and proved himself by ousting Shay Given, one of the Premier League's best goalkeepers for the past decade, for the number one position.
If Hart can stay in form and healthy in the future he'll rack up the appearances for both club and country.
9. Jordan Henderson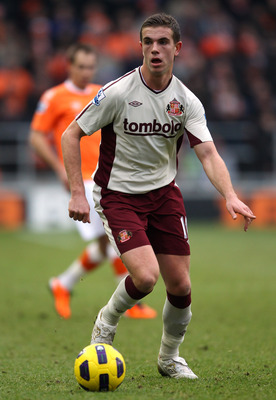 Alex Livesey/Getty Images
Similarly to Rodwell, the Sunderland midfielder seems destined for greater things with Manchester United once again linked heavily with a young midfielder's services.
Henderson has been compared to Paul Scholes for his sublime passing range and would be an ideal replacement for the legendary United midfielder.
The 20-year-old already has an international cap to his name and looks set to get a few more over the coming seasons.
8. Adam Johnson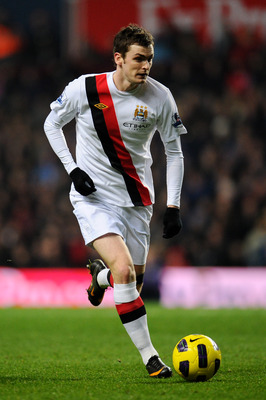 Clive Mason/Getty Images
I almost feel sorry for Adam Johnson; he's destined to sit on the bench at Manchester City while they spend endless sums of money on the latest, most in fashion attacking players of the moment.
If Johnson can get regular first team football, he can be one of the best wingers in the Premier League and for England internationally.
With six caps already to his name, Johnson could end up with a substantial number of international appearances.
7. Javier Hernandez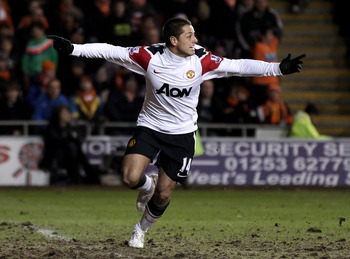 Alex Livesey/Getty Images
"Chicharito" has been a revelation for Manchester United this year providing timely goals for the league leaders while Wayne Rooney struggled for form in the early part of the season.
With Rooney back to somewhere near his best and leaving the country speechless in the Manchester derby, Hernandez has taken his role as a "super-sub," a role he performed to great effect in a recent game away at Blackpool.
If United go on to regain the Premier League title, they'll owe a lot to their Mexican striker and his crucial goals.
6. Theo Walcott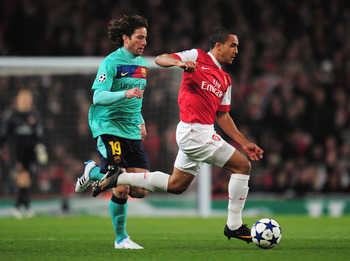 Shaun Botterill/Getty Images
It's hard to believe Walcott's still only 21 considering how long he's been on the footballing scene.
Walcott was signed from Southampton as a teenager. He already had a sponsorship footballer deal with Nike at the age of 14 and already has hat-tricks for both Arsenal and England on his CV.
Walcott struggled from the great expectations placed on his shoulders following his international hat-trick.
Now it appears that the winger is back to somewhere near his best and looks set for a long and successful career.
5. Andy Carroll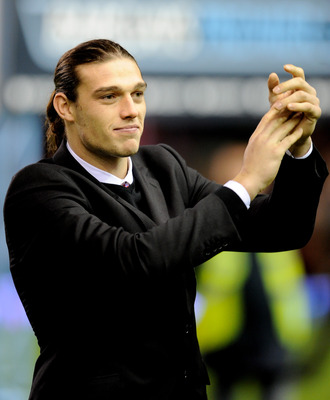 Michael Regan/Getty Images
I think it's fair to say that Andy Carroll has had quite an eventful first full season in the Premier League.
The long-haired centre forward got off to a flier, scoring goals for fun at Newcastle. The biggest moment of Carroll's season however came when Chelsea enquired as to the availability of Fernando Torres. The Spaniard's departure set off a chain reaction of moves that resulted in Carroll signing at Anfield.
Between the start of the season he's also picked up his first England cap and has struggled with injury problems.
He's the highest paid British footballer in history, but if he fulfils his potential he can be one of the best.
4. Jack Wilshere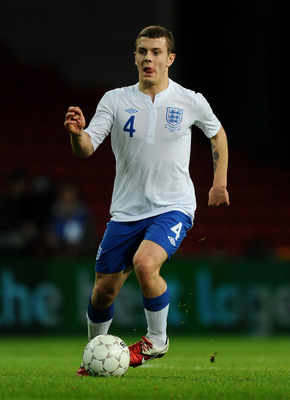 Mike Hewitt/Getty Images
The English midfielder has been one of the most exciting prospects in the Premier League this season.
Wilshere shone against Barcelona last week helping Arsenal upset Europe's best team and fits in beautifully with their flowing passing style.
He recently won his first England cap and looks set to be one of the top midfielders in Europe for the foreseeable future.
3. Samir Nasri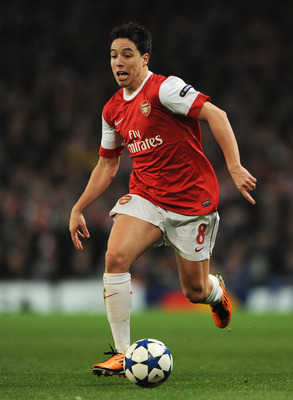 Jasper Juinen/Getty Images
It's incredible to think that Nasri is only 23 yet has proven himself already to be one of the best footballers in the world.
He fits in beautifully with Arsenal's flowing style of football and grows into his role with every game he plays.
He's got 19 caps for France and looks set be one of the best midfielders in Europe in the future.
2. Cesc Fabregas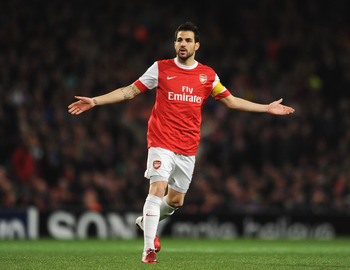 Jasper Juinen/Getty Images
Fabregas is one of the best footballers in the world and is Arsenal's talisman, captain and most influential player.
A product of Barcelona's esteemed academy, he has already racked up over 200 appearances for Arsenal despite only being 23.
Whether he goes back to Spain or not remains to be seen but one thing that is for sure is that wherever he plays, Fabregas will be one of the best players on the planet.
1. Gareth Bale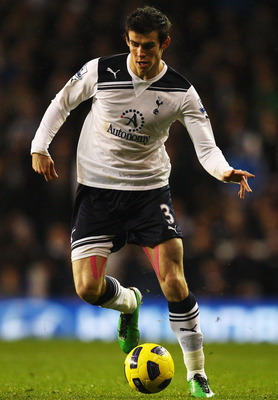 Richard Heathcote/Getty Images
Speed, power, poise, delivery and big game performances—Gareth Bale has got it all. The 21-year-old has all the potential in the world and could well be the most dangerous attacking footballer on the planet within a few years.
You could argue that Fabregas is a better player right now and I wouldn't disagree, but based on potential, Bale is the best in the Premier League.
Keep Reading