Carmelo Anthony Traded to NY Knicks: Ranking the Top 15 Sports Stars in New York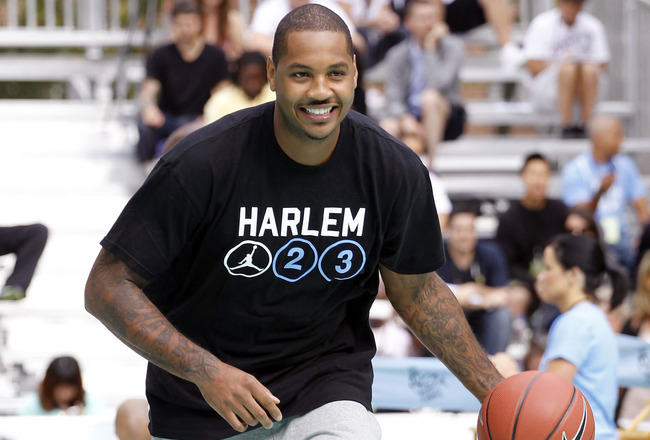 Chris Trotman/Getty Images
Carmelo Anthony is now a New York Knick, adding his name to the list of athletes who try and make a name for themselves in New York.
This is not as easy as it sounds, as long is the list of athletes across the spectrum of the "Big Four" sports in America who have had success in smaller markets, only to get crushed by the bright lights and big-city atmosphere.
But we're not here to look at the failures, we're here to celebrate success.
Right now, Anthony is a big star. Here's a look at other current New York athletes in the Big Four sports who own the city.
15. Carmelo Anthony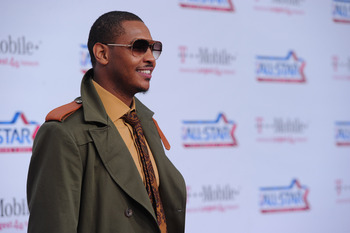 Alberto E. Rodriguez/Getty Images
Carmelo Anthony may just have arrived in New York, but he already owns the joint. He is automatically the biggest star on the Knicks now and the team will succeed or fail based on Anthony's performance.
The Knicks have been courting him long enough—there should be a red carpet rolled out for him the moment his plane lands.
Knicks fans will be buying his jersey in droves over the next few weeks, so Anthony instantly earns a place on this list.
14. Osi Umenyiora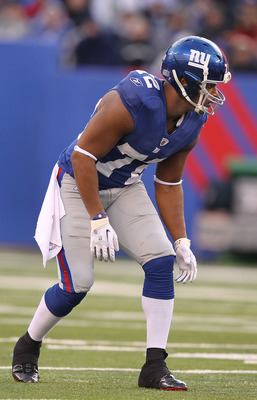 Al Bello/Getty Images
The man with the long last name strikes fear into opposing quarterbacks. At 6'3" and 261 pounds, Osi Umenyiora is a freakish athlete.
He recorded 11.5 sacks, forced 10 fumbles and had 48 tackles in 2010.
If there is a bigger star on the Giants defense, you have a different perspective than I do.
13. Brandon Dubinsky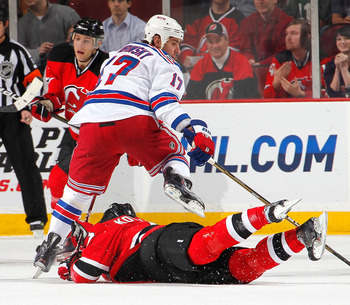 Paul Bereswill/Getty Images
Brandon Dubinsky was Rookie of the Year for the Rangers in his first season with the team and has become one of the team's most popular players.
Dubinsky is a big part of the Rangers' recent success and, at the age of 24, stands to be a big man in New York for many years to come.
12. Jason Bay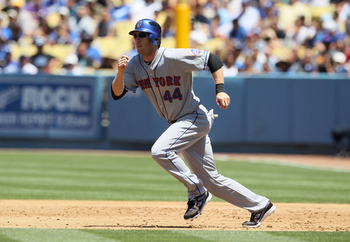 Jeff Gross/Getty Images
Jason Bay is a career .278 hitter and one of the most recognizable names in the game.
Like Anthony, Bay made his name elsewhere before coming to the Mets prior to last season.
Bay's 2010 wasn't his best year, but it was marred by an ugly collision with the wall that gave him a concussion. He was limited to just 95 games in 2010 but should play a full season this year.
11. Brandon Jacobs
Al Bello/Getty Images
Brandon Jacobs is one of the Giants' two feature running backs and one of the key pieces of that offense.
Jacobs helped the Giants win Super Bowl XLII and has averaged more than four yards per carry throughout his career.
At age 28, Jacobs still has a few more years left in the tank.
10. Joba Chamberlain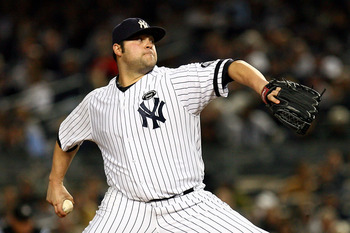 Andrew Burton/Getty Images
Joba Chamberlain is one of those guys who was an instant hit in New York. His size and delivery made him an overnight sensation.
Chamberlain had success as a reliever, but the Yankees front office wanted him to be a starter.
Two years of failure later, Chamberlain came back to the bullpen on a full-time basis last season.
While his stats are shaky, there is no doubt Chamberlain is a big star in New York, and with his return to the bullpen, everyone is hoping he'll be as good as he was when he first came up.
9. Mariano Rivera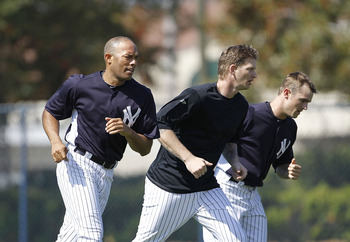 Leon Halip/Getty Images
There has been no better closer in the game than Mariano Rivera.
Rivera is a Yankee in every sense of the word, and this guy can get a free meal anywhere in the city without ever having to ask.
He is in the twilight of his career, but there is still no one the Yankees would rather give the ball to in the ninth inning with the game on the line.
8. Santonio Holmes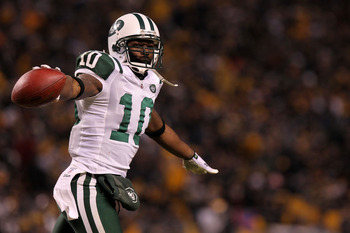 Nick Laham/Getty Images
Santonio Holmes has been with the Jets for one year and is already one of the most popular players on the team.
Holmes is a free agent, and if the Jets don't re-sign him, there will be much sadness in Mudville.
Holmes made Mark Sanchez look like an elite quarterback, and it is essential the Jets keep him around.
7. Alex Rodriguez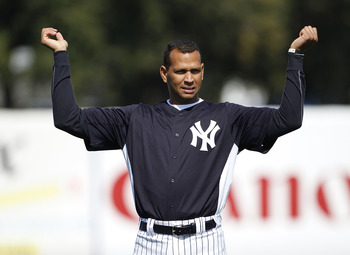 Leon Halip/Getty Images
It's A-Rod. What else needs to be said?
Alex Rodriguez is tabloid fodder, great on the field and a lightning rod for controversy.
He is everything that is New York.
6. Darrelle Revis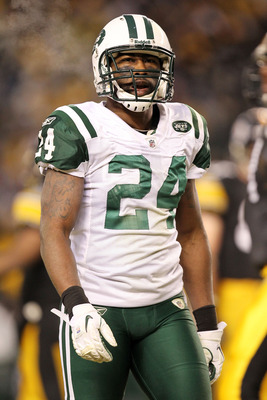 Ronald Martinez/Getty Images
Darrelle Revis, or "Revis Island," if you will, is the unquestioned top dog on the Jets defense. Revis is one of the elite safeties in the league, and he held out in training camp last season to make sure he was getting paid like one.
Revis shuts down passing games and is a marketing brand New York fans recognize and respect.
5. Jorge Posada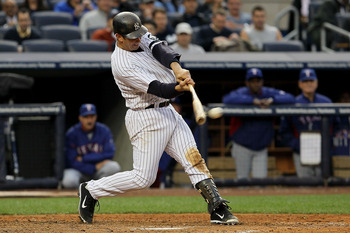 Jim McIsaac/Getty Images
Jorge Posada has become one of the elite Yankees over his career, earning a place of honor among the greats in the storied history of the team.
Like Rivera, he is now on the downside of his career, but that doesn't mean the fans love him any less.
4. CC Sabathia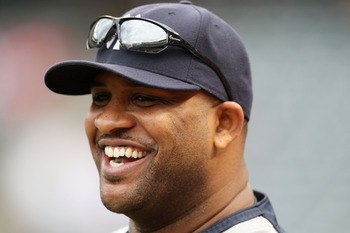 Elsa/Getty Images
CC Sabathia made a name for himself in Cleveland, but the Indians can't and won't pay a free agent a big salary, so Sabathia landed in New York, like a lot of top free agents do.
Sabathia has thrived in New York and has become the kind of player the Yankees hoped he would be, not wilting in the limelight of the Bronx.
3. Eli Manning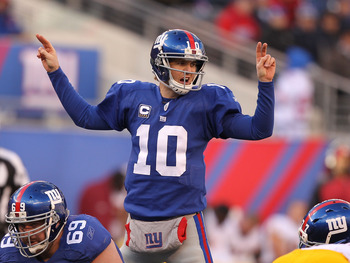 Al Bello/Getty Images
The younger Manning already has helped bring the Giants one Super Bowl trophy in his career. Still fully in his prime, Eli Manning hopes to bring a few more to the city before his career is over.
A football team is identified by its quarterback, and for all of Manning's flaws, he's still one of the best quarterbacks in the league and has the talent to bring another Lombardi Trophy down the streets of New York.
2. Mark Sanchez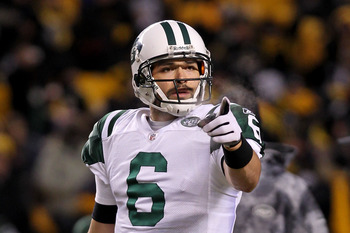 Nick Laham/Getty Images
The Sanchize was an instant star in New York. The moment he was drafted, the fans in Radio City Music Hall erupted into applause, their joy broadcast all over the country.
Sanchez has been inconsistent, but he hasn't been awful. He improved by leaps and bounds as the 2010 season went on, and there now is hope he may have turned the proverbial corner and will be the kind of elite quarterback who will get the Jets back to the Super Bowl next season.
1. Derek Jeter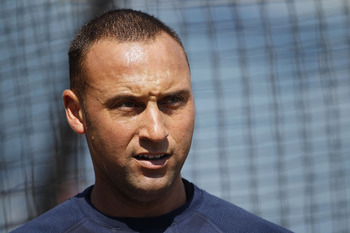 Leon Halip/Getty Images
Derek Jeter is the Yankees captain, has been one of the most reliable postseason players the team ever has had, and helped the Yankees win five World Series.
Jeter is a professional on the field in every sense of the word and is the envy of every front office in the major leagues.
Jeter has a natural charisma and confidence that has served him well throughout his career. He is arguably the best player of his generation and the Yankees won't be the same once he calls it a career.
Keep Reading