WWE PPV Elimination Chamber Results: Live Blog and Commentary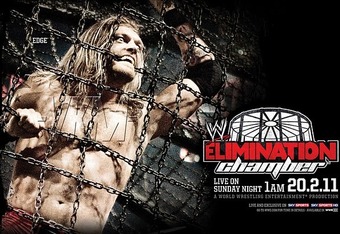 Welcome to the LIVE blog and results of tonight's WWE Elimination Chamber pay-per-view.
I'll be bringing you live commentary and results of all of the great WWE action to come tonight.
Myself, along with fellow Bleacher writer Dylan "The Broz" Brozyna, will be calling the matches move by move—well, okay not move by move, but all the WWE goodness that is sure to go down tonight.
Fifteen minutes before the music hits and we are on our way—thank you for joining the ride.
Overall I think a really good PPV and a great build up to Wrestlemania.
Hope you all enjoyed
And lets all get ready to see what tomorrow and the 2-21-11 promo brings us!
Good night everyone!
Cena wins the Elimination Chamber!
and is on his way to Wrestlemania
Cena hits Punk with an AA onto the steel and gets the 1-2-3 count pin
Punk hits Morrison with the GTS but the real pain is seen on Punks thigh where you can see bloody grate marks dug into his thigh, so so nasty
Punk flips Cena into a pod and flattens him
he goes to do it to Morrison and Morrison jumps to the top of the pod and then flips around to the cage and drops a kick on Punk, amazing move
Punk proves wrestling is real as he hits his elbow and shouts "OWWW!"
"I was always scared to get in that chamber whether I was in there or not" - Booker T
He's so wise.
Punk then hits Cena with a kick to the head
Morrison off the top rope to take both of them out in an LOD type of move
Punk has locked a leg lock on Cena around his head, but the power of Cena, gets to his feet with Punk on his shoulders
Morrison goes to attack Cena leaning against the pod, Cena dodges and Morrison runs full force into the pod injuring his knee
Cena goes for the AA on Punk but Morrison jumps from the top rope onto both Cena and Punk
Everybody is down!
He drops the five knuckle shuffle on Punk and Punk rolls out of the ring on to the steel
Three men left
Cena, Punk and Morrison
and Cena turns on the Hulkamania powers
Morrison is scaling the ceiling of the dome
"NO FRICKIN WAY"
He's at the center of the dome and drops down on Sheamus, pins him and eliminates him.
Great spot!
Sheamus is going for a Celtic Cross from atop the pod, but its stopped
Morrison climbed up to the top of the pod
And now Sheamus is destroying Punk on the steel, but he's left him there and went after Morrison, not to smart Sheamus
Punk is mocking Orton's taunt crawling and on the ground stomping
GTS and PUNK ELIMINATES ORTON!
Punks pod opened, but he closed the door and waited and now gets a two count on Orton
RKO to Cena on the steel grate
Orton ends it with a drop kick
Cena and Orton trading blow for blow
Sheamus tries to attack R-Truth in his pod but it back fires...
and before I can finish writing this part R-Truth is the first to be eliminated.
This article is
What is the duplicate article?
Why is this article offensive?
Where is this article plagiarized from?
Why is this article poorly edited?