NHL Trade Rumors: Brad Richards and the Top 25 Available Players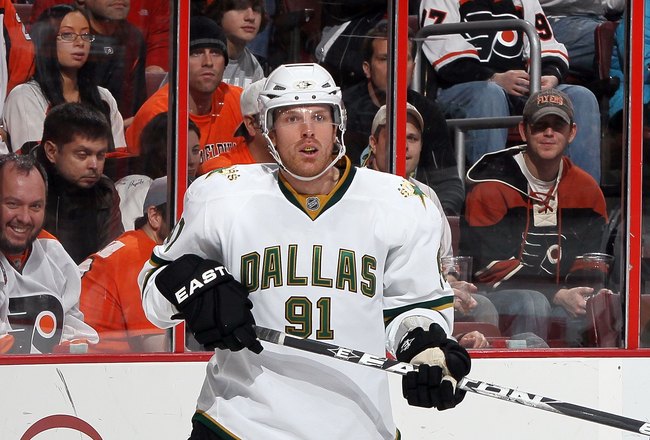 Jim McIsaac/Getty Images
The NHL Trade Deadline is just a week away, and this week, we will inevitably see some major moves. We've already seen some unexpected moves as well as some moves everybody saw coming.
Some NHL clubs will have to decide whether they want to become buyers or sellers this week, and some clubs will make a move that could put them over the edge and bring home the ultimate trophy.
In this slideshow, I will list 25 players that are most likely available and on the block. Will we see any of these guys traded by the deadline? We won't have to wait much longer to find out.
Enjoy!
25. Brad Richards, Dallas Stars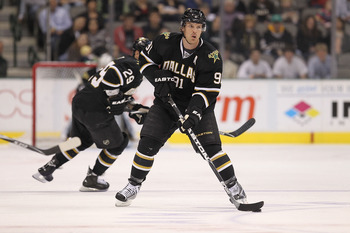 Ronald Martinez/Getty Images
Brad Richards has been the main topic of conversation for almost the entire season. His name has been in the rumor mill for months, but it is still uncertain whether or not Dallas will move him or not.
Brad Richards could potentially be the biggest trade deadline acquisition in a long time if the Stars decide to cut their losses and trade him while they can still get something in return for him.
Teams looking to acquire Brad Richards will need an abundance of cap space if they want to bring him in, as he has a hefty salary and is due for an even bigger raise after this year is up.
24. Mikael Samuelsson, Vancouver Canucks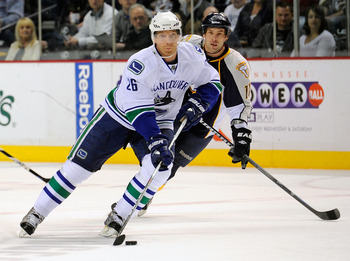 Frederick Breedon/Getty Images
Mikael Samuelsson is another forward who the Vancouver Canucks may look to unload, possibly to bolster their defense a bit for their inevitable playoff run.
Samuelsson would be a valuable asset to whatever team that he may wind up on, and he's signed through next year at a reasonable salary. He would be easy for the Canucks to move if they wanted to, but at this point Vancouver may decide to hold onto him.
If the Canucks trade anybody this season, look for Mikael Samuelsson to be their guy, as he is expendable and would bring in a fair return.
23. Erik Cole, Carolina Hurricanes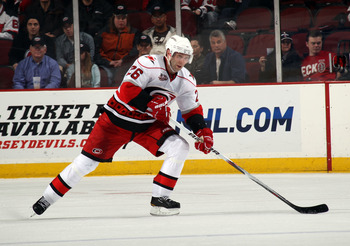 Bruce Bennett/Getty Images
Erik Cole's name has popped up in the rumor mill on and off for some time, and for awhile, he was rumored to be on his way to Philadelphia. That doesn't seem to be the case anymore, as the Flyers seem to have found their man in Kris Versteeg.
Nevertheless, Erik Cole could still be potential trade bait if the Hurricanes feel they need something else to make a playoff run. It probably wouldn't be very wise for the 'Canes to move Erik at this point, as they are in a position to make the playoffs, but anything can happen between now and next week.
I get the feeling that if Carolina gets a half decent offer for Cole, they might just take it. He's a free agent after season's end, and the Hurricanes will most likely be looking to get younger as they continue to rebuild their team. Cole has an affordable salary for most clubs, and it probably wouldn't take a heck of a lot to acquire him.
22. Nikolai Zherdev, Philadelphia Flyers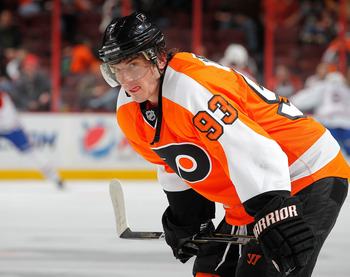 Paul Bereswill/Getty Images
The Philadelphia Flyers have made it fairly apparent that they have given up on Nikolai Zherdev. He's been a healthy scratch for weeks, and even with a few recent injuries, Zherdev has continued to be a healthy scratch and hasn't seen a lick of ice time.
The Flyers have indeed been shopping Zherdev, and there are rumors that he may be headed West, possibly to the Nashville Predators. At this point, Philadelphia would probably be happy just getting his salary off the books, so it wouldn't be much of a shock to see him on a new team by next week.
Zherdev is a gifted forward, but his lackadaisical defensive play is what has kept him in Peter Laviolette's "dog house". Even after being in and out of the lineup, Zherdev doesn't seem to get the message that he needs to be more aggressive defensively, and the Flyers have basically given up at this point.
Look for Zherdev to have a new home after next week, and don't be surprised to see his production increase, as he will most likely play more time than he did in Philly.
21. Stephen Weiss, Florida Panthers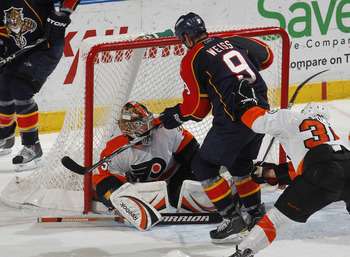 Joel Auerbach/Getty Images
Stephen Weiss is another player who has been rumored to be available for a few weeks now, and most likely, he will be moved by February 28. Teams looking for some scoring help will most likely make an offer to Florida, but the bidding war may get a bit intense.
Pittsburgh seems to be a heavy favorite to land Weiss right now, especially since the Penguins can't seem to catch a break and more and more of their players are falling to injury. With guys like Crosby and Malkin out of the lineup, they could really use him.
That being said, don't count other teams out, such as Tampa Bay or Nashville. Florida will inevitably get offers for Weiss, if they haven't already. More than likely they will move him, as Florida is currently out of the playoff race and doesn't seem to look like they will be making it again this year.
20. John Madden, Minnesota Wild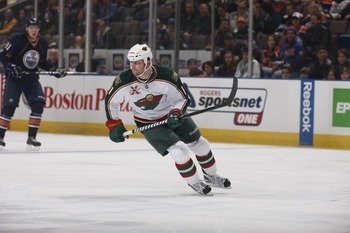 Dale MacMillan/Getty Images
Minnesota is currently in a playoff position, but the race in the West is so tight that these next few games could decide their fate for the rest of the year.
It's hard to imagine the Wild would move a guy like John Madden, but his name has popped up in recent weeks in a few rumors, and if the right deal was on the table, Minnesota may look to unload him before he walks at the end of the year for nothing.
Madden would be a welcomed addition to any team, and he would improve any team with a struggling PK unit. Madden may be wearing a different sweater after this week, but don't be surprised if the Wild take their chances and hold onto him.
19. Jason Arnott, New Jersey Devils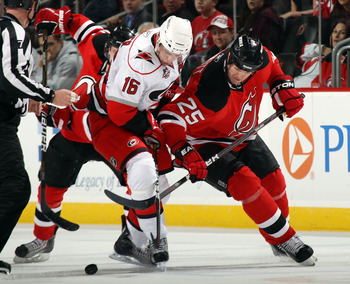 Bruce Bennett/Getty Images
Plain and simple, Jason Arnott has been an underachiever this year. He hasn't lived up to the contract that he gets paid, and the Devils are strapped as far as cap space is concerned.
Jason Arnott wouldn't be the easiest guy to unload, as he has a hefty salary, but there are still teams out there that might look to take him in for a playoff push. Nashville has been rumored to be interested, but take that with a grain of salt.
Even if the Devils can't find a trade partner for him, I don't expect to see him back in New Jersey after this season. Arnott's time in New Jersey is coming to an end.
18. Alexander Semin, Washington Capitals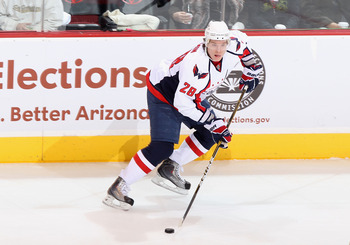 Christian Petersen/Getty Images
Alexander Semin has recently received a contract extension, but even though he is signed through next year, don't think for a second the Capitals haven't tried to trade him.
The Capitals have recently been rumored to be shopping Semin, all while they have also been rumored to be interested in acquiring Tomas Vokoun from Florida. Could we be seeing a trade come to life right before our eyes here?
Washington is looking to upgrade in goal for their playoff run this year, and Alexander Semin would almost certainly bring a guy like Tomas Vokoun to their team. Regardless, look for the Capitals to continue entertaining offers for Semin and possibly trading him by the deadline.
17. Alexei Kovalev, Ottawa Senators
Paul Bereswill/Getty Images
The Ottawa Senators have made it clear that they are in rebuild mode. They have made multiple trades that have seen guys like Mike Fisher, Chris Kelly and Brian Elliott all shipped off to other teams, all within a short period of time.
I don't see the Senators stopping their game plan, and Kovalev is the heavy favorite to be moved next. The Pittsburgh Penguins have again been a heavy favorite to land Kovalev, and with some of their best guys out, might just be able to pull off a trade of that caliber with all the extra cap space they have.
Look for Kovalev to have a new home by next week, maybe even sooner. I don't see much more of a future for him in Ottawa, and the Senators would still be able to get a reasonable return for him if they moved him now.
16. Michael Ryder, Boston Bruins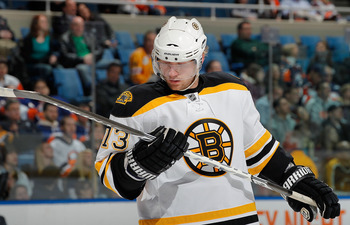 Paul Bereswill/Getty Images
Though it's a long shot at this point, Michael Ryder could still be potential trade bait for the Boston Bruins. The Bruins stunned the hockey world last week when they acquired Kaberle from the Maple Leafs and shipped Wheeler and Stuart off to the Atlanta Thrashers.
The Bruins are serious about making a deep run this year, and if they could fetch a fair return for Ryder, he is still very much an expendable asset. Ryder's name has come up in trade rumors on and off all season long, so don't expect not to hear it once or twice during the week.
More likely than not, Ryder will remain a Bruin this season, but if Boston gets the right offer, he could be shipping out of Boston fairly soon.
15. Tomas Vokoun, Florida Panthers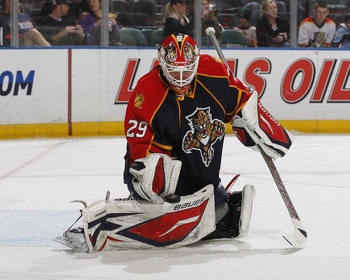 Joel Auerbach/Getty Images
Although it seemed that the Florida Panthers may actually hold onto Tomas Vokoun, his name can't seem to stay out of trade rumors.
The Washington Capitals have been heavily rumored to be interested in his services, and at this point, they could pretty much have him if they really wanted him. The Caps have all the right pieces to pull off the trade; at this point, it's really all up to Florida.
I don't expect to see Vokoun moved, but at the same time, I wouldn't be the least bit surprised. If he does get moved, look to teams like Washington and MAYBE even an outside chance at Philadelphia.
14. Michal Handzus, L.A. Kings
Victor Decolongon/Getty Images
Michal Handzus is a player that the Kings have been on the ropes with. His play hasn't been spectacular, but he is a hard player to move with his high salary.
There is no doubt that if the Kings found a suitor, they would most likely unload him; however, not too many teams may be interested in taking in $4 million for a guy who hasn't really proved his worth a heck of a lot.
Still, Handzus could be an effective forward on the right team and could provide some scoring on a team that already has a bit of offensive depth. Most likely, Handzus would be part of a package deal, as the Kings would most likely have to give up a little something extra to get another team to take on his salary, but teams with the extra space may take a chance.
13. Bryan McCabe, Florida Panthers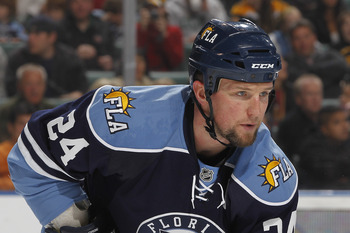 Joel Auerbach/Getty Images
Bryan McCabe has been in the rumor mill for a few weeks and was a favorite to land in Boston before the Bruins pulled off the deal to land Kaberle.
Even though he is no longer needed in Boston, there are still plenty of other teams that will be looking to upgrade their defense to make a lengthy playoff run.
Look to teams like Montreal or maybe even the Rangers to make a move for McCabe.
12. Zach Bogosian, Atlanta Thrashers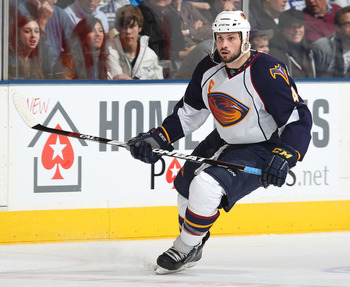 Claus Andersen/Getty Images
Rumors have been swirling around Zach Bogosian's name for a little while now, and even though I don't fully expect Atlanta to move him at this point, they may already have an offer on the table that they aren't able to walk away from.
Montreal and New Jersey are two teams that are rumored to be a heavy favorite at this point, but it remains to be seen what will happen. I'm not so sure New Jersey is really in a position to land him at this point, but Montreal has been looking for another defenseman, and Bogosian could be a perfect fit.
11. Jason Spezza, Ottawa Senators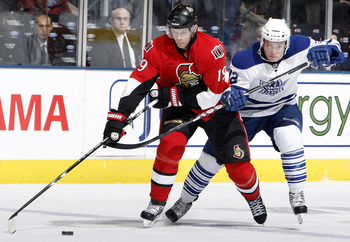 Abelimages/Getty Images
The Senators have been looking to unload a few more contracts before the season ends, and if Alexei Kovalev stays, Jason Spezza may have seen the end of days in Ottawa.
Spezza would bring a great return back to Ottawa, and there are some teams that would love to have him aboard for their playoff run. The L.A. Kings appear to be a heavy favorite right now, but don't count out teams like Pittsburgh who have the space and are looking for another big name scorer.
Spezza would almost certainly be a huge acquisition no matter where he ends up, but it remains to be seen whether the Senators are willing to part with him yet. We should know by next week for sure.
10. Joni Pitkanen, Carolina Hurricanes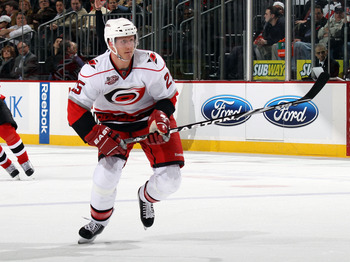 Bruce Bennett/Getty Images
Joni Pitkanen has been involved in a few trade rumors for the past few weeks, but Carolina has been playing better hockey as of late, so they might look to hold onto him.
Still, Pitkanen is a free agent at the end of the season, and the Hurricanes might look to unload him and grab some younger talent for next season. Pitkanen isn't getting any younger, and the Hurricanes will be looking to get a bit younger and let some of their youth show them what they've got next year.
Pitkanen has a hefty salary, but for teams looking for some extra defense, that may not exactly be an issue. Look to Montreal to possibly be interested in his services if they can't land a defensemen anywhere else.
9. Cory Stillman, Florida Panthers
Christopher Pasatieri/Getty Images
If it seems like there are a bunch of Florida players on this list, you aren't losing your mind.
Cory Stillman is another attractive option to most teams looking for some scoring touch, but his age and salary could play a major role in whether anybody wants to pick him up. Stillman is a free agent after the season and most likely won't be back with Florida after the season is over.
That being said, Stillman would still be a great pick up, even if it was just a rental. Cory brings a veteran presence with him that would not only be good on the ice, but off the ice as well. If Cory's salary was a bit lower, he might have already been moved.
If Florida doesn't unload a guy like Erik Cole or Tomas Vokoun, look for them to move Stillman. I don't think the Panthers will stand pat at the deadline, even if their playoff hopes are slim.
8. Justin Williams, L.A. Kings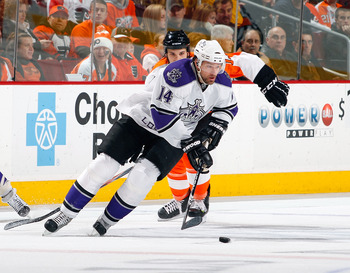 Lou Capozzola/Getty Images
If the L.A. Kings indeed pull off a major trade like some are speculating, somebody like Justin Williams may be on the block.
Williams is on the final year of his contract, and even though he produces consistently, the Kings may look to unload him. He has been plagued with injuries in recent years, and he is starting to become more and more of an expendable option.
The Kings don't necessarily need to move him if they don't want to, as they are already looking for more scoring as it is, but I'm sure they would like to unload his contract. A potential trade partner may see Williams as the perfect fit for their team, so don't be shocked if the Kings part ways with him before he becomes a free agent.
7. Chris Phillips, Ottawa Senators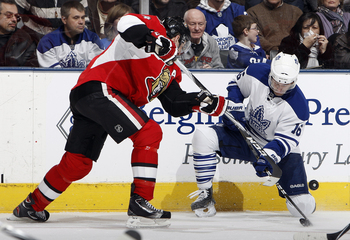 Abelimages/Getty Images
Chris Phillips has been another name that has been in the rumor mill for a few weeks, and it's more likely he gets moved before guys like Spezza or Kovalev. That being said, Ottawa may not want to unload Phillips, as I'm sure Ottawa has already received an offer for him.
Phillips has an affordable salary and will attract just about any team looking to add an extra defenseman to solidify their back end.
Look to teams like Montreal and Tampa Bay to possibly make a move for Phillips, and don't be shocked if he has a new home next week.
6. Milan Hejduk, Colorado Avalanche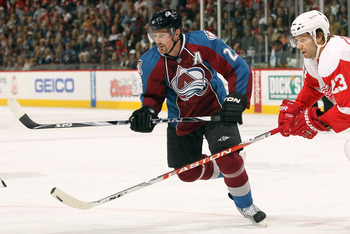 Doug Pensinger/Getty Images
Milan Hejduk would bring in a great return for the Avalanche, and even though he hasn't really been involved in any rumors as of late, don't count him out by any means.
With Peter Forsberg signing a contract and retiring almost immediately, the Avalanche got a bit screwed this year. Their playoff hopes look slim at best this year, and unless they pull off some sort of mega deal, I don't think they'll see any playoff time this year.
Hejduk would be very easy to move, as he is a consistent forward and his salary is not outrageous. Teams looking for some extra scoring help would be wise to inquire about his services. Look to Pittsburgh, L.A., and maybe Tampa to make a run at Milan.
5. Vinny Prospal, New York Rangers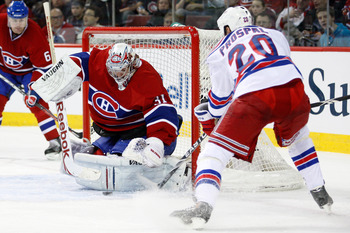 Richard Wolowicz/Getty Images
Vinny was out almost the whole season for the Rangers this year, but has been contributing and doing his part since his return.
Prospal's salary is affordable for most teams, but his age may play a factor in where he winds up, if anywhere, for that matter. Prospal would be a great rental pick up, but the Rangers may not want to move him as long as they are in a playoff spot.
Vinny becomes a free agent at season's end and will most likely take a big pay cut or maybe even retire. My gut tells me that the Rangers will hold on to Vinny, but if they pull off a big trade, Prospal may be shipped out to another team looking for some scoring touch.
4. Scottie Upshall, Phoenix Coyotes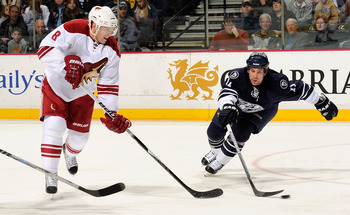 Frederick Breedon/Getty Images
Phoenix has been playing great hockey as of late and aren't really in a position to trade away a guy like Scottie right now, but if a team had enough interest in him, I could see him being moved.
Phoenix would almost certainly command another top six guy in return as well as a pick or prospect, but there are teams out there that may be willing to overpay a bit for his services. Scottie's name hasn't really been mentioned much in any rumors, but he could still be available at the deadline.
Look to teams like Pittsburgh, L.A., and maybe even Philadelphia if they could get Zherdev off their hands.
3. Ethan Moreau, Columbus Blue Jackets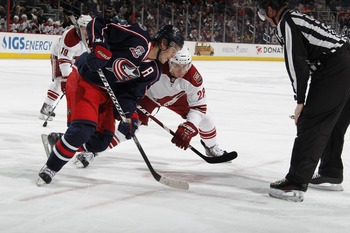 Gregory Shamus/Getty Images
Ethan Moreau's name has been mentioned in a few rumors in recent weeks, and since the Blue Jackets aren't in a playoff position right now, they might look to be sellers at the trade deadline.
Moreau has an affordable salary that most clubs could afford, and he would be a welcomed addition to teams like Pittsburgh or Los Angeles looking for some extra scoring punch. He could even be a great addition to a team that already has offensive depth. Not only that, he would bring a veteran presence to the locker room and could be just what some teams need to get over that hump.
2. Ales Hemsky, Edmonton Oilers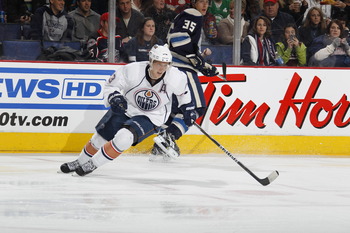 Gregory Shamus/Getty Images
Ales Hemsky has been another big name that has been surrounded by plenty of rumors, especially in the past few weeks.
Hemsky's salary is a bit hefty, but that doesn't seem to be much of a factor, as he is attracting a ton of attention from multiple NHL clubs. Teams like Pittsburgh and Los Angeles have both been heavy favorites to land Hemsky, and the more I seem to read about him, the more it seems like it's just a matter of time before he gets moved.
Don't be shocked at all to see Hemsky in a new sweater after this week, and don't be shocked if Pittsburgh is where he winds up, as they might be in a better position to land him right now. However, don't be shocked if a dark horse team ends up claiming him, either.
1. Sheldon Souray, Edmonton Oilers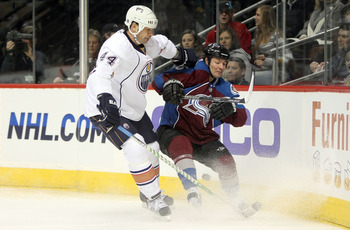 Doug Pensinger/Getty Images
By the time most of you read this, we will most likely already know the fate of Sheldon Souray, as he is set to clear waivers sometime within the next 24 hours unless another team puts in a claim for him.
Late rumors speculate that the New Jersey Devils may have put a claim in for him, but it really wouldn't make much sense for them, especially since they don't seem to be making the playoffs and they are already a bit strapped as far as cap space in concerned.
Still, another team may pick him up off of re-entry waivers since whoever puts in a claim for him would only have to pay half of his salary. He might be worth it for a team looking for some cheap defense that could solidify their back end.
Keep Reading