Blake Griffin, Carmelo Anthony and Saturday's Late Sports Buzz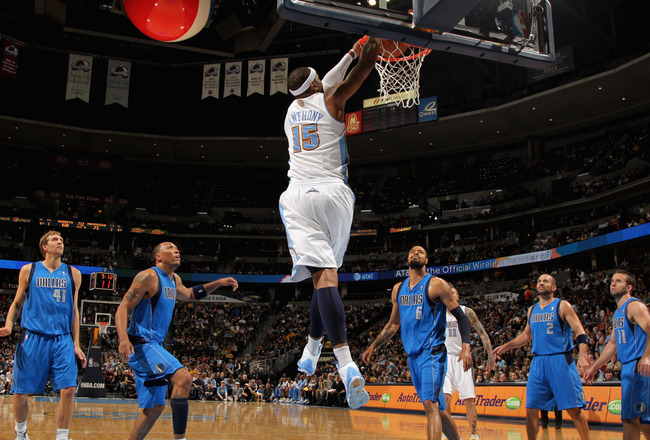 Doug Pensinger/Getty Images
Blake Griffin and Carmelo Anthony are creating a buzz this All-Star Saturday.
For Anthony, the buzz is just business as usual. He has been on the verge of an imminent trade all season. It is a move that always just seems a day away.
Well, the days are running out now. The NBA trade deadline is February 24th, and Carmelo Anthony has said he wants something done before the end of All-Star Weekend.
Of course if it mattered what he wanted, he'd be traded by now.
The Knicks and the Nets remain the two main parties involved in trade talks. Sources have said the Nets and Nuggets have agreed to a trade package that is pending Anthony signing an extension. Meanwhile, the Knicks are tweaking their trade proposal and have already met with Anthony.
One way or another this saga will be over soon.
As will the NBA Dunk Contest. Blake Griffin enters the contest as the heavy favorite and fans are looking for the electrifying rookie to revitalize a stagnant competition.
Rumors abound as to what Griffin will do. Will he dunk from the free-throw line? Will he jump over a car? Will he do a double backflip windmill? Or will he simply disappear and then reappear 10 feet above the rim and throw down?
It is hard to believe that his performance will live up to the hype, but then again, he has been wowing us all season.
Stay tuned as we discuss life in the NBA and other busy buzzing Saturday sports topics.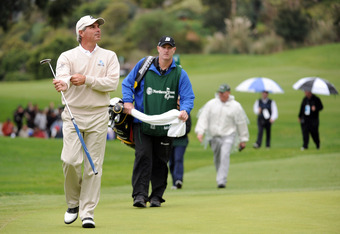 Fred Couples is hauling around his aching back at the Northern Trust Open in Los Angeles, and he is managing to play some amazing golf while doing it.
Couples will enter Sunday's final round at 9-under par, and just one shot back of leader, Aaron Baddeley.
Couples is tied with Kevin Na. Just behind them, 8-under, is another of golf's elder statesmen, Vijay Singh.
Couples put together a steady Saturday. He fired a 1-under 70, in a round that saw him make only one bogey.
We'll see if Couples' back holds up long enough for him to keep up his excellent play for four rounds. One thing is for certain, the crowd is going to be on his side.
Couples has always been a fan favorite, and at age 51 he is looking to become the oldest PGA Tour winner is 35 years. It will certainly be a well earned victory.
His picture perfect swing has been derailed throughout his career by back problems. He has preserved through stretches long enough to be the world's number one golfer, but it has certainly limited his career accomplishments.
Whether it is his back or his emotions, Couples has a history of fourth round struggles.
He has been described by those that know him as a duck—calm on the outside, but paddling like hell beneath the surface.
A victory for Couples would be a big boost to a tour that still is trying to adjust to a post-wreck Tiger era.
Most importantly we all will be treated to watching Couples and the perfect tempo of his sweet swing.
Speaking of Tiger, check out why this gentleman's 10 reasons he'll suck even worse this season.
Dunk Contest 2011 was won by the fan and betting favorite, Blake Griffin.
Many expected an electrifying performance from the amazing rookie, but they may not have been expecting the spectacular all-around performance we all received.
In a first round that TNT's Kevin Harlan called the best ever, we were treated to three dunks that earned a perfect score of 50.
Serge Ibaka dunked after taking off just from behind the free throw line. Then Javal McGee dunked on two seperate hoops while alley-ooping one of the two balls to himself off of the backboard. Blake Griffin capped off the first round with a violent inverted whirling dervish 360 slam.
The second round was almost as electrifying. Only two players could advance though and the finals pitted Blake Griffin against Javale McGee.
The finals turned out to be the Blake Griffin show. On his first dunk he alley-ooped it to himself off of the backboard and then finished off the dunk by locking his elbow on the rim ala Vince Carter style.
For his final dunk, Griffin jumped over a Kia Optima while Baron Davis alley-ooped it to him through the sun-roof as a choir sang "I believe I can fly."
It was a visually stunning dunk, and it earned him 50s. It was from the hardest dunk of the night though. Charles Barkley summed it up best by saying, "If a pretty girl is dumb, it don't matter."
And that capped a night by Charles that was almost as entertaining as the dunks themselves.
This was easily the best dunk contest in years.
Can't get enough Griffin? Well then you'll want to weigh in on this: Blake or Kevin Love if you are starting a franchise?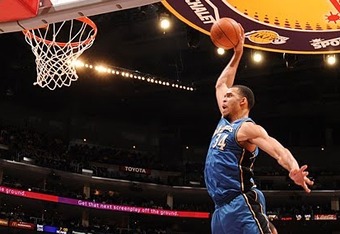 Dunk Contest 2011 is on its way to being remembered as the year the contest became relevant again. The just completed first round was jaw dropping.
TNT's Kevin Harlan called it the best first round in dunk contest history. And it is impossible to argue with him.
Three players scored perfect 50s. This sets up a dynamic second round. First things first, we shall recap the amazing first round.
Seven-footer Serge Ibaka from the Thunder slammed home a dunk from behind the free throw line. Other than Brent Barry's free throw line dunk, it was the farthest back of any dunk to date—not bad for a man seven feet tall.
Then Javale McGee alley-ooped it to himself off of the backboard, which is not all that interesting—except for the fact that he dunked on another hoop while he was doing it.
Then came the man everyone was waiting for, Blake Griffin. Griffin did a dunk that I would need a fully versed X-games skateboard vocabulary to describe.
I'll try anyways. It was an inverted 360 windmill two hand slam.
The second round is just under way...and it is starting off as exciting as the first. We'll have more on that later.
For more on the NBA All-Star festivities, check this out.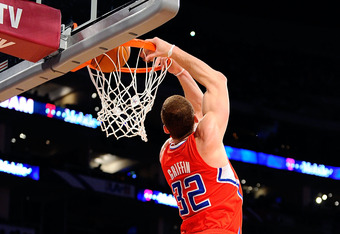 NBA All-Star Game festivities are in full swing. As I type the crowd in Staples Center just got done raising the roof after Blake Griffin's name was announced for the dunk contest.
Big things are expected from the high-flying rookie. Personally I don't think there is anyway his performance can live up to the level of expectations. I am certainly going to watch to see if does though.
Blake Griffin's wow factor is off the charts. If anyone is going to revitalize this stagnant competition, it is going to be him.
Even if he doesn't do anything worth remembering the broadcast is worth watching. The TNT coverage led by Charles Barkley and Kenny Smith are at their wise cracking best.
International feeds caught Barkley in a moment where he thought he was off camera.
Someone then set Barkley up with a softball as they asked him if he preferred Twinkies or Ho Hos. Without giving away his full answer, I will say he prefers Twinkies and his reasoning involved Tiger Woods.
Barkley didn't stop there. This is the All-Star game after all. He managed to work in a couple of shots Vince Carter's way. Let's just say Barkley is not impressed with Vince's pain threshold.
In the three-point contest the Heat's James Jones levied a shot across the Celtics bow as he singlehandedly eliminated Ray Allen and Paul Pierce on his way to claiming the championship.
For more on the NBA All-Star festivities, check this out.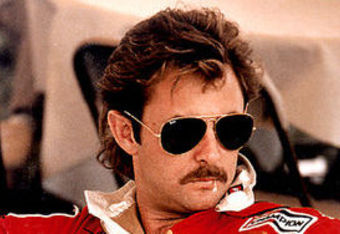 Tim Richmond liked to go fast. His intense and fearless speed on the track was only matched by the lifestyle he lived off of the track.
His hard charging lifestyle stripped him of his career, and eventually his life, just before he achieved the amount of success that would deeply ingrain him into the psyche of the American public.
However, thanks to the power of ESPN and their 30 for 30 series, his captivating story flies into relevance on the eve of the Daytona 500.
His life is literally the stuff that movies are made of. Cole Trickle of Days of Thunder was loosely based on Richmond.
Richmond was a hot-shot open wheeled driver that made the successful switch to NASCAR. Richmond took to NASCAR right away. He finished 12th in his first race.
Like Days of Thunder, Richmond also found his greatest success under the tutelage of a crew chief named Harry. In 1986 Richmond and Harry Hyde drove their way to five victories, a third place finish in the points, and he won the APs co-driver of the year award with Dale Earnhardt.
1986 proved to be Richmond's last full season. Just prior to the Daytona 500 in 1987 Richmond was diagnosed with HIV.
In between treatments Richmond began to race again. That is until NASCAR banned him for testing positive for banned substances.
Turns out the banned substances were Sudafed and Advil. That suspension put a tragic end to a tragic story.
NASCAR rescinded his ban, but by then his health would no longer allow him to race.
For some reading Tim Richmond could enjoy, please checkout SI's hottest swimsuit rookies.
Carmelo Anthony wants to know his future basketball home by the end of All-Star Weekend. Of course, if anyone cared about when he wanted to be traded, he'd be gone by now.
The teams are going to have to care what the NBA says about it. The trade deadline is February 24th, and that is less than a week away.
At this point, it really looks like Anthony is headed to the greater New York area. Reportedly the Nets have already agreed on a trade with the Nuggets. It is only pending Anthony signing an extension.
That is a big only, however. It is clear to me that Anthony would much rather go to the Knicks. Otherwise, he'd have already signed that extension.
Reportedly, Anthony and the Nets do have a meeting scheduled for Saturday night.
Meanwhile, Melo and the Knicks have reportedly already had a face-to-face.
All that is left for the Knicks is working out a deal that the Nuggets will accept.
Carmelo Anthony is going to be a Knick. There is no way around it at this point. The Knicks have too much invested in it to back away, and the Nuggets have enough leverage that they will get a decent return.
It is just a matter of time and bickering before the deal is reached, Anthony inks a lucrative extension and Knicks fans get Christmas early.
For ten reasons why the Knicks shouldn't make this deal, check this out.
Blake Griffin has taken the world of NBA highlights by storm in his rookie season. The guy is a dunking machine!
He has not seen a pass that he can't turn into an alley-oop, and he has not seen a defender that he cannot dunk over.
The plethora of high-flying dunks he has put on display over the course the season has the NBA world buzzing over what he is going to do in tonight's dunk contest.
He already got All-Star weekend off to a roaring start in Friday's Rookie-Sophomore game. Check out the attached video of his alley-oop dunk off of a bounce pass from John Wall.
It was a nice pass, but throwing alley-oops to Griffin is like throwing a ball off of the broad side of a barn. In fact, from here on out when people struggle with accuracy I think they should just say, "you couldn't throw and alley-oop to Blake Griffin."
Anyway, his amazing highlight reel filled body has people eagerly anticipating this year's performance in the dunk contest.
As amazing as he is, Griffin is going to have a hard time energizing this stale contest.
It is a contest that big men have historically struggled in.
It is also hard to imagine what he could possibly do that hasn't been done before.
Griffin is exciting enough, however, that I am going check it out. Maybe he'll jump between the rafters and twist down for a two-handed reverse slam.
Can't get enough Griffin? Well then you'll want to weigh in on this: Blake or Kevin Love if you are starting a franchise?