WWE Elimination Chamber: Does Anyone Else Realize This?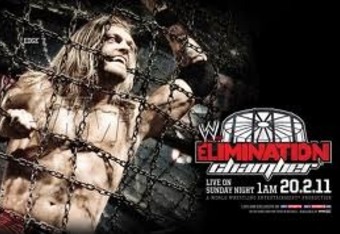 Does anyone else realize that in every year's Elimination Chamber match, there's at least one or more upper mid carder who WWE is trying to build to be a main eventer, but it backfires most of the time? No? Well let's take a look:
No Way Out 2008
Smackdown Elimination Chamber match—MVP, Finlay and Big Daddy V. Well, none of these three ever made it farther than a U.S title, and all three of them are either released or currently off television.
Raw Elimination Chamber match—Umaga (R.I.P); eh, it kind of worked.
No Way Out 2009
Smackdown elimination chamber match- Vladimir Kozlov. Obviously this one did not work. He is currently the penny on a belt champion to a division that is dead. Basically what I'm trying to say is... NO
Raw elimination chamber- Mike Knox. Well this was another failure considering he is no longer employed by WWE and I have no idea what they were thinking when they put Knox in this match.
Elimination Chamber 2010
Raw Elimination Chamber match—Ted DiBiase and Kofi Kingston. Well, for Kofi, it sort of worked but not really. He's still an upper mid carder and the current Intercontinental champion. As for Ted...we all know that he is currently WWE's most-hated jobber.
Who do you WANT to win the SD! elimination chamber?
Smackdown Elimination Chamber—John Morrison and R-Truth. I believe they were a tag team at the time, and neither were ready for main event status. They are both set to compete in this year's match for the red brand, and I believe neither have a chance. R-Truth has recently been getting a lot of crap for...well not being good. JoMo has recently had a No. 1 contender-ship for the WWE title, but he failed to win, hopefully, he is on the way to main event success.
Elimination Chamber 2011
Raw Elimination Chamber match—once again JoMo and R-Truth are in it. Hopefully, JoMo proves to WWE that he can roll with the big boys in this one because I'd love to see him with the belt one day. Truth, I just do not want to see you anywhere. Go to WWE Superstars.
Smackdown Elimination Chamber match—Drew McIntyre. I actually would love to see Drew in the main event or title scene, but I think WWE will once again drop the ball with this up-and-comer. Heck, they've done it before with Drew. He seemed to be on a huge push but then was boosted down to mid card status. Also, who knows who will replace Ziggler in this match. Primo Colon?
Thanks for reading. Leave comments if you agree or disagree!
This article is
What is the duplicate article?
Why is this article offensive?
Where is this article plagiarized from?
Why is this article poorly edited?