Iona's Pat Lyons Named Athletic Director at Seton Hall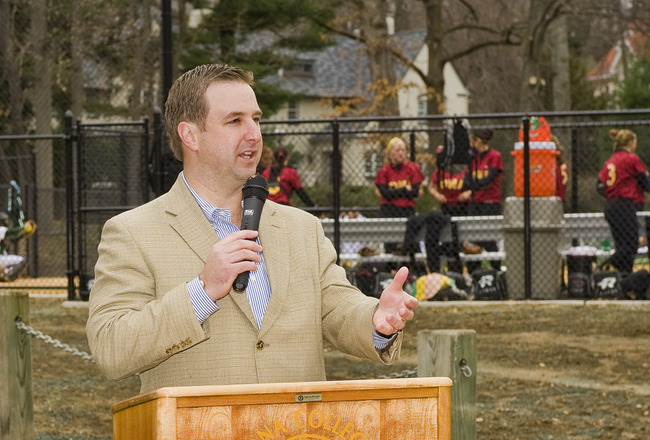 It is great to see smart, hard-working, good people move ahead, even if they will not be as close. That is certainly how many in the Iona community feel about the departure of Pat Lyons, the Athletic Director at Iona College in New Rochelle the past seven years to the Big East and the Director of Athletics and Recreational Services position at Seton Hall University in New Jersey.
The announcement was made on February 22nd by Dr. A. Gabriel Esteban, University President, and Patrick Hobbs, Dean of the Law School. Commented Dean Hobbs:
"In Patrick Lyons, Seton Hall has found an athletic director dedicated to the University's Catholic mission and to the development of our student athletes as servant leaders of the future," Esteban said. "Patrick's outstanding accomplishments throughout his career promise even greater achievements for Seton Hall's athletic department and our participation in the BIG EAST Conference."
"I am absolutely delighted that Pat is joining us at Seton Hall," Hobbs said. "Pat has done a remarkable job at Iona. He's a proven leader who has brought their programs and facilities up to the major conference level. Pat helped build a tradition of winning and integrity in New Rochelle and will bring that same passion to transform Seton Hall in years to come."
At Iona, Pat Lyons supervised the rebuilding of the men's basketball program after the departure of Jeff Ruland, by hiring first Kevin Willard and then Tim Cluess. Willard left last spring to take over the head coaching job at Seton Hall. The Gaels were 21-10 last year under Willard and are currently 18-10 this season and contending for postseason play.
Head Basketball Coach Tim Cluess was hired prior to the 2010-2011 season.
Probably the more difficult task has been serving as the head of the Gaels' 21 NCAA Division I athletics programs. Pat demonstrated leadership in attracting students, coaches, and resources. He has directed them wisely. Several Iona teams have been nationally or conference competitive:
The men's cross country team enjoyed extraordinary national success achieving its second straight national runner-up finish in November 2008 at the NCAA Championship. The program has competed with the best programs in the country and finished in the top 10 at the national championship in each of the last nine years. The team has won an unprecedented 20 straight MAAC titles, the second-longest active streak of its type in the NCAA.
The women's basketball programs has enjoyed its best five-year stretch in its history and have made three postseason appearances in the last four seasons.
The women's cross country team has won five straight MAAC Championships.
The softball program reached the NCAA Championship for the first time in 2010.
The men's soccer program won the MAAC Regular Season Championship in 2009 and again reached the MAAC finals in 2010.
The volleyball team made the NCAAs in 2004 and reached the MAAC finals in 2010.
Iona's women's lacrosse and women's water polo programs has enjoyed recent success in 2009-10.
"I'm extremely excited for the opportunity to lead the Seton Hall University athletics department," said Patrick Lyons. "I'm looking forward to the challenge of furthering the department and helping to establish it as one of the most respected programs both in the BIG EAST and at a national level. I also look forward to building on the legacy and tradition of Seton Hall Athletics."
"I cannot thank Br. Liguori, my athletics staff, coaches, student-athletes and our alumni and supporters enough for the support they have provided me during my time at Iona," Lyons added. "I've had an incredible experience in New Rochelle since I arrived as a freshman and I'm truly grateful for everyone I have encountered along the way."
New Hynes Athletics Center at Iona (Courtesy ICGaels.com)
Accomplishments by Pat Lyons and Iona in the areas of fundraising and campus athletic facilities were sited by Seton Hall in their decision:
The Iona Gaels Capital Improvements Fund was created by Lyons as the first capital fundraising effort in the department's history.
Success of fundraising activities, such as the Athletic Department's Goal Club, the annual golf tournament and sponsorships.
The opening of the Hynes Athletics Center and the Judge Student-Athlete Academic Center in January of 2006.
The complete renovation of the varsity locker rooms—where each program now has its own space for the first time in school history.
Video screening room added for athletic programs.
Resurfacing of both the Hynes Center basketball/volleyball arena floor and the surface of Mazzella Field, home of the soccer and lacrosse programs.
Creation of the Rice Oval Softball field, the first on-campus home for the softball program.
Vital to an athletic director today is keeping the program operation within the standards of NCAA regulations. One of the jobs, Pat Lyons held at Iona prior to being named AD was Assistant Athletic Director for Compliance. He also coordinated Iona's NCAA certification process from start to finish, a sometimes painful process to meet NCAA and Title IX standards.
Another element very important in college sports marketing noticeable in Iona's program is improvements in the athletic department's website and presentation of digital video. Iona's website now features game action and postgame coach's highlights.
Pat Lyons, a native of Providence, Rhode Island, starred in ice hockey at Iona as an undergraduate, where he scored 80 goals and 90 assists during an 86-game career. After graduation, Pat joined the Iona athletic department coaching the golf team to three MAAC Championships and trips to the NCAA Golf Championships. He earned a master's degree in teaching from Iona and earned an MBA from the Hagan School of Business in 2004.
Lyons hired Kevin Willard to Rebuild Iona basketball
Chris Chambers/Getty Images
Seton Hall described the job Lyons did at Iona as "Established its department as one of the top programs in the Metro Atlantic Athletic Conference. Lyons is expected to start at Seton Hall at the end of March.
Sometimes you don't realize how someone has quietly advanced educationally and built a career. Pat Lyons had a great undergraduate athletic career, earned two master's degrees, held positions in coaching, compliance and fundraising. He rebuilt a basketball program, hired two successful head coaches, managed through an NCAA certification and provided leadership that allowed a small college's athletes to succeed well above expectations.
Iona will miss the presence of a favorite son, but be proud of his advancement to another responsibility in the world. As with other overachievers who cultivated at the New Rochelle campus, Iona's Christian Brothers will look forward to watching his continued success. Very smart hiring decision by Seton Hall.
Ken Kraetzer covers West Point football and Iona basketball for WVOX 1460 AM and WVOX.com. He can be reached at kgk914@aol.com.
This article is
What is the duplicate article?
Why is this article offensive?
Where is this article plagiarized from?
Why is this article poorly edited?