MLB: Is Ryan Howard For Albert Pujols a Good Idea?
Jim McIsaac/Getty Images
If you've not yet heard the speculation about the Ryan Howard for Albert Pujols trade, then you probably do not follow the Phillies or the Cardinals.
Whether or not there is any validity to this rumor is anyone's guess, and most Phillies fans out there love the idea, but should they?
Yes, Pujols is the premiere hitter in baseball.
Yes, he is a right-handed bat; the right-handed bat the Phils, and pretty much every other team in baseball, so highly covets.
Pujols deserves every accolade he receives, but is this trade a good idea for the Phillies? Let's look at a few reasons as to why it might not be.
Howard Is Already Paid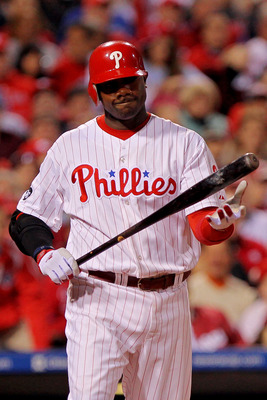 Doug Pensinger/Getty Images
Ryan Howard's contract extension will pay him until he is 37 years old; most true power-hitters tend to begin their decline in their mid 30's.
The Phillies are no dopes when it comes to money spent—moreover, how their money is spent. Albert Pujols is looking for a contract that will pay him until his early 40's!
He is, pretty much without question, the best hitter in baseball—now. It may be a stretch to say he'll be just that in five years though. A good example here is Alex Rodriguez, who has already begun a decline in his mid-30's.
Will Pujols even be playing at 41? It's a scary proposition to be paying a player $30 million three to five years after his prime has passed him by.
"The Big Piece" Is a Pretty Good Player In His Own Right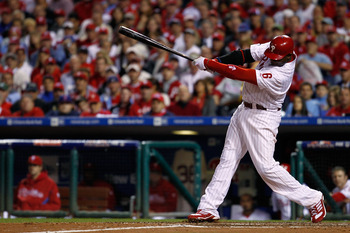 Jeff Zelevansky/Getty Images
Pujols might be the best hitter in baseball, but Ryan Howard is the best power-hitter in baseball.
At any time, in any game, the threat of a Howard-bomb is ever present. Remember, this guy is one of four players in history to go for 40 HR and 130 RBI in four consecutive seasons.
By the way, Pujols is not one of the other three.
To say Howard is as good a player as Pujols is an exaggeration, but the guy is one of baseball's premiere players. He is constantly working to improve his defense, cut down on his strikeouts and hit for a higher average.
What ELSE Would The Cardinals Want?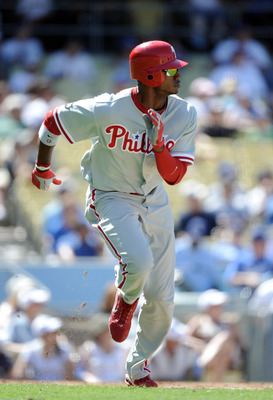 Harry How/Getty Images
This would seem to be a good deal for the Cardinals. If they cannot sign Pujols, why just let him go without getting a premiere player in return, especially one that will be more affordable and one whose contract will not strangle the team as the player gets older?
That, however, does not mean the Cardinals would do a one-for-one deal.
So what else will they want? A young player with a high ceiling, like Dominic Brown? A young pitcher? Draft picks?
Phillies fans want premiere players, but the organization has proven time and again they do not want to sacrifice their farm system and the franchise's future for the now. They do want their cake, but they want to eat it too!
There HAVE Been Speculations...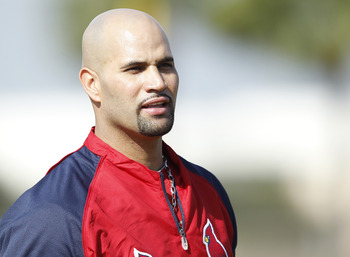 Joel Auerbach/Getty Images
No accusations here Albert, but there have been speculations in the past involving performance enhancers.
Does that make the man guilty? Absolutely not!
Is there a possibility he has received a level of "help" all these years? Yes, there is a possibility.
Has there ever been speculation about Ryan Howard? No, there has not.
What does this mean? Perhaps nothing.
What would it mean if Pujols were to sign a fat deal, then test positive for PED? Perhaps nothing, perhaps EVERYTHING!
If a player has been enhancing his stats his entire career, does that mean he is worth the contract, especially if performance will go down after a "reform"? Alex Rodriguez and Manny Ramirez have not been the same since their respective exposures and admissions. Remember, Pujols began his career as Mark McGwire's teammate. It is only speculation, but if it ever came to fruition, whoever signs him to that huge contract he's seeking will be the one who loses.
Howard Is FROM St. Louis, But He IS Philadelphia.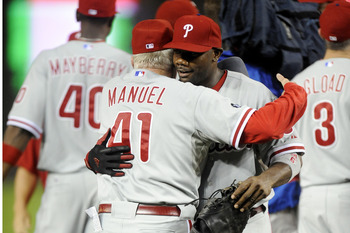 Mitchell Layton/Getty Images
One of the reasons people give fuel to these trade speculations is because Howard is from St. Louis and would probably LOVE to go home.
This may be true. It is also true that in his professional career, Howard has "grown up" in Philadelphia, coming up through the Phils' farm system as a truly "home-grown" player. He won an MVP award as a Phillie, a World Series as a Phillie and is, in every sense, a Philadelphia Phillie.
Due to the very high standards of Philadelphia fans, Howard sometimes takes more criticism than he may deserve, but when Phillies fans are honest with themselves, they know how important Ryan Howard is to their success.
Is Pujols a better hitter? Yes.
Is Pujols a better player? Yes.
Does Pujols strike out less, run the bases more effectively, hit for a higher average and field his position better? Yes, to all.
If Pujols wanted a contract that ran until he was 37, would the trade make sense? ABSOLUTELY! Imagine him in Citizens Bank Park. The very thought almost makes one shudder.
Imagine Pujols though making $30 million a year as a washed-up, 41-year-old player. The very thought leads one to convulsions!!!
Keep Reading

Philadelphia Phillies: Like this team?