MLB Preview 2011: Full Atlanta Braves Roster Breakdown and Predictions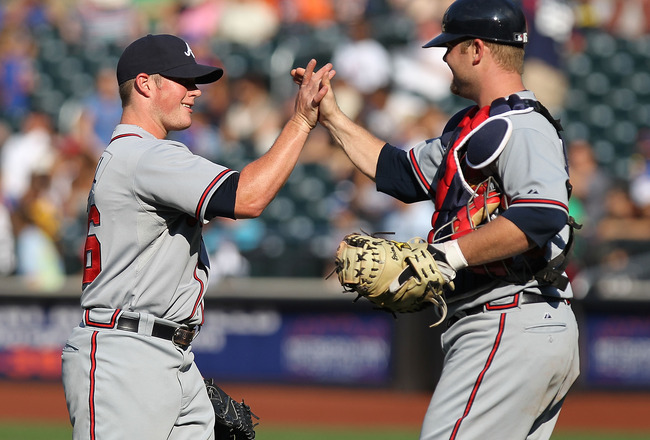 Nick Laham/Getty Images
In 2010, the Altanta Braves went from the leaders in the NL East for most of the season, to barely making the playoffs after a rough September. They then lost in four games to the eventual World Series winning San Francisco Giants.
This was a team that looked like the best in the National League at the All Star break, but then struggled after that, due in large part to injuries to Chipper Jones and Martin Prado.
Over the offseason the Braves let go of players such as Derek Lee, Troy Glaus, Melky Cabrera and fan favorite Matt Diaz. The biggest player loss was Billy Wagner, who decided to retire after what may have been the best season of his career.
Those losses pale in comparison to the retirement of long time manager Bobby Cox. Cox was there throughout the 1990's and early 2000's during one of the greatest runs in baseball history.
All is not lost though. In fact, most fans should be extremely excited by what the 2011 season could bring.
The Braves host a great group of young players who have already made their names known in the big leagues and many more on the way. They also boast some of the best veterans from the last generation of players in Chipper Jones, Tim Hudson and Derek Lowe. They also added the best pure power-hitting second baseman in baseball with the acquisition of Dan Uggla.
There are many things to talk about for the 2011 season, so let's go ahead and get it started with the projections and predictions for what should be one of the most exciting teams in baseball.
Catcher: Brian McCann
Kevin C. Cox/Getty Images
The 27-year-old catcher may just be the best player on the entire roster. McCann has been the best hitting catcher in the National League for the last few years (winning four of the last five Silver Slugger awards), and that should continue for a couple of more years at the least.
One of the cornerstones for the franchise is a career .289 hitter that is coming off a year with a lowly .269 average in 2010, but still managed to bang out 21 homers and knock in 77 RBIs.
McCann looks like he'll hit in the fifth spot, unless Chipper Jones struggles a great deal this spring, in which case he'll likely hit third. He'll have plenty of chances to knock in runs, and I project he'll end up in the 80-90 range.
Even if his contact rate (79.5 in 2010) and his swing-and-miss rate (8.6) continue to regress, McCann is still a guy that provides solid defense, a stable bat in the middle of the lineup and a leader that his pitching staff loves.
2011 Stat Projection
.275, 24 HR, 86 RBI, three SB, .365 OBP, .480 SLG, .845 OPS
First Base: Freddie Freeman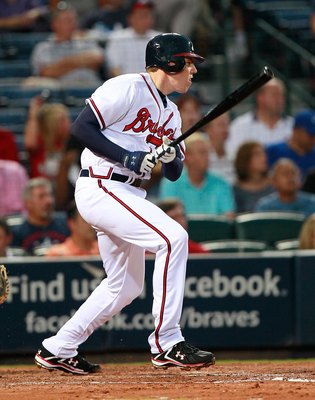 Kevin C. Cox/Getty Images
The 21-year-old is getting ready to embark on what most fans believe will be a long and successful career in Atlanta. Freeman is far and away the best position player prospect that the Braves have, as he boasts a solid gap-to-gap swing that should end up with above average power.
Freeman had a phenomenal year in 2010 in which he hit .319 with 18 homers and 87 RBIs at AAA Gwinnett. He also was on base at a very healthy .378 rate.
Freeman is likely to hit in the seventh or eighth hole to start, but could rise up to the sixth spot at some point. He should give a solid average with decent power.
His biggest strength at this point is his defense, which should fit between the below average Troy Glaus and Gold Glove caliber defense of Derek Lee. Slightly above average is what most fans should expect at this point, though he should grow into a very good defender in the future.
Freeman is the early Rookie of the Year leader and should have that caliber of a season.
2011 Stat Projection
.268, 18 HR, 75 RBI, two SB, .340 OBP, .445 SLG, .785 OPS
Second Base: Dan Uggla

Jonathan Daniel/Getty Images
Uggla is one of the biggest offseason acquisitions in recent Braves' history and most fans should be very excited about what he brings to the table.
Uggla had a career year in 2010, as he set career highs in batting average (.287), homers (33) and RBIs (105) among other things. He's also hit at least 30 homers in four straight years, something that the Braves have not had in quite some time.
The Braves also extended Uggla's contract for five years, 62-million dollars in January, so his offensive prowess should be in Atlanta for the rest of his prime and he should still give them a lift power-wise even at the end of it.
The question is whether or not Uggla will regress to his career batting average of .263 or whether or not his average is going to stay above .280.
The former is probably more likely, but it will still make him a force in Atlanta, where his homer numbers should go up in a more hitter-friendly ballpark than Sunlife Stadium where he played in during his time with the Florida Marlins.
2011 Stats Projections
.275, 35 HR, 110 RBI, five SB, .360 OBP, .470 SLG, .830 OPS
Shortstop: Alex Gonzalez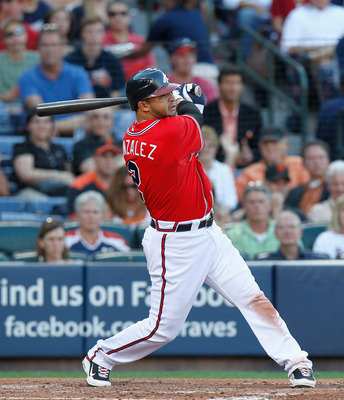 Kevin C. Cox/Getty Images
Gonzalez is one of the best defensive shortstops in the game, and it is what drives his overall value for the Braves.
When the Braves picked up Gonzalez in a trade last year from the Toronto Blue Jays, he was hitting .259 with 17 homers. Braves' fans were hoping the incredible power would continue, but Gonzalez only hit .240 with six homers in the 72 games with Atlanta.
Gonzalez is never going to be mistaken for a Hanley Ramirez or Troy Tulowitzki at the plate, but the 34-year-old holds his on in a large way defensively, with a career UZR of 44.6 that includes a UZR of 5.1 in 2010.
This means that his value is immense for most teams even without a solid season at the plate. His defense, with the line I predict for him, makes him invaluable for this season, as there doesn't appear to be another shortstop that is ready to play this year.
2011 Stats Projection
.265, 12 HR, 64 RBI, twoSB, .330 OBP, .435 SLG, .765 OPS
Third Base: Chipper Jones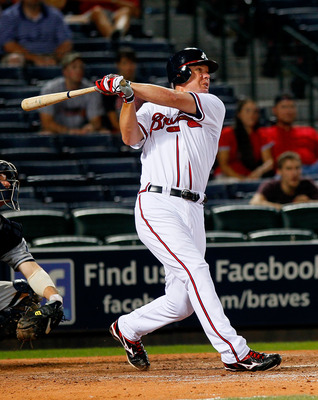 Kevin C. Cox/Getty Images
If I had to put together a team from the last twenty years, Chipper Jones would be my third baseman (Alex Rodriquez would play short), and it's not close.
One of the greatest players to ever put on a Braves' uniform, the light is at the end of the tunnel for Chipper. His last two years have consisted of .264 and .265 averages. These follow one of Chipper's greatest seasons. As a 36-year-old in 2008, Chipper had a .364 average and an on-base percentage of .470, both of which led the league.
Chipper started off the 2010 season terribly, hitting .230 in April and was playing even worse in May. After talking briefly about retiring at the end of the season during this time, Chipper started to get on a roll and was hit .307 from June 11th to August 10th, but then had his season derailed with an ACL tear.
Chipper now looks like he will be healthy when Opening Day rolls around, and has already been hitting very solidly (even literally tearing the cover off of a baseball), and is starting to get in some field work before the Spring Training games start.
Most may disagree with me, but I believe Chipper will still man the three hole in the lineup unless he is injured. His on-base percentages in 2009 and 2010 were .388 and .381, respectively, which rank him well over the league average still.
At the age of 38 (39 on April 24th), does Chipper still have any magic left in him?
It may not be much, but I think he has a little left in the tank for what is likely his last year.
2011 Stats Projection
.273, 16 HR, 78 RBI, four SB, .392 OBP, .443 SLG, .835 OPS
Left Field: Martin Prado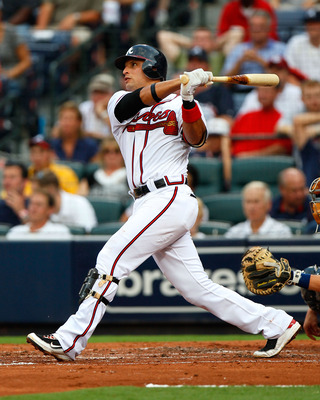 Kevin C. Cox/Getty Images
Prado was one of baseball's best players in the first half last year, as he posted a .325 average with 10 homers with 39 RBIs. The All-Star break cooled him considerably though as he only hit .278 with five homers and 27 RBIs.
Injuries played into this some, but no one could doubt his value to the Braves, especially when you add that he played second base last year.
With the acquisition of Uggla, Prado is being moved to left field, where he will play full time for the first time for the Braves. Prado has played there some, so the transition shouldn't be anything that bothers his offense and shouldn't worsen the overall defense.
Prado is the likely leadoff hitter, so the Braves need him to stay healthy and to produce like he did in the first half. If he does this then plenty of runs should end up on the board.
As a 27-year-old, Prado could be in for his best year yet.
2011 Stats Projection
.310, 15 HR, 72 RBI, six SB, .355 OBP, .462 SLG, .812 OPS
Center Field: Nate McClouth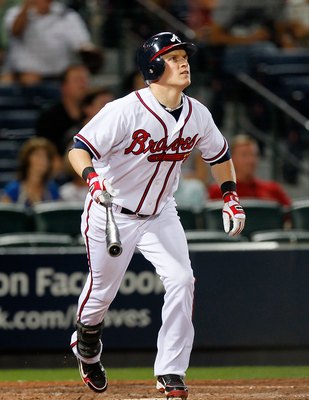 Kevin C. Cox/Getty Images
Everyone that is a fan of the Braves already knows plenty about the struggles that the former All-Star went through last year, when he hit an abysmal .190 with little to no power and really no offensive impact at all.
That could change this year though as McClouth has put in a ton of work this offseason and is confident that he can get back to his normal self.
They Braves don't necessarily need him to, but it would potentially put their offense near the top of the league.
Whether or not he hits, McClouth should give them decent speed on the basepaths (when he gets on), and give them above average defense in center field.
Here's to hoping McClouth turns it around.
2011 Stats Projection
.248, 12 HR, 58 RBI, 15 SB, .340 OBP, .417 SLG, .757 OPS
Right Field: Jason Heyward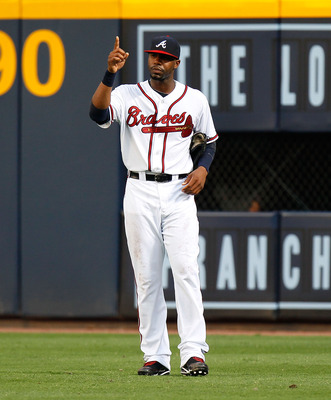 Kevin C. Cox/Getty Images
Heyward should be among the top players in all of baseball for the next decade and a half, and should be spending the vast majority of it in Atlanta.
Heyward finished second to Buster Posey for Rookie of the Year last year, when he hit .277 with 18 homers and 72 RBI. Perhaps even more impressive was that at the age of 20, Heyward racked up a .393 on-base percentage.
Heyward's injured thumb is not completely flexible, but he was seen rocketing balls all over the field in the early stages of Spring Training and it shouldn't quite affect him from a power standpoint.
Heyward is likely to hit in the two hole for the Braves, where he .281 with nine homers in 388 at-bats in 2010. He also brings exceptional defense in right field, where you can really see his athleticism. He also should lead the Braves in steals this year, something that he did in 2010.
2011 could be the year that Heyward takes over and becomes the Braves standout player, but that could still be a year away. Heyward isn't likely to reach the numbers that he eventually will this year either, but the sky is still the limit for the guy in 2011.
2011 Stats Projection
.290, 23 HR, 82 RBI, 18 SB, .405 OBP, .472 SLG, .877 OPS
The Bench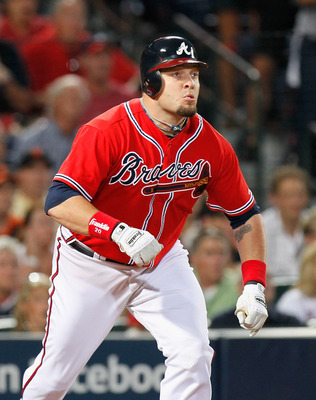 Kevin C. Cox/Getty Images
The Braves had a very good and deep bench to use throughout 2010, and it may have been the most effecient group in all of baseball. Some of the pieces are still here for that to continue in 2011,
Eric Hinske
He hit .256 last year with 11 homers and 51 RBIs as a role player that played well during his starts and was clutch when we needed him.
Hinske should remain the team's top outfield and first base backup in 2011, and will be very valuable as a left handed bat off the bench.
2011 Stats Projection
.250, 10 HR, 45 RBI, zero SB, .330 OBP, .427 SLG, .757 OPS
Brooks Conrad
He was the most clutch off-the-bench hitter in the National League last year, as hit seven of his eight home runs in from seventh inning on, leading all bench players in that category.
Most fans are still feeling a lot of resentment towards Conrad after his terrible defensive display in the postseason, but I don't know if we would have been there without him.
2011 Stats Projection
.253, seven HR, 31 RBI, four SB, .325 OBP, .435 SLG, .760 OPS
David Ross
There aren't very many teams that like their backup catcher as much as the Braves.
Ross brings raw power off the bench and would be a starter for a good many teams. His bat is a plus off the bench and is comfortable calling games.
2011 Stats Projection
.270, seven HR, 35 RBI, zero SB, .340 OBP, .450 SLG, .790 OPS
Jordan Schafer
Schafer was once the Braves to prospect, but a wrist injury has really cut him back production wise. this is a key year for the youngster, who still has the talent and athleticism to help out the club.
Schafer is likely to be the top center field backup and may end up starting if McClouth struggles.
2011 Stats Projection
.268, two HR, 24 RBI, three SB, .337 OBP, .410 SLG, .747 OPS
Diory Hernandez
I personally think Hernandez, one of the better defenders in the Braves organization, will get the last spot as a defensive replacement than can play all over the infield.
Hernandez doesn't bring much with the bat, but more than makes up for it as a bench player with his glove. Even the projections I give him may be out of his reach
2011 Stats Projection
.194, one HR, nine RBI, zero SB, .232 OBP, .298 SLG, .530 OPS
Starting Pitcher No. 1: Tim Hudson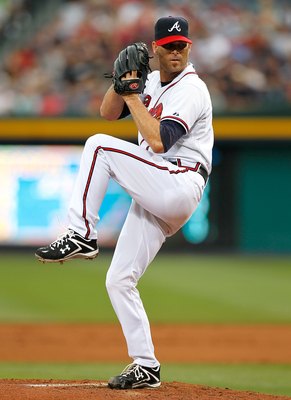 Kevin C. Cox/Getty Images
Hudson has been one of the best pitchers in all of baseball since 1999, as he has posted a career record of 165-87 with an ERA of 3.42.
Hudson has relied heavily over his career on his sinker, easily one of the best in the league. He will never be mistaken as a guy that is going to strikeout a lot of people, but despite this he has always been able to get a guy out. His career batting average against is .250.
Hudson had a magical year for the Braves last year, as he was their best starting pitcher by going 17-9 with a 2.83 ERA.
I think Hudson is on the watch list for this year's Cy Young winner, though he is definitely on the outside looking in.
Hudson may be getting closer to the end of his career, but as a guy that has never relied on strikeouts, he may still have four or five years left in him. At this point I hope he spends all of them with Atlanta.
2011 Stats Projection
15-9, 3.14 ERA, 125 K, 225 IP
Starting Pitcher No. 2: Tommy Hanson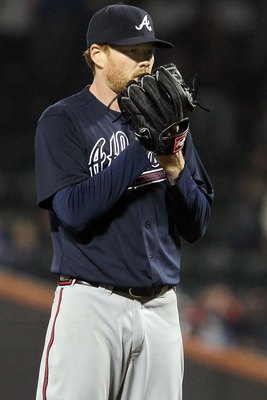 Jim McIsaac/Getty Images
The 24-year-old will be an ace for the Braves for years to come, and last year saw him take another step towards his full potential.
Those he ended up with a losing record of 10-11, he did post an ERA of 3.33 with the opposition just hitting .234 against him.
Hanson has dynamic stuff, with a good fastball and other plus pitches in a his repertoire, including a curve ball that is absolutely filthy when he is at his best.
Hanson threw 202.2 IP last year, while he was still being used cautiously in an effort to not over exert him at such as young age. He is about as physically put together as he will ever be, so I expect him to not have a real pitch limit, within reason of course. Like Hudson, I think Hanson is a darkhorse Cy Young candidate.
Hanson has a bright future ahead of him, and 2011 should just be another step towards his full potential.
2011 Stats Projection
13-10, 3.23 ERA, 185 K, 215.2 IP
Starting Pitcher No. 3: Derek Lowe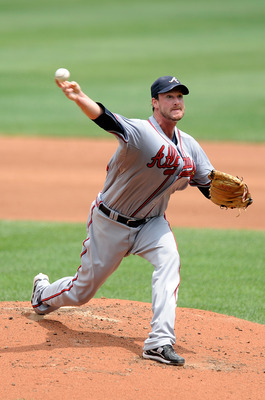 Greg Fiume/Getty Images
Lowe seems to be off and on for Braves' fans, or at least the ones that I know, but the one thing I love about him is that he is a workhorse that is going to go out and do his best for his team each and every night out.
He has thrown 388.1 innings the past two years, a pretty good total.
Lowe was at his best when the Braves needed him most, as he posted 5-0 record in September with a 1.17 ERA. He then pitched well in the postseason, posting an ERA of 2.31 over 11.2 innings, though he did go 0-2 thanks to the lack of hitting because of the Giants great pitching.
Lowe should continue to be a workhorse in 2011. He is going to keep the team in games and is going to pitch brilliantly at times, as he did in September. I'm hoping for a little bit better overall season, though I would take the his 2010 campaign from him as long we are close in September.
2011 Stats Projection
15-11, 3.89 ERA, 142 K, 202 IP
Starting Pitcher No 4: Jair Jurrjens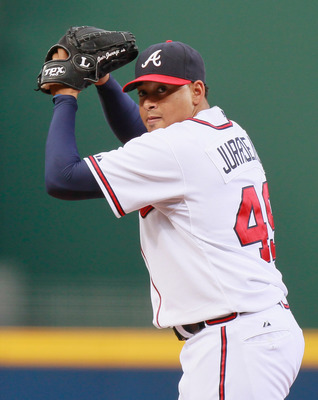 Kevin C. Cox/Getty Images
If Lowe pitches like he did the second half of 2010 and Jurrjens pitched anything close to what he did in 2009, the Braves will be in great position to do more than just keep pace with the Philadelphia Phillies.
Jurrjens is coming off a season with only 20 starts in which he compiled a 7-6 record with a 4.64 ERA, by far the highest of any of his full seasons.
I'm cautiously optimistic that Jurrjens will at least get back to what we saw in 2008, when he went 13-10 with a 3.68 ERA.
He is very important going forward for the Braves, as they need a legitimate fourth starter to return to the postseason. Jurrjens could be great or he could just be average, 2011 is a very important year for him as the Braves are stacked with young pitching prospects.
2011 Stats Projection
12-8, 3.75 ERA, 128 K, 190 IP
Starting Pitcher No. 5: Mike Minor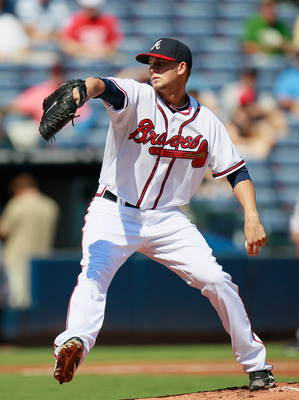 Kevin C. Cox/Getty Images
Minor burst onto the scene in August for the Braves before his arm tired in September.
Minor will be battling Brandon Beachy this spring for the fifth starter spot, but I give the nod to Minor. In four starts last August, Minor went 3-0 with a 3.91 ERA. He recorded 26 strikouts in 23 innings.
September was much different, as he ended his first stint in the big leagues with a 3-2 record and a 5.98 ERA. He kept striking people out though, as he finished with 42 in 40.2 innings.
Minor is a solid lefty that should help the team and almost surely wouldn't demand a demotion. If his fastball can stick close to 92 like it was at the beginning of 2011, then he may win Rookie of the Year.
2011 Stats Projection
9-6, 3.97 ERA, 165 K, 170 IP
The Bullpen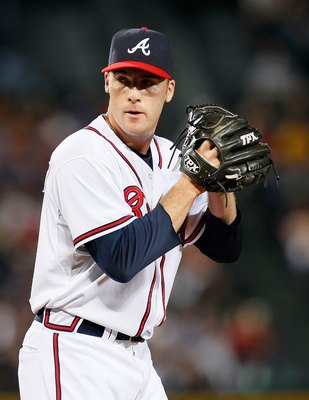 Kevin C. Cox/Getty Images
The Braves bullpen was a strength last year, and should continue to be so this year. Here is a look of guys who I think will be out middle and long relief pitchers.
Eric O'Flaherty
The 26-year-old lefty is about as good and consistent as they come. He appeared in 56 games in 2010, throwing 44 innings and putting up a 2.45 ERA. O'Flaherty was very good last year against the likes of Ryan Howard, Chase Utley and other various lefties in the division. This will be key for the Braves again as they push towards the playoffs.
2011 Stats Projection
60 GP, 2.90 ERA, 48 K, 55 IP
George Sherrill
Sherrill has his worst season last year as a 33-year-old, and the Braves are hoping that he can bounce back in 2011. Things work out well int he favor of the left-hander, as he has a career ERA of 3.76 in 389 appearances. If Sherrill pitches anything like he did in 2009 where his ERA was 1.17 in 79 games, the Braves bullpen will be exceptional.
2011 Stats Projection
42 GP, 3.45 ERA, 23 K, 32 IP
Scott Linebrink
Linebrink has been through the battles as a pitcher, and is usually very good at what he does. Like Sherrill, Linebrink has a down year in 2010 though not quite to Sherrill's level. A bounce back season would be very welcome from the Braves for the righty, as he would give them stability and a guy that some of the younger pitchers can learn from.
2011 Stats Projection
48 GP, 3.53 ERA, 32 K, 35 IP
Brandon Beachy
Even though he will be battling for the fifth spot with Mike Minor, I think Beachy will end up as a guy that goes back and forth between the majors and minors, but will be used a good bit as a relief guy for the big league club. He's a guy that has worked hard for this chance, so I assume he will take advantage of it.
2011 Stats Projection
25 GP, 3.89 ERA, 30 K, 28 IP
Setup Man No. 1: Peter Moylan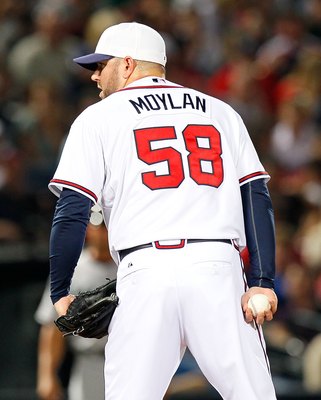 Kevin C. Cox/Getty Images
The Austalian has been quietly one of the best relief pitchers for years and he is as consistent as reliable as anyone that will be playing for the Braves in 2011.
His 2010 was right along with the rest of his career, as he appeared in 85 games and compiled a 2.97 ERA in 63.2 IP.
Moylan should again appear in a ton of games and continue to baffle hitters with his unorthodox submarine pitching motion. He will be a key part of the bullpen and will have to keep pace with his prior seasons.
2011 Stats Projection
75 GP, 2.73 ERA, 45 K, 67 IP
Setup Man No. 2: Jonny Venters
Kevin C. Cox/Getty Images
Venters just may have been the best reliever for the Braves last year and will get his chance to be the closer this spring. I think he loses out on that, despite his success from last year.
Venters should be in more and more games this year, and will for sure be one of the key players for the team.
Venters was phenomenal last year, as he ended up with a 1.95 ERA in 83 innings in his 79 appearances.
Even if he loses out to the next guy for the closer role, he'll have no problem getting his chances to continue his incredible success from 2010.
2011 Stats Projections
75 GP, 2.23 ERA, 90 K, 85 IP
Closer: Craig Kimbrel
Kevin C. Cox/Getty Images
Kimbrel is an absolutely electric 22-year-old looks like he'll be the closer in Atlanta for the forseeable future.
Kimbrel struck out batters at an alarming rate, with 40 strikeouts in 20.2 innings.
His only weakness is that he walks people a bit too much, as he gave a free base to 16 batters last year. Any improvement on that end and Kimbrel should be on his way to superstardom.
Kimbrel also posted an ERA 0.44 in the regular season, and a 2.08 ERA in the postseason. Great things seem to be in the kid's future.
2011 Stats Projection
35 SV, 1.89 ERA, 90 K, 70 IP
The Division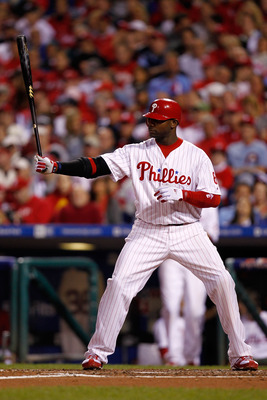 Jeff Zelevansky/Getty Images
The NL East should be top heavy like it was in 2010, but there is enough talent around the division to where the teams may beat up on each other enough to keep the race fairly close. However the Braves and the Phillies seem to be the favorites to seperate themselves from the pack.
The Philadelphia Phillies have gotten a tough of publicity for what could be the best rotation in history, with Roy Halladay, Roy Oswalt, Cole Hamels and Cliff Lee. They also possess a strong lineup with players such as Ryan Howard and Chase Utley. They are without question the favorite to make the World Series from the National League.
The New York Mets have a lot of talent, but just haven't been able to put it together. With guys like David Wright, Jose Reyes and Carlos Beltran you would think that their offense would be explosive and among the league's best. This hasn't been the case though, and they have a ton of question marks. They don't look like a playoff team at this point, but should fight for the third spot in the division.
The Florida Marlins have many young players who look that'll be All-Stars for years to come in Hanley Ramirez and Mike Stanton and a rotation that includes Josh Johnson and Ricky Nolasco. They are a sleeper team that may put together a surprising record, but trading one of the best players to the Braves in Dan Uggla is something that they will struggle to improve from.
Ryan Zimmerman and Jayson Werth lead an offense for the Washington Nationals that should be improved from the past few years. Things are looking up for the future, but 2011 should end with the Nationals in last place. With Stephen Strasburg on the DL for likely the whole season, there isn't much to look forward to.
Final Verdict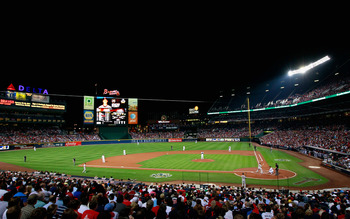 Kevin C. Cox/Getty Images
The Braves should find themselves in the playoffs, whether they shock the universe and win the division or win the wild card.
I think they end up with 88-92 wins, which should be good enough for them to make the playoffs as the wild card team again. Though fans can always dream big and think they end up in more of the 95-100 range and actually beat the Phillies out for the division titles.
Either way, the Braves should have a good season and they should be very successful.
Here's to a great year in Atlanta, go Braves!
Keep Reading

Atlanta Braves: Like this team?