NBA All-Star Weekend: Info for Blake Griffin, Kobe and All Events in Los Angeles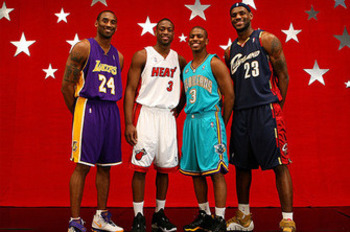 I've always been asked by friends, how can you watch so much basketball?
It's the old "Half the league makes it to the playoffs" argument, coupled with "Why would I want to watch a whole game when the only thing that matters is the last five minutes?"
These two arguments have plagued me for years. It has taken me equally as long to finally switch from ranting about what makes the sport so great (useless), to simply shaking my head in disgust.
What attracts me to the current era of NBA players is the excitement and appreciation I have for the level of skill. In today's NBA, almost every team has a player(s) who makes me want to keep the game on, regardless of the score—let's go ahead and list the Nets, Raptors and Cavs as the exceptions (You know you are in bad shape when Brook Lopez, DeMar DeRozan and J.J. Hickson make up the face of your highlight potential).
Even with all the bells and whistles that come with All-Star weekend, the best players in the world always end up putting their freakish talents on display in enjoyable fashion.
This year should sport as much skill as ever, with (mostly) intriguing events.
ESPN Celebrity Game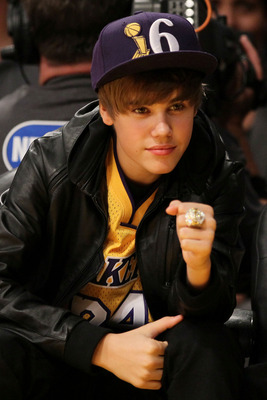 Jeff Gross/Getty Images
When: Friday at 7 p.m. ET (TNT makes up rest of primary coverage)
The Participants: Magic Johnson, Justin Bieber, Scottie Pippen, Bill Walton, AC Green, B.J. Armstrong, Chris Mullin, Jalen Rose,Ty Burrel, Rob Kardashian, Zach Levi, Jason Alexander and Common.
Common? I am further out of the loop than I thought.
The "General Managers": Jimmy Kimmel and Bill Simmons
I am struggling to get over the fact that Simmons is participating in this travesty of an event. I will give him the benefit of the doubt, hoping a true NBA fan like Simmons just wants a chance to coach some of the NBA legends he has spent so many years studying.
The Celebrity Game is on the level of Baseball's Legends softball game—you merely tolerate it as an implied preface to the real events.
An excuse for celebrities and stars to give each other cross-entertainment pats on the back, the game offers very little in terms of moments. I am excited, though, to watch George Costanza (I mean Dunsten Checks In star Jason Alexander) viciously attack the rim.
Bieber Sickness (if I hear the "F" word again I will bust a gasket) continues. Thanks to a celebrity cast largely composed of B-listers, Bieber is undoubtedly the headliner.
Who am I kidding. Bieber? In LA, no less?
The viewing population of teenage girls alone will make this event a success for ESPN. Well, at least there's no way I will have this mockery on my TV come Friday evening. Seriously...
T-Mobile Rookie Challenge and Youth Jam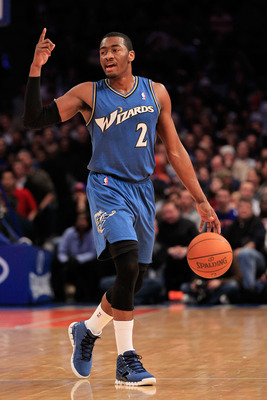 Chris Trotman/Getty Images
When: Friday at 9 p.m. ET on TNT
Rookie Roster: Eric Bledsoe, DeMarcus Cousins, Derrick Favors, Landry Fields, Blake Griffin, Wesley Johnson, Greg Monroe, Gary Neal, John Wall
Coaches: Mike Budenholzer, Amar'e Stoudemire, Kevin McHale
Sophomore Roster: DeJuan Blair, DeMar DeRozan, Stephen Curry, Tyreke Evans, Taj Gibson, Jrue Holiday, Serge Ibaka, Brandon Jennings, Wesley Matthews
Coaches: Lawrence Frank, Carmelo Anthony, Steve Kerr
Leading up to last year, the sophomore team had won seven straight contests against the rookies. However, last year's rookie team featured a frightening triplet of Rookie of the Year Tyreke Evans and his runners-up, Stephen Curry and Brandon Jennings.
The Rookies defeated a gaudy Sophomores team (140-128) featuring Derrick Rose, Russell Westbrook, Kevin Love and Eric Gordon.
Last year's results make this year's contest harder to predict. Still, the Sophomores will hold on to four-tenths of last year's squad and add budding stars DeMar DeRozan and Wesley Matthews to their aerial attack, with Serge Ibaka adding some interior strength.
The Rookie squad may end up being more bark than bite, but they have two players (Griffin and Wall) who can take over a game, as well as a promising group of youths.
One of the more interesting aspects of the game will be Wall, Cousins and Bledsoe reuniting from the Kentucky team that fell out of the Elite Eight just a year ago.
Alright, who am I kidding? This is one of three events that Blake Griffin and any epic throw-downs (probably several in a 160-plus-point game) will have fans contemplating what they might see 24 hours later.
The game will also be the first time in the history of the event that two No. 1 picks play on the same team (unless you count Oden's injured ass—how the Trailblazers thought selecting a center with one leg longer than the other instead of Durantula still perplexes me).
The Rookie/Sophomore game is historically underrated. This game arguably brings more talent than the challenge has ever offered before.
Stoudemire (coaching), 'Melo (coaching), Durant and Evans make up four of the last seven MVPs.
Prediction: Sophomores by five or less
The "Did you come up with that all by yourself?" MVP prediction: Griffin

Haier Shooting Stars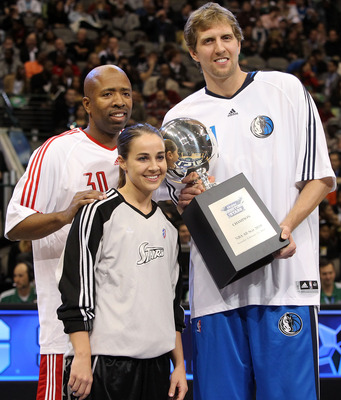 Ronald Martinez/Getty Images
When: Saturday at 8:30 p.m. (First event—TNT)
Team Atlanta: Al Horford, Coco Miller, Steve Smith
Team Chicago: Taj Gibson, Charine Kraayveld, Steve Kerr
Team Los Angeles: Paul Gasol, Tina Thompson, Rick Fox
Team Dallas: Dirk Nowitzki, Roneeka Hodges, Kenny Smith
We will goooo Haiieerrrrr. I can't believe you get a trophy for winning this thing.
If you haven't seen this travesty before, here is a brief description: Each team selects a specific player rotation and must make each shot (six shots from different sports on the court) in a two minute window.
Team Texas won last year with Dirk, Becky Hammon (San Antonio Silver Stars) and Kenny Smith.
The only thing mildly entertaining about this contest is the half-court shots or a miserable shooting performance by Kenny Smith that results in a massive roast by Barkley and Co.
At the very least, the first event allows me to have a few beers in preparation for the somewhat meaningful contests to come.
Prediction: Dirkkkkk
Taco Bell Skills Challenge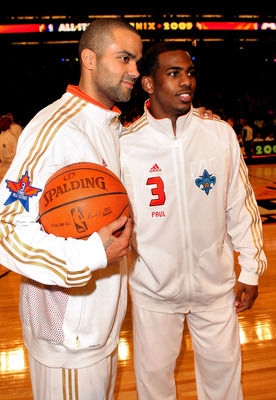 Jason Merritt/Getty Images
When: Saturday Night (second event)
The NBA is trying to get creative and meddle with the skills competition this year. We'll see if it flies, but the idea is fairly interesting.
Fans have had the opportunity, since Jan. 26, to vote for four of eight players to take part in the competition.
The eight contestants for "Choose Your Squad": Stephen Curry, Baron Davis, Tyreke Evans, Derek Fisher (this doesn't happen at another venue), Tony Parker, Derrick Rose, John Wall, Russell Westbrook.
Now the "unique" (more money for the NBA) part about the event—the four finalists will compete against "Choose Your Squad" spokesman Chris Paul.
Paul has won the event three times (2006 to 2008). Supposedly, this means that Paul should be the man to beat and is likely receiving some sort of extra stipend for chronicling his preparations on NBA.com/chooseyoursquad.
This will mark the eighth year of the skill challenge in which players compete in a two-round timed "obstacle course" that involves various dribbling, passing and shooting stations. The top two players will advance to the final round.
Prediction: "My dude D. Rose"—Slim Chin (Beast from the Far East)
Foot Locker Three-Point Contest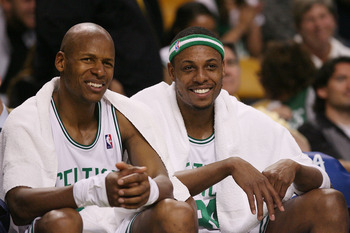 Elsa/Getty Images
When: Saturday Night (third event)
The Participants: Ray Allen (third in percentage, second in makes); Kevin Durant; Daniel Gibson (fourth in percentage); James Jones; Paul Pierce; Dorell Wright (first in makes)
Exhibition shooting is a different story.
James Jones and Daniel Gibson make up the "we sometimes get negligible minutes but can still make it rain" portion of the contest (a la Jason Kopono). Matt Bonner has been robbed!
Still, this year's contest may be the most exciting ever.
There was much deliberation on whether Allen would be allowed to participate alongside his teammate, Pierce. Thank God the NBA didn't pull the "this traditionally doesn't happen so it shouldn't be allowed" card.
Besides the inner-team contest, Allen and Pierce are also both previous champions. This should be one of the most enjoyable pieces of the weekend.
Pierce made up for his previous dud in the contest by taking the title last year over Chauncey Billups.
The "Please, No" Final-Round Participants: Gibson and Jones
The "Please, Yes" Final-Round Participants: Allen and Pierce
The Prediction: Allen in the best three-point contest ever.
Sprite Slam Dunk Contest

Blake Griffin growing bored with Kenny Smith

When: Saturday Night (fourth event)
Participants: DeMar DeRozan, Blake Griffin, Serge Ibaka, JaVale McGee
Who needs "Superman" when you have "Poster Child"? The days of the big man versus little man contest that Howard and Robinson had are over.
It is hard to understate the hype on Griffin.
Griffin has been infiltrating YouTube all season long and is showing no signs of slowing down. His dunks are being compared to legends like Dominique Wilkins, but they are almost incomparable.
He's only a rookie, but it is hard to say that anybody has thrown down like Griffin. It seems that Griffin can only beat himself. After all, dead sprint alley-oops over opponents are a lot harder than an exhibition dunk.
Wait, what am I saying?
DeMar DeRozan will come back for a second shot at the dunk trophy after being edged out 51 percent to 49 percent against three-time champ Nate Robinson (proof of the recent decline in the contest's attraction).
Griffin's name has already brought that anticipation back. What will he do? I can't wait.
The dark horse in the contest has to be JaVale McGee. McGee has had some of the most vicious dunks in the NBA this season and has the kind of length to turn some crazy tricks.
Prediction: Is there really a choice here? Griffin brings home two trophies!
60th NBA All-Star Game
Ronald Martinez/Getty Images
When: Sunday at 8 p.m. ET
Eastern Conference All-Star Roster: LeBron James, Amar'e Stoudemire,Dwyane Wade, Derrick Rose, Dwight Howard, Ray Allen, Chris Bosh, Al Horford, Joe Johnson, Paul Pierce, Rajon Rondo
Coach: Doc Rivers
Western Conference All-Star Roster: Kevin Durant, Carmelo Anthony, Kobe Bryant, Chris Paul, Yao Ming (proof that the population is incompetent), Tim Duncan; Manu Ginobili, Paul Gasol, Blake Griffin, Kevin Love, Dirk Nowitzki, Russell Westbrook, Deron Williams
Coach: Gregg Popovich
A few things out of the way: I have spent too much time ranting about Yao's selection to waste more time on it.
Disgusting.
Thankfully, Love got his deserved selection.
LaMarcus Aldridge was snubbed worse than anyone in recent history (proof of a poor system).
Tim Duncan gets the "you're old and have the worst stats of your career but you're still a legend" selection.
Thankfully the NBA is (at the very least) competent enough to select the reserves rather than allow the fans to vote on that, too. What a mess.
This year's group of stars has to be one of the most talented ever. Just look at those names.
Last year's game welcomed a world-record crowd (108,713) to Cowboys Stadium, with Dwyane Wade stealing MVP honors (28 points, 11 assists) and the East coming out on top, 141-139.
The city of LA will have a lot to live up to, but the Staples Center should be able to handle that. This will be LA's fifth time hosting the All-Star game.
Thanks to more-than-usual defensive slacking, the game should end up somewhere around last year's scoring level. Then again, who wants to see defense in the All-Star game anyway.
For some unnamed superstars, this is a chance to show off their recreational highlight abilities because they were too chicken to do it in a slam dunk competition (I won't say names). Regardless, there will be plenty of big plays on display with the best in the world in one building.
Prediction: East. Why? A more rounded group of starters, plus LeBron and Wade's chemistry. Just a hunch.
MVP: Yao
Keep Reading