College Football 2011: Predicting the Top 10 Quarterbacks
Streeter Lecka/Getty Images
The quarterback position is arguably the hardest position in all of sports and having a star behind center is pivotal to team success.
While it is easy to get wowed by impressive statistics, the difference in schedule strength and offensive style can lead to inferior quarterbacks, such as Colt Brennan or any Texas Tech QB under the Mike Leach era, putting up mind boggling numbers.
The following are the 10 best quarterbacks heading into 2011.
10. Tyler Bray, Tennessee
Streeter Lecka/Getty Images
Few young quarterbacks have as much momentum going into 2011 as Tyler Bray in Tennessee.
He went 4-1 in his to finish the season, after Tennessee went 2-6 up until handing him the reins. He averaged 309 yards and three touchdowns per game as a starter, although admittedly the schedule softened up around the time he took over, and looks to be one of the top SEC quarterbacks.
9. Geno Smith, West Virginia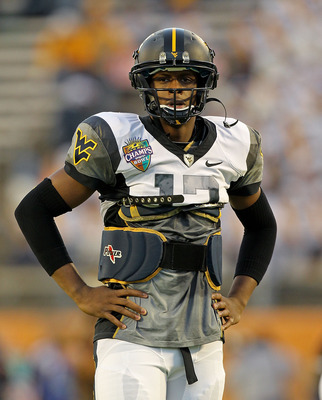 Mike Ehrmann/Getty Images
With offensive guru Dana Holgerson coming to West Virginia this year, Smith will have an astounding season in store for him.
He passed for 2,700 yards and 24 touchdowns last year, but under the spread pass offense, which led to such legendary passing attacks as those in Texas Tech and more recently Oklahoma State, those numbers will look a little more like 3,500 and 30 in 2011.
8. Taylor Marinez, Nebraska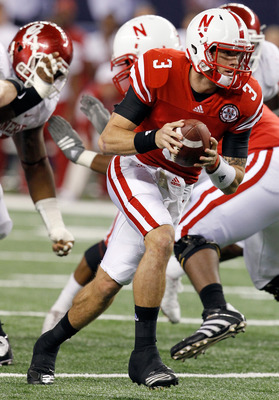 Tom Pennington/Getty Images
2010 Big 12 Offensive Freshman of the Year. Five Touchdowns against Oklahoma State. First freshman to start the season opener in Nebraska school history. The resume is there, now it's time to build upon his injury-riddled first season.
7. Darron Thomas, Oregon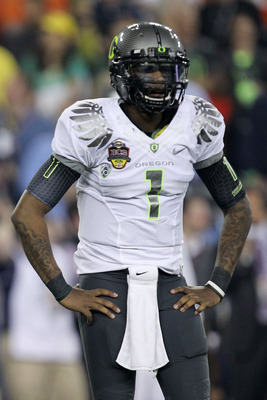 Ronald Martinez/Getty Images
Darron Thomas made the breathtaking Oregon offense click, even though LaMichael James got all the credit. He accounted for 31 total touchdowns in 2010 and Oregon's only two touchdowns in the BCS title game. With another National Championship game looming on the horizon, it will be hard for Thomas to be ignored much longer.
6. Terrell Pryor, Ohio State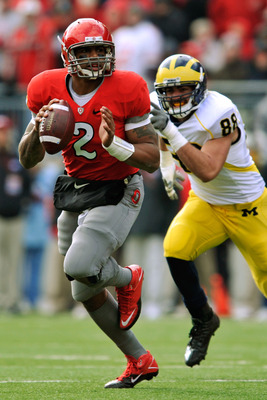 Jamie Sabau/Getty Images
While he will suffer from missing the first five games of the season due to a suspension, that did not factor into the rankings. Pryor added 700 yards and nine touchdowns to his sophomore numbers this year as well as completing 10 percent more of his passes, this improvement will continue into the 2011 season as he tries to prove he is NFL ready.
5. Denard Robinson, Michigan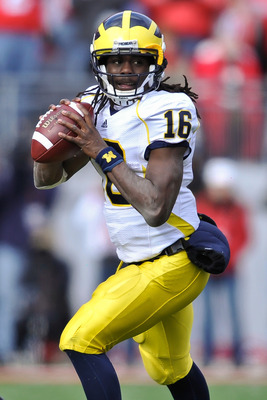 Jamie Sabau/Getty Images
Denard Robinson was hotter than hell to start the season and the Heisman seemed to be his to lose, then injuries got in the way.
If he can rush for 2000 yards and throw for 2000 yards in the same season, which isn't out of reach considering the 1700 rushing yards he had in 2010, then it won't matter that the Wolverines might be fighting just to become bowl-eligible.
4. Brandon Weeden, Oklahoma State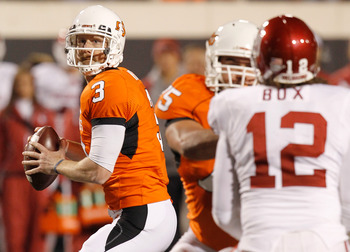 Tom Pennington/Getty Images
Yes, he's older than most NFL quarterbacks at age 28, yes, his esteemed Offensive Coordinator Holgerson jumped ship to West Virginia, but as long as there is receiver Justin Blackmon then there is hope.
All Oklahoma State has to do is keep their high octane offense intact and a Top 10 ranking could be in order, and a Heisman Trophy nomination for the man behind it all.
3. Kellen Moore, Boise State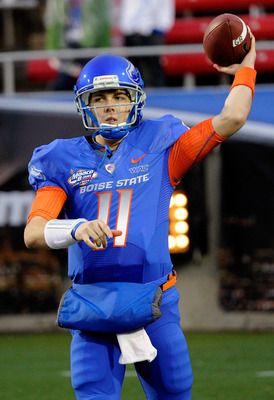 Ethan Miller/Getty Images
Coming off of three straight 3500 yard seasons it would be crazy to expect anything less as a senior. However the most adversity he faces is not so much in the defenses he faces, but it's what the teams he beats do in their other games. The exciting victory over Virginia Tech was downgraded by Tech losing the next game to James Madison, even though they did end up in the Orange Bowl by the end of the season.
Moore's biggest need is for the 2011 schedule to prove challenging enough to validate his numbers, and maybe earn a National Championship spot.
2. Landry Jones, Oklahoma
Ronald Martinez/Getty Images
Jones compiled a startling 4700 yards and 38 touchdowns as a sophomore, even while facing three of the top 15 pass defenses throughout the season. He completely emasculated Connecticut in the Fiesta Bowl with a 430-yard, three touchdown performance. Oklahoma is expected to be a championship contender in 2011, and this is the guy to thank.
1. Andrew Luck, Stanford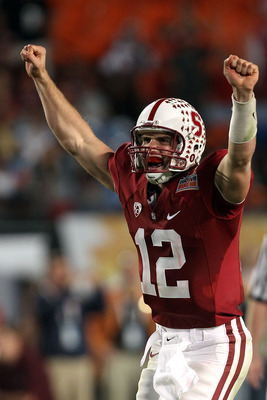 Streeter Lecka/Getty Images
The Heisman trophy and first overall pick in the 2012 draft are the expectations for Luck this year. He did the single most important thing a quarterback can do, have his best game of the season during the biggest game of the season where Luck put up 287 passing yards and four touchdowns en route to a 232 QB rating, his career high, and a convincing victory over Virginia Tech.
Keep Reading

Stanford Football: Like this team?