Carmelo Anthony: 10 NBA Players Better Than the Nuggets Star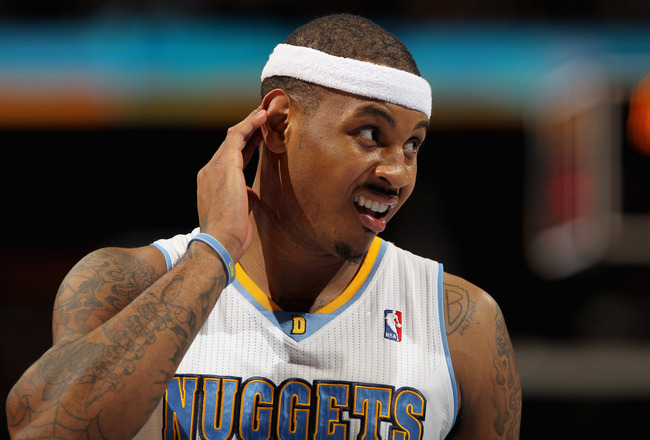 Doug Pensinger/Getty Images
The latest news on the Carmelo Anthony trade front is that the Denver Nuggets are asking the Knicks for three starters along with Eddy Curry and a first-round pick for Carmelo Anthony and Chauncey Billups, Those starters are Raymond Felton, Danilo Gallinari and presumably Landry Fields, as Wilson Chandler's play has fallen off a cliff of late.
This got me to thinking: Why does everybody think Anthony is a superstar that is worth three young, starting-caliber players with All-Star potential? Anthony is a star and a great scorer, no question about it, but a true superstar makes people better and contributes in more than one aspect of the game.
Case in point: On February 7 against Houston, Anthony scored 50 points, the second player to do that in the NBA this season. But despite touching the ball constantly, taking 24 shots and getting to the foul line 18 times, he didn't record an assist. Not one. I don't even know how that's possible, but it proves a point about Anthony. He's selfish.
Selfish players don't lead teams to NBA titles. Anybody who thinks Kobe Bryant is a selfish player has never watched Carmelo Anthony play. Bryant has the ability to make others better and knows when to defer; Anthony doesn't. When he doesn't score, he struggles to have an impact on any game.
While I don't believe there are 10 superstars in the NBA right now, there are still stars who are better than Anthony. So without further ado and in no particular order...
LeBron James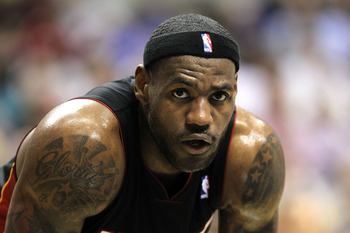 Andy Lyons/Getty Images
Regardless of how you may feel about what he did to the Cavaliers and the city of Cleveland this offseason, James is still the cream of the crop when it comes to NBA players. He led the league in scoring in 2008 and was the NBA MVP in 2009 and 2010, also garnering All-Defensive First Team honors during those seasons.
James is the best example of a player that makes everybody around him better. He's the best passing non-point guard in the NBA and ranks 12th in the league in assists this season, along with 26.1 points, 7.3 rebounds and 1.6 steals. Knock his outside shooting all you want but he's still a 35 percent three-point shooter and hits almost 50 percent of his shots from the field.
Kobe Bryant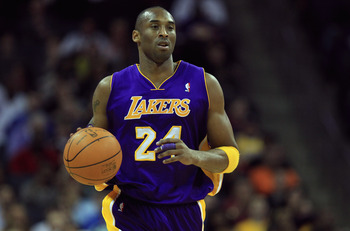 Streeter Lecka/Getty Images
Bryant's play has fallen off slightly this season and the Lakers are trending downwards with him. But he still averages over 25 points, five rebounds and five assists per game. He doesn't make his teammates better like Michael Jordan or LeBron James does, but he's still a leader on the floor.
Bryant is a five-time NBA champion who has been the Finals MVP in the last two seasons, although it can be argued Pau Gasol was the better player in the last season's series against Boston. But Bryant can still lead the Lakers to the promised land as the team's best player over the next few seasons, although their championship window is closing fast.
Chris Paul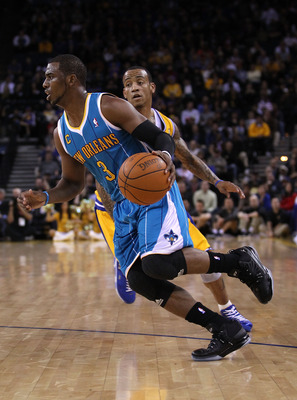 Ezra Shaw/Getty Images
If you want to talk about making others better, you can't have a discussion without Chris Paul. Paul is the only player on this list that averages under 20 points per game and he's not even close to that threshold at 16.4 (two years ago he averaged 22.8).
Scoring ability aside, Paul is a playmaker who puts his teammates in the position to be successful and creates opportunities for players who can't create on their own like David West, a jump-shooting big man who Paul has helped become a very good player.
The Hornets' performance this season has surprised many and Paul is the major driving force. He can affect a game without scoring and lead his team to victory on any night his shot isn't falling unlike Anthony, whose major contribution to any game is his scoring ability. Paul is tied for third in league in assists at 9.7 per game with Deron Williams and leads the league in steals with 142 (the next closest is Monta Ellis with 118).
Speaking of Williams...
Deron Williams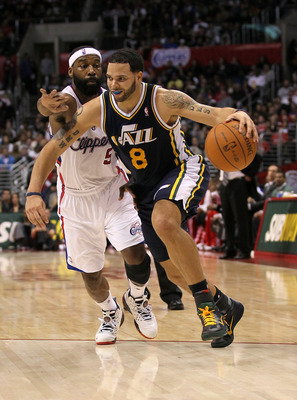 Stephen Dunn/Getty Images
Despite the recent rumors that Williams forced out long-time Utah Jazz head coach Jerry Sloan, he still makes it into my top 10 NBA players. His assists are on the same level as Paul but his scoring is far ahead this season at 21.4 points per game. Williams is enjoying his best season in the league to date and his first scoring over 20 points per game.
Like Paul, Williams is a top-notch leader on the floor, knows where his teammates like the ball and gets it to them in the right situations. His combination of speed and strength allows him to get to any spot on the floor whenever he wants and makes him a nightmare for opposing point guards to defend.
Dwyane Wade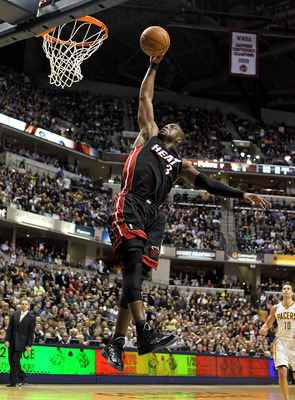 Andy Lyons/Getty Images
Adding LeBron James to the Heat has cut into Wade's production this season, but he's still arguably one of the league's top five players. Without the ball in his hands as often, Wade's assists have fallen from 6.5 last season to 4.4 this year, his lowest average of his career. But Wade is making up for it in other categories, averaging a career high with 6.9 rebounds per game working from the wing rather than the point.
Wade is another player on this list that makes his teammates better by creating opportunities with his ability to slash to the basket and open up passing lanes. And despite the career-low assist numbers his passing ability remains elite; just watch his 90-foot alley-oop to LeBron James from last night. It will stay on the highlights for a while.
Kevin Durant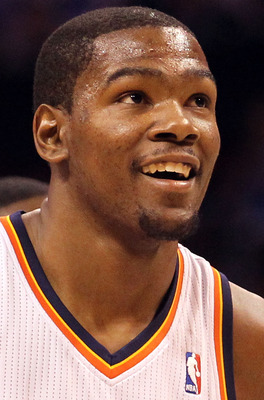 Ronald Martinez/Getty Images
Durant is one of the purest scorers the NBA has seen in recent memory. He won the scoring title last season at the tender young age of 21 with 30.2 points per game and the sky seems to be the limit for Durant in Oklahoma City.
You can say he doesn't make his teammates around him better because of his lousy assist-to-turnover ratio (2.8:3.1 this season) but making people better isn't always about passing. Even at 22, Durant is the leader of the up-and-coming Oklahoma City Thunder and the player his teammates, including fellow All-Star Russell Westbrook, turn to on the floor. It's hard to overlook his ability to get to any spot on the court and score despite his thin frame.
Dirk Nowitzki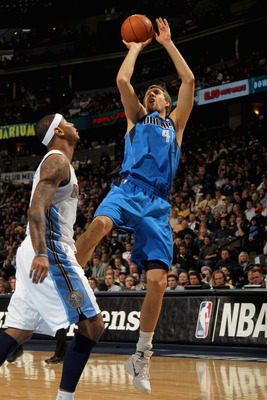 Doug Pensinger/Getty Images
Nowitzki has been criticized throughout his career as a player who doesn't shine when the lights are brightest, but it's still difficult to knock his credentials for being a top-10 player. He was the NBA MVP in 2007, the season after Nowitzki led the Mavericks to the NBA Finals, where they lost 4-2 to the Miami Heat after taking the first two games of the series.
Nowitzki hasn't been back to the finals since and while age may be catching up with him (his 22.6 points-per-game average is his lowest since 2003-04), he is still an elite scorer whose presence is the difference between Dallas being a title contender (36-9 with him this season) and a pretender (2-7 without him).
Dwight Howard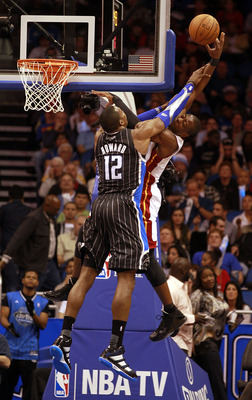 Marc Serota/Getty Images
It's hard to make a top-10 list and not include Howard, the best center in the NBA in an era where true centers are nearly impossible to find. Howard is in the midst of arguably his best season to date, scoring a career-high 22.6 points per game and grabbing a career-high 13.9 rebounds per game. His blocks have blocked from nearly three per game to 2.1, but that's less of a regression and more of a representation of the respect opponents give his shot-blocking ability.
Howard won't make his teammates better on the offensive end as despite drawing constant double-teams, he averages just 1.2 assists per game. But defensively, Orlando's guards and forwards can step out on shooters and play tight defense knowing Howard is behind them defending the basket. Howard doesn't just change games with his shot-blocking ability, but his presence alone on the defensive end. And he's only 25 years old.
Amar'e Stoudemire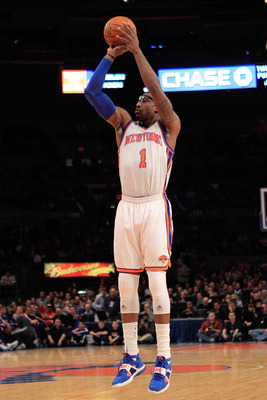 Chris Trotman/Getty Images
Stoudemire may not have made any top-10 lists before this season, but any list without him now is a foolish one. Stoudemire has taken on the role of team leader with the Knicks and elevated his game to previously unseen levels. He is averaging a career-high 26.2 points per game this season and it's amazing to see how much his mid-range game has improved since he entered the league.
It used to surprise me when Stoudemire made a shot outside the paint; now, it surprises me when he misses. But Stoudemire has also improved on the defensive end of the court, aggressively attacking shots and defending the rim on his way to a career-high 2.2 blocks per game. He was a legitimate MVP candidate when the Knicks were hot and while they have fallen off, he's become the type of player who can lead a team to a title with the right supporting cast.
Derrick Rose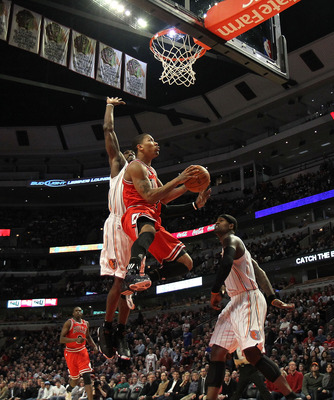 Jonathan Daniel/Getty Images
Rose is another player who wasn't on this list before the season started, but has elevated his game to new heights. Rose averaged 20.8 points and 6.0 assists per game last season, but this season he's at 24.5 and 8.2, respectively. Another player who has moved into serious MVP discussion, Rose has proven that he's almost ready to take the Bulls to their first title since the days of Michael Jordan.
Rose has actually improved in every important statistical category outside of field-goal percentage and turnovers and has finally developed a three-point shot to make defenders pay for backing off of him. His quickness and ability to get to the basket creates opportunities for his teammates and his improvement is one of the major reasons Luol Deng is having one of the best seasons of his career.
At just 22 years old, Rose has plenty of room to grow into the best point guard in the league. Chris Paul and Deron Williams may have beat him out on the list this season, but don't be surprised when Rose is mentioned as one of the NBA's top five players in the next season or two.
Conclusion
The 10 players I just listed are all better than Carmelo Anthony. Anthony could very well be the 11th best player in the league, but there are a few other players who should also receive honorable mention:
Russell Westbrook: Don't be surprised if he makes this list as early as next season.
Pau Gasol: He's not the kind of player you want as your top guy, but he's one of the best complementary players out there.
Rajon Rondo: He won't make it unless he ever develops a jump shot, but if he does WATCH OUT.
Brandon Roy: If only he could stay healthy...people forget how good he was with two good knees.
Blake Griffin: I can't wait to see what kind of encore Griffin has in store for next season.
Stephen Curry: Curry is already a stud on both ends and knows how to play the game the right way.
I'm sure I left out a few names, so please let me know who I forgot. But my major point in writing this piece is this: Anthony is not worth three starters, even with Billups. By the time the Knicks are ready to compete for a title, even with Anthony, Billups will be gone.
As good as Anthony is, he will not win an NBA championship until he accepts the role of Robin to a superstar's Batman. He couldn't even make an NBA Finals with one of the all-time playoff point guards, so who's to say he could do it on his own. All the players on my top-10 list can play Batman, and that's why Anthony is not worth what the Nuggets are asking for him.
Keep Reading