Funniest Football Shirts
September 24, 2008
Are you a football fanatic with love for fun rivalries? Do you hate shopping, but love funny shirts? Here's a look a some of the funniest football shirts, not guaranteed to make you laugh out loud but guaranteed to make you buy one!
John Terry
Now, this shirt isn't meant to offend Chelsea fans or bring back bad memories. Or maybe it is, which ever way, it's still hilarious. Wear this if you're a Chelsea fan and show the world that you can handle losing a game without pouting , whining and acting like a stuck up lunatic.
Peter Crouch
If only I could get my hands on this shirt! Everybody loves the RoboCrouch!
Thierry Henry
This shirt has never failed to crack me up. I would risk getting beaten up in this shirt just to see the look on some Arsenal fans after losing Henry.
Chelsea Again
Here's another Chelsea shirt for all you haters out there!
Manchester United
Ever wondered what AIG really stands for? Well, this shirt might give you a hint!
Zidane
He bought this one on himself. I think it's pretty cool, although I doubt he'd think so!
Arsenal Again
It's not my fault there are so many Arsenal haters out there! This actually isn't an insult to Arsenal and it's quite a cool phrase.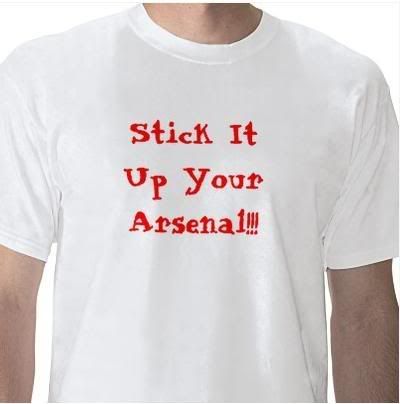 So, I just couldn't find any Liverpool shirts, and trust me I tried! Since I don't want it to seem like I'm having a go at all the other teams, I've decided to add something that you could print on a shirt if you like. Enjoy all you United fans , this ones for you!
Liverpool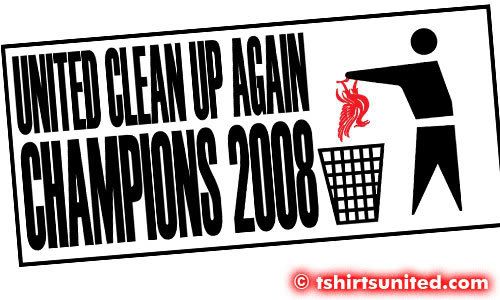 And finally a dig at Cristiano Ronaldo, cant help it...
Cristiano Ronaldo
Now, this isn't an insult to Ronaldo! Everyone knows today diving is referred to as an art, so this shirt depicts Cristiano as an artist! A very talented one too! Maybe even the King!
Cheers.