Atlanta Braves vs. Philadelphia Phillies: A Positional Breakdown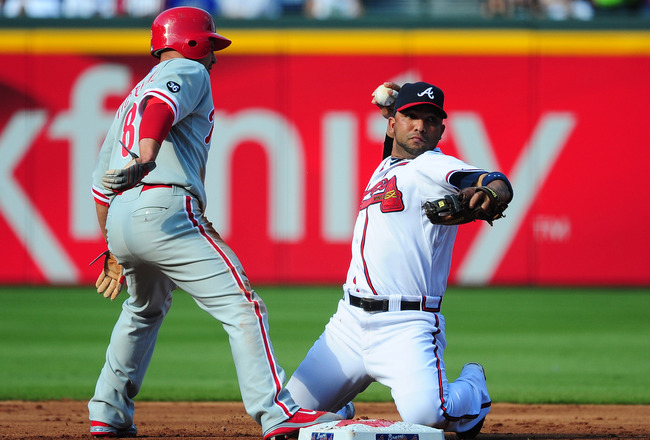 Scott Cunningham/Getty Images
Both the Philadelphia Phillies and Atlanta Braves made it to the postseason in 2010, and both will likely find themselves there again this season. It's just a matter of who wins the NL East and who takes home the Wild Card.
The Phillies have won the division each of the past four seasons. But this season the Braves look to use their revamped lineup to return themselves to their 1990s glory.
Here, we will examine how both teams match up at each position.
First Base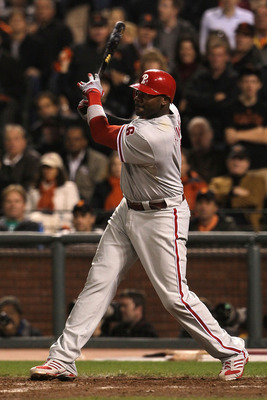 Justin Sullivan/Getty Images
Freddie Freeman vs. Ryan Howard
Atlanta has high hopes for rookie first baseman Freddie Freeman, who showed signs of brilliance as a late season call-up for the Braves in 2010.
However, to give him the advantage over perennial All-Star Ryan Howard would be foolish. Howard has hit more than 30 home runs and batted in more than 100 RBI in each of the past five seasons. Though he is a strong strikeout candidate and often struggles against left-handed pitchers, Howard cut down his strikeout total in 2010 by nearly 30.
Howard will have another strong season for Philadelphia, leading the team in home runs and RBI, while Freeman will have a Rookie-of-the-Year-caliber 2011, ending with around 10 home runs and more than 60 RBI.
Advantage: Phillies
Second Base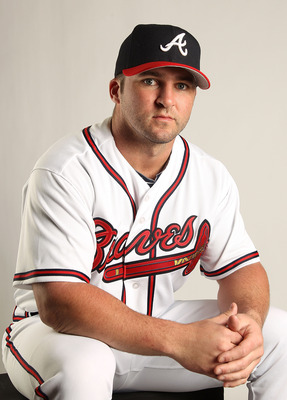 Mike Ehrmann/Getty Images
Dan Uggla vs. Chase Utley
By acquiring second baseman Dan Uggla from the Florida Marlins, the Braves have given themselves the edge in this match up.
Last season, Uggla hit .287 with 33 home runs and 105 RBI for an offensively-challenged Marlins team. With his arrival in Atlanta, he will likely see his number of at-bats increase, as well as his chances to bat with runners on base.
Utley spent a considerable amount of time on the disabled list last season, but regained his swing late in the season and helped propel the Phillies into the NLCS. He played in about 40 games fewer than Uggla and finished with 16 home runs and 65 RBI.
While he does have the edge defensively over Uggla, Utley is already suffering from injuries. He has sat out both of the Phillies first two Spring training games with general body soreness, according to Phillies manager Charlie Manuel. Utley will need to stay healthy and improve his numbers in order for the Phillies to win the NL East.
Advantage: Braves
Shortstop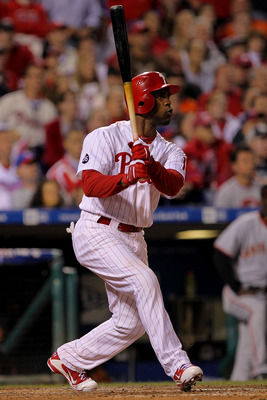 Doug Pensinger/Getty Images
Alex Gonzalez vs. Jimmy Rollins
In 72 games with the Braves last season, Gonzalez hit six home runs and had 38 RBI, in addition to his 17 home runs and 50 RBI from his 85 games with the Toronto Blue Jays.
But entering 2011, Gonzalez's name has been circled by many critics who do not believe he can post similar numbers this season. He will need to if the Braves have any hope of keeping up with the Phillies in the East.
Rollins spent nearly 70 games on the disabled list last season and resulting in a mediocre season. He played in 88 games, in which he posted eight home runs and 41 RBI. However, if Rollins, who seems to be in the MVP mix at the end of nearly every season, can stay healthy, he will have the upper hand at shortstop.
Advantage: Phillies
Third Base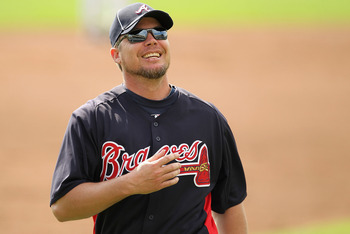 Mike Ehrmann/Getty Images
Chipper Jones vs. Placido Polanco
Jones started 2010 off very slowly and even considered retiring if his numbers did not improve. But midway through the season he found his stroke, showing glimpses of the Chipper Jones of years past before succumbing to a season-ending injury in Milwaukee.
He's always been reliable in the field, and if his swing is present, he is reliable at the plate as well. Jones is one of the clutch players on the 2011 Braves squad, otherwise filled with many first- and second-year players.
Polanco had a solid year with the Phillies in 2010, where he batted .298 with 6 home runs and 52 RBI. Polanco seemed to be one the the more consistent hitters on the Phillies last season, batting around .300 for the whole season despite spending some time of his own on the Disabled List.
He too is a good fielding third baseman, making this match-up nearly impossible to predict. However, Jones is eager to return to the field after watching his team make the playoffs without him, and feels rejuvenated following an offseason of rebuilding. Reports came in early this month that Jones had even hit the cover off a ball while in the batting cage, a good sign for Braves fans.
Advantage: Braves
Catcher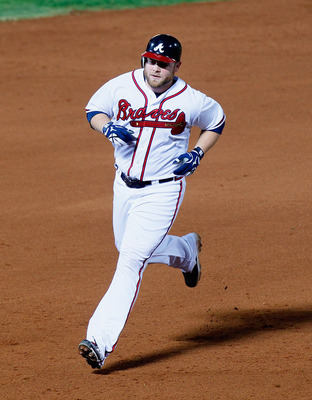 Kevin C. Cox/Getty Images
Brian McCann vs. Carlos Ruiz
McCann, an annual All-Star, ended 2010 with 21 home runs and 77 RBI, numbers similar to those of his past four seasons. He was the All-Star Game MVP, and according to Braves GM Frank Wren, began to understand his role as a leader on the team late in the season.
Ruiz, who posted career-best numbers in almost every category last season, would win the head-to-head match-up with any catcher in the National League—besides McCann, who is just too consistent and too powerful. Ruiz hit .302 last season with eight home runs and 53 RBI. His throwing arm is more consistent than McCann's, but that is about all he has over the Braves' backstop.
Advantage: Braves
Right Field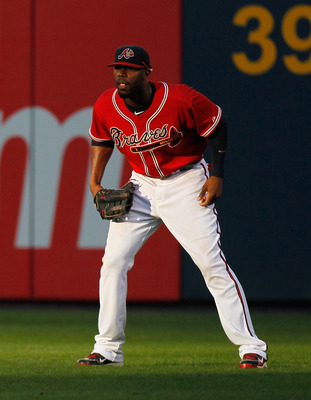 Kevin C. Cox/Getty Images
Ben Francisco vs. Jason Heyward
Braves fans are hoping that Heyward can avoid the traditional sophomore slump season and be as effective as he was during his rookie campaign, when he hit 18 home runs and had 72 RBI in 142 games. Heyward lived up to his Spring Training hype, hitting a home run in his first swing in the big leagues. He was also named to the 2010 All-Star team as the National League's starting right fielder.
Francisco has big shoes to fill in Philadelphia—Jayson Werth's shoes. Francisco played in 88 games in 2010, where he hit six home runs and drove in 28. He has been a bright spot for the Phillies in Spring Training this year, where, through only two games, he has a home run and an RBI double.
Advantage: Braves
Center Field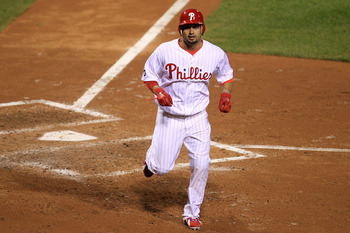 Chris McGrath/Getty Images
Nate McLouth vs. Shane Victorino
McLouth is hoping to turn the page on a dismal 2010 season that saw him finish with a .190 average and six home runs. He spent much of last season at Triple-A Gwinnett, but never found his consistency. After spending the offseason in Michigan to clear his mind of his struggles, McLouth has told reporters that he is ready for 2011 and is hoping he will be able to post numbers similar to those he put up while on the Pirates.
Victorino, one of the best switch hitters in the league, had a solid 2010 season, finishing with a .259 batting average, 18 home runs and 69 RBI. He has a great arm and is always a threat to steal a base once he reaches. The Flying Hawaiian is consistent at the plate and has great power as well.
Advantage: Phillies
Left Field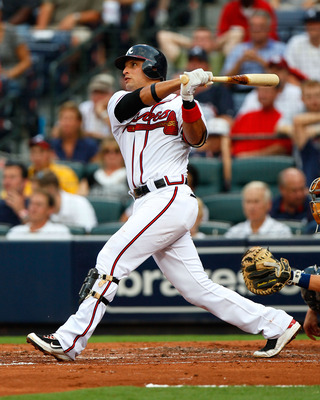 Kevin C. Cox/Getty Images
Martin Prado vs. Raul Ibanez
Prado had a breakout season in 2010, making the NL All-Star team for the first time in his career. Prado batted above .300 the whole season before succumbing to a season-ending injury in September. He finished his 2010 campaign with a .307 batting average, along with 15 home runs and 66 RBI, both career highs.
He moves to left field in 2011 to make room for a revamped Braves infield that features newcomer Dan Uggla and the return of veteran Chipper Jones. Although he does not have much experience in left, reports from Spring Training have all said Prado is comfortable roaming the outfield.
Ibanez had an unbelievable 2009, his first season with the Phillies, but 2010 saw a significant decrease in his power numbers. He finished with 16 home runs and 83 RBI, his lowest totals in six years. The Phillies are hoping he can bounce back after a tough season.
Advantage: Braves
Starting Pitching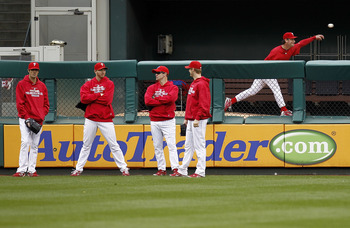 Jeff Zelevansky/Getty Images
Braves Five vs. Phillies Five

Braves starting pitchers Tim Hudson, Tommy Hanson and Derek Lowe were very effective late in the season, as all three ultimately helped the team get into position to clinch its playoff birth on the final day of the regular season. But with questions surrounding Jair Jurrjens' health as well as the club's fifth starter, the strength of their starting pitchers is questionable when compared with the Phillies.
With the offseason signing of Cliff Lee, the Phillies immediately became favorites to make the World Series. Lee, along with Roy Halladay, Roy Oswalt and Cole Hamels, have drawn comparison to the Braves' rotation of Smoltz, Maddux, Glavine and Avery of the 1990s without even having thrown a regular season pitch.
Halladay finished 21-10 in 2010, where he posted a 2.44 ERA and threw a perfect game and a postseason no-hitter. Lee finished 12-9 with a 3.18 ERA and was a key component to the Rangers World Series berth.
Advantage: Phillies
Bullpen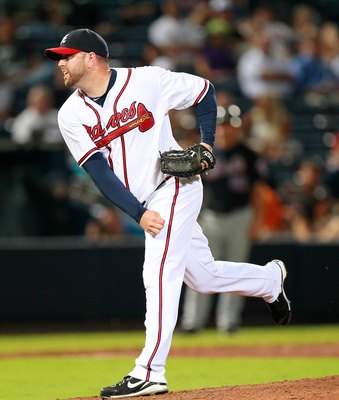 Kevin C. Cox/Getty Images
The Braves' bullpen was very strong in 2010, with veteran southpaw Billy Wagner serving as the club's closer. But after Wagner's departure, manager Fredi Gonzalez has hinted that he plans to use relievers Jonny Venters and Craig Kimbrel as co-closers until one emerges as a dominant closer.
Venters had an outstanding 2010, a season that ended with him posting a 1.95 ERA and 95 strikeouts in 83 innings pitched.
Peter Moylan and newcomer George Sherrill will serve as the veteran relievers of the team, a team which also features left-handed specialist Eric O'Flaherty and Scott Linebrink.
The Phillies bullpen was shaky at times last season, as closer Brad Lidge is a hit-or-miss nearly every outing. However, Ryan Madson and Jose Contreras had strong seasons of their own. Madson finished 6-2 with a 2.55 ERA in 53 innings pitched while Contreras went 6-4 with a 3.34 ERA in 56.2 innings pitched.
Advantage: Braves
Bench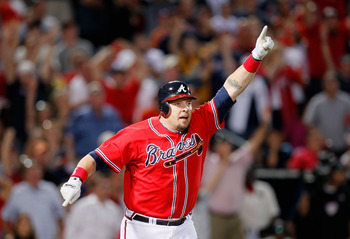 Kevin C. Cox/Getty Images
Brooks Conrad showed signs of brilliance last season, hitting two pinch-hit grand slams.
But how quickly the tide can turn. Conrad committed three errors in Game 3 of the NLDS against the Giants, ultimately costing the Braves a victory. He will be back in uniform this season, as will utility man Eric Hinske, a power bat and clutch hitter. It was also in Game 3 when Hinske, coming off the bench, took a Sergio Romo pitch over the right field fence to give the Braves the lead, which was later blown.
Hinske finished 2010 with a .256 batting average, 11 home runs and 51 RBI.
Valdez, Schneider and Gload are all good bats, at times, for the Phillies, but they simply do not compare with those of Hinske and Conrad. Gload finished with a .281 batting average and 22 RBI, while Valdez posted a .258 average with 35 RBI.
Advantage: Braves
Prediction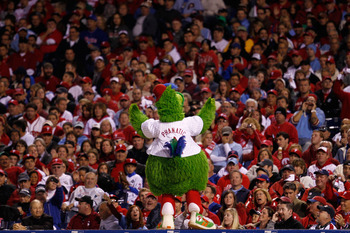 Jeff Zelevansky/Getty Images
The Braves, by way of a 7-4 victory in this slideshow, will win the NL East by two games. The Phillies will win the NL Wild Card. Both teams will win in the NLDS, before advancing to play one another in the NLCS, which will see the Phillies prevail.
Keep Reading

Atlanta Braves: Like this team?