Raptors Report Week 15: Biggest Game of Season Coming Up For Raps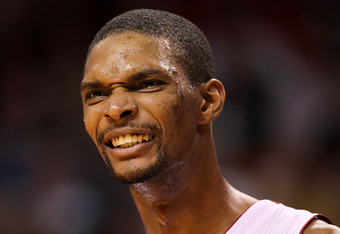 Mike Ehrmann/Getty Images
The Raptors had another losing week and the trend just seems to continue. Though there are many bright spots on the team, the Raps just don't play well enough when it counts.
Their inablilty to close out games is biting them, and if they want to compete, this is something that needs work.
On another note, Chris Bosh makes his return to Toronto this Wednesday after leaving for the Heat in the offseason, and the Raptors have had three days to prepare for this big game. This will definitely be a sell-out and is the most anticipated game of the Raptors' season.
Onto the report:
Record: 1-3
Performance on a scale of 1-10: 5
Here is a recap of the four games:
Raptors @ Bucks, L 74-92
Positives
Phew. This one was not pretty. Andrea Bargnani and DeMar DeRozan scored the ball fairly well, and the Raptors played some solid defense, but that's about it.
Negatives
Offensively, this was one of the worst performances of the season. Sloppy with the ball and taking bad shots isn't a formula for winning.
Raptors vs Spurs, L 100-111
Positives
The Raps were in it pretty much the whole game until the end. Offensively, the Raps were much better. Andrea Bargnani, DeMar DeRozan and Leandro Barbosa all scored 20+, and Amir Johnson posted a double-double.
Negatives
Defense was the problem in this one. Down the stretch the Spurs just got too many baskets. This game is closer than it indicates, but a loss is a loss.
Raptors vs Blazers, L 102-96
Positives
This was a very well played game by the Raps, and once again they were in it pretty much the whole game. Bargnani and DeRozan were both great, and Ed Davis was a monster on the glass. The Raps played solid D for the most part and their offense wasn't bad. Jerryd Bayless had a series of four threes as well, which was impressive. Also, Rudy Fernandez was roasting the Raps in the first half, but the Raps shut him down in the second half.
Negatives
The Raps had no answer for LaMarcus Aldridge and once again, they couldn't close out the game.
Raptors vs Clippers, W 98-93
Positives
Most people watched this game for the Blake Griffin show, but really, it was the Ed Davis show. Davis dominated with a 13 points and posted a career high 14 rebounds. He also played great D and limited Griffin when it mattered. Andrea Bargnani and DeRozan have both been very consistent this week.
Negatives
The only complaint from this one is why Brian Cook had 17 points. I mean, he's a no namer and these guys always seem to explode on the Raps.
Ask Sachin
Unfortunately there were no questions asked this week; please leave your questions in the comment section below.
Follow me on twitter for more exclusive Raptors articles and updates @Thesachman
Please click here for more exclusive Raptors and Toronto sports content.
This article is
What is the duplicate article?
Why is this article offensive?
Where is this article plagiarized from?
Why is this article poorly edited?

Toronto Raptors: Like this team?