Andy Pettitte: Is Pettitte Sports World's Next Brett Favre?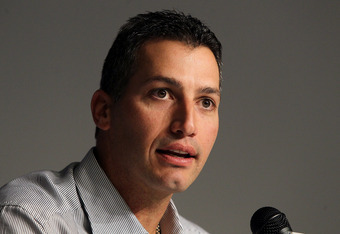 Andy Pettitte Could Come Out Of Retirement, Posada Says; Is He Sports' Next Brett Favre?
New York Yankees catcher Jorge Posada told reporters that he could see veteran lefty Andy Pettitte coming out of retirement at some point this season to pitch for his former club, according to a report on ESPN.com.
While the backstop told reporters later that he didn't have anything to base it on, and later amended his statement to say that he "hoped" Pettitte would come back, the dialogue struck me as sounding eerily familiar.
Where had I heard this before? Why had I heard this kind of speculation? I racked my brain for a moment, when it hit me: Pettitte was getting the classic Brett Favre treatment.
And, if you think about it, the lefty does have certain Favre-esque tendencies. Remember back when Pettitte called it quits back in 2007, only to change his mind a few weeks later?
That's one fake retirement, and given his age, there's a real chance this could be two.
You might brush it off as mere speculation, but if anyone comes out and says Pettitte's thinking about coming out, the momentum will grow.
He's not the diva Favre is, so he won't do the soft-filtered interviews with Jim Grey, or let tidbits of information leaning one way or another leak out through family members.
But, if anything else comes out about this, don't be surprised to see Pedro Gomez camped out on Andy's lawn in the next month or so.
For more baseball news, check out Albert Pujols: 10 Potential Trades That Could Ship the Slugger Out of St. Louis.
Most recent updates:
This article is
What is the duplicate article?
Why is this article offensive?
Where is this article plagiarized from?
Why is this article poorly edited?