2011 NFL Draft: Top 10 Offensive Tackles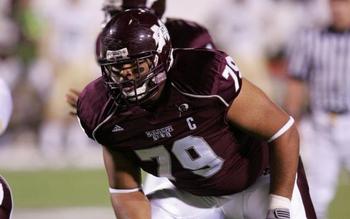 Offensive tackles are extremely important for an offense and team. They are the guys that usually get no help outside of them to protect the quarterback. Most sacks are made from defensive ends, outside linebackers and cornerbacks coming off the edge. If they don't protect their quarterback and the quarterback gets hurt, the season is likely a lost cause.
A prototypical NFL offensive tackle is at least 6'5'', has excellent feet, long arms, great strength, good hand placement, keeps low, takes good angles to get to their man and can move. There isn't a total stud in this years draft like a Jake Long or Joe Thomas, but there are a lot of good prospects with potential.
Here are my top 10 offensive tackles in the 2011 NFL Draft.
10. Derek Newton, Redshirt Senior: Arkansas State Red Wolves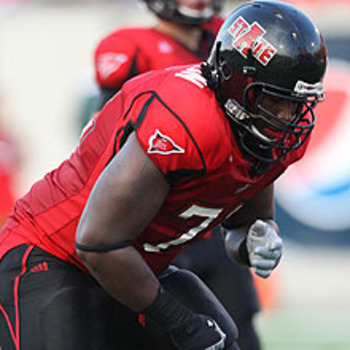 Height: 6'5''
Weight: 305 lbs.
Newton is a good athlete that gets to his blocks and has great feet. Has good length and shows good lateral movement.
He needs to be coached up. Does not maintain blocks well. Needs to have better leverage, stay balanced and get stronger.
9. Marcus Gilbert, Senior: Florida Gators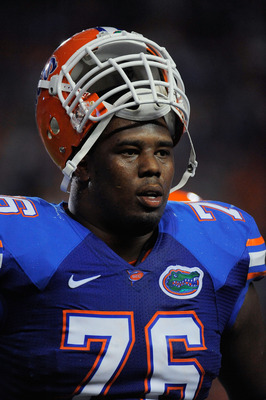 Doug Benc/Getty Images
Height: 6'6''
Weight: 320 lbs.
Gilbert will be a right tackle in the NFL. Very good at both run and pass blocking. Strong guy who won't be bull rushed often but could get beat by speed rushers. Shows good balance and gives effort making blocks.
Doesn't have good footwork, lacks explosion and lunges at defenders getting beat.
8. Jason Pinkston, Redshirt Senior: Pittsburgh Panthers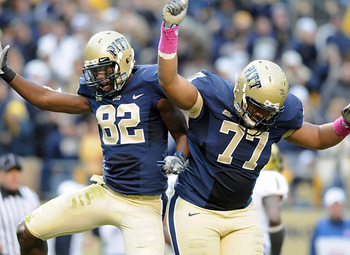 Height: 6'4''
Weight: 305 lbs.
Pinkston has long arms, good bend and good footwork. He has solid pass protecting, mirroring defenders well. Excellent in run blocking bursting off the ball.
Pinkston did have a knee injury, which is a cause for concern and can get beat by speed rushers.
7. Lee Ziemba, Senior: Auburn Tigers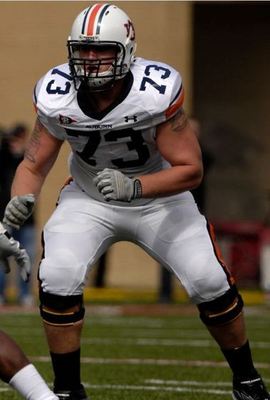 Height: 6'8''
Weight: 320 lbs.
Athletic pass blocker. Could protect a quarterback's blindside. Also a solid run blocker. Has the frame to add weight and has a mean streak of punishing defenders.
Doesn't have long arms for his size and needs to get a better base. Lacks flexibility and lateral movement to be a left tackle for long term. May be moved to the inside.
6. Joesph Barksdale, Senior: LSU Tigers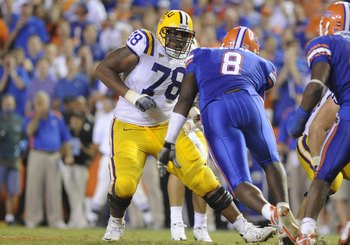 Al Messerschmidt/Getty Images
Height: 6'5''
Weight: 315 lbs.
Barksdale is an athletic tackle that has the potential to be great in the NFL. Very good pass and run blocker. Uses his hands well and gets to the second level with ease. Strong and moves laterally very well.
Has everything you look for in a tackle, but needs to be consistent in technique to reach his potential.
5. Gabe Carimi, Redshirt Senior: Wisconsin Badgers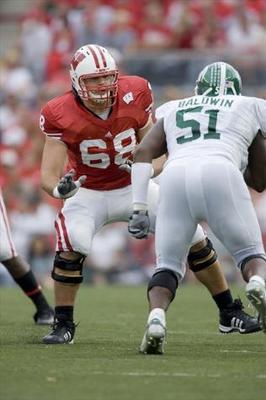 Height: 6'7''
Weight: 315 lbs.
Carimi is a solid athlete with massive size. Is solid in both the run and pass. Has a good punch and gets off the ball. Takes good angles finishing blocks. He also has a mean streak.
He doesn't have good footwork or good bend. Gets beat by speed rushers. Sometimes gets too wide, allowing defenders to get inside on him.
4. Anthony Costonzo, Senior: Boston College Eagles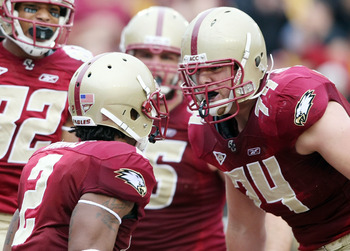 Elsa/Getty Images
Height: 6'7''
Weight: 305 lbs.
Costonzo was a four-year starter at Boston College. He's a technician that gives high effort. Always in good position to make blocks. Tough player that plays to the whistle.
Not a great athlete, but can pull and make blocks. Needs to improve strength and add more bulk to his ideal frame.
3. Nate Solder, Redshirt Senior: Colorado Buffaloes
Doug Pensinger/Getty Images
Height: 6'8''
Weight: 315 lbs.
Solder is an athletic giant. Possesses great feet and lateral movement. Could be a franchise left tackle in the NFL. Big time potential, but will have to work very hard to reach it. Good at pass protecting and run blocking.
Plays too high and doesn't always have a good knee bend. Needs to add bulk. Gets beat inside and is somewhat sloppy in blocking. Isn't going to dominate a defender. Was beaten at the Senior Bowl quite a bit.
2. Tyron Smith, Junior: USC Trojans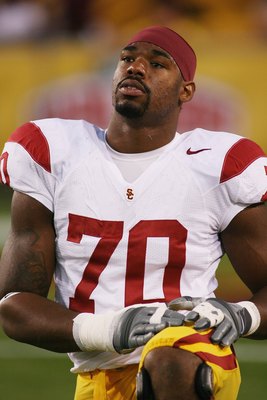 Jeff Golden/Getty Images
Height: 6'5''
Weight: 290 lbs.
The most athletic tackle of this year's draft class. Smith has great feet, a good bend in his knees and good balance. Good in pass blocking and run blocking. Has the ability to dominate defenders with his explosion into blocks and good arm length. Lots of potential.
Smith needs to get stronger and add more weight. Has to get better placement with his hands.
1. Derek Sherrod, Senior: Mississippi State Bulldogs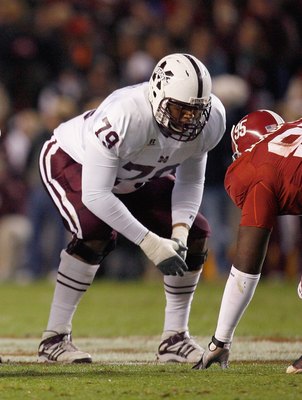 Kevin C. Cox/Getty Images
Height: 6'6''
Weight: 310 lbs.
Sherrod had the longest arms at the Senior Bowl. Has great size and is a great athlete. He has good flexibility and lateral movement. Could play left tackle in the NFL and explodes off the ball. Shows good footwork and is a hard worker who will only get better with NFL coaching.
Isn't that strong and at times stops his feet. Lunges at defenders at times.
Keep Reading