25 Hottest WAG Centerfolds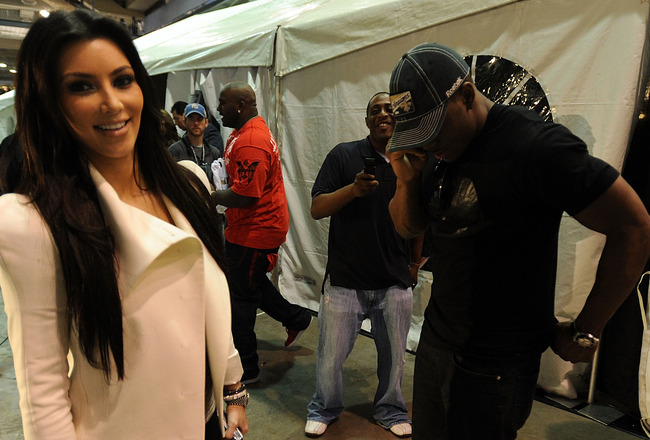 Michael Heiman/Getty Images
My blood runs cold, my memory has just been sold, My angel is a centerfold - J Geils Band
Those lyrics are about as close to the truth as I can proclaim. Most of the women you are about to see are angels in pictures. They are heavenly bodies posed for the world to see.
We are here today to admire the work of some of the best photographers of modern culture. The men and women that have put together the sexiest magazine centerfolds and photo shoots in ages.
I must admit, this is one of the hottest slideshows I have ever produced. I hope you like what you are about to witness. Enjoy!
25. Victoria Beckham: Glamour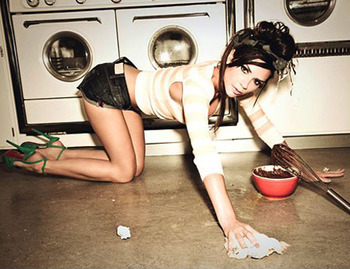 Of all the magazine covers she has graced, Glamour had one of the sexiest layouts of Victoria Beckham.
If she ever needed to get a job, I can imagine a great one for her already.
24. Zaira Nara: Remix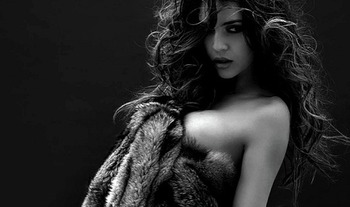 It was not easy to find Diego Forlan's woman half naked in a magazine until I sneaked up on an issue of Remix.
Bear skin cover...check
Naked woman...check
Famous Argentinian model...check
23. Dominique Piek: Sports Illustrated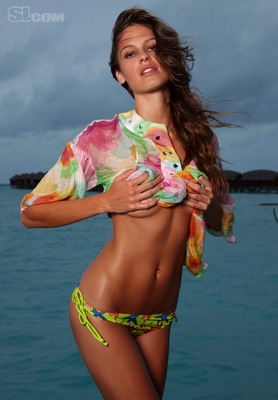 If you have ever had a dream to play professional sports, I believe their are only two choices, one of them being baseball.
Texas Rangers pitcher C.J. Wilson has proven to us that playing in the majors has its benefits. And by benefits, I mean, he is dating the beautiful Dominique Piek.
22. Imogen Thomas: Zoo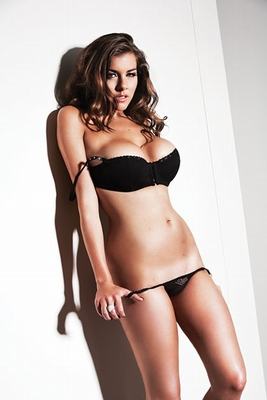 Have you ever read an issue of Zoo magazine? What about their website?
This is a goldmine for beautiful women. If you have not done so yet, take a quick break to check it out. There is more talent on that site than Minor League Baseball.
Serial WAG Imogen Thomas is one of the sexiest to ever pose for a magazine that includes the hottest women on the planet. Now that is saying something.
21. Oksana Andersson: Cafe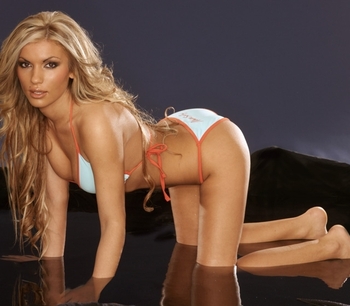 Christian Wilhelmsson was a smart man. He dated this hottie for almost two years. I can only imagine what his new woman looks like if he left this one.
20. Rosaria Cannavo: Matrix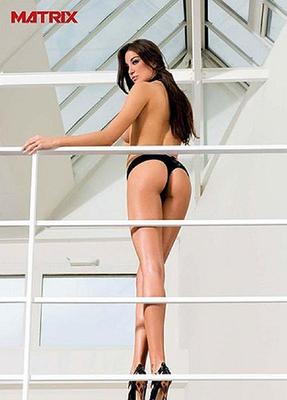 Do you remember the time when a woman walked past you and, almost mid-sentence, you stopped to turn and look?
This would be one of...
19. Melissa Satta: Sports Illustrated
Idea #1 - Use the 2010 FIFA Uniforms and make them small and slutty...NO!
Idea #2 - Design a bathing suit to resemble the uniforms...NO!
Idea #3 - Make all the players pose with their women...NO!
Idea #4 - Paint the small and slutty uniforms on their naked body...BINGO! Book it!
18. Maria Sharapova: GQ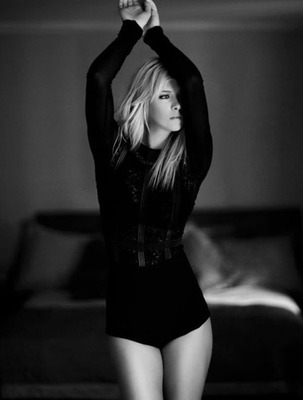 Many people, myself included, find it unfortunate that Maria Sharapova is engaged to that strange-looking character for the Nets, Sasha Vujacic.
Why did she choose him? Probably because he is the taller than her. She stands around 6'2". That has to be the reason, right?
17. Emma Andersson: Cafe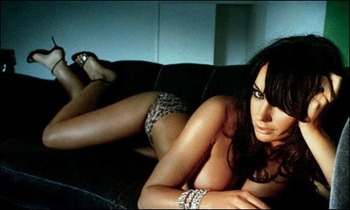 Just imagine being Henrik Zetterberg, Detroit Red Wings star, getting to come home to this every night.
Now pretend it was you. You might want to learn Swedish, too. Who am I kidding? There is no language barrier that could stop me from getting to Emma.
16. Kristin Cavallari: Jay Cutler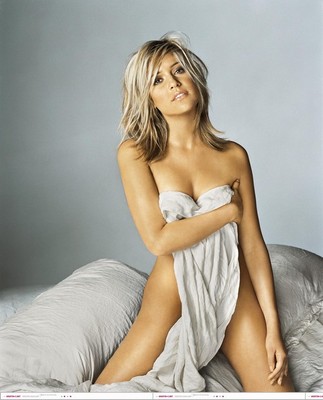 Jay, Jay, Jay!
I was wondering what are you thinking but after the issue of Rolling Stone came out, I can see how you came to your conclusions.
If you want to date someone considered a celebutante, who is a celebrity because her family is wealthy and popular, then she better be super hot.
15. Holly Madison: Playboy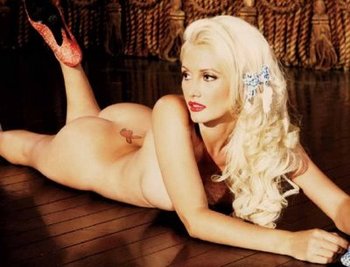 Have trouble sleeping at night? Try popping in an episode of Girls Next Door. Not only will you fall asleep, but when you wake up you might know the meaning of life.
Aside from the reality show from hell, Holly Madison has made other good choices with her life, like dating Josh Koscheck. That was a good choice, right?
14. Adriana Karembeu: Maxim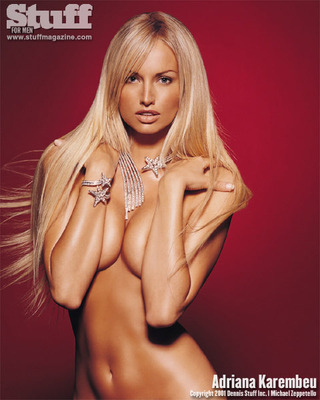 I already know what you are thinking and yes, she does not have any clothing on.
Wait, what? You wanted to know who this is? She has been married to French soccer player Christian Karembeu for almost 13 years now.
Go ahead and mumble those words, "Lucky bastard."
13. Abigail Clancy: FHM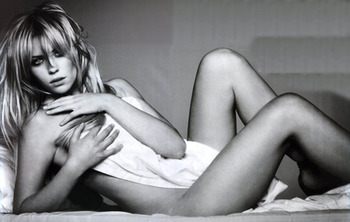 Thank you FHM for making my life worth living with this sexy issue featuring my favorite person from England, Abigail Clancy.
How can anyone cheat on this? Peter Crouch is already dating about seven spots outside of his own level so why he would cheat on her is beyond me. Maybe he was doing the whole Tiger Woods experience.
12. Gemma Atkinson: Loaded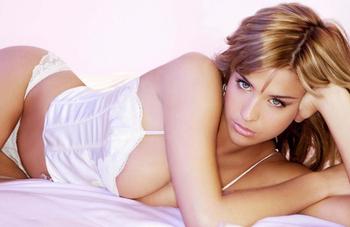 What is the perfect magazine for the beautiful, top-heavy Gemma Atkinson to grace the cover of?
A magazine called Loaded would be a good start.
11. Izabel Goulart: Vogue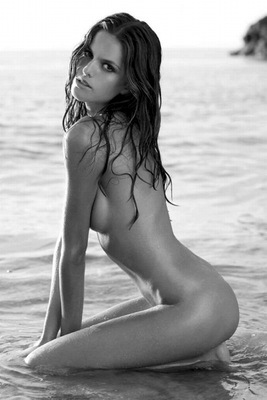 How many Russian soccer players named Diniyar Bilyaletdinov do you think exist?
Ok, so that was a dumb question being as there is only one. I just was not sure if anyone knew of any more. It could happen.
By the way, naked woman right next to this paragraph.
10. Hope Dworaczyk: Playboy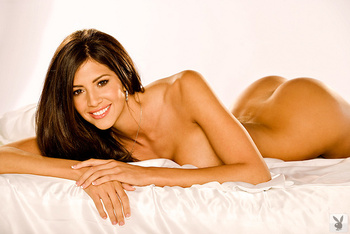 Rarely does a professional athlete get divorced and quickly find an upgraded version of his previous wife. Well, Jason Kidd did just that in Hope Dworaczyk.
Don't get me wrong, his ex-wife Joumana Kidd was a hottie. Hope is just that much hotter, as evidenced in Playboy.
9. Danielle Llyod: Nuts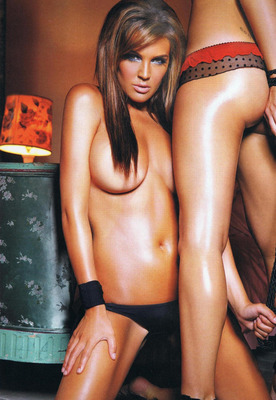 Editor: What should we call ourselves?
Writer: Well, Maxim, FHM, Loaded and Playboy are all taken.
Editor: This is true. Nuts.
Writer: Perfect!
8. Brooklyn Decker: Esquire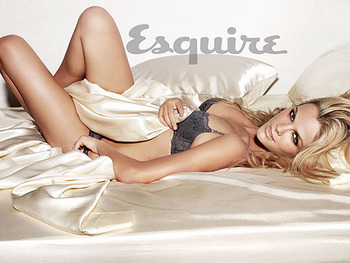 I was fortunate enough to have seen her recent movie with Adam Sandler, Just Go With It, and I must say that she was used for her looks, plain and simple.
But this is not a movie review, it is a sexy review of beautiful women. So please continue on with the show.
7. Adriana Lima: DT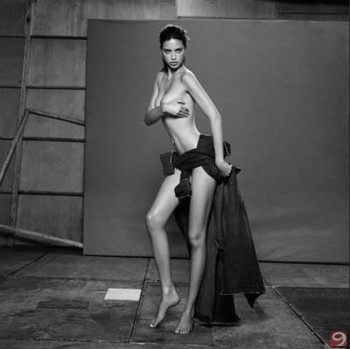 For those of you playing at home, yes she is completely naked and no she is not available.
Even if she was not married to the odd-looking Marko Jaric, she would still be off-limits to most men in the world mainly because she is about 10 spots out of any of our level.
6. Minka Kelly: Esquire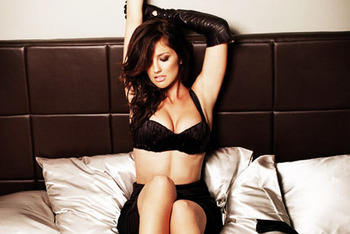 How do you get Derek Jeter, serial dater of beautiful famous women, to settle down?
Simple, you look like Minka Kelly.
After she posed for Esquire, I began to drink the Minka Kelly Kool-aid, and it tastes good.
5. Mayra Veronica: Maxim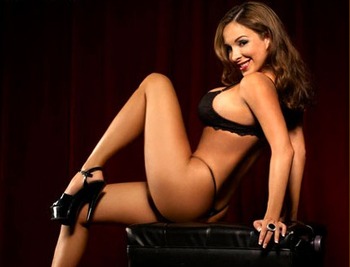 Mayra Veronica has an ass that makes me want to move to Fiji. I do not even know why, I just know that when I look at it, my brain goes numb and I start to do crazy things.
I guess that is why we all love her so much: Her ass is controlling our minds and clouding our judgements.
4. Kim Kardashian: Complex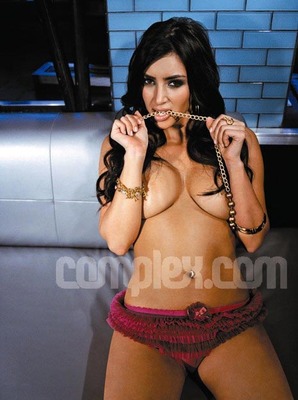 It is hard to believe that Kim Kardashian is still relevant. Who is she dating now?
Oh yeah, that Kris Humphries guy with the New Jersey Nets. I guess some people are just addicted to fame and will do anything to keep it.
That being said, she is still a smoking hottie.
3. Marisa Miller: GQ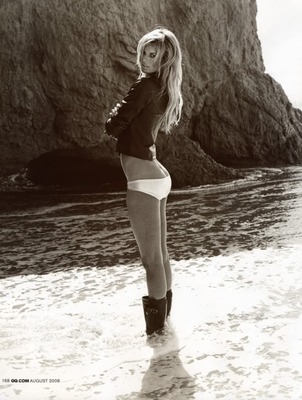 We have all heard about the relationship between Dale Earnhardt Jr. and Marisa Miller. Even though it was shorter than any conversation with Megan Fox, it still counts.
So, for all the one night stands, quickies and flings, this is one we will always be grateful for. Thanks Dale Jr.
2. Gisele: V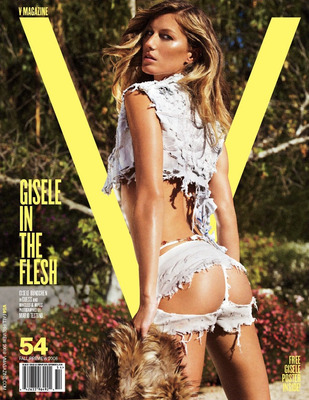 Is there anything left for us to be jealous of?
Tom Brady has it all. This photo shoot in V magazine is a reminder to us all that he has everything.
1. Irina Shayk: GQ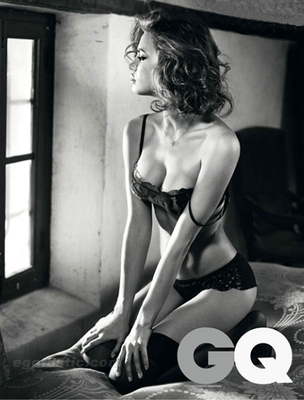 Congratulations to Irina Shayk for being named the cover girl of the 2011 Sports Illustrated Swimsuit Edition.
I have been promoting her beauty for months and would like to believe I had something to do with it. You do not have to send me any monetary compensation, just a hug would suffice.
Keep Reading