NFL Labor Talks: Panthers Owner Jerry Richardson Sticks His Foot in His Mouth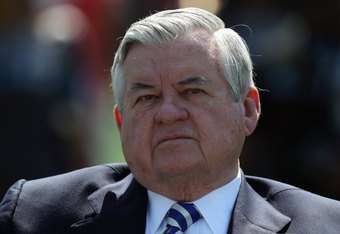 NFL Labor Talks Turn Contentious as Panthers Owner Jerry Richardson Proves Why He's an Idiot
The NFL's labor dispute has quickly become the hot topic of this year's NFL offseason, thanks to rhetoric-filled battles between the owners and players since before the season had even drawn to a close.
But even with all of the sniping going on from both sides, things had not looked as stupid as they did on Sunday, when it was reported that Carolina Panthers owner Jerry Richardson was downright condescending to superstar quarterbacks/player representatives Peyton Manning and Drew Brees during a February 5 negotiating session.
Richardson was reportedly disrespectful to both Manning and Brees, and seemed extremely dismissive of both players' comments.
According to multiple sources, Richardson even went so far as to challenge Peyton on the issue of player safety, asking the Colts quarterback, "What do you know about player safety?" while he was talking.
For those who don't know much about Richardson, he played all of two seasons in the NFL with with Baltimore Colts in 1959 and 1960, totalling 161 yards and four touchdowns in his career. He's the founder of the Panthers.
Apparently, he's also a stellar judge of talent, given the grand total of four winning seasons enjoyed by his franchise since joining the NFL.
And clearly, Richardson should have much more say than Manning, with his career 131-61 record, and Brees, with his 79-59 career record.
He's obviously the best negotiator the NFL's got, thanks to his uncanny ability to disrespect two of the nicest, most widely respected players in league history.
Mouth, meet foot. Foot, meet mouth. Let's just hope the NFL can shut his trap long enough to get another CBA negotiated, because given the way Richardson runs things, he won't be happy until everyone plays for free.
For more Swagger, check out The 50 Funniest Sports Quotes of All Time.
Most recent updates:
This article is
What is the duplicate article?
Why is this article offensive?
Where is this article plagiarized from?
Why is this article poorly edited?