NFL's Best Cheerleader Squad 2011 Edition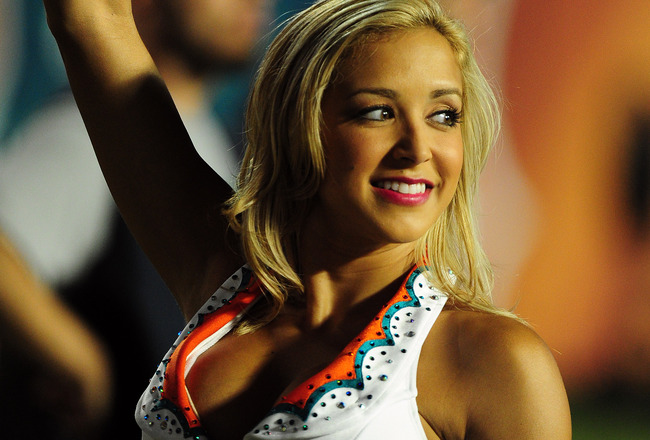 Perfection...
Scott Cunningham/Getty Images
Seeing how my last NFL Cheerleader slide show has over 25,000 reads, I feel it's time to update for 2011. NFL Cheerleaders are one of the best things about attending a game, especially if you are in the front row like I am.
I have no prejudices against any team's squad—girls are girls. Let's get to my top 10 from the 2010 season, in their first 2011 rankings.
10. Houston Texans Cheerleaders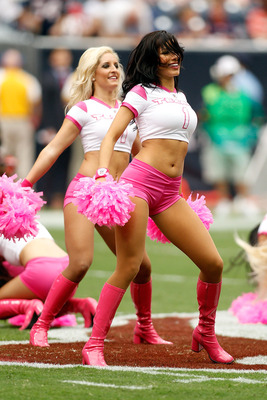 Dont mess with TEXAS
Chris Graythen/Getty Images
Nice girl, I think we could be friends. The Texans may not have won much during their time in the NFL, but they have contributed nonetheless.
9. Denver Broncos Cheerleaders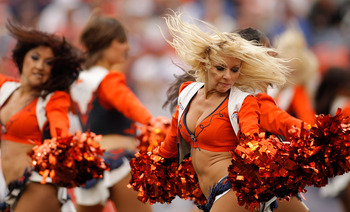 Bronco Cheerleaders get it done Mile High
Justin Edmonds/Getty Images
I hate the Broncos. As a division rival, it's my job, but I have to give kudos to the Broncos Cheerleaders. There must be something about that mountain air!
8. Miami Dolphins Cheerleaders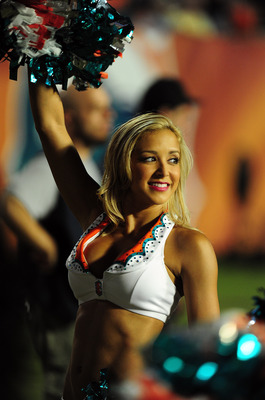 Oh my goodfess
Scott Cunningham/Getty Images
That's what a girl is supposed to look like. I am in love—wow. Miami had a down season but not from where I am sitting.
7. New Orleans Saints Cheerleaders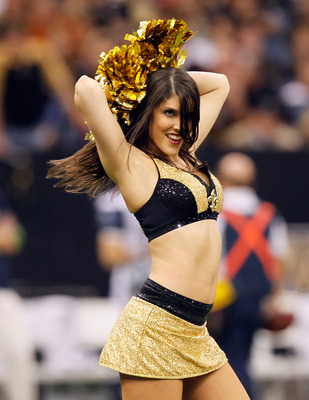 Saints go marching in to hotness
Kevin C. Cox/Getty Images
The "Big Easy" sure has a lot of beautiful women kicking around. Not a season goes buy that I don't fall for one of these Louisiana ladies.
6. Kansas City Chiefs Cheerleaders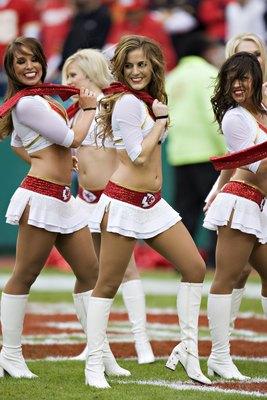 Chiefs on the warpath to babe-itude
Wesley Hitt/Getty Images
I had to include Kansas City again, I got a ration last time, but I just like those Midwestern honeys. The Chiefs Cheerleaders have to cover up in the winter, so you have to go back to September to see them in full bloom, so to speak.
5. Tampa Bay Buccaneers Cheerleaders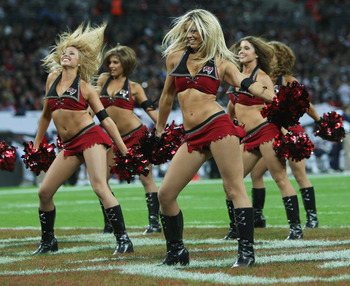 Arr me heartys...
Elsa/Getty Images
Shiver me timbers and tie me up in Davey Jone's Locker. The Buc's have come a long way, and these beauties are proof.
4. New England Patriots Cheerleaders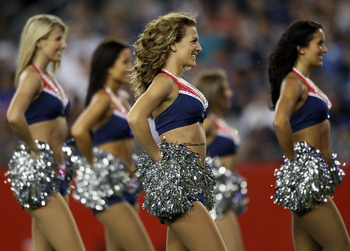 Chowda, gimme some Chowda..
Elsa/Getty Images
Beating the Patriots is the primary concern, but getting to see those lovely New England girls work their magic is worth the trouble you get when playing them up there.
3. Atlanta Falcons Cheerleaders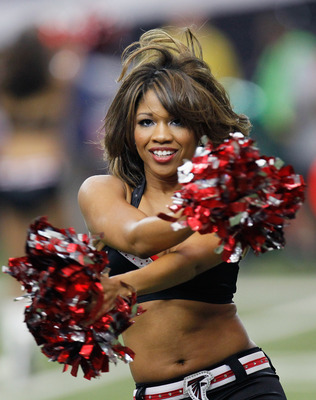 Go Falcons
Kevin C. Cox/Getty Images
The South rises again here. The Falcons always has two or three girls that ruin my day. Atlanta is home to the southern belle—a rare breed here in Southern California.
2. San Diego Chargers Cheerleaders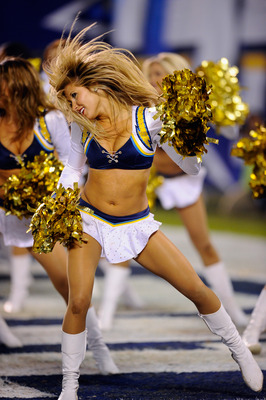 So close, yet so far..
Kevork Djansezian/Getty Images
Charger girls are just close enough to flirt with me, yet just far enough away to get me arrested if I climb the rail. That's 20 years of perfection, keep it coming girls...
1. Minnesota Viking Cheerleaders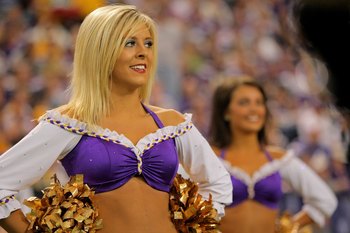 Still the Champs:)
Doug Pensinger/Getty Images
Minnesota is home to the best blonds in the USA. Every year, I yell at the screen, "Why don't more girls look like that?" They're my champions until I see better. Go Vikings Cheerleaders!
Keep Reading