BCS Style NHL Power Rankings, Second Edition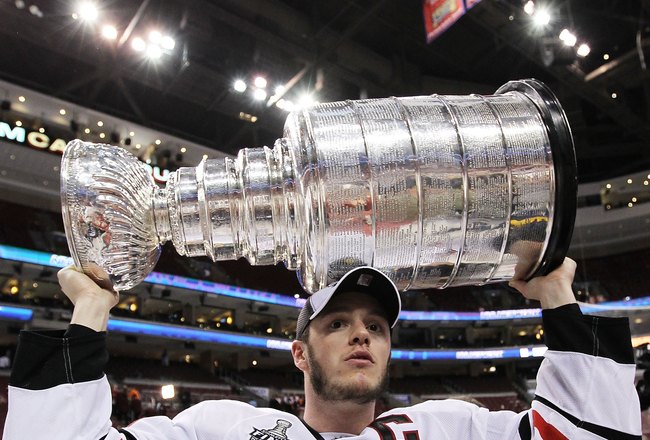 Who is on their way to hoisting Lord Stanleys Cup this year?
Bruce Bennett/Getty Images
Welcome to the second edition of the BCS style NHL power rankings. I have done a little tweaking since the first edition. The link below is that of the first edition. I will post this poll every Sunday by 11:00 p.m. using all stats from the end of Saturday's games.
http://bleacherreport.com/articles/581748-nhl-power-rankings-lets-try-them-bcs-style-hockey-fans
After consulting with a few top NHL writers here on the Bleacher Report, I have decided to make the following changes. The top 16 teams in the NHL will be ranked regardless of conference. The only addition to these teams will be teams that fall outside of the top 16 but are currently playoff eligible in their conference.
With that in mind, this week's poll includes two additional teams not ranked in the top 16 but is playoff eligible, the Rangers and Hurricanes, bringing the number of teams ranked this week to 18
The teams ranked will be the top 16 teams in the league according to the standings after Saturday night's games. This poll will appear every Sunday. I chose the top 16 because that is the number of teams that make the NHL's postseason.
The following categories were used to determine the rankings. The top team in each category this week will receive 90 points with the lowest ranked team in that category receiving five points. The categories chosen are as follows:
Winning percentage
goals for
goals against
difference in goals for and goals against
road winning percentage
winning percentage in the division
There will be an additional five bonus points awarded to the team that is tops in the poll in a specific category. Remember hockey fans this is not my opinion but only the way the points fell.
I hate rankings but love numbers and the NHL, so I always like to see how trends shake out or shake up when applying reason and the philosophy of "numbers do not lie".
One last thing. I do not rank every team simply because the NHL does not take every team to the playoffs. I do not mean to offend anyone but do you really care where the Islanders or Oilers rank compared to the Flyers and Canucks these days? That is what I thought, enjoy, and please comment.
# 18 Carolina Hurricanes: Offense Is Not Enough Come April and May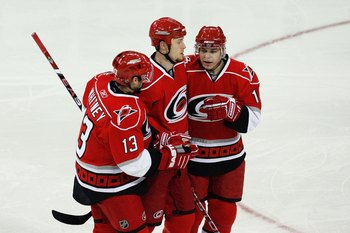 Kevin C. Cox/Getty Images
Previous Rank: Not Ranked
POINTS: 92.5
Third in Southeast and eighth in east
The Hurricanes proved last night in Tampa that they are not going to quit. The canes have enough offense, ninth in the NHL in goals per game, to slide into the playoffs. Unfortunately the playoffs are usually a defensive struggle and right now they are one of only nine teams giving up three or more goals per game.
# 17 Calgary Flames: Trade Rumors Cooled Off By Hot Streak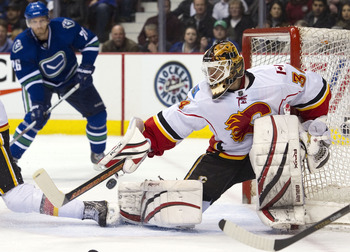 Rich Lam/Getty Images
Previous Rank: Not Ranked
Points: 132.5
Third in Northwest and ninth in west
Calgary has done an about face over the last 21 games. They are 14-3-4 over that stretch and have moved right back into playoff contention. Their recent hot streak has cooled off a lot of the trade talk that was surrounding this team in late November and December.
Blackhawks executive Scotty Bowmann told a Chicago sports talk radio show that ."A couple weeks ago, we were looking at Calgary. We were maybe going to move some players. There was talk they might move a (Curtis) Glencross or (David) Moss. But I doubt now with them solidifying a playoff spot"

Team Captain Jerome Iginla said, "It's nice to not have to hear as many (rumors)," Literally, I think every-body's name was in one at one time or another this year, so that's been a pretty nice change."
"From our point of view, we just keep going," said Iginla. "We don't change our focus. There's a lot of spots that we'll all be fighting for. We'll just be concerned with winning our games."We've got a good team in here. We'll just keep doing what we're doing."
All the joy in Rodeo-ville could change with any sudden losing streak. Calgary is getting ready for the Heritage Classic next week against the Montreal Canadiens.
# 16 Phoenix Coyotes: Moving Up Western Conference In A Hurry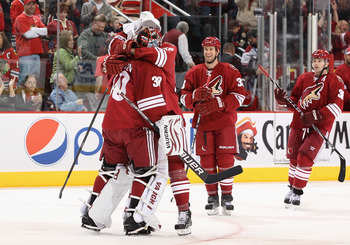 Christian Petersen/Getty Images
Previous Rank: 13
Points: 202.5
Second in pacific and fifth in west
The Coyotes are on a four game winning streak and tied with the Nashville Predators for fourth in the Western Conference with 67 points. Saturday's win over the Chicago Blackhawks was the fifth time Phoenix has beat the Stanley Cup champions in their last six meetings.
The Coyotes, who were 2-9 after regulation before winning in overtime at Dallas Wednesday, suddenly look like the team that led the NHL with 16 wins after regulation last season. The four-game winning streak ties their second-longest of the season and moved them a point behind the Stars for the Pacific Division lead.
# 15 Anaheim Ducks: Healthier Than They Have Been All Season, Ducks On The Move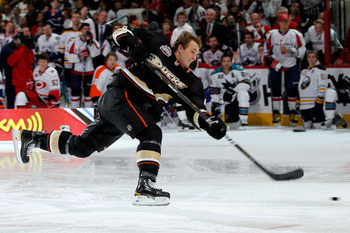 Kevin C. Cox/Getty Images
Previous Rank: 15
Points: 210
Fourth in pacific and seventh in west
The Ducks are serious about contending for a Stanley Cup this season and they could have the right mix of youth and veterans to play deep into the spring.
The Ducks bolstered their defense for the stretch run by re-acquiring Francois Beauchemin from the Toronto Maple Leafs on Wednesday. The Ducks traded forward Joffrey Lupul, defense prospect Jake Gardiner and their fourth-round pick in the 2013 Entry Draft.
The Ducks are a team that are heating up as ageless wonders such as Teemu Selanne, who recorded a four-point night on Friday and Saku Koivu (2 goals and 6 assists over his last six games) seem to be pacing themselves nicely for an extended season.
Future Norris Trophy winner and 19-year-old rookie defensive sensation Cam Folwer continues to impress. Although still a minus-13 on the year, Fowler leads all rookie defenseman in scoring with 29 points.
The Ducks are a minus two in goal differential but are still managing to win. With 13 wins in their last 17 games, the Ducks are still seventh in the Western conference but they could be this years version of last years Flyers.
# 14 Dallas Stars: Not Shining As Brightly As They Once Did This Season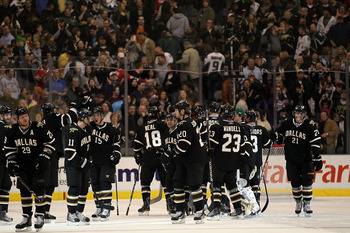 Ronald Martinez/Getty Images
Previous Rank: 7
Points: 225
First in Pacific and third in west
The Dallas Stars are just 4-5-1 in their last ten games and although they still lead the NHL's Pacific division, they are just 5-6-2 against teams in the division. Every Pacific division foe chasing the Stars, has won at least six of their last ten games.
The Stars not feeling quite as comfortable as they once did atop the Pacific did come from a 3-0 deficit to beat the defending Stanley Cup Champions on Friday night, winning the game 4-3.
Dallas embarks west for three straight games following a matinee against the Blue Jackets on Sunday. Dallas is 15-8-3 outside of their division against the rest of the Western conference.
# 13 Washington Capitals: Will Boudreau Finish The Season?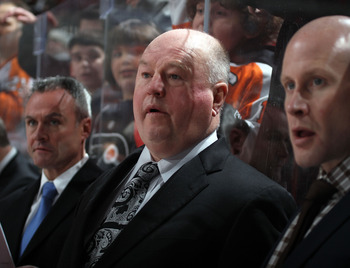 Bruce Bennett/Getty Images
Previous Rank: 12
Points: 232.5
Second in southeast and fifth in east
The Washington Capitals scored 313 goals last season and are on pace to score almost 90 less this season, with virtually the same roster. Alex Ovechkin has just 21 goals through 56 games, which is half of what he had last year at this time.
Yes, the Capitals are playing much better defensively, but the frustration from scoring just 52 goals in 26 games is showing through. Many in the nation's capital are wondering just how much longer head Coach Bruce Boudreau has behind the bench.
The Caps have been shut out eight times this season and in losing their last two games at home, scored just one goal in the process. Currently hanging on by a thread to the fifth spot in the eastern conference, the Caps are heading west to start a five game road trip. Washington has dropped six in a row to western conference foes this season.
Having already lost as many games in regulation this season as they did all of last season the Caps can ill-afford another losing streak like the one they endured in December. If one should happen head coach Bruce Boudreau is unlikely to finish the season behind the bench.
# 12 Montreal Canadiens: Habs Leveling Off After Up and Down Stretch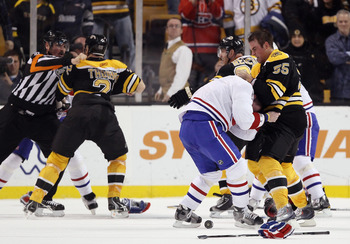 Elsa/Getty Images
Previous Rank: 8
Points: 242.5
second in Northeast and fifth in east
HAB stood for hot against Boston prior to Wednesday's wild 8-6 loss to the Bruins. Actually, the Canadians boast one of the best winning percentages within their own division this season. The Habs are 12-4-1 against Northeast foes and are 3-1 against the division leading Bruins this season.
Montreal is tied with the offensive-less Washington Capitals for the fifth seed in the eastern conference but trail the division leading Bruins by just one point. This, despite the recent troubles Montreal has been having. Headed into last night's game with the Leafs, the Habs were just 4-3-3 in their last ten games.
Playing in perhaps their best all around game of the season, Montreal rebounded as Carey Price shut out the Leafs, 3-to-0 giving Price win number 27 and once again tying him with Jimmy Howard for the league lead in wins.
The Leafs came in to Montreal one a roll with nine out of a possible 12 points in their previous six games, while the Canadians had lost twice in regulation and once in a shootout in their previous three contests.
After suffering through their worst defensive stretch of the season, allowing four goals or more in each game over the losing streak, the Canadians got back to solid play in their own end.
# 11 Los Angeles Kings: Terry Murray Quietly Has LA Winning On The Road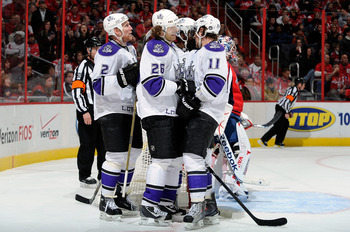 Greg Fiume/Getty Images
Previous Rank: Not Ranked
Points: 260 points
Fifth in pacific and tenth in west
When you think about La La land you think about glitz and glamour and Kobe Bryant and offense. However upon further review there is a Murrray standing behind the bench for Hollywood's hockey team and that means defense is the order of the day.
The Kings are the second best defensive team in this poll in goals allowed this season. They rank fourth in the league in goals against per game and boast a solid blue line led by 24-year-old Jack Johnson. The Kings are not all defense, as the young Slovenian star Anze Kopitar has 53 points this season.
The Kings are in the midst of a franchise record 10 game road trip and today won their fourth game of the trip and second game in as many days, beating the Philadelphia Flyers 1-0 behind a brilliant 39 save performance from goalie Jonathan Quick.
The Kings have collected points in all six games on the road trip but still remain out of the Western conference playoff picture.
#10 San Jose Sharks: Niemi Flashes Stanley Cup Form From Last Spring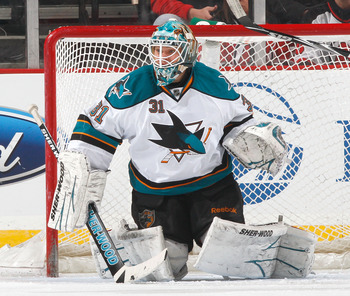 Paul Bereswill/Getty Images
Previous Rank: Not Ranked
Points: 265
Third in Pacific and sixth in west
For the first time in 11 games, the Sharks failed to come away with at least one point in Friday's 2-1 loss to the Devils. The Sharks are 8-1-1 in their last ten. The hot hand has been Patrick Marleau. Marleau has goals in consecutive games for the Sharks and Antti Niemi has allowed just four goals over his last four starts with a .966 save percentage.
Niemi posted consecutive shut outs last week in beating the Bruins and Capitals, both on the road.
# 9 Minnesota Wild: Only San Jose Hotter In Last Ten Games
Cal Clutterbuck
Jonathan Daniel/Getty Images
Previous Rank: Not Ranked
Points: 265
Second in the northwest and eighth in the west.
The Minnesota Wild are just like half of the NHL's western conference, on a hot streak and in danger of missing the playoffs. Fresh off a home and home sweep of the St. Louis Blues and winners of three straight, the Wild are now 8-2-0 in their last ten games.
Forward Cal Clutterbuck began the year known more for his big hits than his goal scoring ability. 55 games into the season and after three more goals in two games this weekend, he remains tied with All-Star Martin Havlet for the team lead, with 16 goals this season.
The Wild boast the ninth position in this poll because of their defense and their ability to win on the road. The Wild are 16-9-3 on the road this season, good for the sixth best road winning percentage amongst the teams listed in this power ranking report.
# 8 New York Rangers: Stuck Behind Two Of The Top Three Teams In The League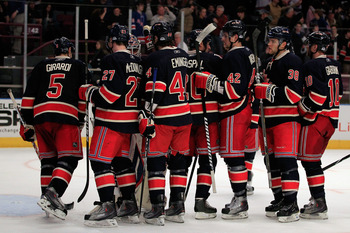 Chris Trotman/Getty Images
Previous Rank: 6
Points: 272.5
Third in the Atlantic and seventh in the east
The Rangers deserve to be ranked here at number eight. If the Rangers played in the Southeast division they may very well be the best team in that division, problem is, they do not. They play in the same division with two teams that will make an appearance later in this poll.
They are struggling lately going just 3-6-1 over their last ten and prior to winning today against Pittsburgh, lost four in a row. The Rangers rank right in the middle of just about every category and should get back into the post season this year. The Rangers rank seventh in the NHL in goals against and are plus 16 in goal differential.
It is yet to be determined whether the Rangers blow it again down the stretch and fail to make the post season, if they do, expect wholesale changes for the blue shirts this off season starting behind the bench.
# 7 Nasville Predators: Preds Look Like a Team I Once Knew Real Well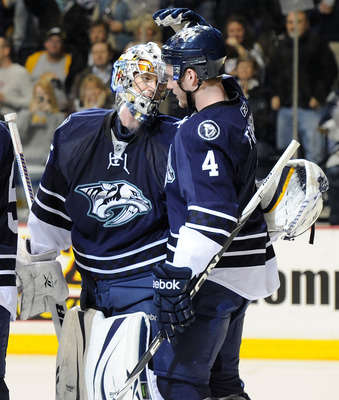 Frederick Breedon/Getty Images
Previous Rank: 10
Points: 285
Second in the Central and fourth in the west
With a 3-1 record against the Detroit Red Wings this season, the Predators feel they have a legitimate chance to make a decent run in April and May. Needing more playoff experience and offense Preds GM David Poile acquired Mike Fisher from the Ottawa Senators on Thursday.
In acquiring Fisher from the Senators, the Predators acquire a center that has hit the 20-goal mark in four of the last five seasons and has more playoff experience than any other Nashville roster member but also someone who was a finalist for the Selke Trophy as the NHL's top defensive forward in 2005-06.
Fisher's debut as a Predator was impressive. He assisted on an empty-net goal, won 12 of 16 face-offs and ended up plus-2 in 18:10 of ice time.
Fisher has 28 points in 75 career playoff games and brings some much-needed offense to a team that ranks 26 out of 30 teams in goals per game. The Preds are a typical David Poile run team and that may not be good things for the fans in music city come spring.
Nashville is a defensive team built in a similar mold to what Poile did in Washington back in the mid and late 80's. Anyone have any idea how the Caps did in their post season runs back then?
# 6 Tampa Bay Lightning: Keeping Composure Becomes an Issue In Tampa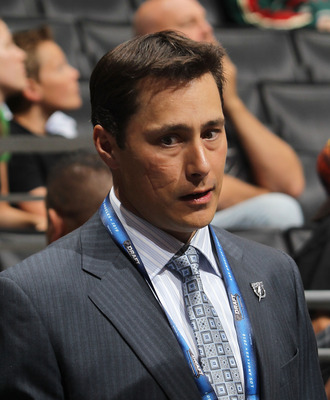 Bruce Bennett/Getty Images
Previous Rank: 11
Points: 287.5
First in the Southeast and second in the east
Tampa Bay is currently in the midst of a NHL record tying 12 game home stand. In the last week, the Bolts have lost to the Washington capitals and the Buffalo Sabres. In doing so, they were outscored 7-to-1 in the third period. In the loss to the Sabres on Wednesday, the Lightning led 3-1 but lost their composure following a controversial goal and then surrendered six of the next seven goals in the contest, including five in the third period in a 7-4 loss.
Led by one of the best young coaches in the NHL, Guy Boucher calmed his troops down in time to beat the Carolina Hurricanes on Saturday evening. However, the Bolts again were outscored in the third period as Carolina scored two goals in the final minute to force overtime. Boucher again collected his team and recent veteran acquisition, Marc-Andre Bergeron scored to salvage the two points.
Every team has their imperfections and the Lightning's appear to be their defense late in games. Boucher and VP-GM Steve Yzerman will address the issue and have the Bolts ready come playoff time.
Lightning captain Vincent Lecavalier has four goals and six points in his last five games, including a two-goal, three-point game Tuesday against the Sabres. The Bolts will face the Flyers on Tuesday evening in a crucial eastern conference showdown. The game will be a rematch from two weeks ago when the Lightning shut Philadelphia out, 4-0.
# 5 Detroit Red Wings: Getting Healthy But Not Getting Any Younger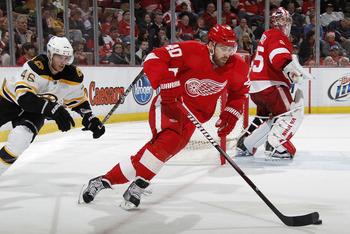 Gregory Shamus/Getty Images
Previous Rank: 4
Points: 360
First in the Central and second in the west
The Red Wings are getting healthy and just in time for the stretch drive. Pavel Datsyuk, Dan Cleary, and Tomas Holmstrom all players who missed time with injuries recently combined for two goals and four assists against the Bruins on Friday.
Detroit had been experiencing somewhat of a mini offensive draught, being held to one goal or fewer in three of the previous four games. The lack of scoring held the Wings to just five wins in their last ten games, including two losses to the team chasing them in the Central division, the Nashville Predators.
The Wings are second in the NHL in goals for per game but are just a plus-22 in goal differential, ranked number 19 in the NHL in goals against.
Even though Jimmy Howard is tied for the league lead with 27 wins, the Wings are still looking for help between the pipes. The Wings may also acquire some blue line help before the trade deadline.
No Panic in the motor city, this is Hockey town and in the words of the great Kenny Loggins, "everything's gonna be all right".
# 4 Pittsburgh Penguins: The Pens Are a Mess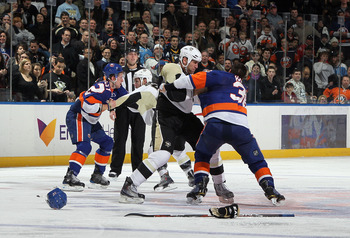 Jim McIsaac/Getty Images
Previous Rank: 3
Points: 397.5
Second in the Atlantic and fourth in east
If the Pittsburgh Penguins make the Stanley Cup finals this season, rest assure hockey fans, you will have witnessed the greatest coaching job in the history of any sport.
In a week that saw Pittsburgh lose superstar Evegni Malkin for the year with a knee injury and with still no sign of Sidney Crosby returning, the Penguins lost to the woeful New York Islanders in a game that saw 346 penalty minutes, 15 fighting majors and 21 misconducts.
Frustration is setting in as Mario Lemieux issued a statement today in response to the suspensions the NHL imposed for Friday's game. Besides Malkin and Crosby the Pens are missing other regulars like Chris Kunitz and Arron Asham sidelined with injuries and Eric Godard joining Matt Cooke on the suspended list.
Lemieux said, "Hockey is a tough, physical game, and it always should be. But what happened Friday night on Long Island wasn't hockey. It was a travesty. It was painful to watch the game I love turn into a sideshow like that.

"The NHL had a chance to send a clear and strong message that those kinds of actions are unacceptable and embarrassing to the sport. It failed.

"We, as a league, must do a better job of protecting the integrity of the game and the safety of our players. We must make it clear that those kinds of actions will not be tolerated and will be met with meaningful disciplinary action.

"If the events relating to Friday night reflect the state of the league, I need to re-think whether I want to be a part of it."
Sounds a little hypocritical coming form an owner employing Matt Cooke who plays for a team that leads the NHL in fighting majors and did so before Friday's game.
The Pens are 6-4 in their last ten games with Tyler Kennedy stepping up with three goals in the Pens last five games.
# 3 Boston Bruins: Looking Forward To Monday
Elsa/Getty Images
Previous Rank: 5
Points: 397.5 (plus five bonus points, first in goals against) total points 402.5
First in the Northeast and third in the east
Boston better hope that the Detroit Red Wings are knocked out of the playoffs if they reach the Stanley Cup finals this year. After this past weekend, Tim Thomas and company want no part of a rematch with the Wings in June if the Bruins make it that far.
Boston had won four of five games, including a fight-filled 8-6 victory over rival Montreal, and the Bruins were feeling pretty good about things. Then a healthier Detroit Red Wings came to bean town and hammered Boston,
Thomas allowed 2 goals or less in 9 of his past 11 appearances but surrendered six goals to the Canadiens on Wednesday.

The team's best line of late has included center Patrice Bergeron, veteran winger Mark Recchi, and rookie Brad Marchand. That trio was a combined minus-9 against the Red Wings on Friday.
Boston catches a bit of a scheduling break in their next three games as they play the Maple Leafs, Islanders and Senators this coming week.
* all stats are through Saturdays games as the Bruins dropped from first to third in goals allowed following their loss to Detroit on Sunday
# 2 Vancouver Canucks: Only One Better...........THIS WEEK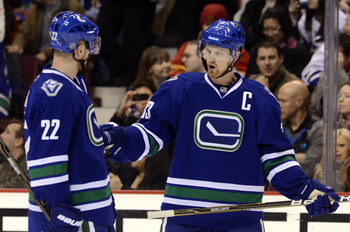 Rich Lam/Getty Images
Previous Rank: 2
Points: 502.5 (plus ten bonus points) 512.5 total points
First in the NHL with 81 points.
The Vancouver Canucks are hot once again. After slipping a bit, losing four in a row (three in OT or S/O) at the beginning of the month, the Canucks have now won seven of their last eight games and now have points in ten of their last eleven.
Left winger Alex Burrows currently owns the NHL's longest point scoring streak with eight goals and three assists in nine games. The Canucks actually had more points than the number one ranked team in this poll but had just 10 bonus points compared to 15 for the number one team.
Vancouver is more than comfortable atop the Northwest division needing binoculars to spot second place Minnesota. The Canucks ranked first in goals with 190 and number one in goal differential with a plus-57.
The Canucks seemed poised to make as good a run at Lord Stanley's Cup as they ever have in their franchise history. They are ranked number one in offense and defense in the NHL in average goals per game, and average goals against per game. As noted above, even when they did lose four in a row they collected points in three of those games.
I suspect by this time next week, with this poll, the Canucks are sure to own the top spot. Which this week belongs to the...................................
# 1 Philadelphia Flyers: Number One For The Second Straight Edition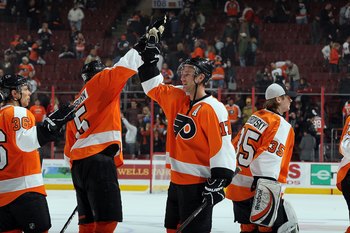 Jim McIsaac/Getty Images
Previous Rank: 1
Points: 500 (15 bonus points, three categories ranked number one) 515
First in the Atlantic and first in the east
The Philadelphia Flyers seem focused to return to the Stanley Cup Finals. The Broad Street Bullies are 8-2 in their last 10 games and 19-5 in their last 24 contests dating back to Dec-9. Philadelphia is playing well in all three phases of the game. The only danger that could lie ahead for Philly is continuing to alternate goalies.
Both are playing great, Brian Boucher is 13-6-2 with a 2.25 goals-against average, while rookie Sergei Bobrovsky is 22-7-3 with a 2.49 GAA. One is going to have to step up, as head Coach Peter Laviolette knows the importance of riding one goalie through the playoffs.
Laviolette rode rookie Cam Ward to a Stanley Cup title in 2006 with the Carolina Hurricanes. Ward was the Conn Smyth Winner as the playoffs most valuable player that year.
However, Laviolette insists this is not the case in Philadelphia. "I don't get the feeling that there's an 'I'm the No. 1 guy here and you're the No. 2 guy,'" Laviolette told the team's website when asked about his goaltenders. "But it's at the point where you say 'go ahead and pick out our first line or our first D [defense] pairing, who's our No. 1 power-play unit'? We're built without numbers here."
There are not a lot of Stanley Cup Winners that I can remember that platooned their goalies in the playoffs. There is probably a good reason for not remembering, it just does not happen.
Laviolette is a great coach who will figure this goal-tending thing out before it's time to get serious in April, May and June
Philadelphia was led offensively this week by forwards Claude Giroux and Jeff Carter. Giroux has four assists in his last four games, while Carter has three goals in his last four games and in four in his last six.
The Flyers ranked number one through last evening in three of this polls categories edging out the Vancouver Canucks who were ranked number one in just two categories.
Keep Reading

Philadelphia Flyers: Like this team?